This post may contain affiliate links. Please read my disclosure policy.
This is a collection of my 17 all time favorite adult mac and cheese recipes! They're grown up, unexpected and distinguished. They've got unique ingredients and hopefully there's a few that will make your mouth water so you can pin them for later or make them for dinner tonight! There's everything from classic stove top mac and cheese to instant pot mac and cheese to sloppy joe (yes, sloppy joe!) mac and cheese! Enjoy!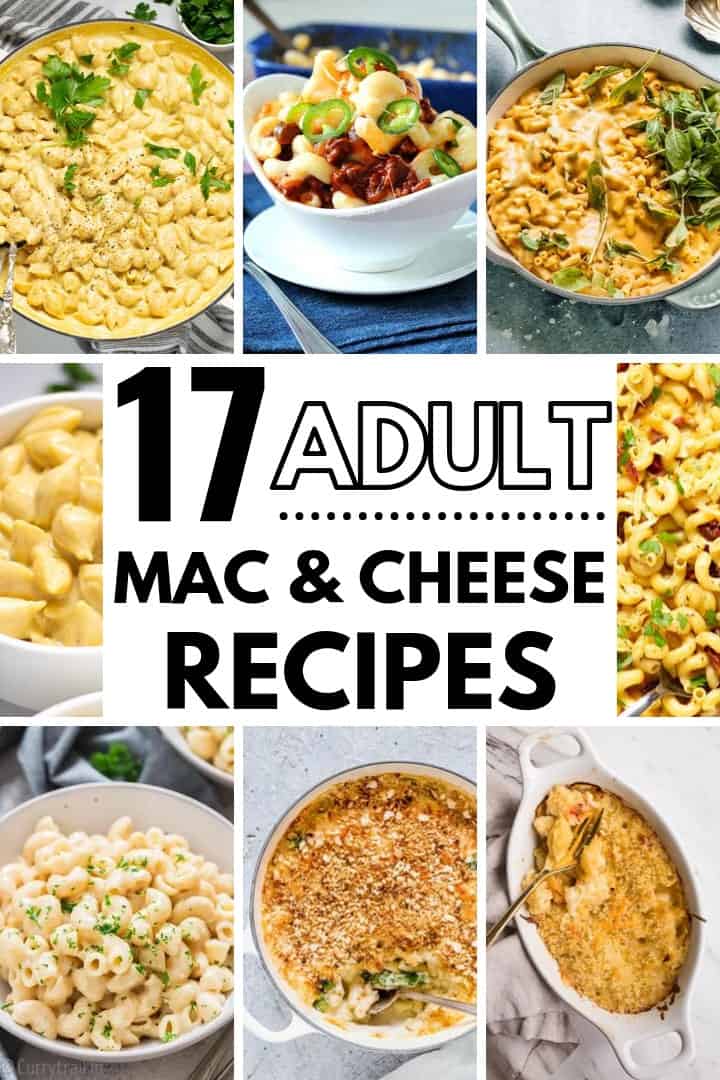 I'm kicking off this collection with a classic. My favorite tried and true stove top macaroni and cheese that cooks in just 20 minutes and all in one pot. You won't have to bring a pot of water to a boil, strain the noodles or do extra dishes. This is ALMOST as easy as just dumping that processed, boxed version into a pot – except this one has real, wholesome ingredients (which means NO VELVEETA)!
Ditch the blue box and it's endless ingredient list for this 20 minute, 9 ingredient REAL one pot mac and cheese. Your kids are going to love it and you don't have to worry about feeding them ingredients you can't pronounce! You can find the recipe here from Midwest Foodie.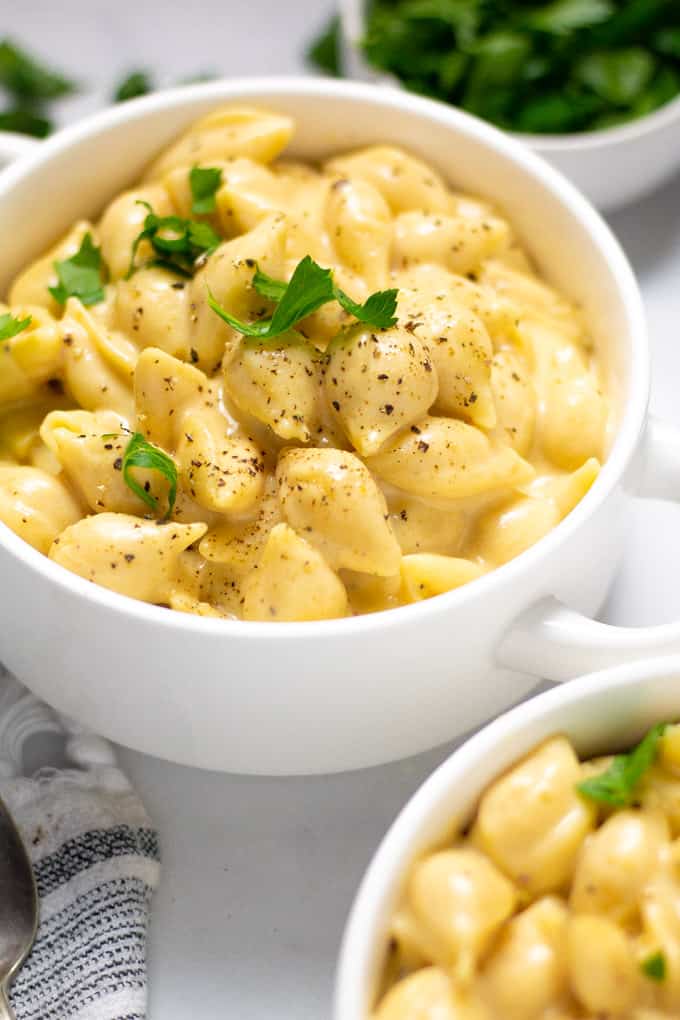 When I think of adult mac and cheese, this is the recipe that almost always come to mind first! It's quick, easy and another one of my favorite one pot dinners. The sun dried tomato lovers in your life are going to be obsessed with this one. And the meat eaters in your life will love the smokey flavor of the Gouda cheese! It's a guaranteed crowd pleaser!
One pot, six ingredients and 20 minutes is all it takes to get smoked Gouda mac and cheese on the dinner table tonight! This hearty one pot pasta is loaded with flavors of smokey cheese and sun dried tomatoes in a creamy, dreamy sauce. You can find the recipe here from Midwest Foodie.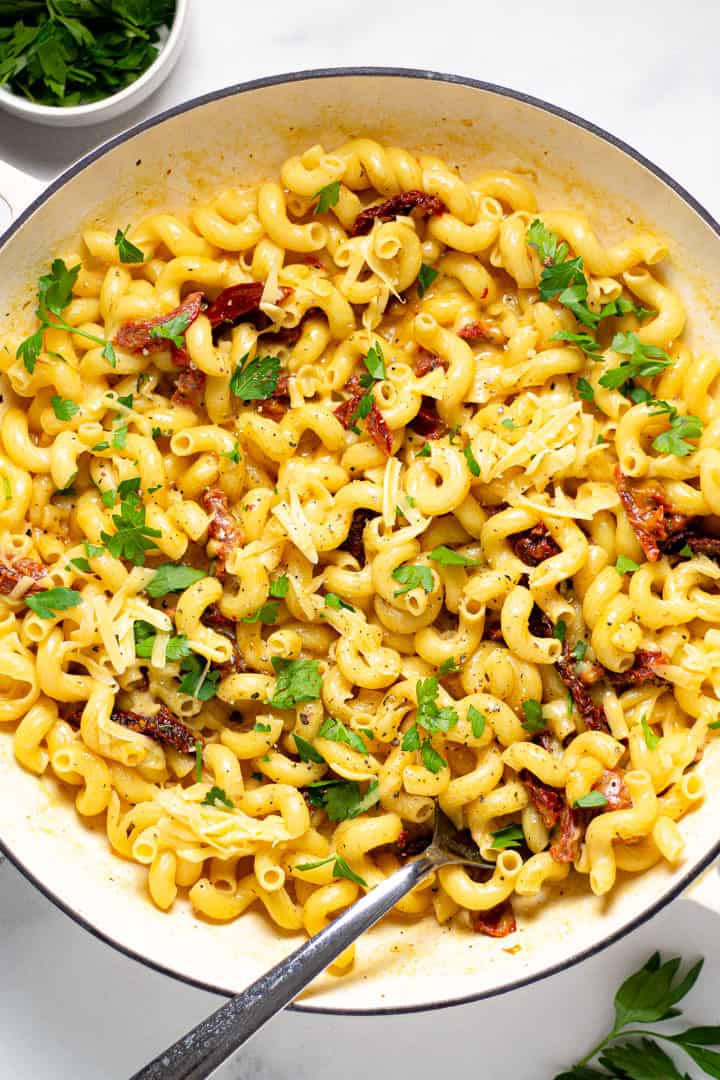 Gorgonzola – either you love it or you don't. If you love it, you're going to go nuts for this one! If you don't, you should try this one anyway – because the Gorgonzola flavor is super subtle and pairs perfectly with the starchy noodles and peppery arugula in this adult mac and cheese.
This Gorgonzola pasta comes together in just ONE POT with only 7 ingredients in a mere 20 minutes. A creamy, tangy Gorgonzola sauce coats every curly cue of the cavatappi pasta and is tossed with peppery arugula and crunchy walnuts for the perfect weeknight dinner! You can find the recipe here from Midwest Foodie.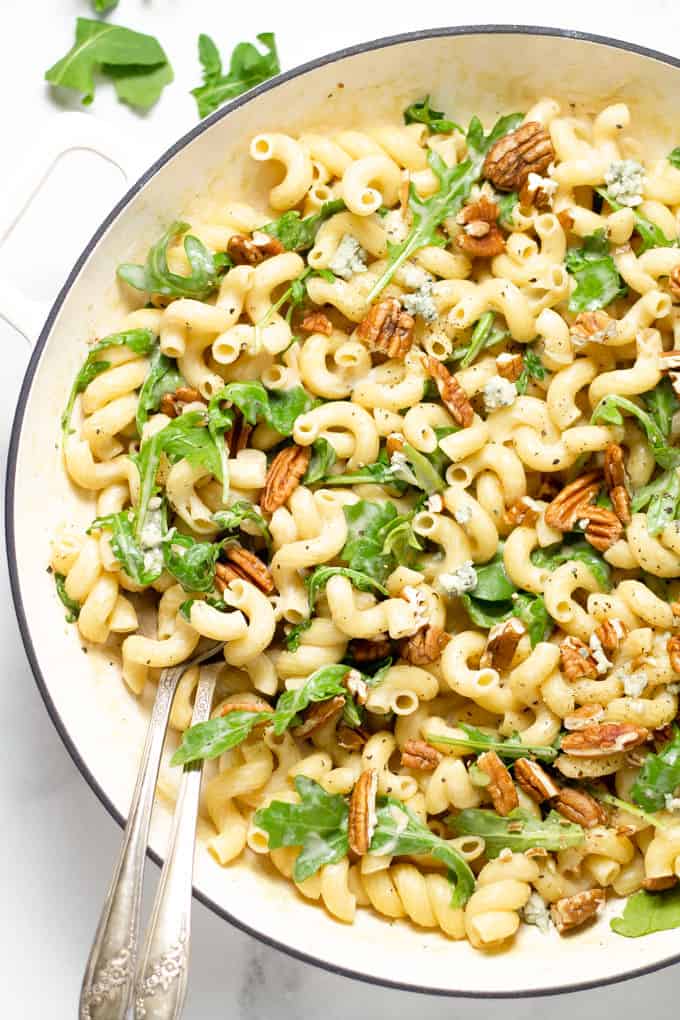 This one pot Mexican mac and cheese comes together in 25 minutes with just 8 REAL ingredients. Ditch the blue box in favor of this easy, vegetarian weeknight dinner that your family will love!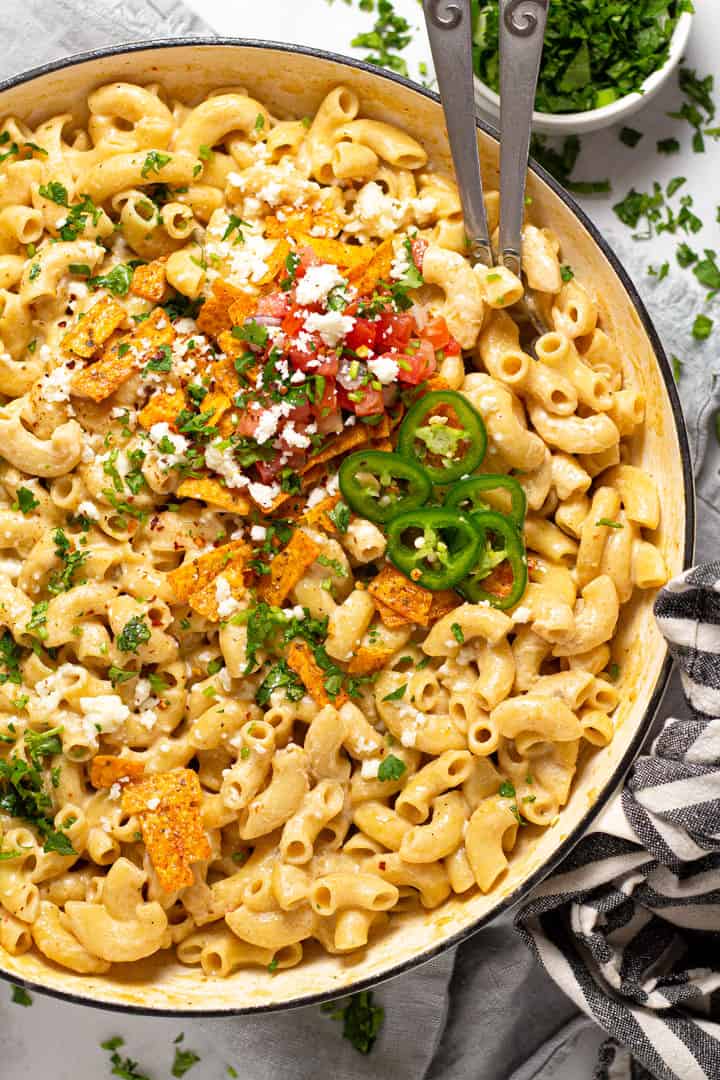 Instant pots are all the rage and it's not hard to see why. This mac and cheese takes the cake when it comes to cook time. And it's completely hands off as far as prep goes. This one is definitely worth pinning for later!
Extra creamy, totally comforting and utterly delicious creamy instant pot mac and cheese takes less than 15 minutes from start to end! Plus everything is made in one pot. You can find the recipe here from Curry Trail.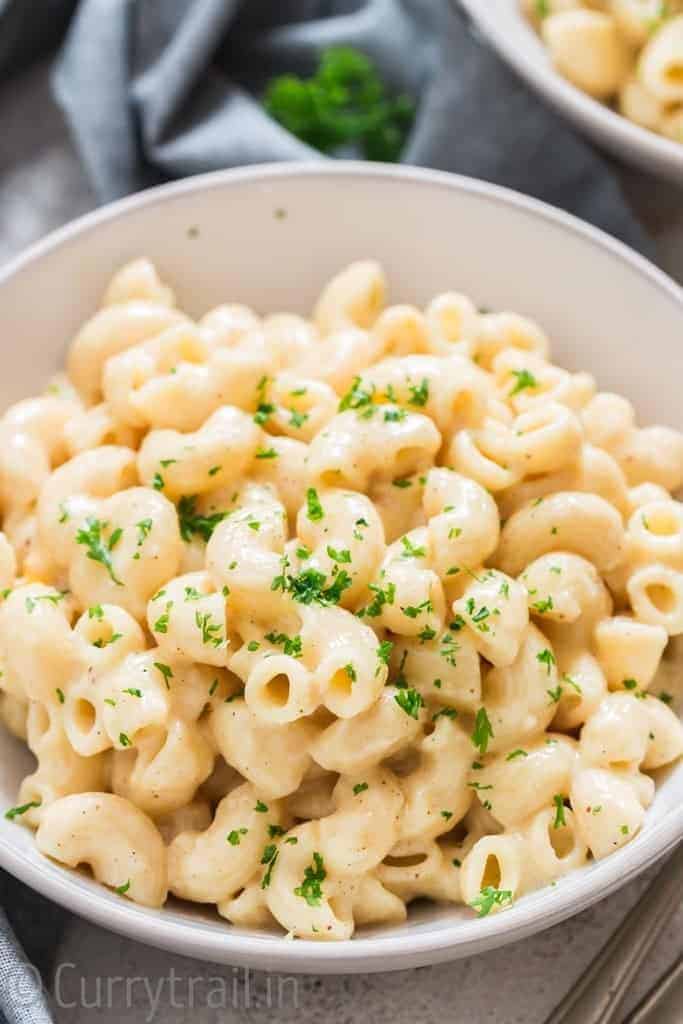 I mean seriously the Coupon Clipping Cook is a literal genius if you ask me. Two of the most comforting American classics come together in one delicious, cheese filled, meat loaded dish. You definitely don't want to miss this one!
Garlic macaroni and cheese mixed with homemade sloppy joes and topped with fresh sliced jalapenos. You can find the recipe here from Coupon Clipping Cook.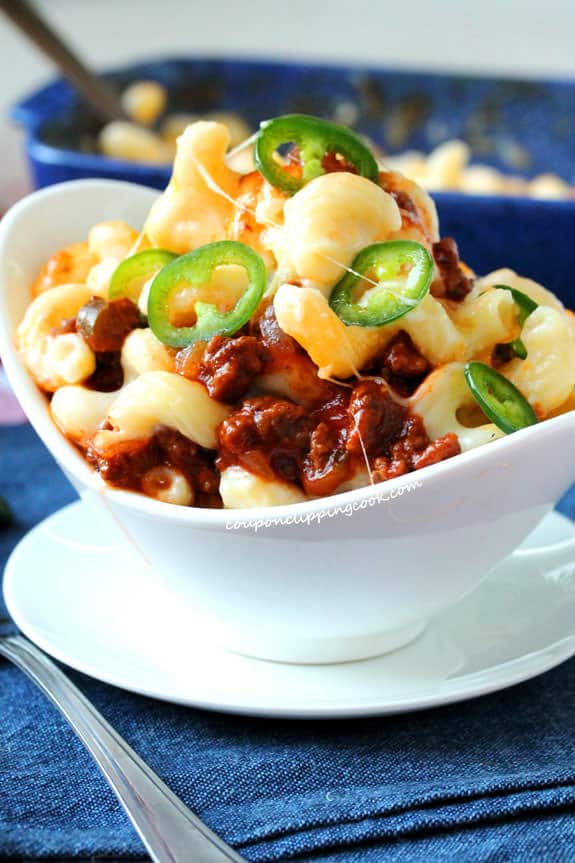 A bit of a departure from the classic mac and cheese, this fried version is definitely worth considering when you've got a hankering for comfort food. Crispy on the outside with cheesy pasta on the inside?! Sounds like the best thing ever.
Take a load off with these awesome fried macaroni and cheese bites. Great as an appetizer or to serve at a party – and the macaroni itself is delicious. You can find the recipe here from Away From The Box.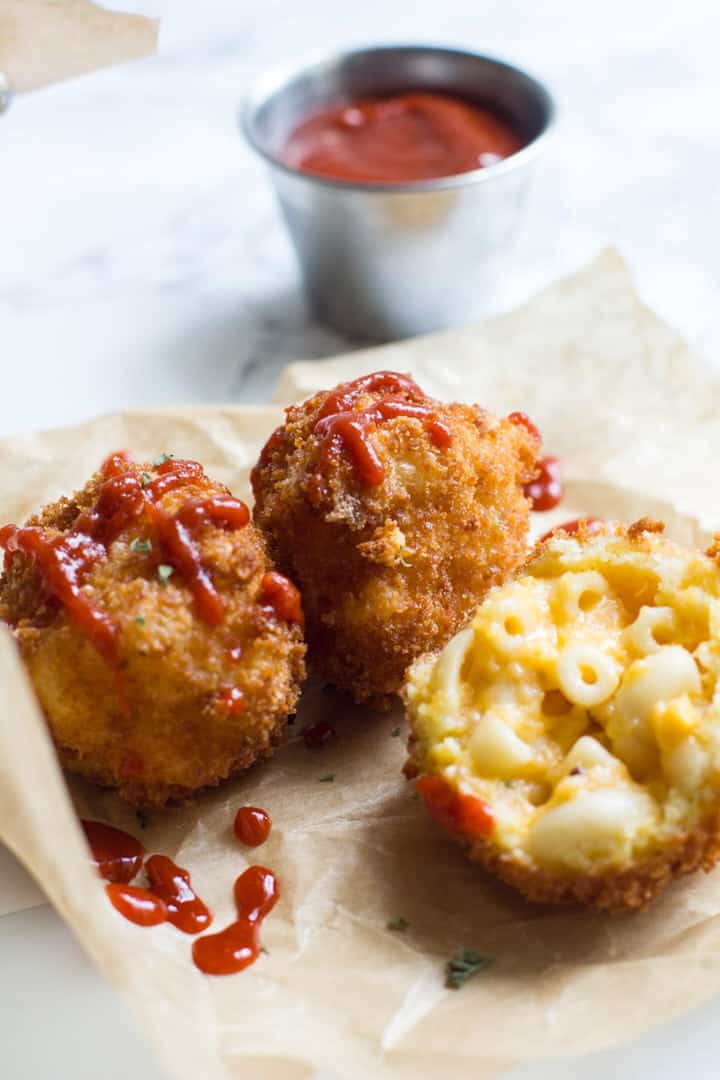 A little something for our plant based friends out there. This vegan version of the childhood classic has hidden veggies but plenty of cheesy flavor AND a creamy texture. The perfect trifecta!
A Vegan Mac and Cheese that you don't need to feel guilty about! This healthy mac and cheese contains hidden veggies but it is so creamy and delicious that you'd never know. And it's ready in under 30 minutes from start to finish! You can find the recipe here from Delicious Everyday.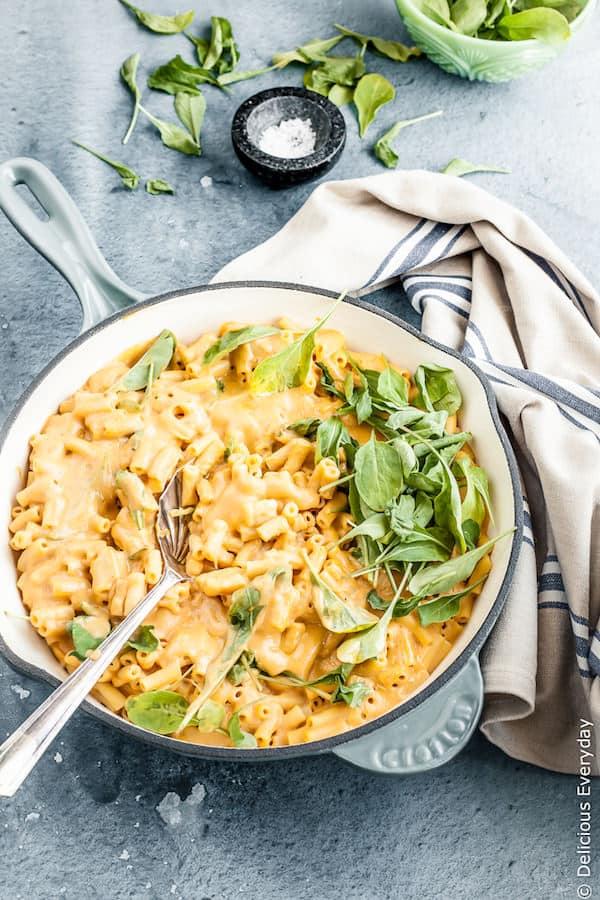 Spaghetti squash never ceases to amaze me. Just when I think I've seen it all, someone comes up with another way to enjoy this hearty fall veggie! Just look at that cheesy, squash filled forkful?! This is definitely an adult mac and cheese. But also one that the whole family could enjoy!
This Easy & Healthy Spaghetti Squash Mac and Cheese Recipe is low-carb and keto! It's a delicious gluten-free dinner, side dish or meal prep idea! You can find the recipe here from Joy Food Sunshine.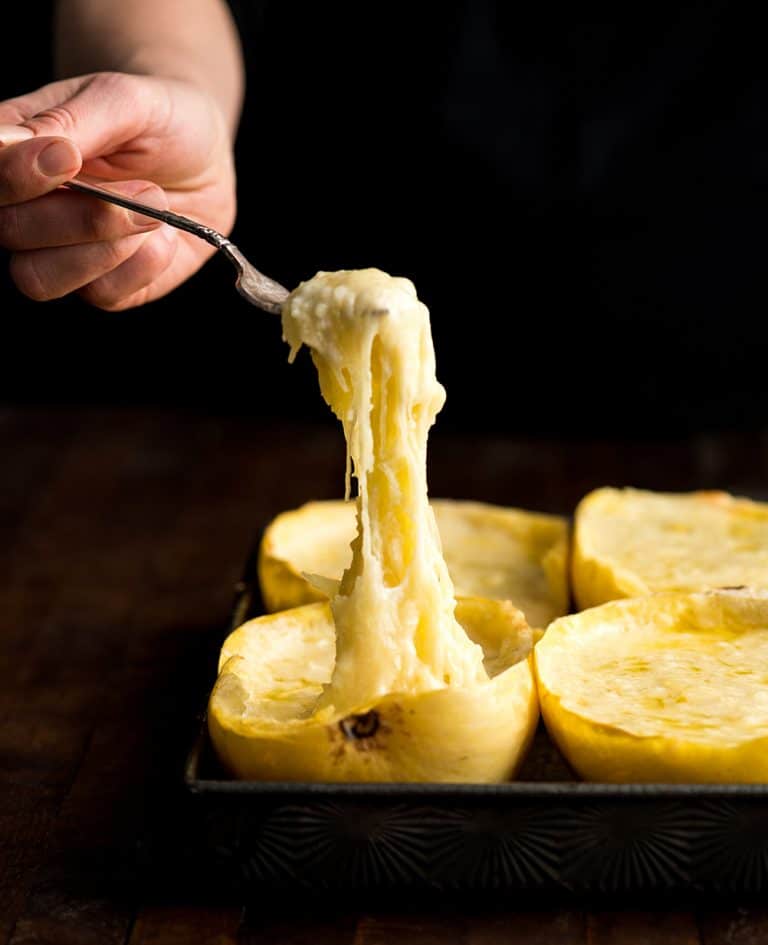 Green veggies always make rich comfort food a little more palatable for me. I'm also more likely to add it to the family dinner rotation, rather than just save it for special occasions. It really doesn't get much better than tender asparagus spears enveloped in cheesy noodles!
This Asparagus Mac and Cheese recipe is the perfect recipe for those days when you just want something simple (but soooo good). It is made with everyday ingredients, vegetarian and a great comfort meal! You can find the recipe here from Recipes from a Pantry.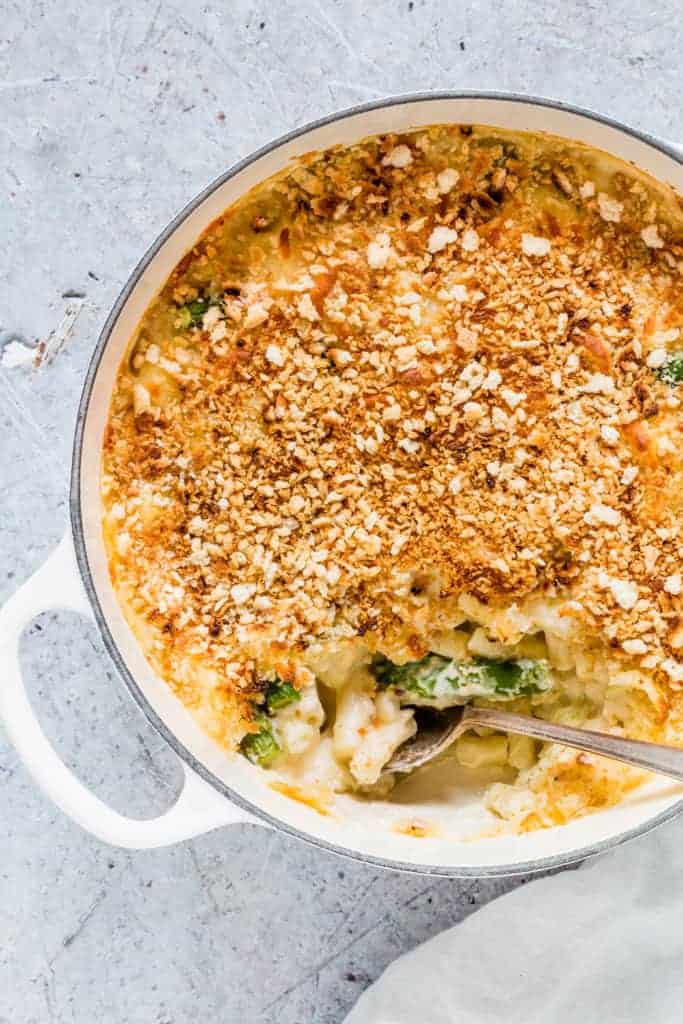 I had to include at least one more instant pot mac and cheese recipe because it's just SO EASY to make! Follow along with their step-by-step instructions and you'll have dinner on the table in no time!
Super creamy and rich Instant Pot Macaroni and Cheese cooked in under 20 minutes! Made with 3 kinds of cheese, you will never want to have it any other way! You can find the recipe here from Little Sunny Kitchen.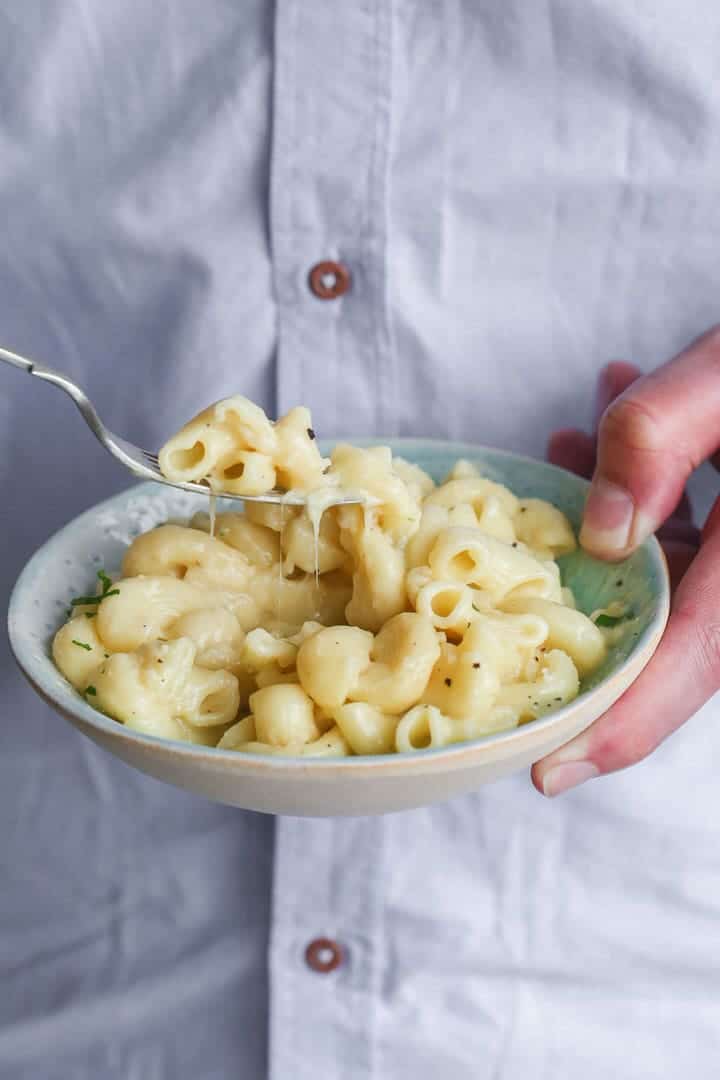 Another hidden veggie mac and cheese recipe! They really are my favorite. AND this recipe uses frozen cubed butternut squash which means your prep work is basically zilch!
Got 30 minutes? Perfect! Whip up this Butternut Squash Mac & Cheese for your family for an easy lunch or dinner – pair with a salad & protein of choice and voila. You can find the recipe here from Krolls Korner.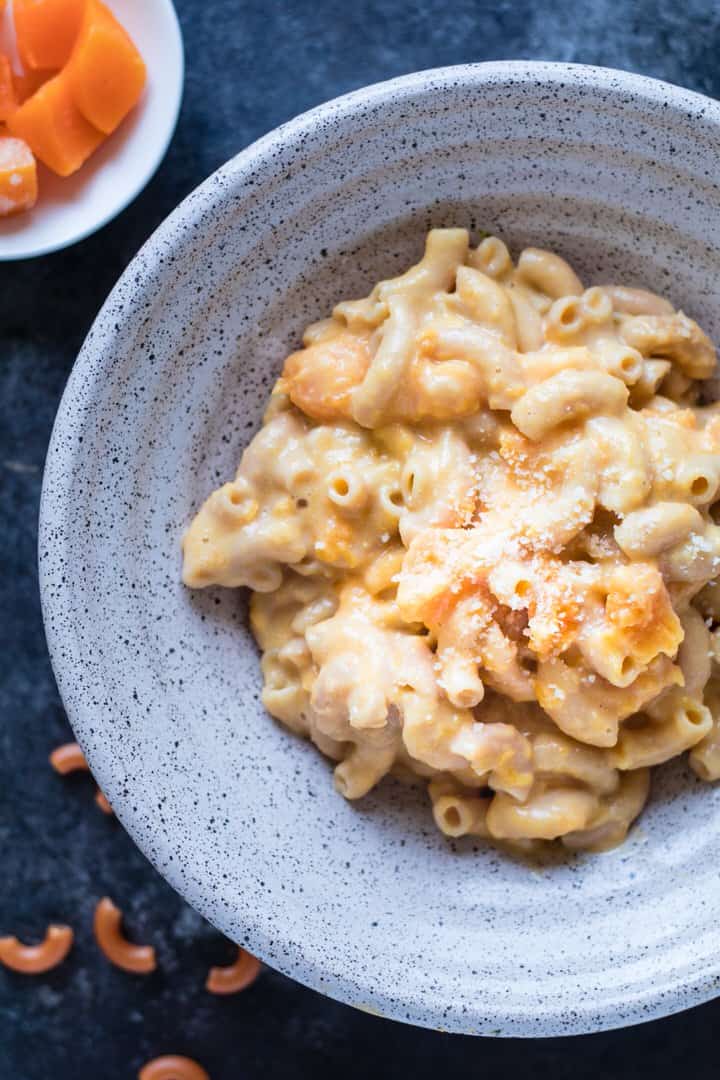 Is there anything more luxurious than lobster mac and cheese?! I think not. And the best part is this recipe makes just two servings so you won't end up with a fridge full of leftovers! But if you're feeding an army you can easily double or triple the recipe!
Lobster mac and cheese for two is the perfect romantic dinner for two! Easier to make than you think, and so decadent, too! You can find the recipe here from Dessert For Two.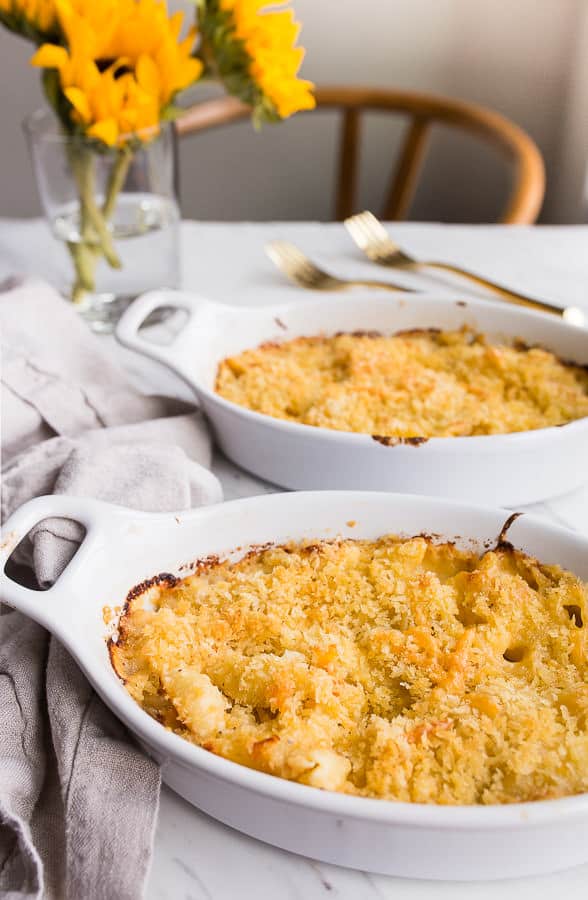 I can pretty much guarantee you haven't seen a mac and cheese recipe like this before! Loaded with pumpkin puree, diced jalapeno and plenty of shredded cheese – the ingredients come together to make a creamy, dreamy sauce that will have your family asking for seconds!
This extra cheesy Jalapeño Mac and Cheese with Pumpkin is a creamy, slightly spicy dish that your family will love! It's pure comfort food, perfect to enjoy this fall season! The ultimate macaroni and cheese recipe! You can find the recipe here from Brooklyn Farm Girl.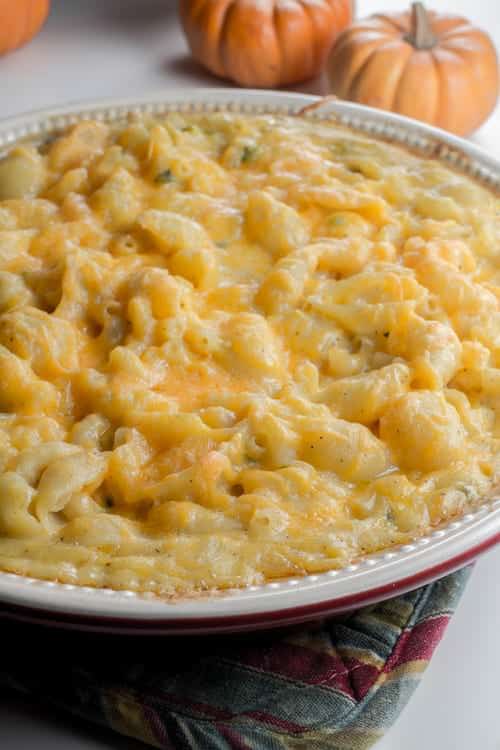 Well friends, what have we learned here? Macaroni and cheese knows no bounds and will always be one of the most comforting meals on the planet.
Don't forget to pin this post and surprise your family with something new (yet familiar) for dinner tonight!