No condensed soup! Yes, you read that right! Just slow cooked, fall-off-the-bone beef short ribs smothered in a classic creamy stroganoff sauce. Serve with egg noodles or mashed potatoes for the ultimate comfort food dinner.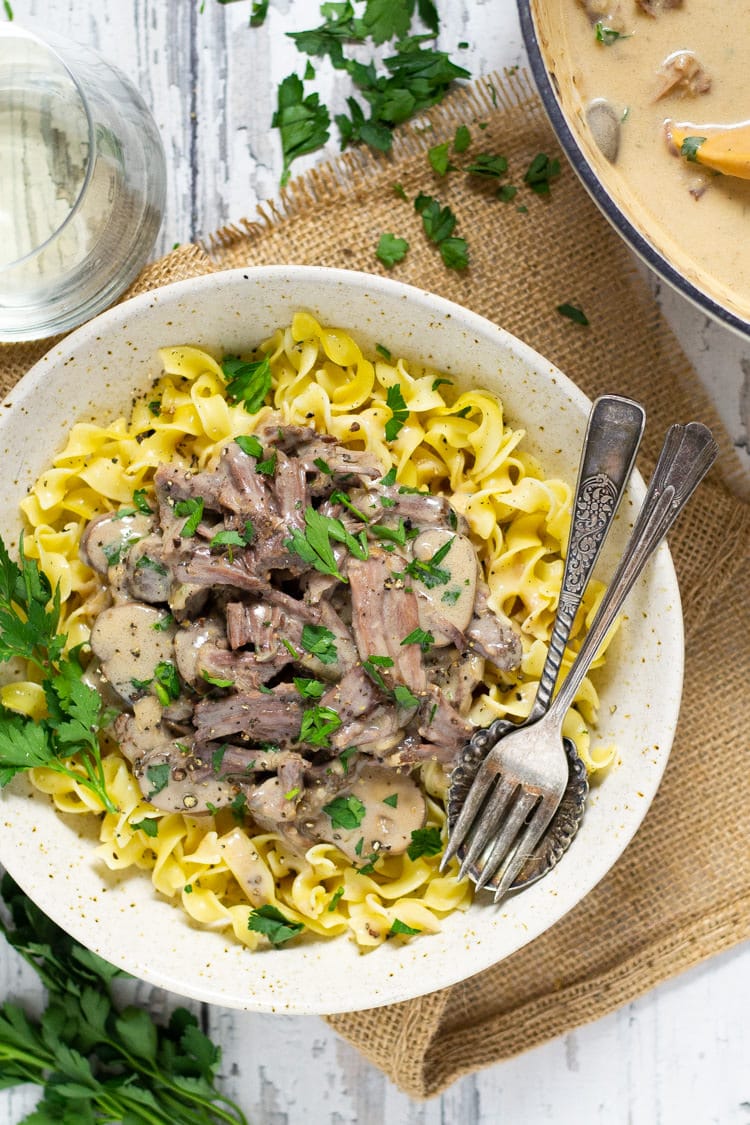 *This post may contain affiliate links. As an Amazon Associate I earn from qualifying purchases at no extra cost to you!
How do I make beef stroganoff?
Let me say it again for those in the back – YOU WON'T BE USING CONDENSED SOUP in this recipe! Instead, you'll re-create the creaminess of sodium laden canned soup by adding flour, deglazing with white wine, slow cooking everything together and adding a (large) dollop of sour cream at the end.
You'll start by searing the beef short ribs, then sauteing onion, garlic and mushrooms with dried herbs and a few secret ingredients. You'll add flour and deglaze the pan with white wine. Then everything goes into a beef broth bath for a few hours.
Once the short ribs are fall apart tender, you'll stir in sour cream and fresh chopped herbs. And of course serve with egg noodles for the most delicious, classic comfort food you're family has ever had.
Is your mouth watering yet? Yes, mine is too!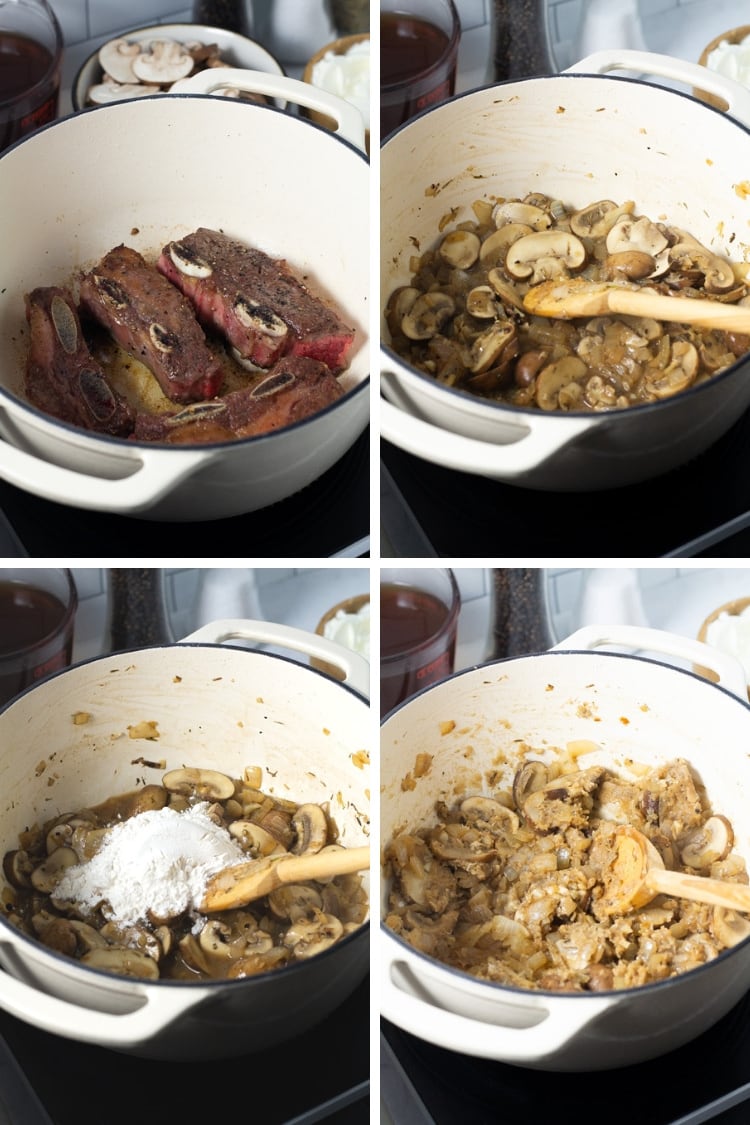 What is braising?
Braising refers to the process of searing meat, then covering it with liquid and cooking it at a low temperature for a long time. Low and slow is the name of the game.
This technique is perfecting for tenderizing tough cuts of meat while imparting tons of delicious flavor and keeping the meat moist and juicy. Yes, I said the word moist – sometimes that word just needs to be used, guys.
Also, sometimes the braising liquid is turned into gravy (like in this dish) and sometimes the braising liquid is just a flavorful bath that gets used up and discarded at the end of the cooking process.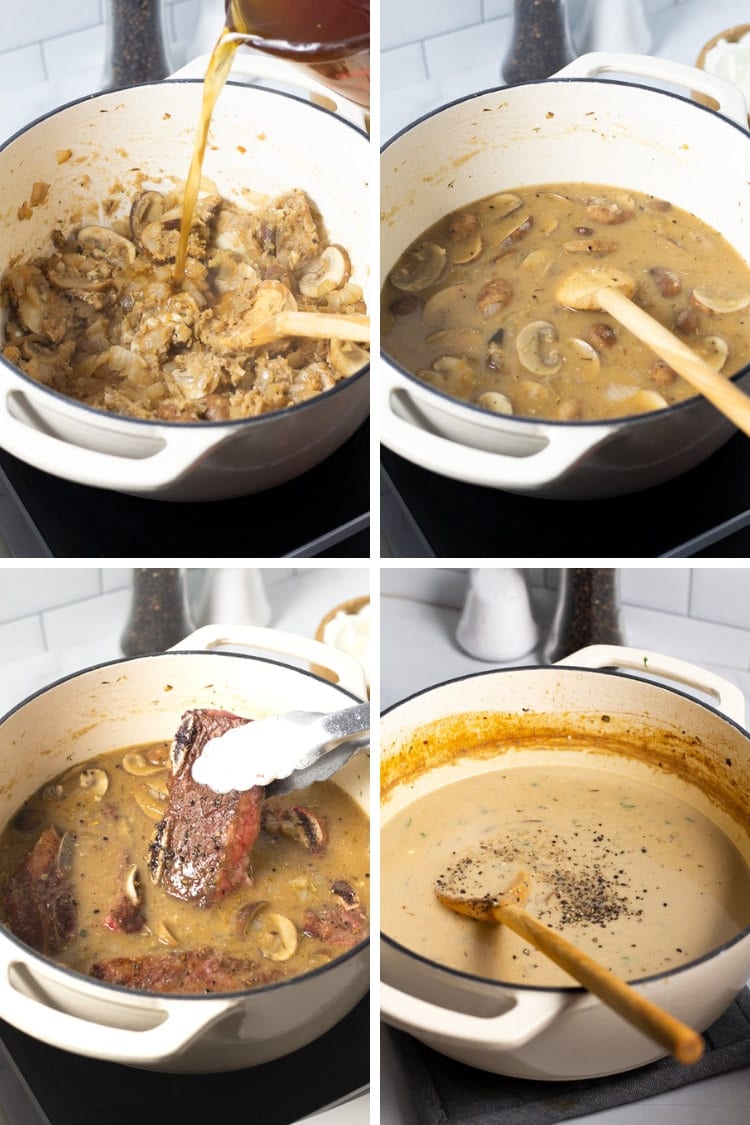 Can I use another cut of beef besides short ribs?
Yes! You can use a variety of cuts of beef in this recipe as the slow cooking process will tenderize the meat.
Chuck roast is a great substitute if you can't find short ribs. I prefer the bone in cuts of meat as I find them to be more flavorful.
Top round, rump roast or chuck shoulder are all cuts that would work well in this recipe also.
Cutting the meat into short ribs sized pieces will give you more surface area to sear, which means more flavor, but a whole chuck roast works just fine too.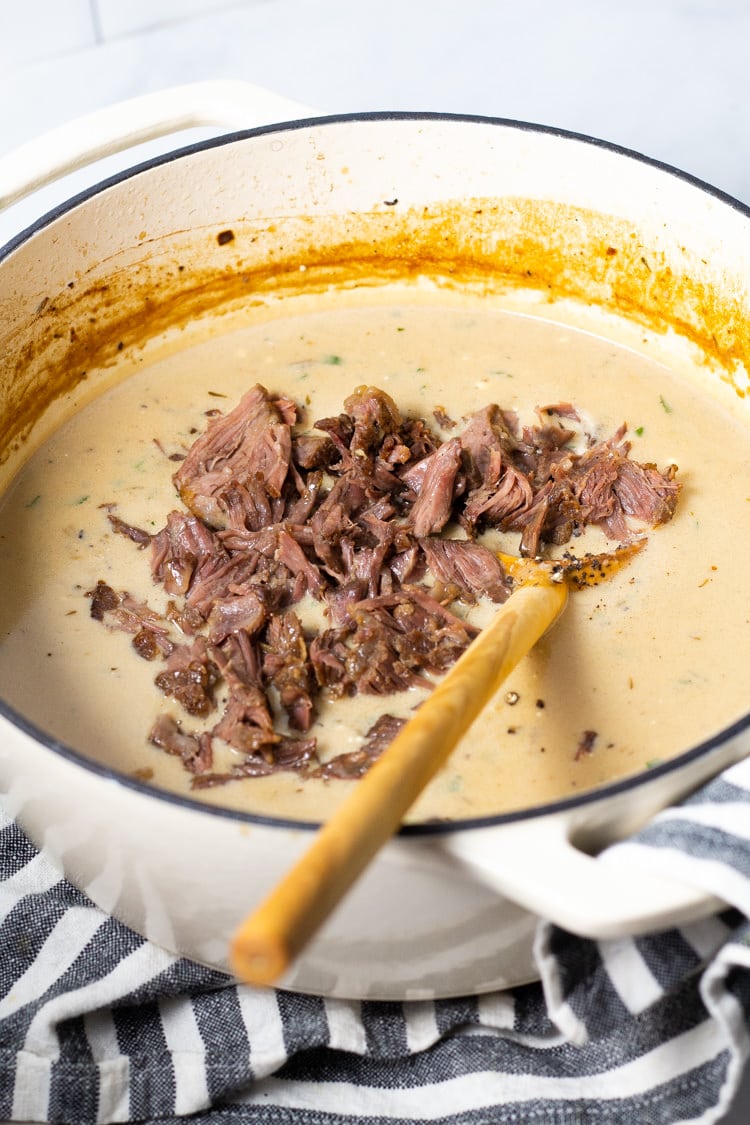 Can I make beef stroganoff ahead of time?
Another yes! This stroganoff actually just seems to get better with time. As with most slow cooked recipes, the active prep time for this dish is really minimal, so these ribs can do their business while you're cleaning up, or doing laundry or binge watching some murder mystery show on Investigation Discovery.
However, if you find yourself wanting to prepare these a day or two ahead of time, that's no problem either! I would follow the recipe below and allow the stroganoff to cool for about an hour before popping it in the fridge.
When you're ready to eat, heat the Dutch oven over medium heat and cook, covered, for about 15-20 minutes or until everything is heated through.
You may end up needing to add a splash of broth as the sauce will thicken as it cools.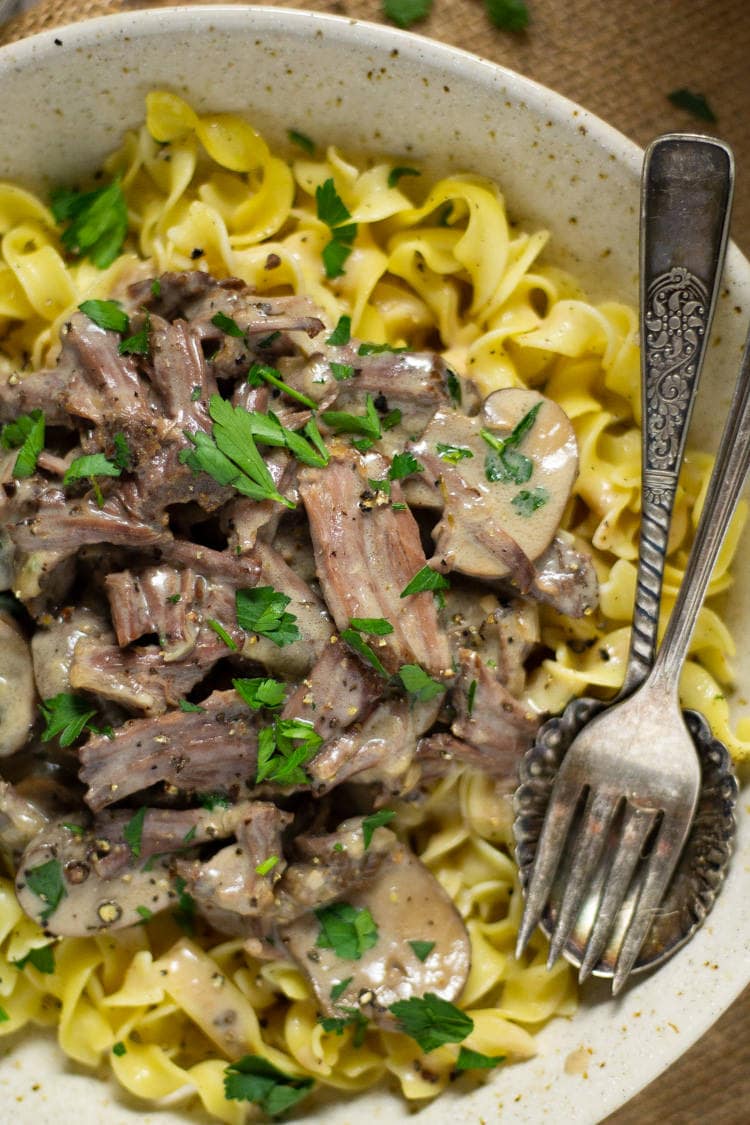 What should I serve with beef stroganoff?
Growing up, the only way we ate beef stroganoff was over egg noodles. Although I am a huge fan of garlicy mashed potatoes drenched in this stroganoff gravy too.
I also like to serve it with a simple green salad just to lighten things up a bit. And of course, a glass of wine! I serve this stroganoff with the same kind of dry white wine I used during the cooking process – which is usually a pinto grigio or a sauvignon blanc.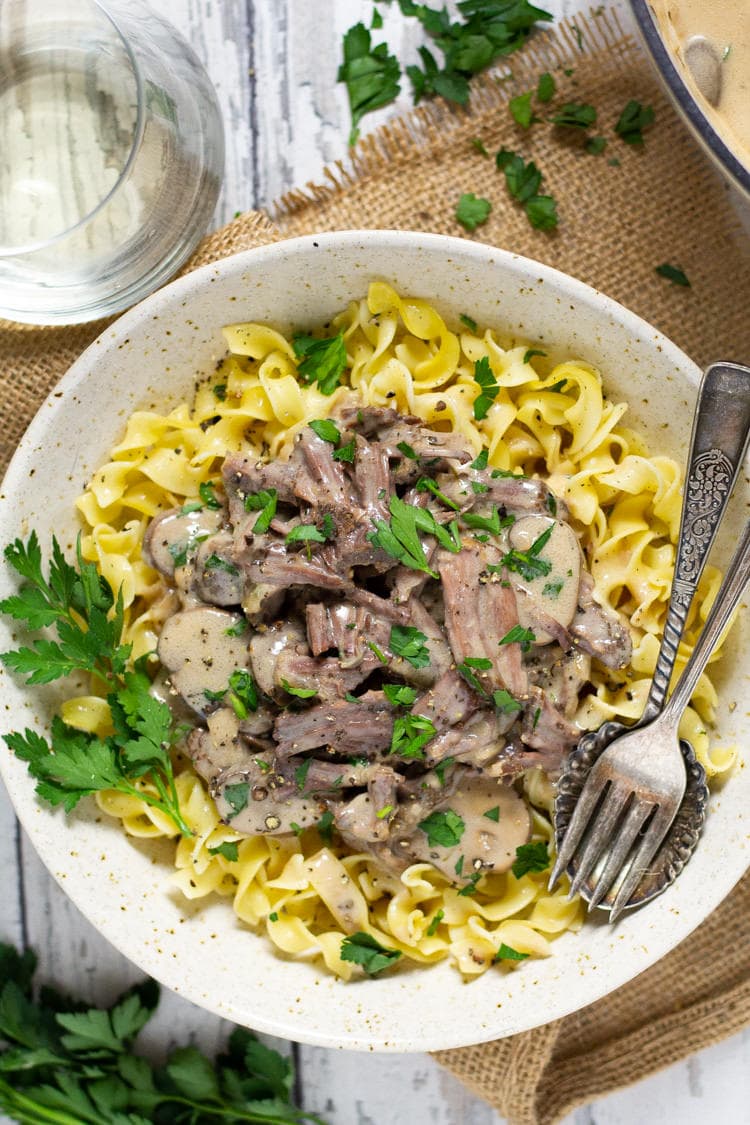 Helpful tools for this recipe:
Print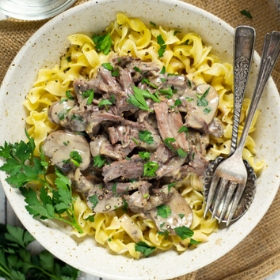 Braised Beef Short Rib Stroganoff
---
Author:

Prep Time:

15 minutes

Cook Time:

3 hours

Total Time:

3 hours 15 minutes

Yield:

12 servings

Category:

Main Dish

Method:

Roasting

Cuisine:

American
Description
Slow cooker, fall-off-the-bone beef short ribs smothered in a classic creamy stroganoff gravy. Serve over egg noodles or mashed potatoes. 
---
Ingredients
3 lbs. bone in beef short ribs
2 tablespoons olive oil
1 yellow onion, diced
5 cloves garlic, minced
1 teaspoon dried thyme leaves
1 teaspoon Dijon mustard
1/4 cup all purpose flour
1/2 cup dry white wine
3 cups beef broth
1 cup sour cream
1/4 cup fresh chopped parsley + more for garnish
1 teaspoon white balsamic vinegar
Kosher salt
fresh cracked pepper
16 oz. egg noodles, cooked according to package directions
---
Instructions
Preheat oven to 300 degrees. 
Heat oil in a large dutch oven over medium high heat. Season short ribs with salt and pepper on all sides. Working in batches, sear short ribs on all sides until a dark golden brown crust forms (about 2-3 minutes per side). Set aside. 
Without wiping out the pot, turn heat to medium and add onion. Cook, stirring frequently for 4-5 minutes. Stir in garlic and cook for another minute. 
Stir in mushrooms, thyme and mustard. Cook, stirring frequently for 4-5 minutes. 
Stir in flour and cook for 1 minute. 
Pour in white wine to deglaze the pan, and be sure to scrape all those yummy bits off the bottom.
Stir in beef broth and add a couple large pinches of salt along with a pinch of pepper. 
Nestle short ribs back into the pot. Make sure they are completely covered in liquid. If not, add another splash of beef broth until they are. 
Cover and roast for 2.5-3 hours or until beef falls apart and shreds easily with a fork. If you have to force it, it's not done. The beef should literally fall off the bone. 
Remove short ribs from pot, shred and discard bones. Set aside. 
Stir sour cream, parsley and vinegar into the pot and mix until combined. Season to taste with salt and pepper. 
Add shredded beef back to the pot and stir to combine. 
Garnish with fresh chopped parsley and serve with egg noodles.  
Keywords: family, dinner, weeknight, meal, easy, simple, quick, recipe, braising, dutch oven, slow cooker, beef, noodles, pasta, parsley, heavy cream