These chicken tostadas are one of my favorite weeknight meals. The chicken is slow cooked with salsa, spices and black beans while you're at work or running errands. Then just come home, shred the chicken, bake the tostada shells and assemble!
Top with your favorite Mexican condiments - guac, my super easy pico de gallo and sliced jalapeno - for a healthy meal that your family will actually look forward to eating! It also makes a great meal prep recipe too because the flavors just get better with time!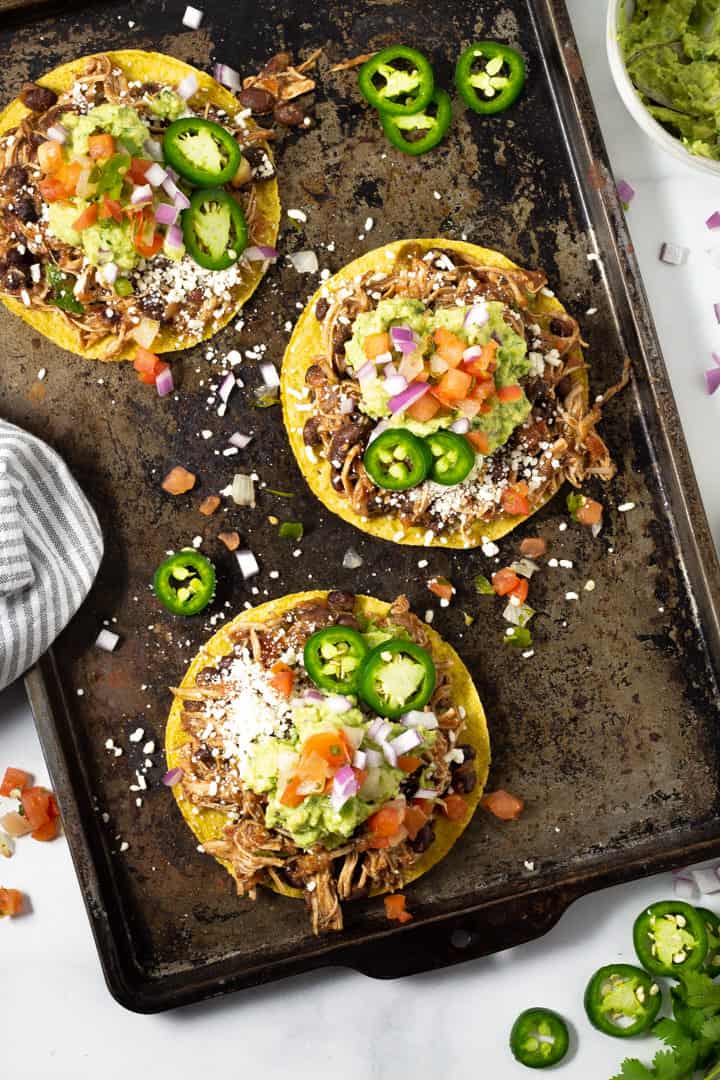 What is a tostada?
A tostada is a crispy, flat tortilla traditionally topped with meat, beans or veggies (or a combination of all three!). It is toasted in the oven (much like you toast a hard taco shell) and then topped with all kinds of things!
Heck, some people even top them with fried eggs! By "some people" I mean me. I top them with fried eggs. And smashed beans and cotija and pico de gallo. MMMM. Yeah, you should definitely check out my Mexican Breakfast Tostadas if you're looking for another fun tostada recipe!
How to make this recipe:
This is one of those meals that I debated back and forth if I should actually write a recipe for because it's so dang easy! Like did you see the prep time on this recipe? 5 minutes!! But it's SO good that I just had to share it with you guys!
You'll combine chicken breast, salsa, spices and black beans in a slow cooker and cook on low for 6 hours (or high for 3 hours).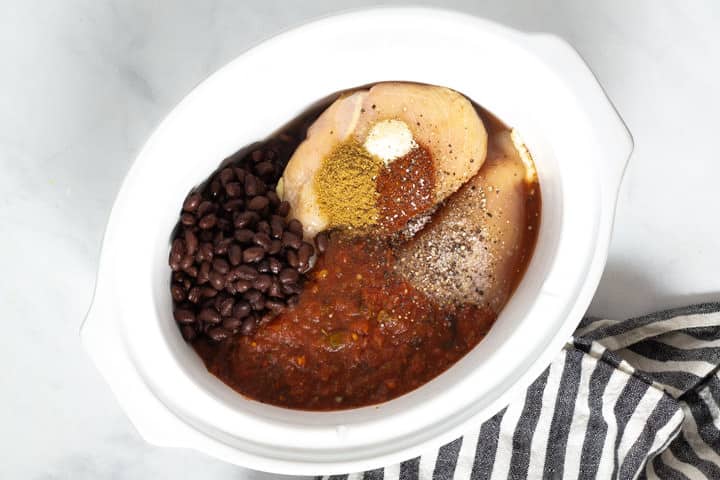 Then heat tostada shells in the oven, shred the chicken and assemble!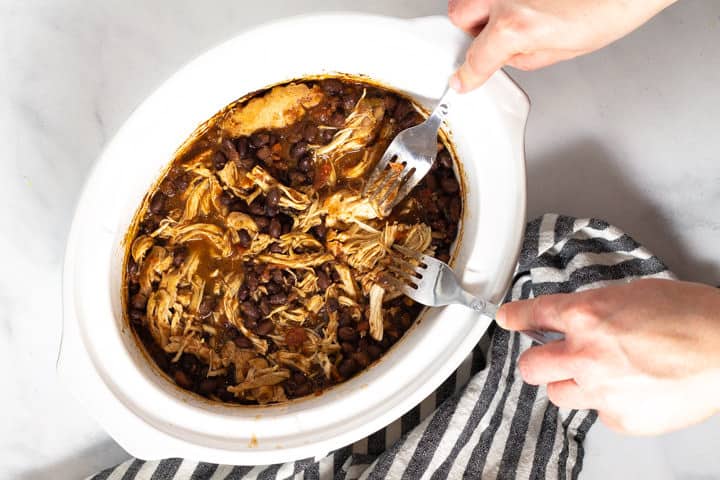 A hearty layer of shredded chicken and black beans goes first.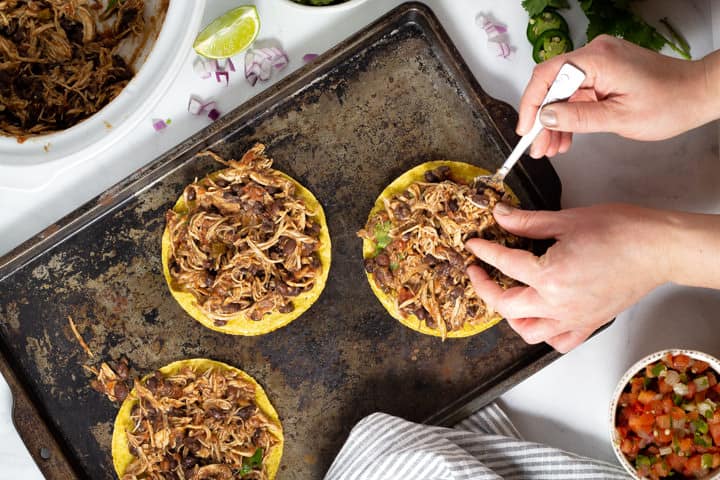 Followed by a sprinkle of salty crumbled cotija cheese.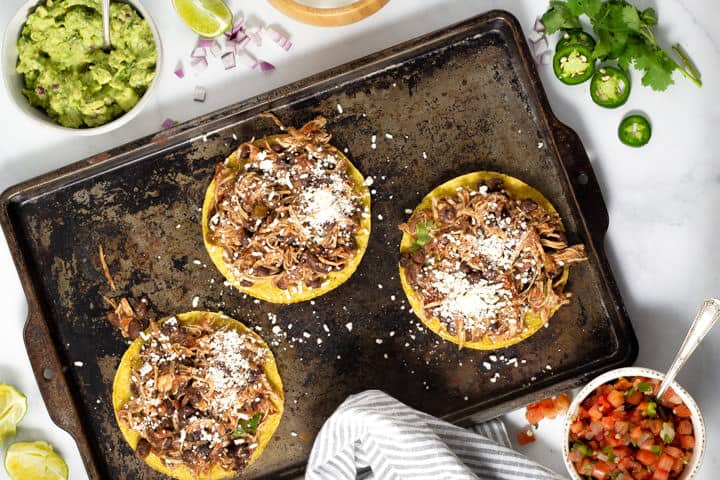 Finish it with a dollop of fresh guacamole, pico de gallo and sliced jalapeno. Add a little fresh chopped cilantro for good measure and dinner is done!
If you're not into all that healthy, flavorful, delicious, amazing stuff on top, just sprinkle the chicken with shredded pepperjack cheese and broil it for a quick minute to get it melty and warm.
Why you're going to love this recipe:
It's quick and easy. You are just 5 minutes and 10 ingredients away from a healthy, satisfying dinner that your family will love!
The crock pot does all the work for you. In the summer months, my crock pot works over time - cooking up delicious healthy dinners without heating up my whole entire house.
It's a welcomed change from your classic taco Tuesday routine! Next time you're thinking about making tacos *again* try something different! Grab some crispy tostada shells and let your family top their own with all of their favorites! The more you can get them involved in making the meal (or at least assembling it) the more likely they are to eat it!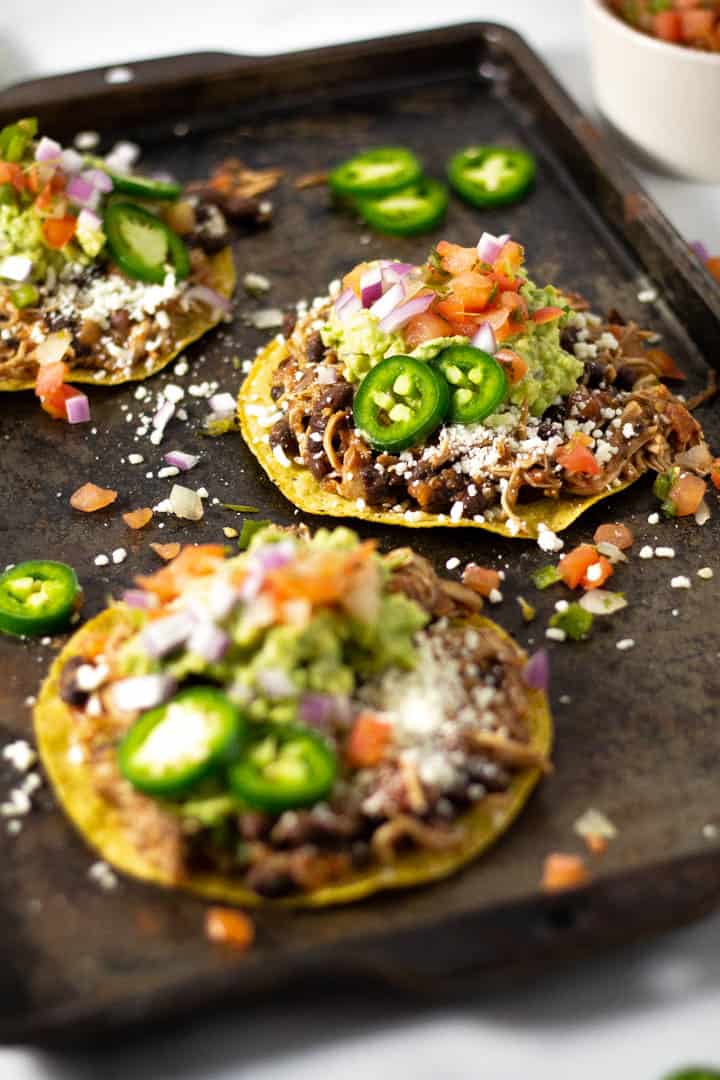 Frequently asked questions:
Can I use a different meat instead of chicken breast?

Sure! Are you more in the mood for beef tostadas this weekend? Great!Do you have some left over pork shoulder that you'd like to use up? Go ahead!
Keep the proportions the same and follow the instructions in the recipe below.
The cook time may change a bit depending on what cut of meat you use, but the slow cooker is your friend. And it is fantastic at making nearly any cut of meat tender and fall apart delicious.
Are tostadas good for feeding a crowd?

Tostadas are THE BEST for feeding a crowd! Everyone's been to a party with a taco bar. But have you been to a party with a tostada bar?? Yeah, that's what I thought!
Switch up your usual dinner routine or party buffet staple and try a tostada bar instead! I'd plan for each person to have 1-2 tostadas depending on the time of day and whether they're adults or children.
Lucky for you, this recipe can be doubled or tripled to accommodate any number of folks. Just be sure to plan on extending the cook time a bit as the more meat you put in the slow cooker, the longer it will take to cook.
The best part about the tostada bar (other than the tender, pull apart chicken) is undoubtedly the toppings. With an endless variety there's sure to be something that will appeal to everyone in your family - hot sauce, salsa, lettuce, tomato, cheese, sour cream, guacamole, pico de gallo, refried beans, red onion, rice or jalapenos.
Can I make crock pot chicken tostadas ahead of time?

Sure can! I like to make a double batch at the beginning of the week and then keep it in the fridge all week! When it's dinner time I heat up a couple tostadas in the oven and toss the chicken in a pot on the stove over medium heat for 4-5 minutes.
If you're making the chicken ahead of time and reheating, you may want to add a bit of salsa as you reheat just to make sure the chicken doesn't dry out too much.
Are chicken tostadas healthy?

Yep! 214 calories per tostada (without guac, cause ya know, that guac is always extra!!) and they're loaded with fiber and protein. They're also incredibly filling which is why I love them so much!
Lean chicken breast, and fiber filled beans on top of a crispy tortilla creates the perfect healthy base. Topped with nearly calorie free pico de gallo and sliced jalapenos. The guacamole is going to cost you some extra calories, but seriously it's worth it as the health benefits of avocados are tremendous!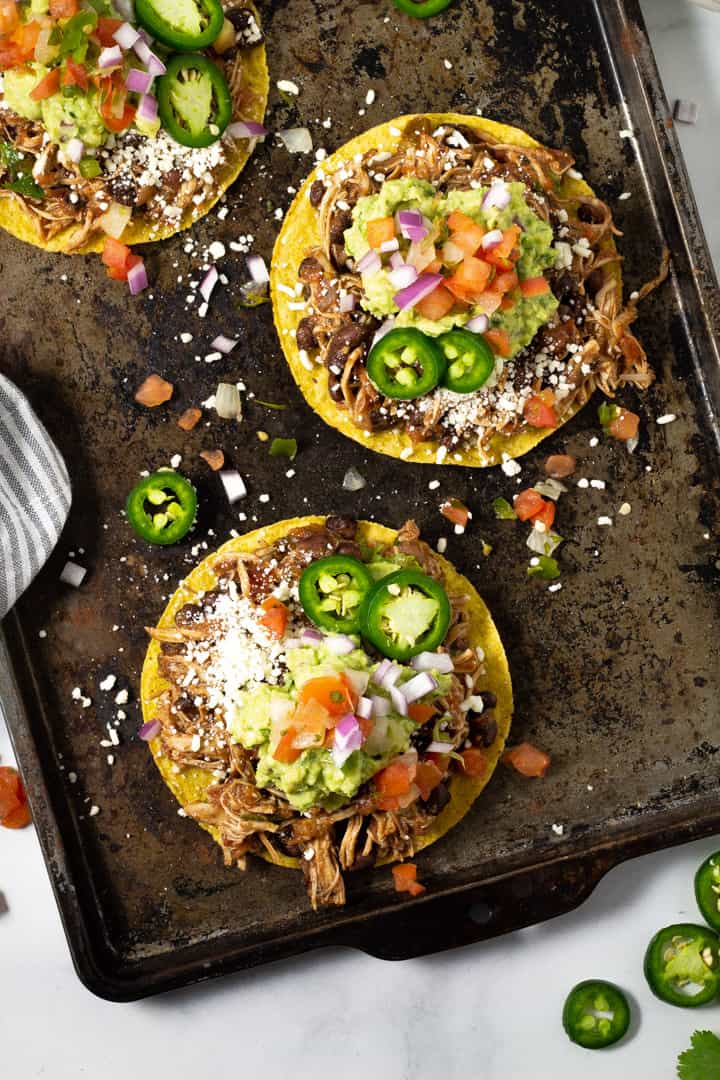 If you loved this recipe, you're going to go nuts for these other family favorites:
Print
Chicken Tostadas
These chicken tostadas are one of my favorite weeknight meals. The chicken is slow cooked with salsa, spices and black beans for a simple, healthy dinner!
Author: Kylie
Prep Time:

5 minutes

Cook Time:

3 hours

Total Time:

3 hours 5 minutes

Yield:

8

tostadas

1

x
Category:

Main Dish

Method:

Slow Cooker

Cuisine:

Mexican
For serving:
guacamole
sliced jalapeno
fresh cilantro
Put chicken breast, beans, salsa, cumin, chili powder, garlic, diced chiles (if using) and a large pinch of Kosher salt and pepper into a medium sized crock pot. Stir to combine so that everything is coated in salsa and spices. 
Cook on high for 3 hours or low for 6 hours. 
Use two forks to shred chicken right in the crock pot. 
Heat tostada shells according to package directions.
Divide shredded chicken evenly between tostada shells. Then top with cotija cheese and pico de gallo along with other desired toppings. 
Serve warm and enjoy!
Keywords: chicken tostadas, slow cooker tostadas, crock pot chicken, crock pot tostadas, slow cooker tacos