Lean chicken and flavorful spices are rolled into meatballs, baked in the oven, then simmered in a classic coconut curry sauce. Garnish with lots of fresh cilantro and serve with brown rice for a dish that's sure to be a family favorite!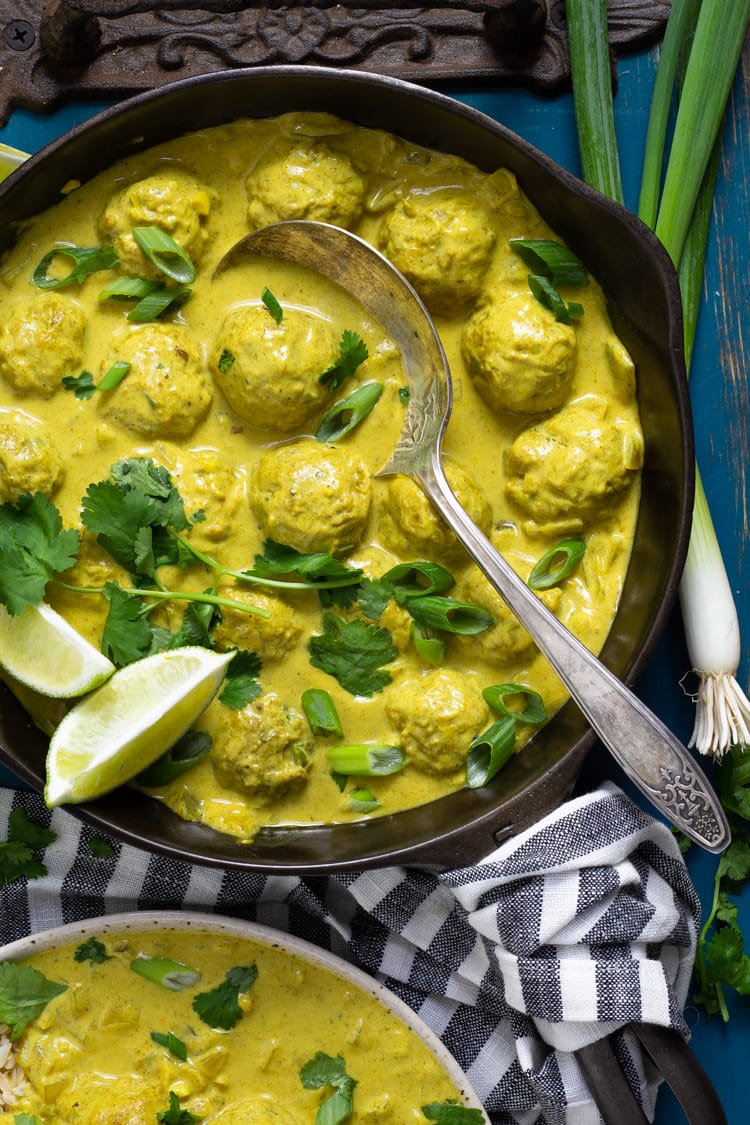 How do I make curry chicken meatballs?
First you'll combine lean ground chicken with classic curry spices, breadcrumbs, milk and an egg. Then bake them in the oven for about 10 minutes which will help them stay nice and round.
They'll finish cooking with a quick simmer in a classic curry mixture of garlic, onion, chicken broth, coconut milk and spices until they are perfectly moist and tender!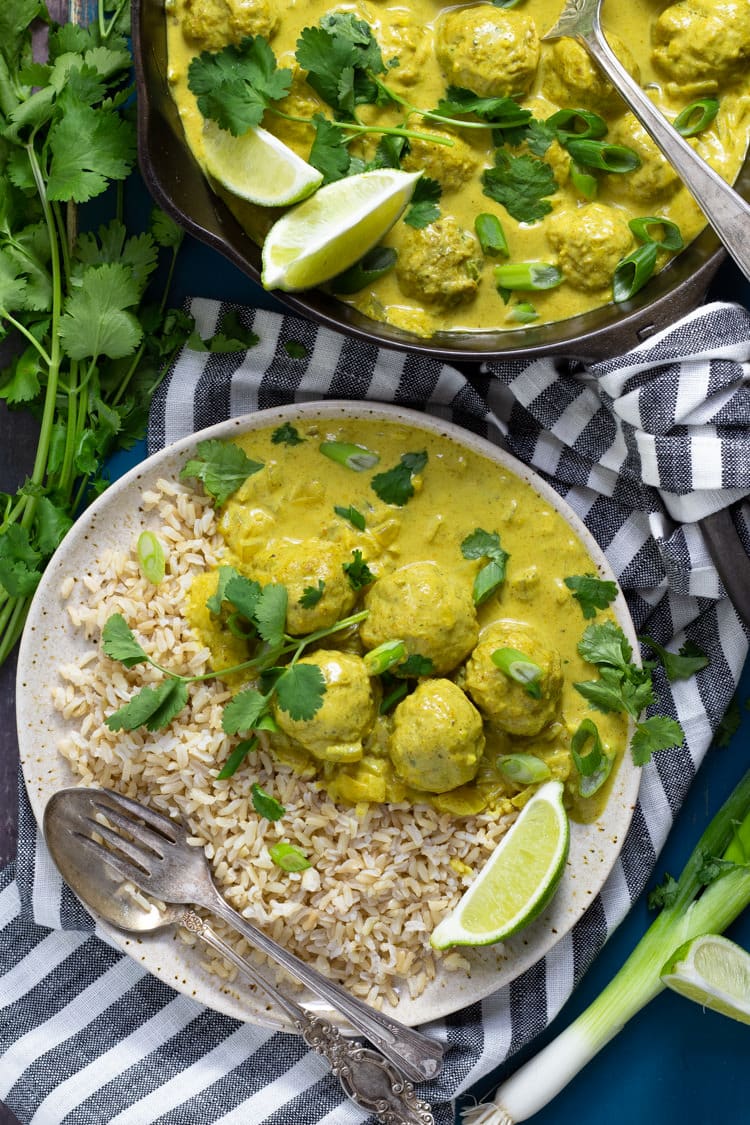 What if my family doesn't like curry?
Then your family hasn't had good curry!
I get that some people don't like certain flavors (curry included), but I often wonder what they are basing their experience on. If you didn't like the frozen Lean Cuisine curry meal you had 5 years, it's time to try the homemade stuff!
Along those same lines, if you think curry is too spicy, then you need to try making it at home! With homemade curry you can control the amount of flavor and spice that goes into it. It doesn't have to knock you over with flavor or make you sweat from spice.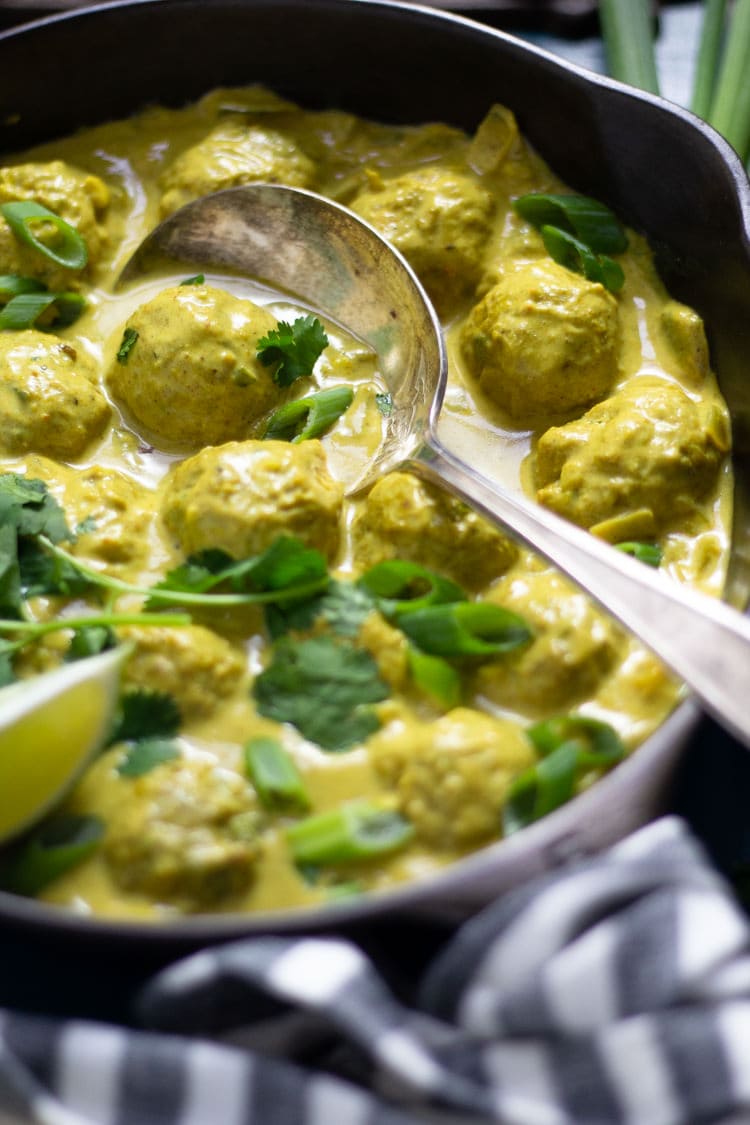 What's the difference between curry powder and curry paste?
They sound the same, but they look and taste very different. Curry powder is golden yellow in color while curry paste is most commonly either green or red. Curry powder is most often used in Indian cooking, while curry paste is more often used in Thai cuisine.
Curry powder typically has a more mild flavor, while a small amount of curry paste can pack a big punch! Curry powder is a mixture of dry spices – typically coriander, cumin and turmeric. While curry paste is made by crushing potent herbs – typically red chiles, garlic and ginger – then combining them with oil to make a paste.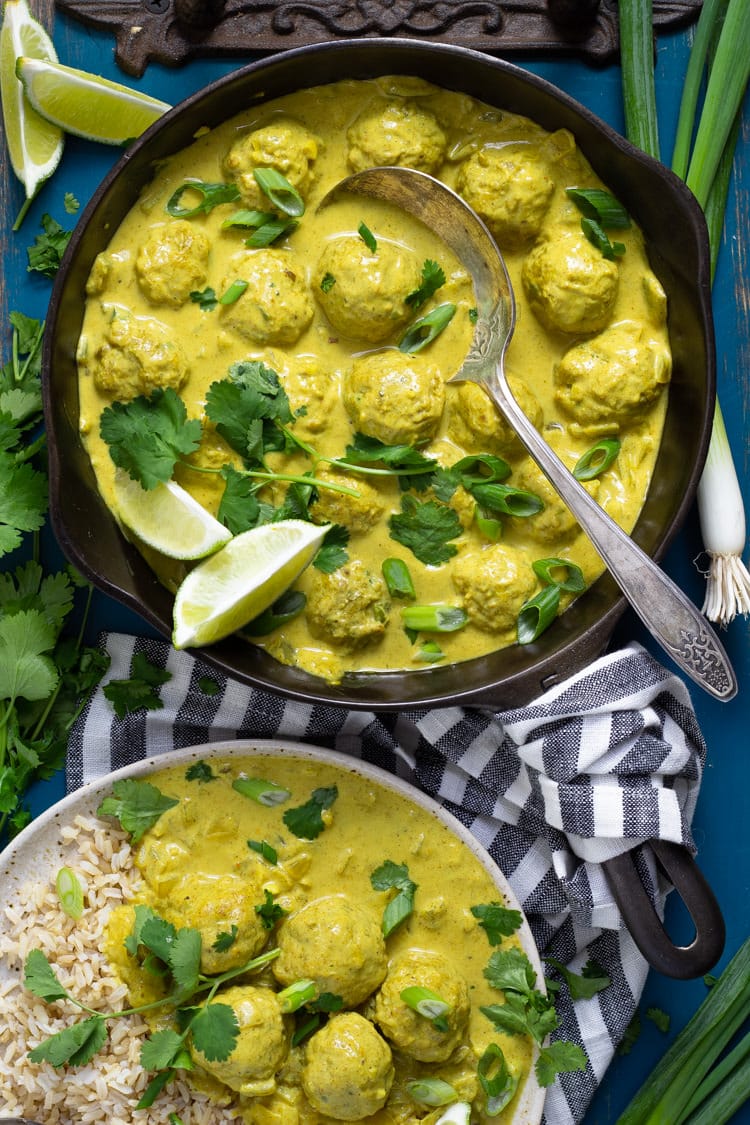 Should I use curry powder or curry paste?
Based on the above mentioned differences, I'd say it depends on what kind of flavor you're going for. I would guess most people would prefer to stick to the more mild flavors of curry powder. But if you like it hot, curry paste might be a great option for you!
In this recipe, I've used mainly curry powder with just a little bit of curry paste to bump up the heat. But as I mentioned above, you can tailor this recipe to your family's desired level of spice!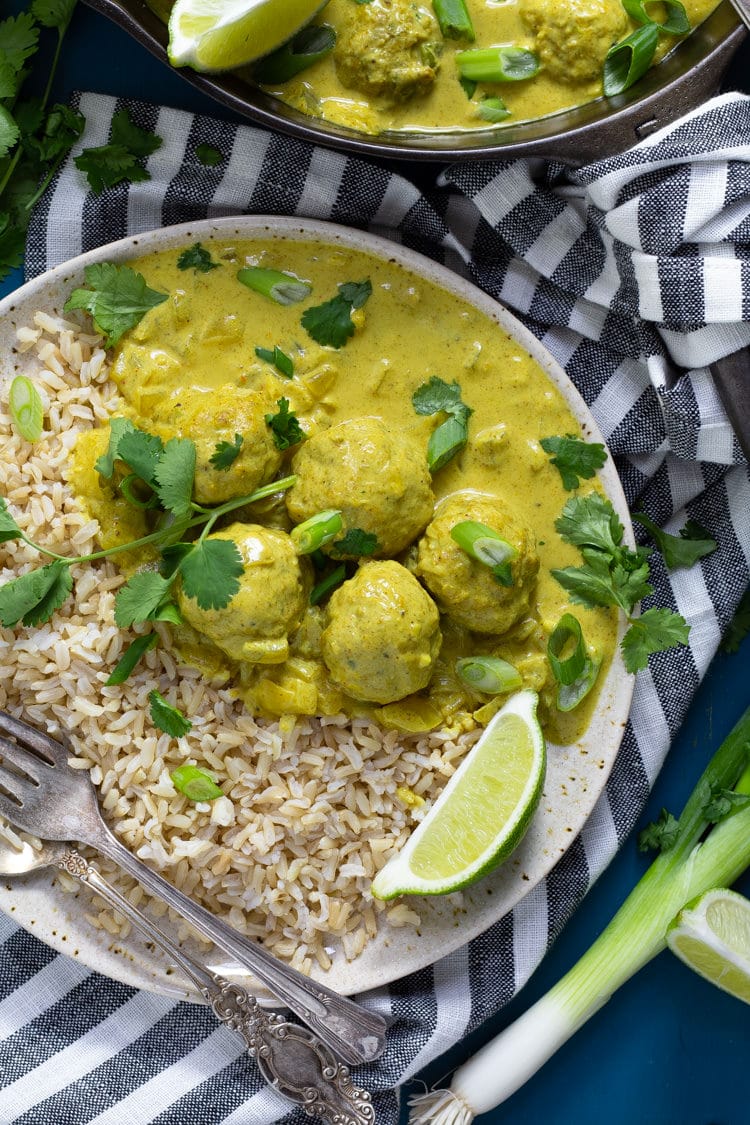 Can I make curried chicken meatballs ahead of time?
Yes! When the temps start to drop, curry chicken meatballs are always one of the first meal prep dishes I turn to. Curry reheats beautifully so you can make a big batch and eat it all week!
I like to reheat my curry in a covered pot over medium low heat, stirring occasionally for about 8-10 minutes. This allows it to heat up evenly. However if you have the luxury of a microwave, that will work too!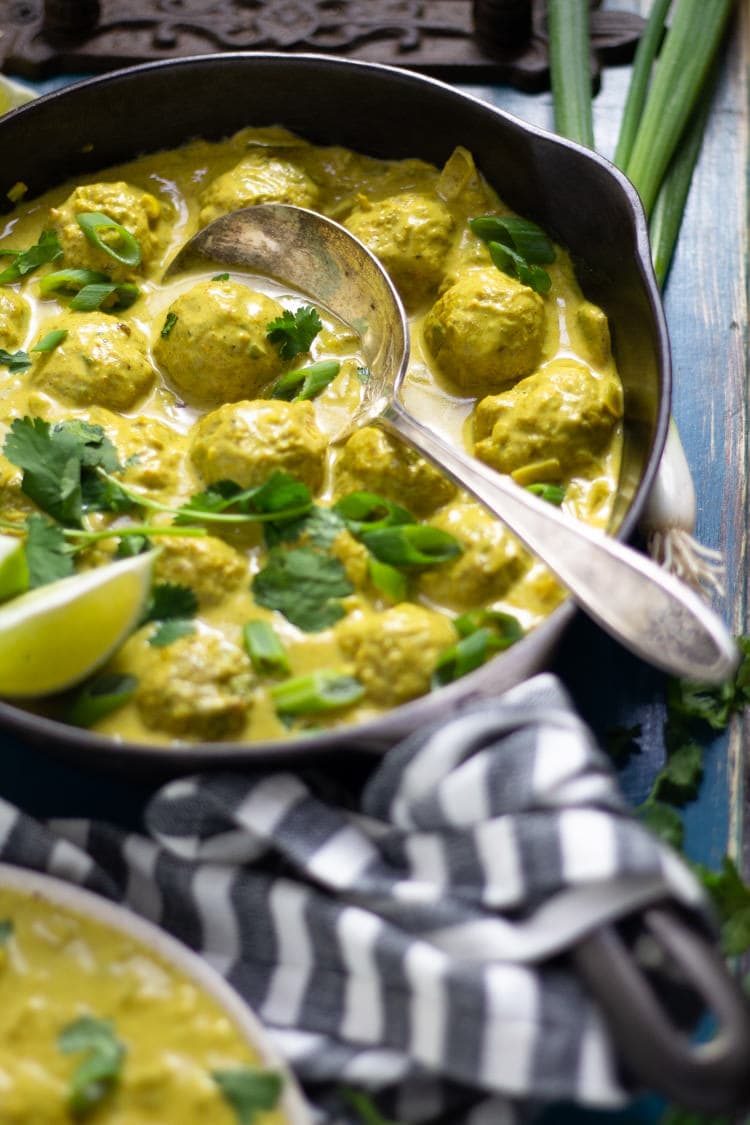 Can I use a different protein instead of chicken?
Yes! The world is your oyster! Although, I don't think oysters would be a good sub for chicken in this case… However, beef, pork, or even lamb would work well in this dish. Just make sure the meat you're using is ground.
Print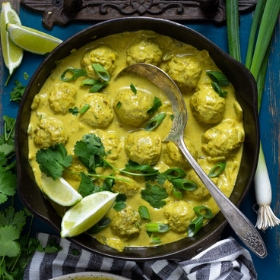 Curry Chicken Meatballs
Author:

Prep Time:

20 minutes

Cook Time:

20 minutes

Total Time:

40 minutes

Yield:

28 meatballs

Category:

Main Dish

Method:

Baking/Cooking

Cuisine:

Indian
---
Description
Lean chicken and flavorful spices are rolled into meatballs, baked in the oven, then simmered in a classic coconut curry sauce.
---
Ingredients
Chicken Meatballs:
1/2 cup breadcrumbs
3 tablespoons milk
1 lb. ground chicken
2 cloves garlic, minced
1/2 inch knob ginger, minced
1 large green onion, thinly sliced
1.5 teaspoons curry powder
1/2 teaspoon cumin
1/8 teaspoon garam masala
1 egg
Kosher salt
fresh cracked pepper
Curry Sauce:
3 teaspoons olive oil
1 yellow onion, diced
5 cloves garlic, minced
1.5 cups chicken broth
2 tablespoons curry powder
1 tablespoon cumin
1/2 teaspoon red curry paste
1/8 teaspoon garam masala
1 can full fat coconut milk
Kosher salt
fresh cracked pepper
Serving Suggestion:
fresh chopped cilantro
thinly sliced green onion
brown rice
---
Instructions
Heat oven to 450 degrees and line a baking sheet with parchment paper or foil and place a cooling rack on top of the liner.
. In a small bowl combine breadcrumbs and milk. Set aside to soak for a few minutes while you get everything else ready.
In a large bowl combine ground chicken, garlic, ginger, green onion, curry powder, cumin, garam masala, egg, milk soaked breadcrumbs and a few pinches of salt and pepper. Use your hands to mix just until combined – do not overmix.
Use a tablespoon cookie scoop to scoop about 28 meatballs. Coat your hands in a thin layer of olive oil and roll the meatballs between your palms to make them uniformly round. The oil will keep the meatballs from sticking to your hands. Place them on the cooking rack (on the baking sheet) about an inch apart.
Bake for 10 minutes. At this point they may not be cooked through but they will finish cooking in the curry sauce.
While the meatballs are baking, heat oil in a large pan over medium heat. Add onion along with a pinch of salt and pepper and cook, stirring frequently for about 4 minutes. Add garlic and cook for another minute or so. Turn heat to low and stir in chicken broth, curry powder, cumin, red curry paste, garam masala, coconut milk and a couple pinches of salt and pepper.
Add meatballs to the curry sauce and turn heat back to medium. Simmer, uncovered over medium heat for about 10 minutes or until the meatballs are cooked through.
Serve with brown rice and garnish with fresh cilantro and green onion.
---
Notes
You may notice that the fat grams seem pretty high for such a lean chicken meatball. Most of this fat comes from the coconut milk and not the meatballs itself. If you are trying to watch your fat intake, you could use lite coconut milk, but the consistency of the sauce will not the same as with full fat. While coconut milk is high in fat, it contains a variety of vitamins and minerals. If you have more questions about the health benefits of coconut milk, check out this article!
Keywords: healthy, easy, quick, meal prep, family, dinner, weeknight, meal, recipe, comfort food, cilantro, rice