If you haven't baked fish in a foil or parchment package, you're not living your best life! The fish cooks up moist and tender right along with your favorite veggies. And clean up is a breeze!
Meal prep doesn't have to be complicated or time consuming. This dish is a great option for those who are short on time and are looking to put a healthy meal on the dinner table at the end of the day.
*This post may contain affiliate links. As an Amazon Associate I earn from qualifying purchases, at no additional cost to you!
How do I make baked salmon in parchment packets?
It's SO easy.
You'll start by making a simple, yet tasty Asian inspired sauce with fresh garlic and ginger. You'll layer the salmon on top of a bed of veggies, then drizzle everything with the sauce and seal it in a parchment paper packet.
Bake for 20 minutes, then serve with rice and garnish with fresh cilantro.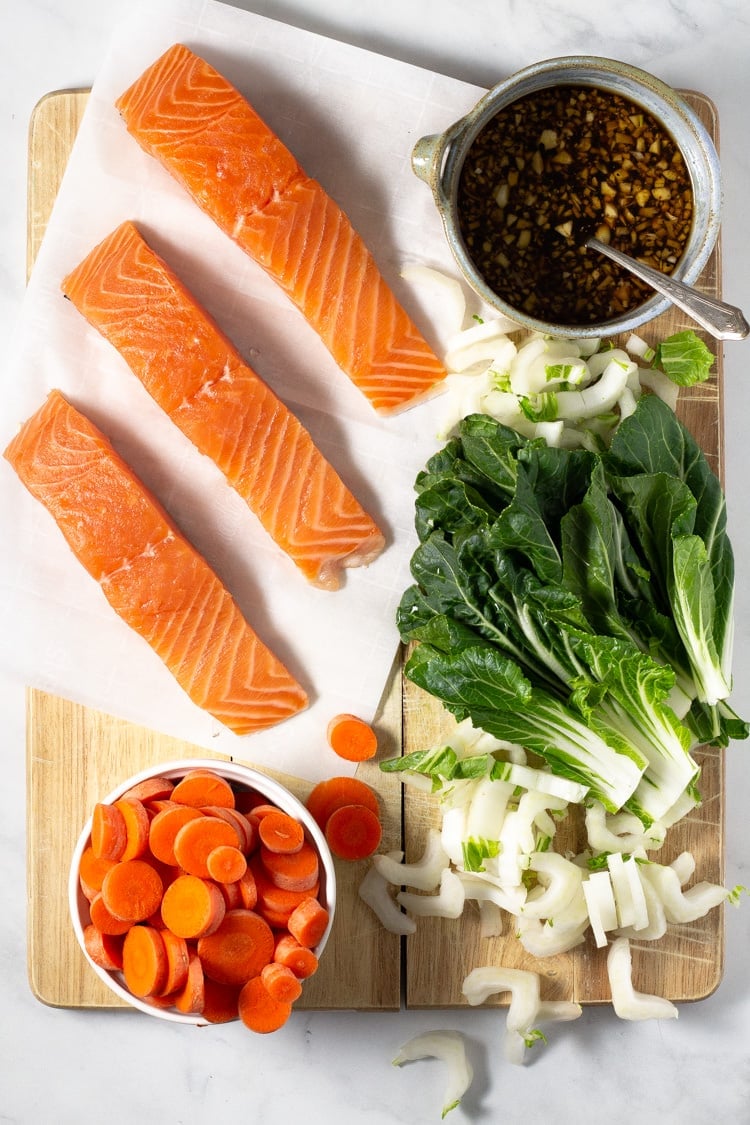 Can I use foil instead of parchment paper?
Of course! They are basically interchangeable in this recipe. If you use foil, you can follow the same directions in the recipe below.
Foil would be a great option if you'd prefer to grill the packets instead of baking them also. Grill over medium high heat for about 10-15 minutes, or until salmon flakes easily.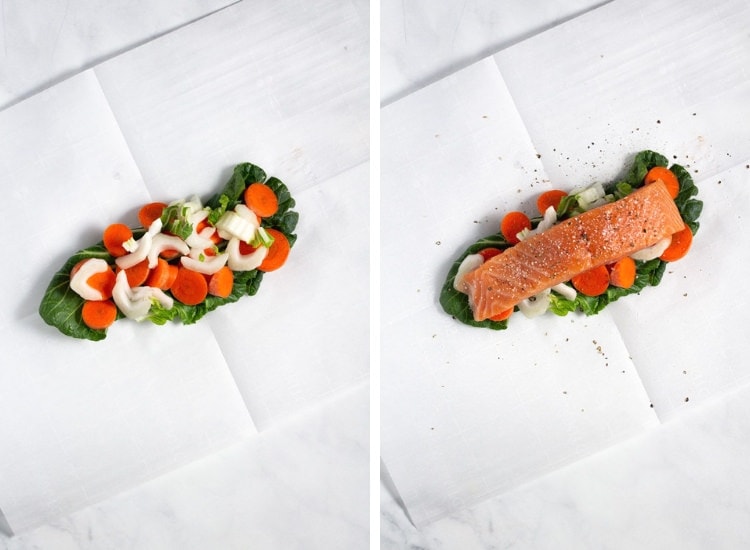 Can I use other kinds of fish in this dish?
Yes! The Asian flavors of this dish will compliment most types of fish. Halibut, trout, sea bass, cod or tilapia would all work great in this recipe also.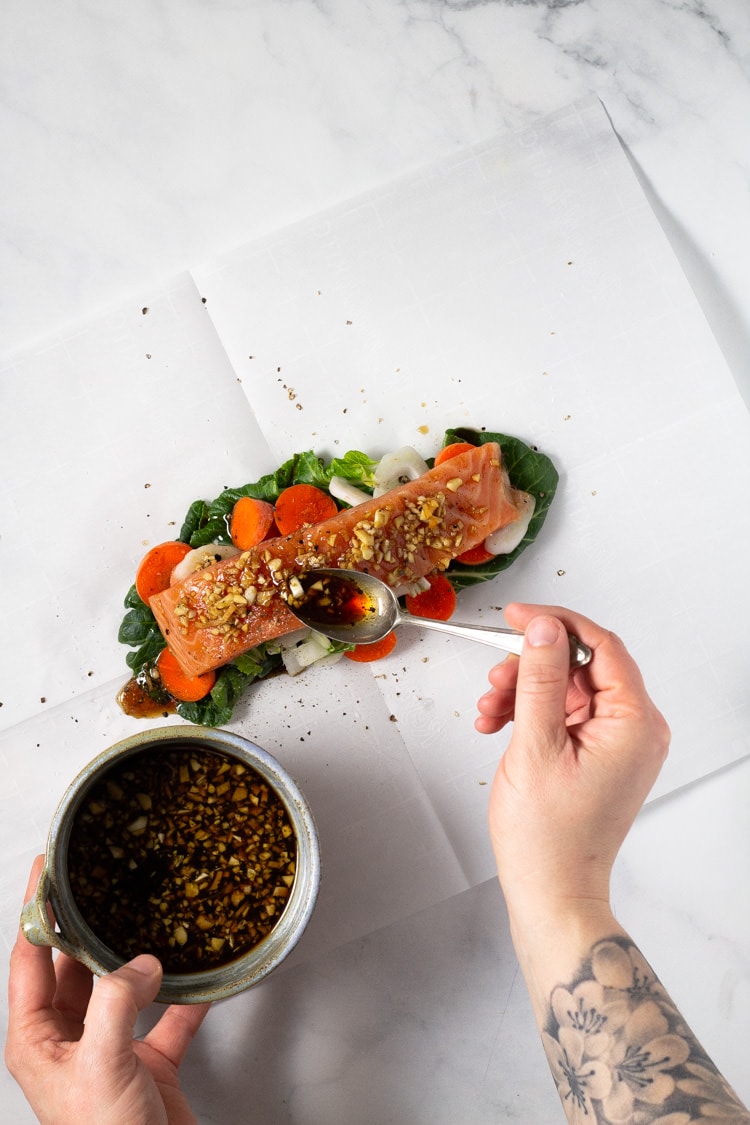 What is the rule of thumb for cooking fish?
Generally a good rule of thumb for cooking fish is that for every 1 inch of thickness, the fillet will need 10 minutes to cook.
*Use the thickest part of your filet when you're measuring*
So if you're salmon fillet is 2 inches thick, it will need 20 minutes to cook. If your tilapia fillet is less than an inch thick, it will likely only need 7-8 minutes to cook.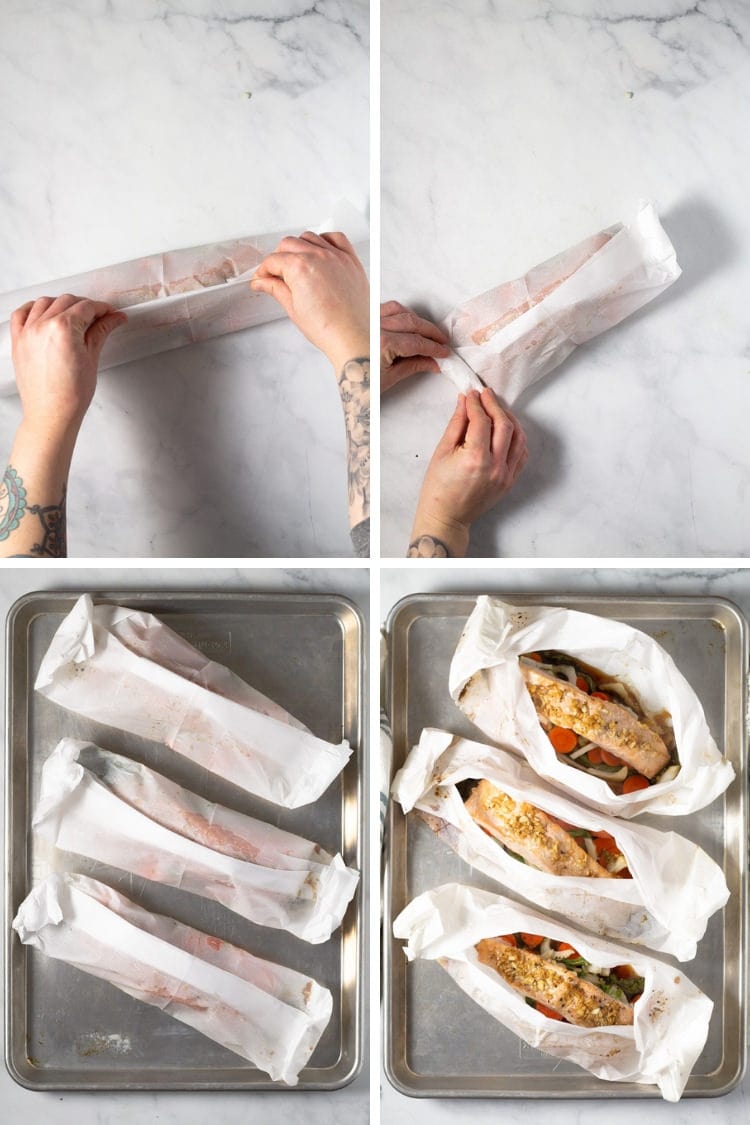 Where can I find bok choy? Can I use other vegetables instead?
You'll find bok choy in most grocery stores in the produce area. During the summer months, I like to get it from our local farmer's market.
While bok choy and carrots are delicious, they're certainly not the only vegetables you could use in this recipe.
Use your favorites – just keep the veggies around 3-4 cups and make sure they're sliced thinly enough that they'll be tender after 20 minutes of roasting.
Broccoli or greens beans are two of my other favorites to use in this dish!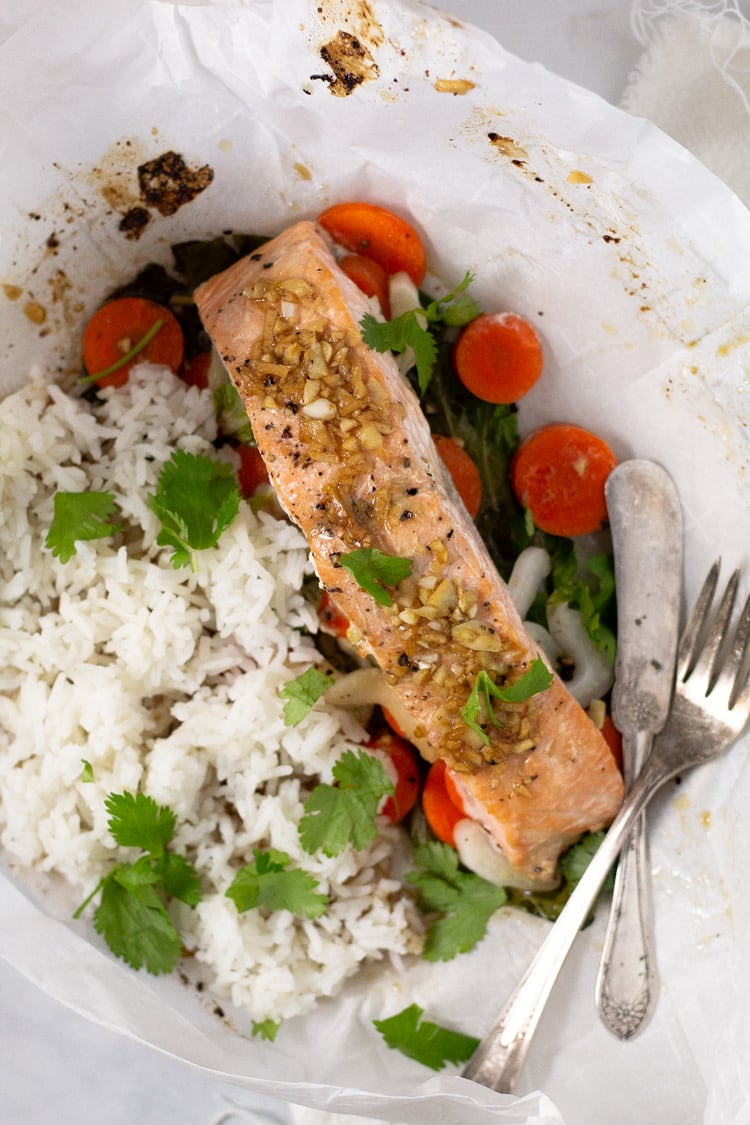 Can I make this dish ahead of time? Is it good for meal prep?
Yes and yes!
If you're having guests over for dinner this is a great dish to make ahead of time. Just follow the directions below and place the parchment packets on the baking sheet, then pop them in the fridge. When your guests arrive, you'll have dinner on the table in 20 minutes.
The same goes for meal prep! I'll make all my packets on Sunday afternoon and then cook one each night for dinner. They'll stay good in the fridge for up to 1 week.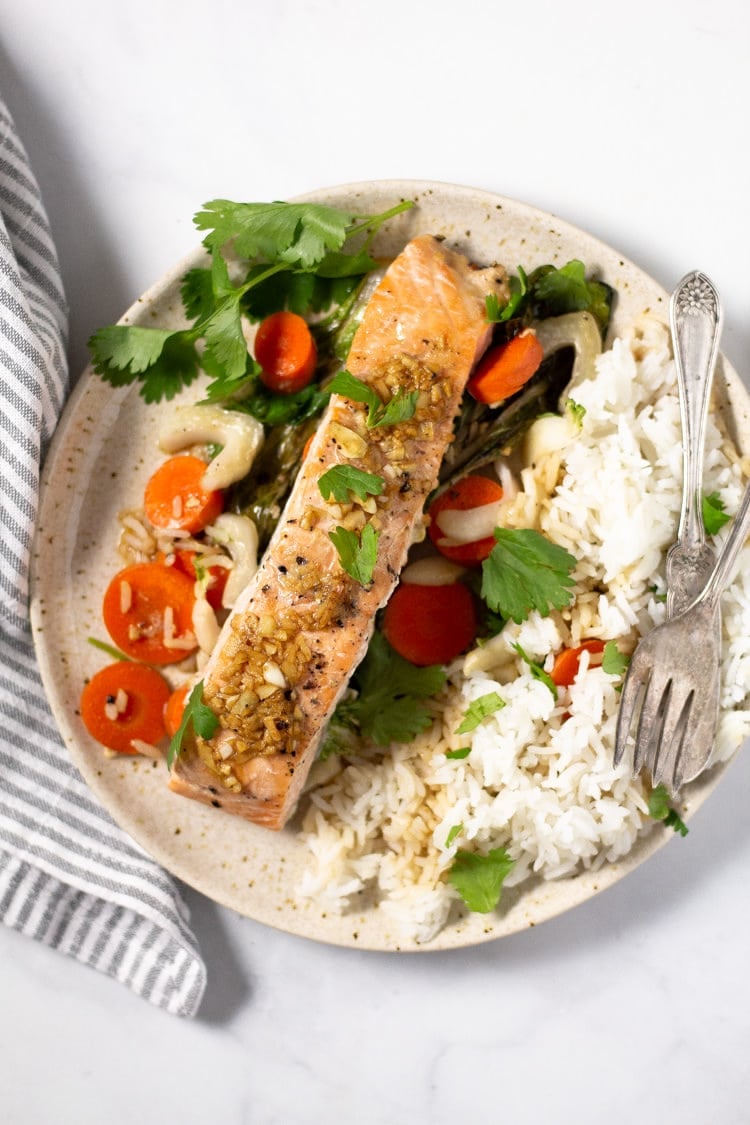 What goes well with baked salmon?
My favorite salmon and veggie side dish is plain old rice. It's hearty, filling and cheap! Chopped cilantro also brings a fresh flavor to this dish.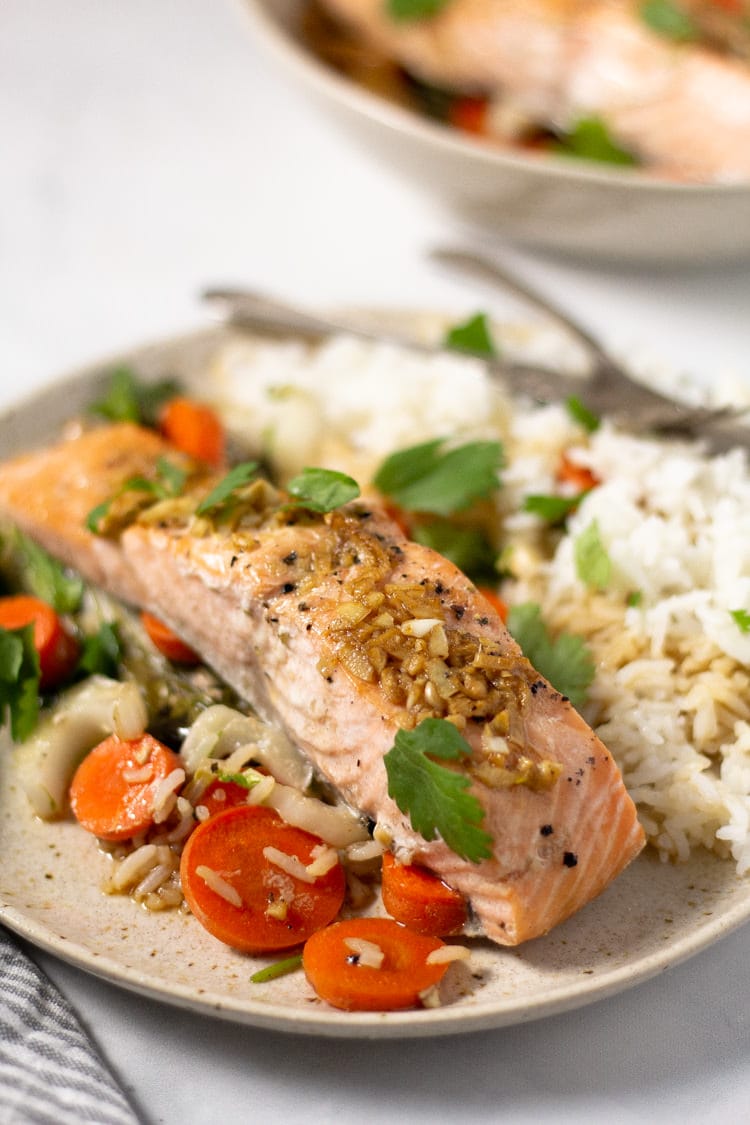 Helpful products for this recipe:
Print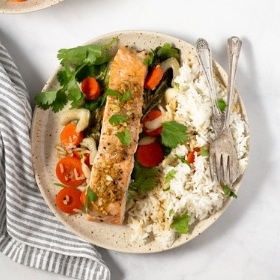 Garlic and Ginger Parchment Baked Salmon
---
Author:

Prep Time:

10 minutes

Cook Time:

20 minutes

Total Time:

30 minutes

Yield:

4 servings

Category:

Main Dish

Method:

Baking

Cuisine:

American
Description
This salmon dish is a great option for those who are short on time and looking to put a healthy meal on the dinner table at the end of the day.
---
Ingredients
1 pound salmon, cut into 4 fillets
1/4 cup soy sauce
1/4 cup rice vinegar
2 cloves garlic, minced
2 teaspoons minced fresh ginger
2 teaspoons sesame oil
2 teaspoons honey
Kosher salt
fresh cracked pepper
small bok choy, leaves whole, stem thinly sliced
2 cups carrots, thinly sliced
cooked brown rice for serving
fresh chopped cilantro for garnish
---
Instructions
Preheat oven to 350 degrees.
In a small bowl, whisk soy sauce, rice vinegar, garlic, ginger, sesame oil and honey along with a pinch of salt and pepper.
Lay 4 large pieces of parchment paper on the counter. Divide the veggies evenly, making a small pile in the center of each piece of parchment.
Place salmon (skin side down) on top of the veggies and slowly pour sauce over the salmon.
Seal the parchment packet by folding the longest sides of the parchment paper together and folding over twice. Then fold the ends in towards the center, folding them over twice as well.
Place packets on a baking sheet and bake for 20 minutes or until salmon flakes easily with a fork.
Serve salmon with cooked brown rice and garnish with cilantro.
Keywords: easy, healthy, quick, recipe, meal prep, family, dinner, fish, weeknight, meal, foil pack, tin foil, aluminum, vegetables