This melon and mozzarella salad is about as easy as it gets. Three kinds of melon, cute little balls of fresh mozzarella and a mint vinaigrette with 6 ingredients that comes together in your food processor in about 5 seconds. A simple melon baller transforms this mundane fruit salad into an elegant dish for your guests to feast their eyes on. It might seem slightly time consuming to create each of these cute little balls of melon. But if you've ever cut up a melon before, you'll know that's no walk in the park either. In some ways, I think using the melon baller was easier than dicing up each of those melons. What I'm trying to get at here is that if you're looking at these photos thinking it must have taken hours to put together this salad, you are mistaken!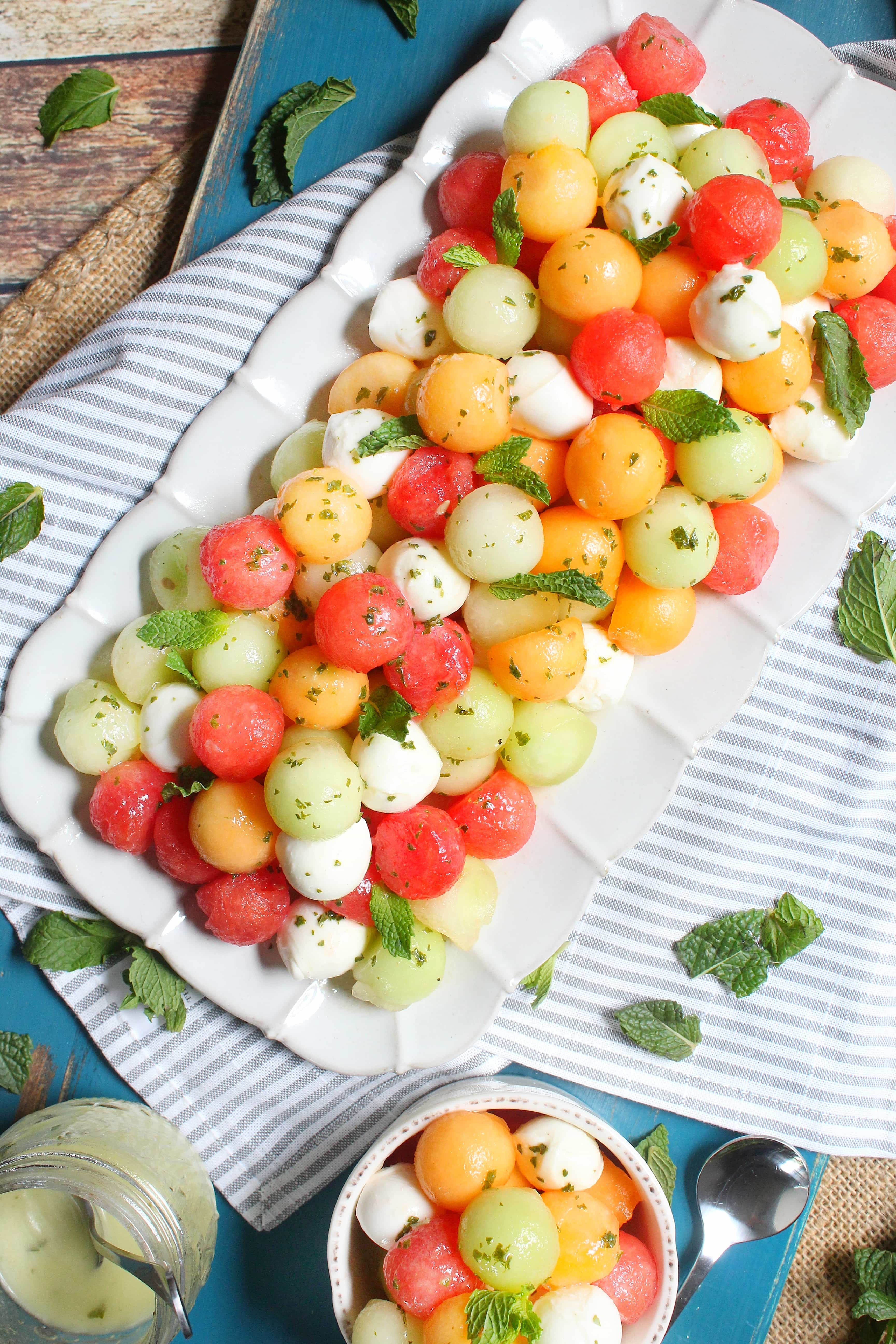 I was able to whip this bad boy up during nap time, including taking probably 20 different photos and instastories during that time. Now of course everyone's nap time is different, but our daughter has gotten to the point where she only lays down for about one solid hour during the day now. And I was definitely Pinteresting and responding to IG messages for at least 20 minutes before I started making this. I'm also going to take out 10 minutes for the myriad photos and instastories. So we're down to 30 minutes folks.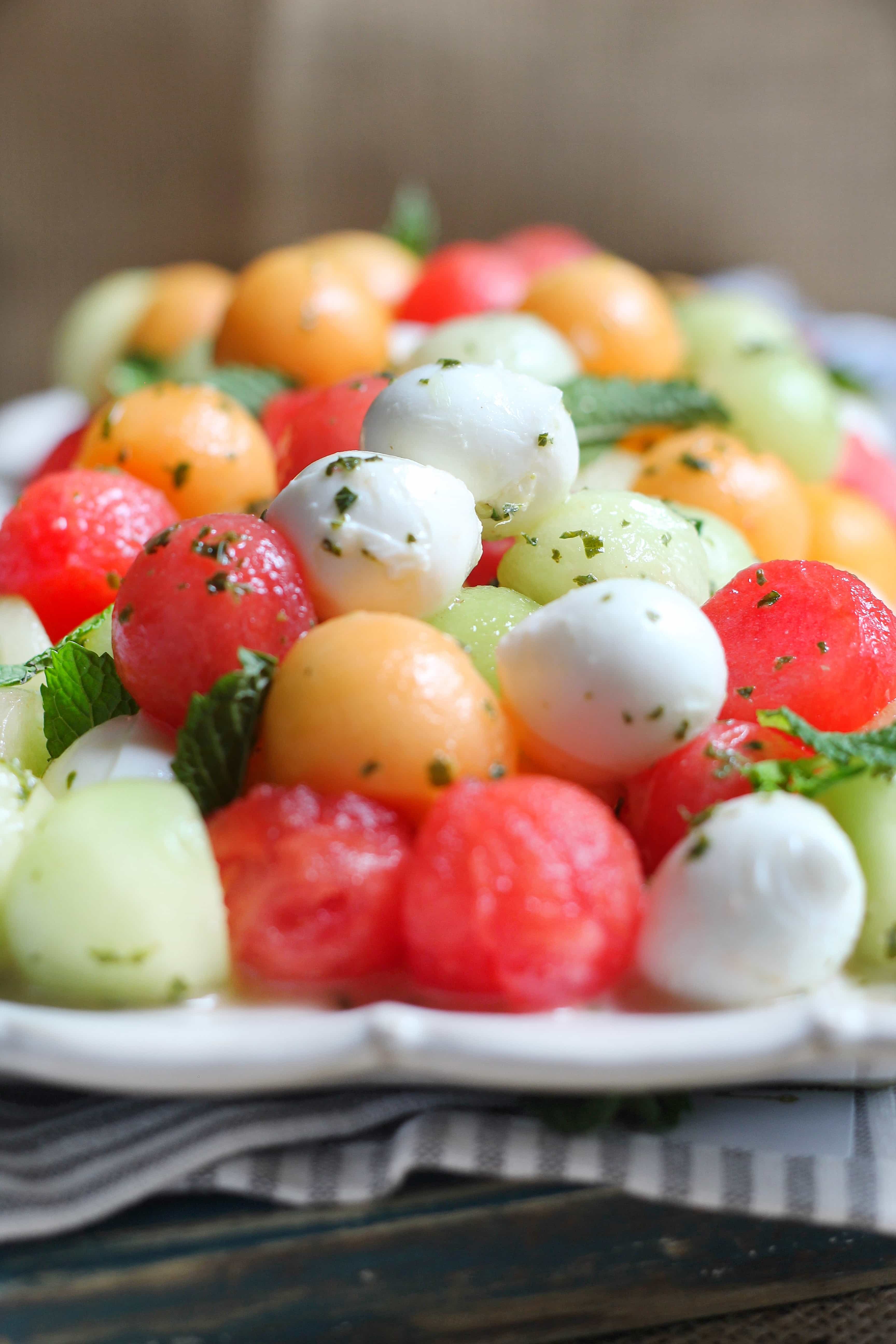 To be honest, I had a blast making this salad. It's unlike anything I've ever made before. And as I was test tasting along the way, I started to get really excited about the finished product. One of my favorite places to be is in the kitchen, chopping, slicing, dicing (or in this case melon balling) and having some alone time. That's not to say that I don't enjoy cooking with my husband or my sisters. But since becoming a mom my alone time has become quite sparse; practically non-existent to be honest. So when I get to spend it in the kitchen–just me, a glass of wine and my cutting board–it's a real treat.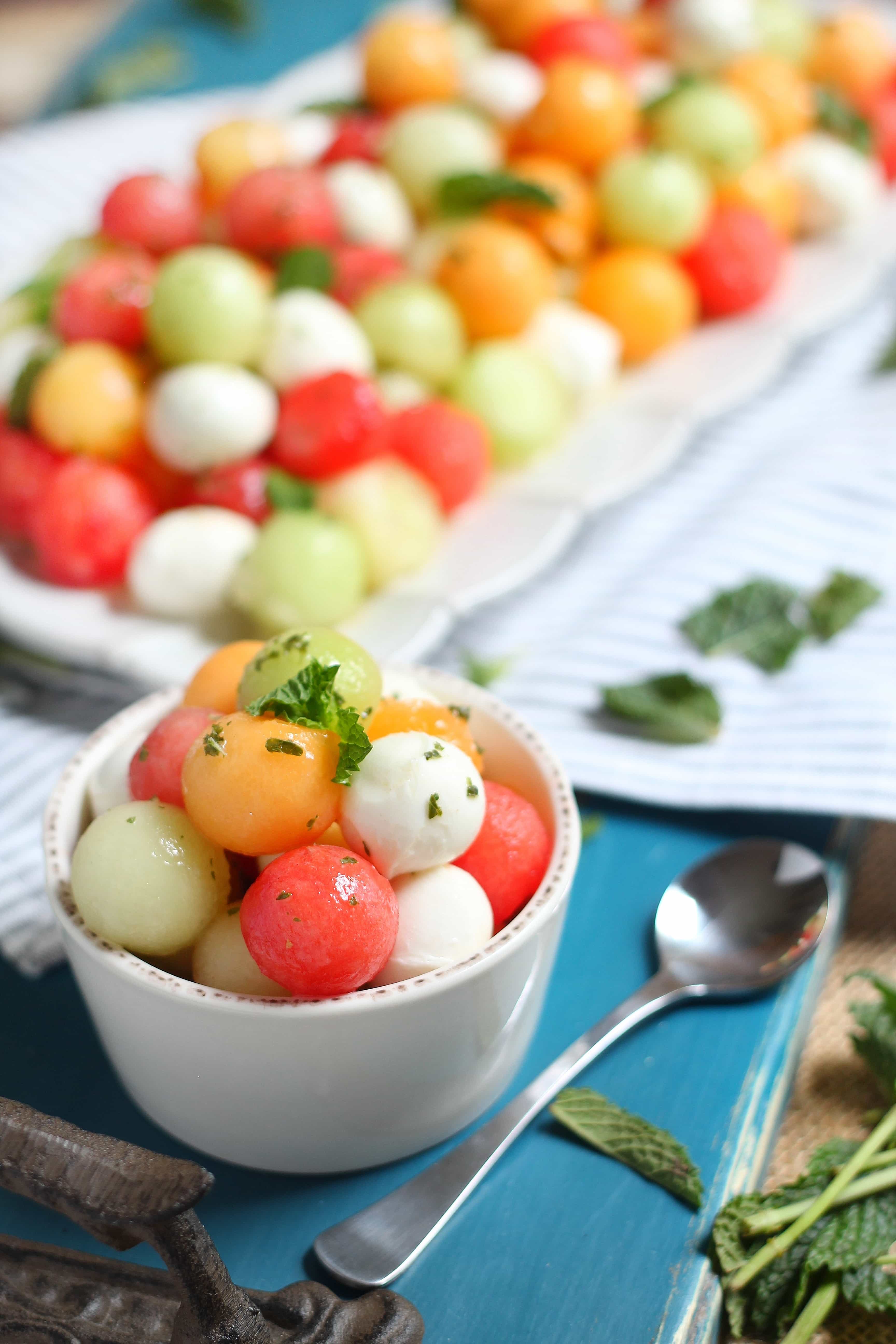 Which got me thinking how many people I talk to that say they "can't cook" or even that they don't enjoy being in the kitchen. And I started wondering (aloud of course, because I was alone) if maybe they just hadn't found the right recipe. Or the right song to dance to while they're cooking. Or the right cocktail to help them relax and really let loose. For me cooking has really helped me to evolve and change as a person. I do some of my best soul searching while I'm sauteing garlic or chopping onions. My time in the kitchen, and the time I spend blogging is like therapy for me. It's a chance for me to think about what's going on in my life. Or to shut everything out and get lost in the flavors and techniques.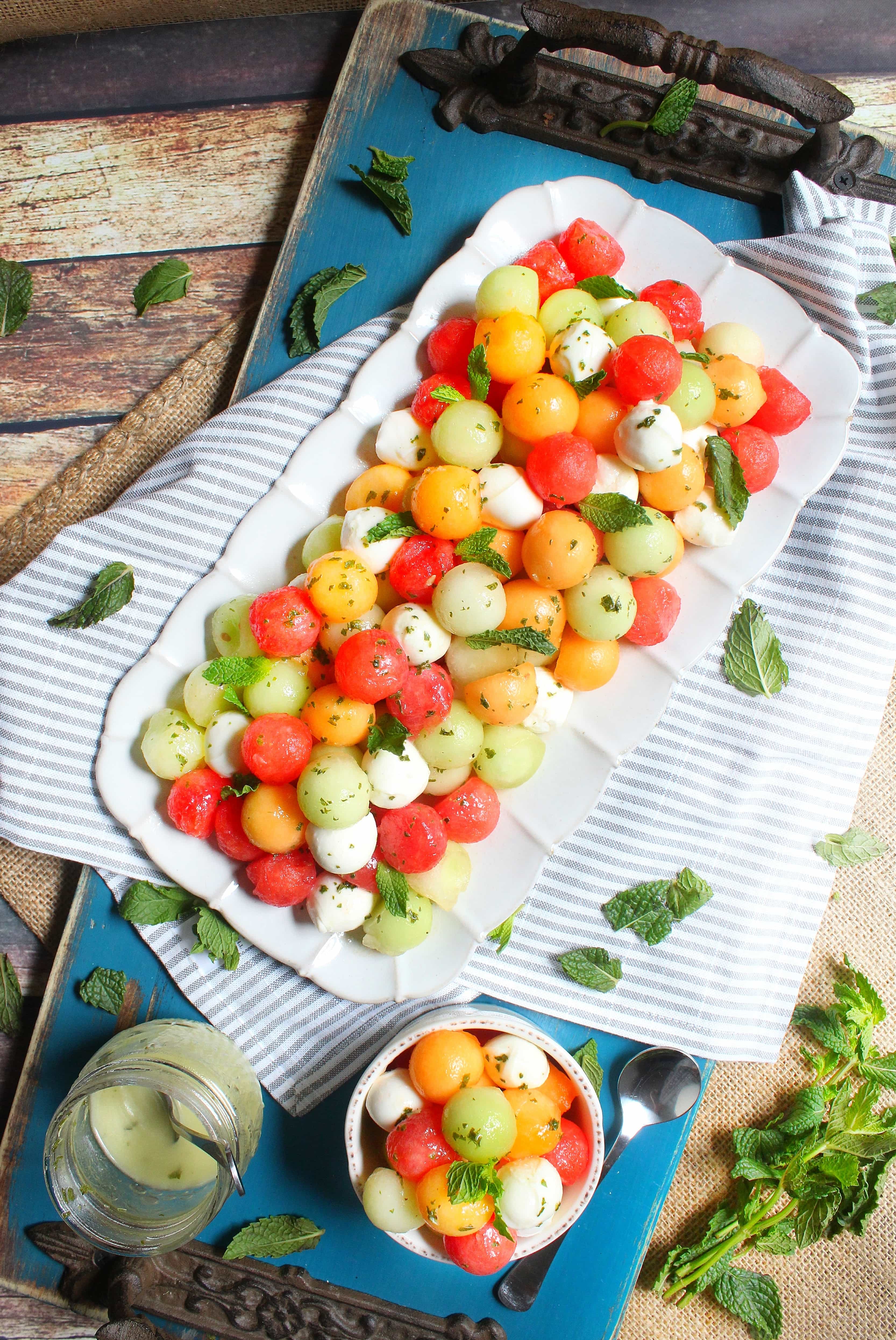 So, if you're one of those people who hates to cook, try switching it up a little. Grab a friend, grab some music, grab a glass of wine. Grab a familiar cookbook or an old recipe your family used to make when you were little. Start with something simple and add your favorite elements. It doesn't have to be all about the food. It can be about the dancing and the camaraderie while you're cooking. Or the sipping and reminiscing while your sauteing. Or it can be about having a little alone time all to yourself. Cooking doesn't have to be hard and you don't have to make something fancy every time. It's about expressing yourself and making it uniquely your own each time. Go forth, and cook! Or better yet, don't cook and just mix some melon balls and mozzarella with a deliciously simple mint dressing!
Print Melon & Mozzarella Salad with Mint Vinaigrette
Author:

Prep Time:

30 minutes

Cook Time:

0 minutes

Total Time:

30 minutes

Yield:

8 servings

Category:

Side Dish

Method:

No Bake

Cuisine:

American
---
Description
A deliciously simple mix of melon balls, mozzarella and a simple mint vinaigrette. The perfect starter or dessert for those warm summer nights. So grab your friends, share a bottle of wine and dig into this delicious salad.
---
Ingredients
Salad:
1 cantaloupe
1 honey dew melon
1/2 small seedless watermelon
1 (8 oz.) container fresh mozzarella (ciliegine or cherry size work best)
Mint Vinaigrette:
6 tablespoons sweet almond oil (olive oil or any light oil will work well also)
1/4 cup fresh mint leaves + more for garnish
2 tablespoons fresh squeezed lime juice
2 tablespoons mint simple syrup*
1 teaspoon Dijon mustard
Kosher salt to taste
---
Instructions
Cut cantaloupe in half, remove seeds and pulp and discard. Cut each half in half, creating 4 quarters. Scoop out the flesh of the melon using a sharp one inch melon baller. Place melon balls into a large bowl. Continue with honey dew and watermelon in the same fashion.
Add dressing ingredients to a food processor and process until mint is well minced and dressing is emulsified. Taste again and season with salt as needed.
Add mozzarella and dressing to the bowl of melons. Carefully toss and transfer to serving dish. Garnish with mint leaves and serve with remaining dressing on the side.
---
Notes
*MINT SIMPLE SYRUP: To make the mint simple syrup, add equal parts water and sugar to a small saucepan along with a handful of mint. Bring to a boil and stir to dissolve sugar. Remove from heat and allow to steep for 30 minutes. Transfer to mason jar and store in the fridge. You can make as much or as little of this stuff as you want. And I'm telling you, this is the perfect addition to nearly any summer cocktail you can think of, so probably make a lot of it.
Keywords: salad, melon, fruit, summer, healthy, quick, easy, simple, recipe, mozzarella