This chicken fajita bowl is perfect for "those days". You know the days. Have you had one of those days recently? One of those days where you're so frustrated you just want to scream and pull your hair out at the same time? One of those days where nothing is really actually wrong, yet somehow everything is wrong? One of those days where every drawer in the kitchen that you try to open is jammed so full of stuff you can't open it and when you do finally get it open you can't find what you were looking for because there's so much damn stuff in the drawer?! One of those days when your toddler is cranky and screaming and might be teething and you're hungry and you don't want to cook dinner but you're seriously starving? And you just want to sit on the couch with a glass of wine and shut off all electronics and screaming babies and sit quietly for just a moment.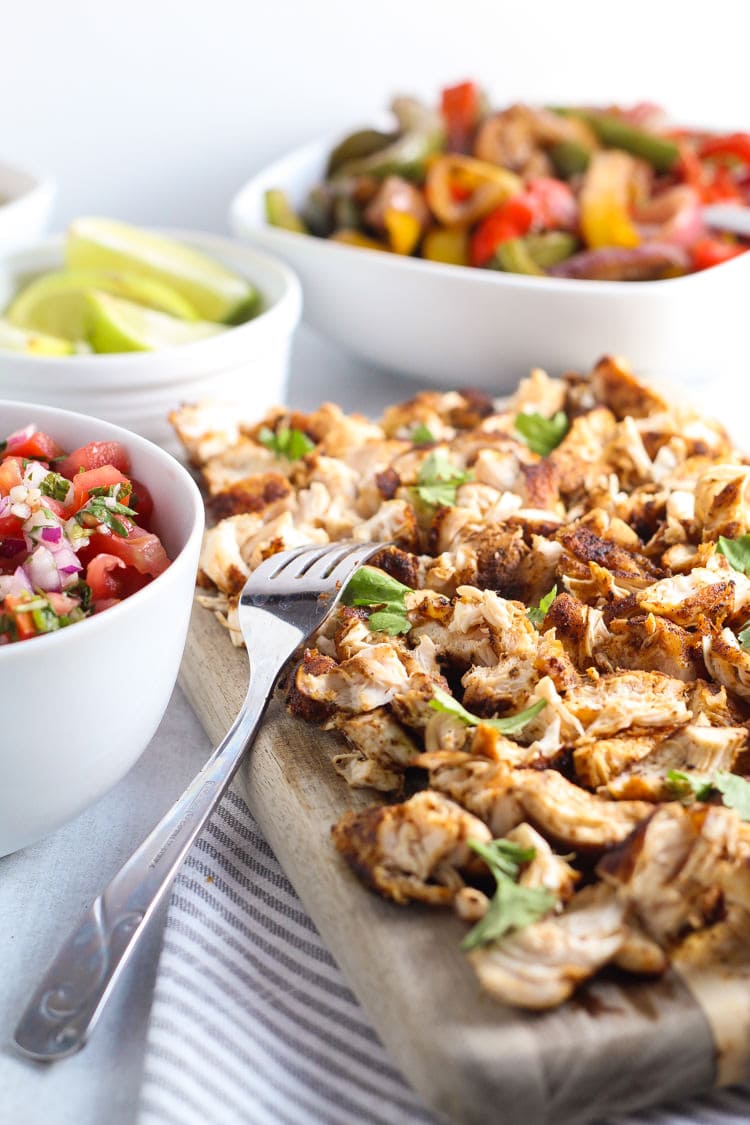 Yeah, me neither. My life is perfect. Every day is a gift and nothing is ever wrong and my kitchen drawers are neatly organized and my toddler is never grumpy and I always love making dinner and I never want to sit on the couch and have a glass of wine in the quiet.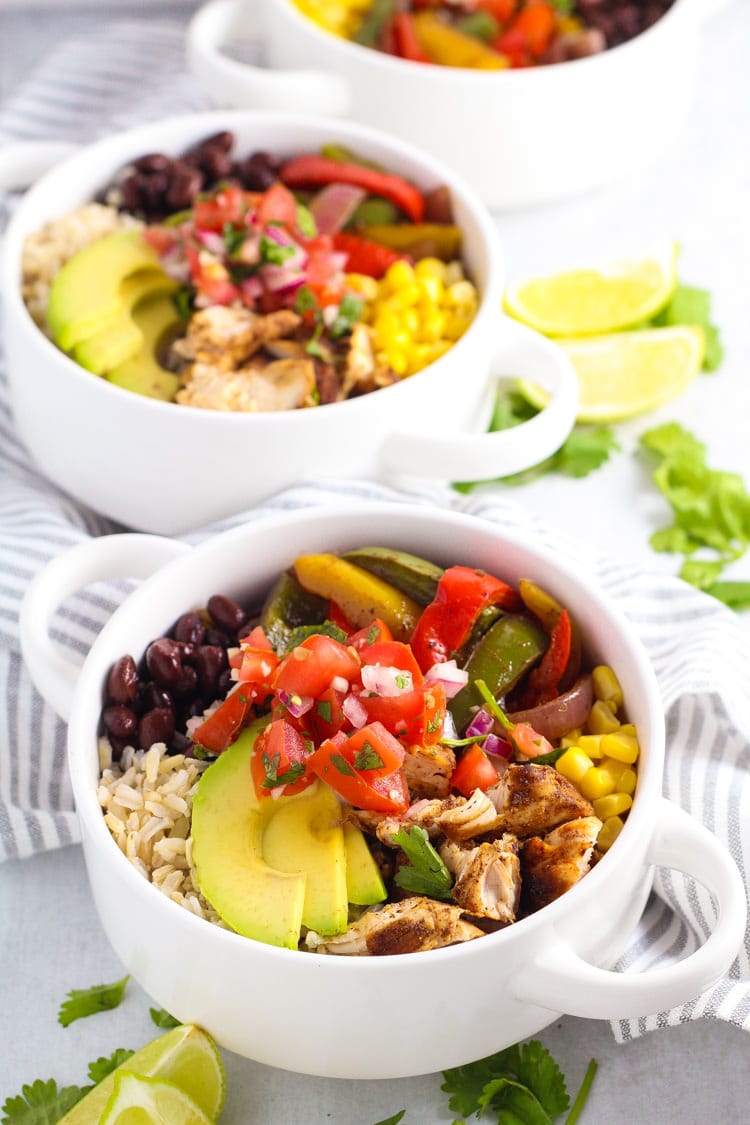 Right… Now, all kidding aside…I had "one of those days" just yesterday. My husband was at work so I had no reinforcement, every drawer in my kitchen was filled with crap and jammed shut, I hadn't meal prepped for the week so I had no dinner, and my toddler literally screamed for an hour about nothing. So amidst it all, I poured myself a glass of wine, turned off the TV and sat down on the couch. I pulled my daughter up on my lap and started very loudly exhaling. Then inhaling. Then exhaling. And you know what my daughter did? She started mimicking me! Breathing in and out, loudly through her mouth. It looked almost comical when she did it. And I couldn't help but smile and laugh. All I needed was a moment of relaxation and a little bit of joy and I felt immensely better! I left the chores for tomorrow and we both went to bed early and got a good night's sleep. And I woke up this morning ready to concur the world–or at least ready to clean out the drawers in my kitchen.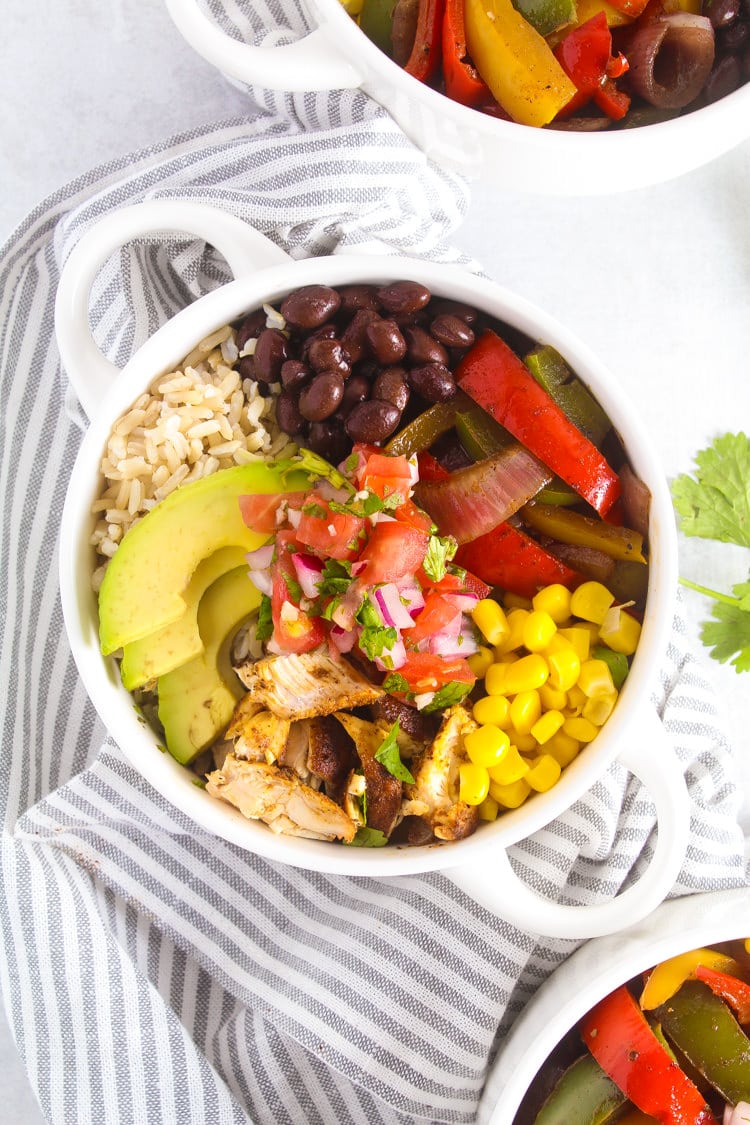 I am trying to get better at taking things one moment at a time. Sometimes I get so preoccupied with the future and getting things done that I forget to enjoy the little moments that are happening right now. So for the time being, my kitchen drawers are clean and I am taking time to meal prep this delicious chicken fajita bowl and enjoy a healthy lunch!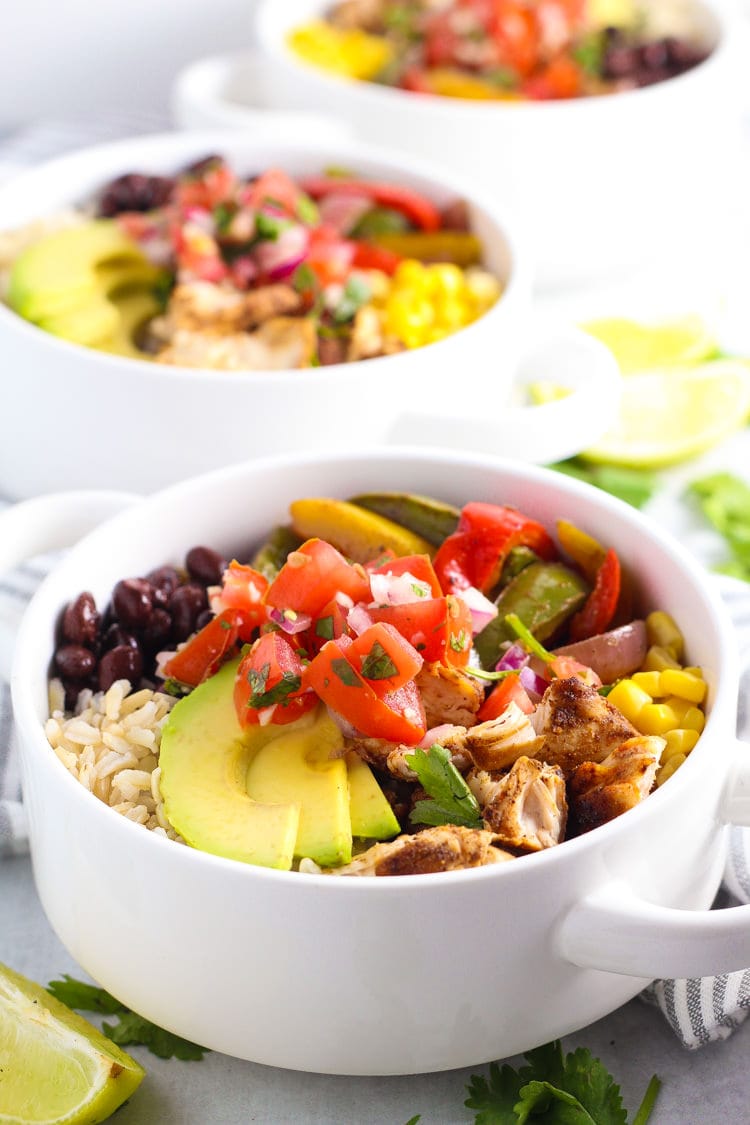 Print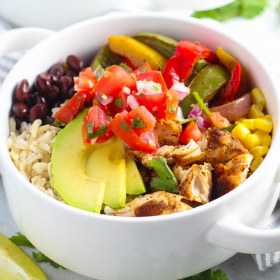 Healthy Meal Prep Chicken Fajita Bowl
Author:

Midwest Foodie
Prep Time:

20 mins

Cook Time:

15 mins

Total Time:

45 minutes

Yield:

5

-

6

burrito bowls

1

x
Category:

Meal Prep

Method:

Stovetop

Cuisine:

Mexican
---
Description
The perfect meal prep recipe for your busy work week! Healthy, easy and loaded with fresh flavors – say goodbye to your boring lunch routine!
---
Scale
Ingredients
1

lb. chicken breast, sliced into

ten

ders

2.5 teaspoon

s cumin

2 teaspoon

s chili powder

1/2 teaspoon

garlic powder
Kosher salt
fresh cracked pepper

4 teaspoon

s olive oil, divided

1

green pepper, sliced in strips

1

red pepper, sliced in strips

1

yellow pepper, sliced in strips

1/2

red onion, sliced in strips

1

(15 oz.) can corn, drained

1

(15 oz.) can black beans, drained and rinsed

4 cup

s cooked brown rice

1 cup

my easy Pico de Gallo

1/4 cup

fresh chopped cilantro

2

avocados (slice before serving)
Optional: drizzle with my amazing Southwest Dressing
---
Instructions
First, start by cooking your rice according to package directions. We have this awesome rice cooker so it takes about 20-25 minutes to cook 2 cups (which makes 4 cups when cooked). While the rice is cooking, heat 2 teaspoons olive oil in a large saute pan over medium high heat.
Combine chili powder, cumin and garlic powder in a small bowl along with a large pinch of salt and pepper. Use about 1/2 of your spice mixture to season both sides of the chicken breast. Saute chicken breast for 3-4 minutes on each side or until each side is dark golden brown and the chicken is cooked through. If the pan seems to be getting to dry/burnt before the chicken is cooked, add a splash of chicken broth or water, cover the pan with a tight fitting lid and allow the chicken to finish cooking. I find that this method works well without adding additional oil or drying out the chicken. Transfer chicken to a cutting board to rest.
Heat the remaining 2 teaspoons of olive oil in the same large saute pan over medium heat. Add green pepper, red pepper, yellow pepper and a pinch of salt and pepper. Saute for about 2 minutes, then add onion and saute for another 2-3 minutes. Add the remaining seasoning mixture to the pan along with a splash of water. Stir to evenly coat veggies in seasoning and cook for another minute or so. Remove from heat and set aside.
Time to assemble! I divided this recipe into 5-6 lunches but you could easily adjust the serving size to fit your needs. Start with a bed of brown rice, then divide beans, corn, veggies, chicken and Pico de Gallo evenly between each serving. Garnish with cilantro and add sliced avocado just before serving. Now you can enjoy healthy meal prep bowls in a moments notice all week long!
---
---
Notes
This meal prep bowl tastes delish with my Southwest Dressing too! Definitely check it out if you're a saucy person like me!
Keywords: easy, simple, recipe, chipotle, chicken, meal prep, burrito, bowl