The best way to showcase your favorite Fall veggies is with soup! This roasted curried squash soup is simple, easy and most importantly, delicious! It will warm you up from the inside out and leave you feeling full and satisfied. The best part is that everything roasts in the oven so prep time is minimal which means you can spend more time getting the important things done.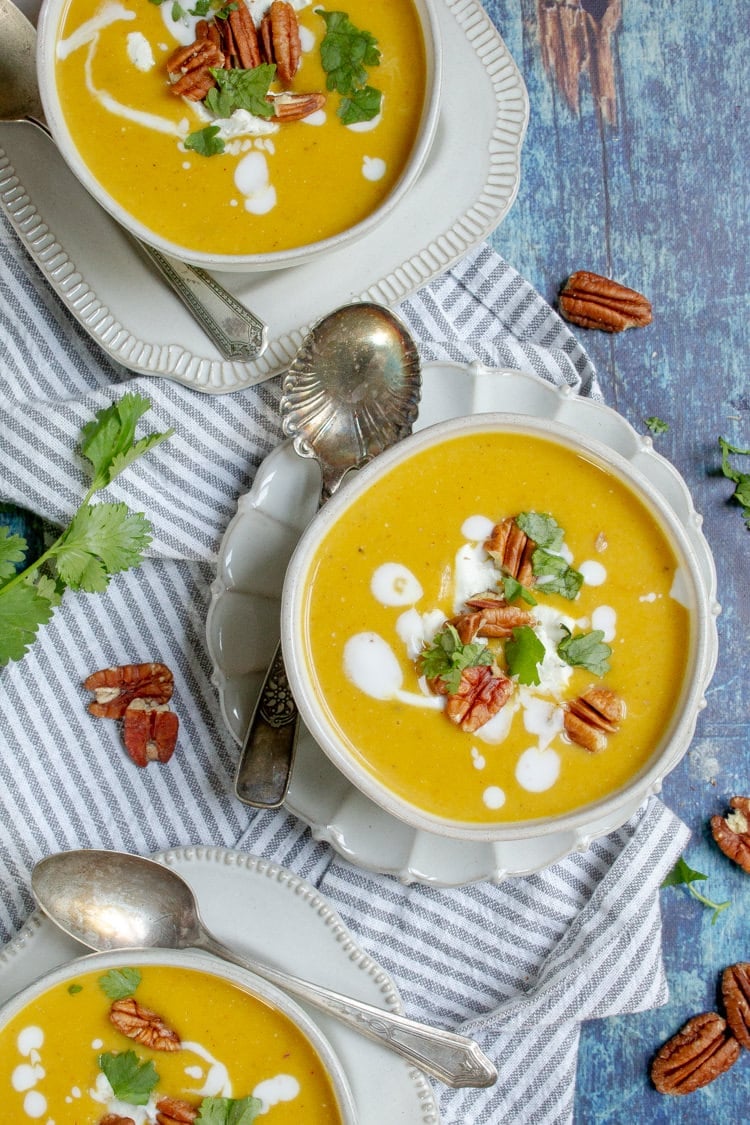 I am IN LOVE with fall. You know, all the classic parts that everyone loves — the changing colors, the cool crisp air, the pumpkin spice everything — but even those dreary, rainy days where the leaves get soggy and everything is a little chilly and dingy and dirty. Actually those days might be my favorite! Sneaking out for a walk around the neighborhood, dodging raindrops. Or a quick trip the grocery store and then scurrying back inside to roast something warm and comforting for dinner. Like this soup! You can snuggle up and get cozy with the fam while your oven does all the work and warms up your house a bit too. Then toss everything into a high speed blender for a few minutes, simmer in a pot and serve.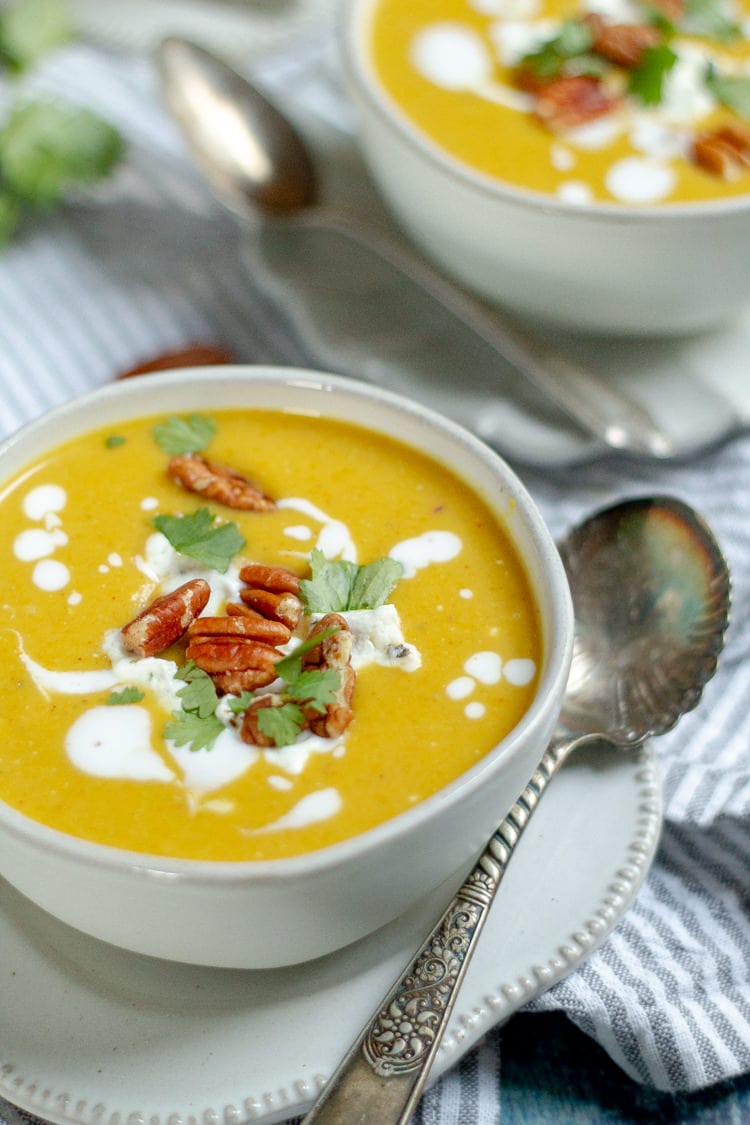 Although we've had quite a rollercoaster of weather lately, I have comfortably settled into my cool weather meal rotation already. Which means you'll be seeing lots of soup, chili, and my personal favorite, pasta sauce! You'll probably be seeing some pizza recipes pretty soon here because I can't stop ordering Domino's and Pizza Hut for dinner and it's starting to become a problem. It never tastes as good as I think it's going to, it's never worth the exorbitant amount of calories, and it never makes me feel anything but stuffed and tired! But damn, it sure is easy to order online and not have to worry about putting a meal together! I have some leftover spaghetti sauce that would be a perfect pizza sauce in fact…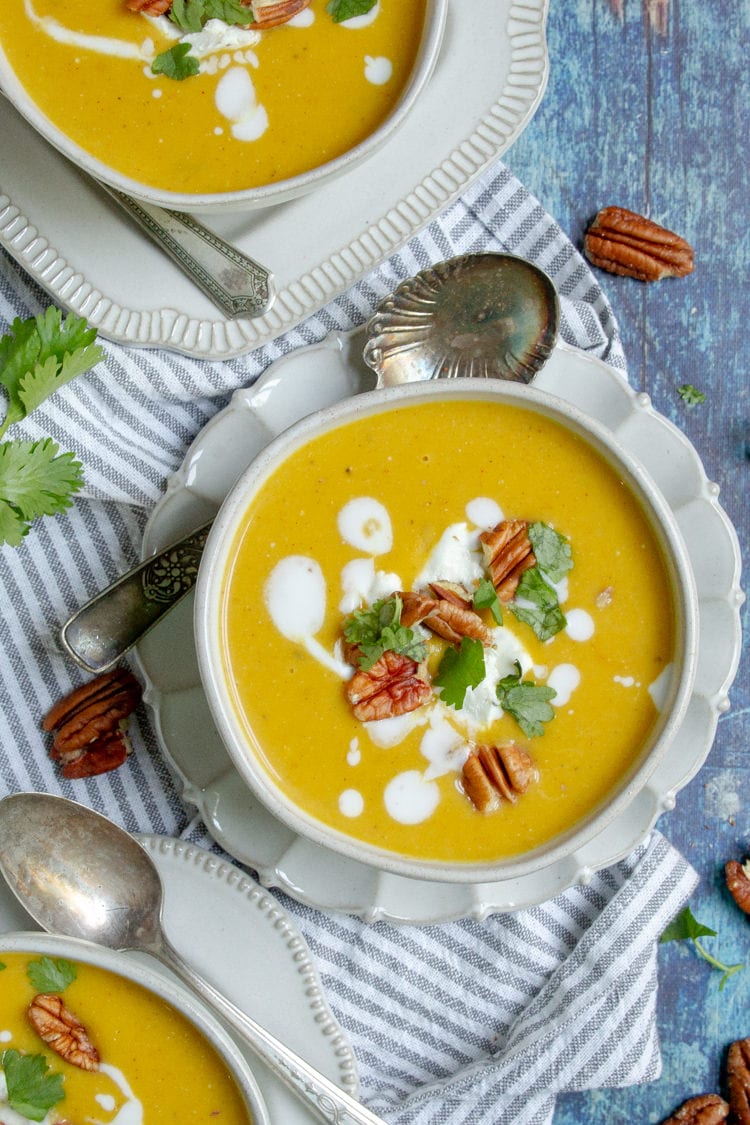 If you're looking for a departure from your classic squash soup, you've found a comforting crowd pleaser with this soup!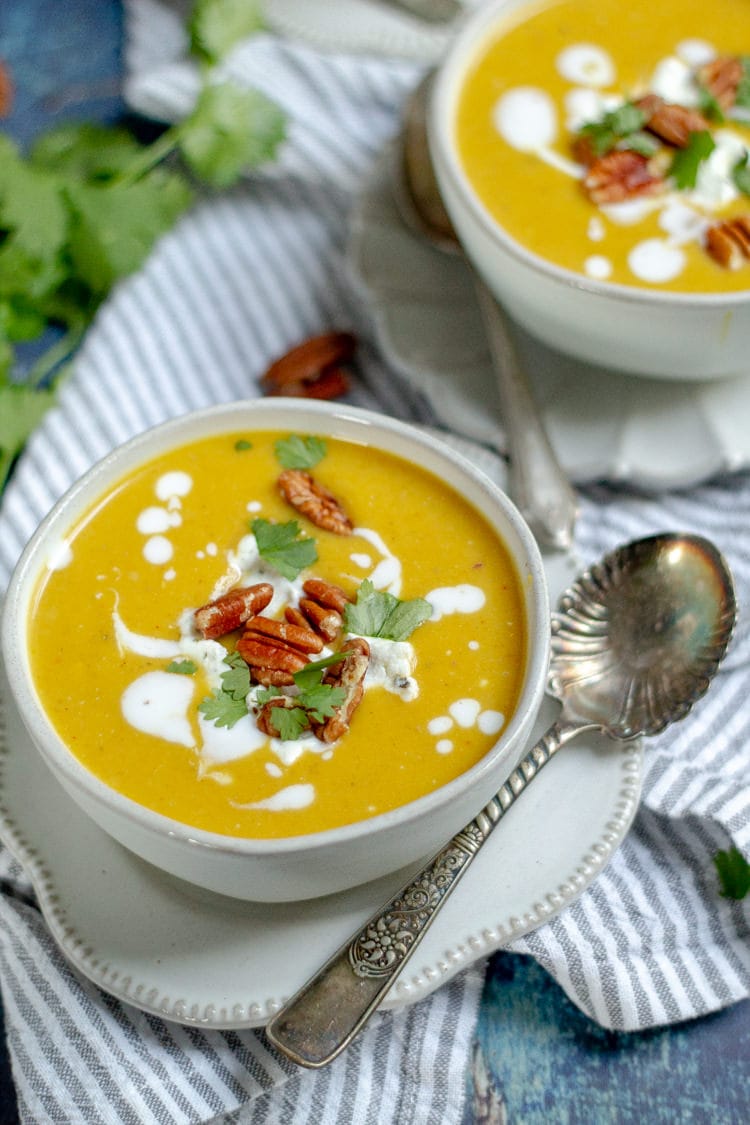 Print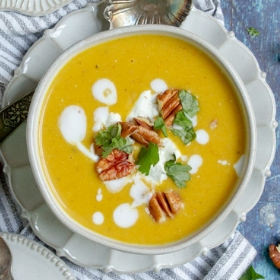 Roasted Curried Squash Soup
Author:

Prep Time:

15 minutes

Cook Time:

60 minutes

Total Time:

85 minutes

Yield:

6 servings

Category:

Soup

Method:

Oven/Stoveop

Cuisine:

Indian
---
Description
The best way to showcase your favorite Fall veggies is with soup! This roasted curried squash soup is simple, easy and most importantly, delicious!
---
Ingredients
1 medium butternut squash (halved lengthwise, seeds and pulp removed)
1 head garlic (halved widthwise)
1 red onion (cut into 6 wedges)
2 tablespoons + 1/2 teaspoon olive oil
2 tablespoons curry powder
1/2 teaspoons dried thyme
1/2 teaspoon garlic powder
1/2 teaspoon smoked paprika
1/4 teaspoon cumin
kosher salt
fresh cracked pepper
3 cups vegetable stock
1 can full fat coconut milk (save a few teaspoons for garnish)
1 tablespoon white balsamic vinegar
Garnish:
coconut milk
fresh chopped cilantro
toasted pecans
---
Instructions
Heat oven to 400 degrees. Place garlic in the center of a small piece of foil, drizzle cut side with 1/2 teaspoon olive oil and sprinkle with salt and pepper. Fold the corners of the foil up, creating a sealed pouch around the garlic. Lay squash cut side up on a foil lined baking sheet. Arrange onion in a single layer next to squash on the baking sheet. Make sure there is room for your foil garlic pouch on the baking sheet as well. Drizzle squash and onion with the remaining 2 tablespoons olive oil. In a small bowl combine curry powder, thyme, garlic powder, paprika, cumin, and a large pinch of salt and pepper. Sprinkle about 2/3 of the spice mixture across the surface of the squash and the onion wedges. Set the remaining seasoning aside.
Roast squash, onion and garlic for 1 hour or until the squash is fork tender. Remove from oven and allow to cool for a few minutes. Then remove skin from squash and transfer it along with the onions to a high speed blender. Squeeze roasted garlic from the skins and into the blender as well. Add the vegetable stock and blend on high for about 3-5 minutes or until it is smooth.
Pour pureed mixture into a large pot over medium heat. Stir in coconut milk and the remaining seasoning mixture. Cover and simmer for 15 minutes.
Serve with a drizzle of coconut milk, fresh chopped cilantro and toasted pecans.
Keywords: healthy, meal prep, fit, family, weeknight, dinner, easy, quick, simple, recipe