Tender, shredded beef is wrapped inside a flour tortilla and smothered in a classic enchilada sauce and melty cheese, then topped with an avocado lime sour cream sauce. This hearty dish will quickly become a family favorite!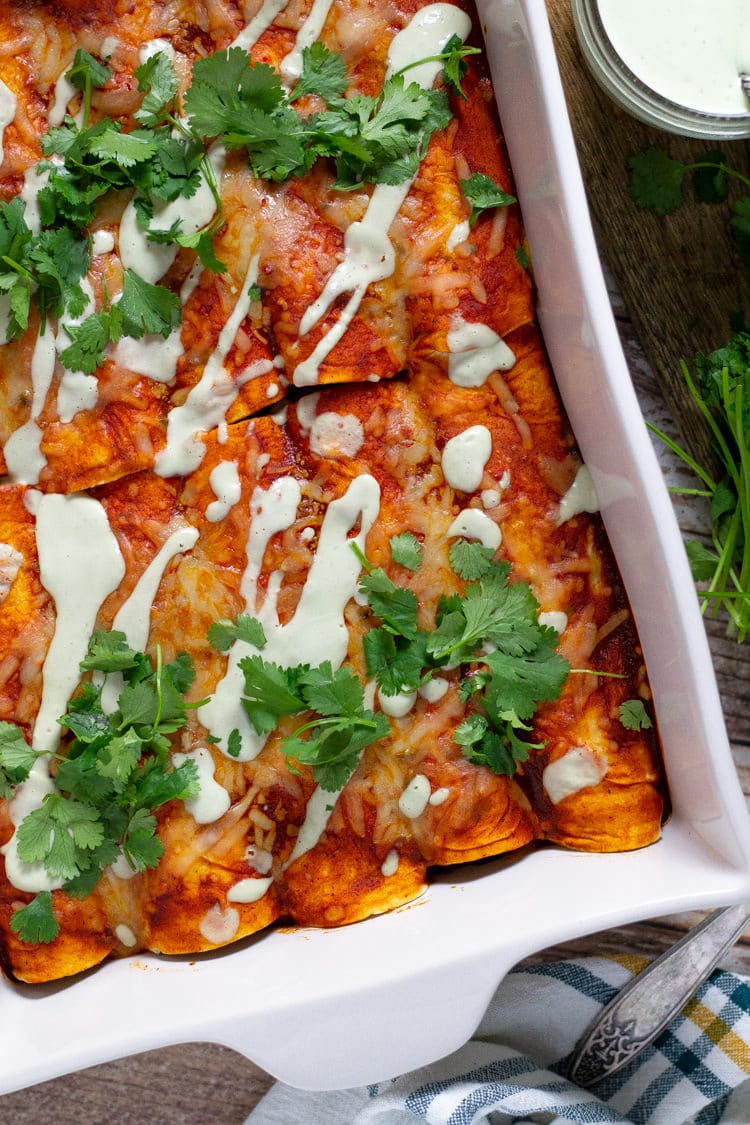 *This post may contain affiliate links. As an Amazon Associate I earn from qualifying purchases at no extra cost to you!
How do I make slow cooker beef enchiladas?
It all starts with the beef! It's rubbed with a perfect blend of spices, then seared to hold in all the flavor. Then the slow cooker
does the rest of the work, braising the chuck roast in beef broth and lime juice until it's fall apart tender.
Then the shredded beef is wrapped in a fluffy flour tortilla and smothered in classic red enchilada sauce and a quality, melty Mexican cheese (like Chihuahua). 30 minutes in the oven and dinner is ready to go!
I like to drizzle my enchiladas with an avocado lime sour cream sauce (recipe below) and then garnish with fresh chopped cilantro!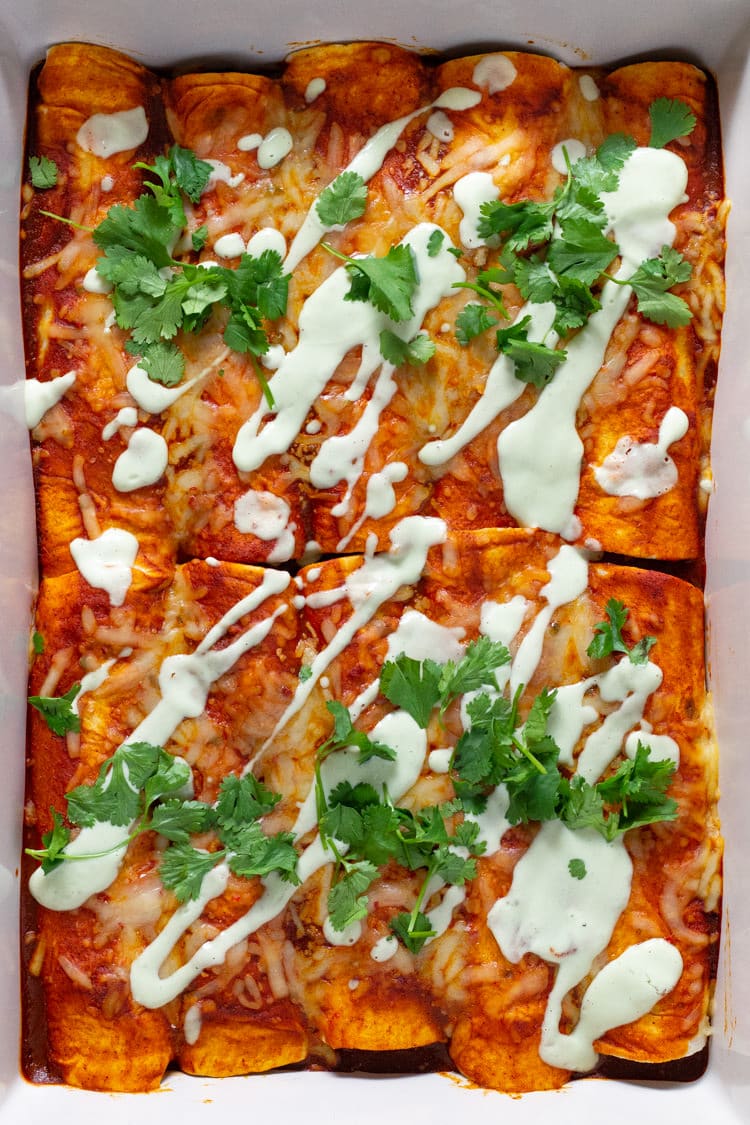 Can I make enchiladas with another protein? Like chicken? Or ground beef?
Of course! Chicken would be a great option if you are trying to the keep calories a bit lower. You could follow the same recipe as my shredded chicken tacos and use that chicken for the filling also!
Ground beef would be a good option too if you're short on time. But if you can plan ahead, the tender, juicy shredded beef is definitely the best choice. You may never want a ground beef enchilada again!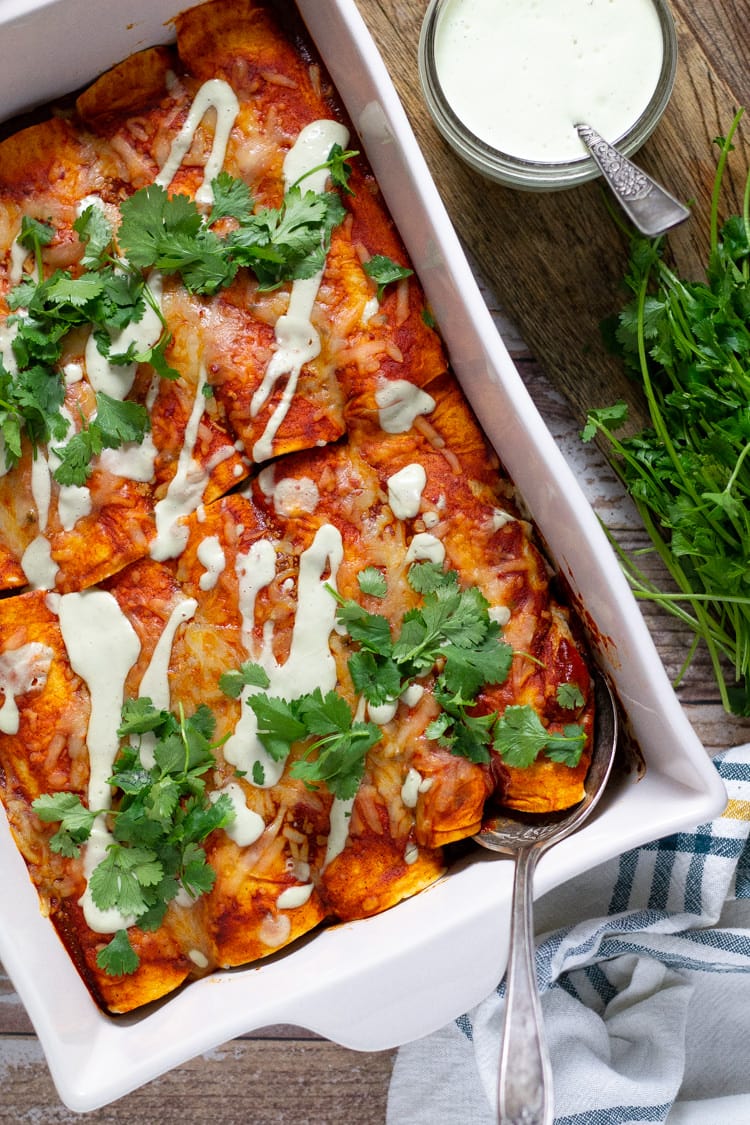 Can I use corn tortillas instead of flour tortillas?
Of course! I just like the texture and mouth feel of flour, so that's what I choose to use. You could certainly substitute corn tortillas if that's what you have on hand or if that's what your family prefers.
Just be sure to follow the package directions or follow this instructional article from The Kitchn regarding heating them up so that you can roll them without the corn tortillas cracking and breaking. That's another reason why I love the trusty flour tortilla – no additional time or guesswork when you roll that baby up!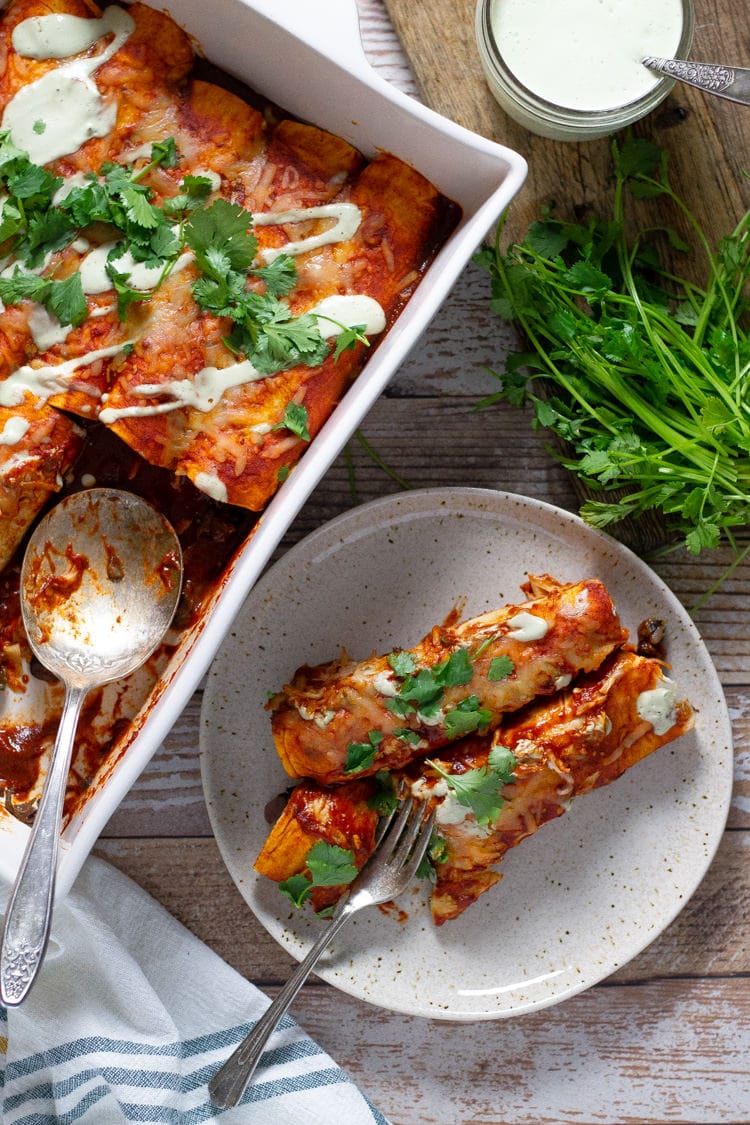 Can I make slow cooker enchiladas ahead of time?
Yes! Feel free to sear and slow cook the beef whenever it's convenient for you. However, I would recommend shredding the beef while it's still warm and storing it in it's own juices in the fridge for up to one week.
Then when it's time for dinner, heat the beef just slightly (in the microwave or in a pot on the stove), drain the liquid, roll it up in the tortilla, sauce, cheese and bake!
I also like to bake a big pan of these at the beginning of the week and then eat it for lunch all week. They keep really well and the flavors just get better with time!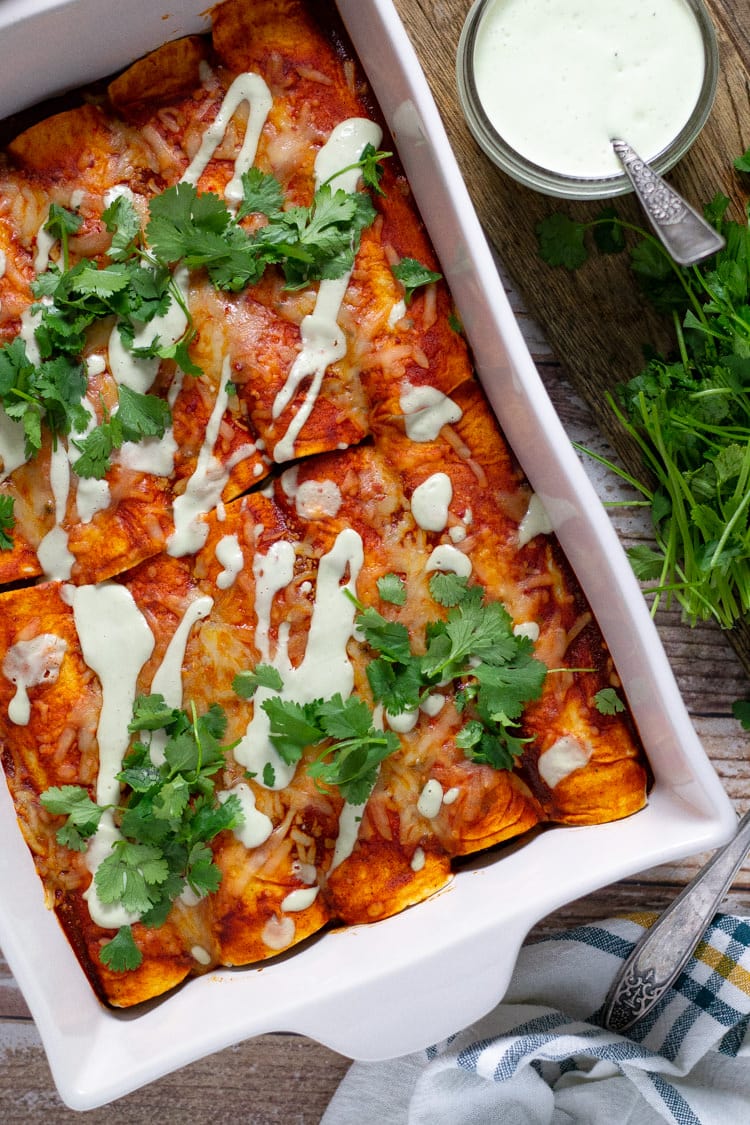 Print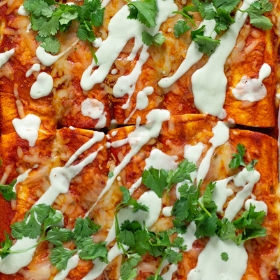 Slow Cooker Shredded Beef Enchiladas
---
Author:

Prep Time:

10 minutes

Cook Time:

4 hours, 45 minutes

Total Time:

4 hours 55 minutes

Yield:

10 enchiladas

Category:

Main Dish

Method:

Slow Cooker & Baking

Cuisine:

Mexican
Description
Tender, shredded beef is wrapped inside a flour tortilla and smothered in a classic enchilada sauce and melty cheese, then topped with an avocado lime sour cream sauce. This hearty dish will quickly become a family favorite!
---
Ingredients
Slow Cooker Beef:
2 lbs. beef chuck roast
2 tablespoons olive oil
1 tablespoon chili powder
1 tablespoon cumin
1 teaspoon Kosher salt
1/2 teaspoon garlic powder
1/2 teaspoon fresh ground black pepper
pinch of cayenne pepper
1 large red onion (diced)
5 cloves garlic (minced)
32 oz. beef broth
2 teaspoons diced chiles in adobo
1/4 cup fresh chopped cilantro
2 limes
Enchiladas:
10 fajita size soft flour tortillas (6 inch)
1 (14.5 oz.) can red enchilada sauce
2 cups shredded Chihuahua cheese (Mexican melting cheese)
Avocado Lime Sauce:
1 ripe avocado
1 cup sour cream
juice of 2 limes
large pinch Kosher salt
splash of water
Garnish:
---
Instructions
Heat olive oil in a large saute pan over medium high heat. In a small bowl combine chili powder, cumin, salt, garlic powder, black pepper and cayenne. Rub spice mixture all over the surface of the roast. Sear all sides of the roast, cooking each side for about 2-3 minutes or until the entire outside of the roast is seared nice and dark golden brown. Add roast to the slow cooker.
Without wiping out the pan, turn heat down to the medium and add onion to the pan. Cook for about 4 minutes, stirring frequently. Then add garlic and cook for another minute or so. Transfer onion and garlic to the slow cooker. Then add beef broth, chiles in adobo and cilantro to the slow cooker. Cut limes in half widthwise and squeeze juice into the slow cooker, then add the rinds of the limes in as well. Cover and cook on high for 4 hours, or until beef is fall apart tender.
While the roast is working it's magic, add the sauce ingredients to a food processor. Pulse until everything combines into a smooth, creamy sauce. Refrigerate until ready to use.
Remove beef from crock pot and shred using two forks.
Preheat oven to 350 degrees and spread half the enchilada sauce in the bottom of a 9×13 baking dish.
Assemble enchiladas by dividing the beef evenly between each tortilla. Roll tortillas tightly around the filling and place seam side down into the baking dish. You should be able to make 2 rows of 5 enchiladas in the baking dish.
Pour remaining sauce over the top of the enchiladas and use a spatula to make sure the tortillas are completely covered. Sprinkle cheese on top of the enchiladas and bake for 30 minutes.
Garnish with fresh parsley and a drizzle of avocado lime sour cream and enjoy!
Keywords: easy, simple, recipe, family, dinner, weeknight, meal, Mexican, tacos, flour tortillas, chuck roast