This Ultimate Foodie Gift Guide will help you find a present for the foodie friend or family member on your Christmas list this year! Let me do all the work for you while you shop from the comfort of your couch with just a few clicks!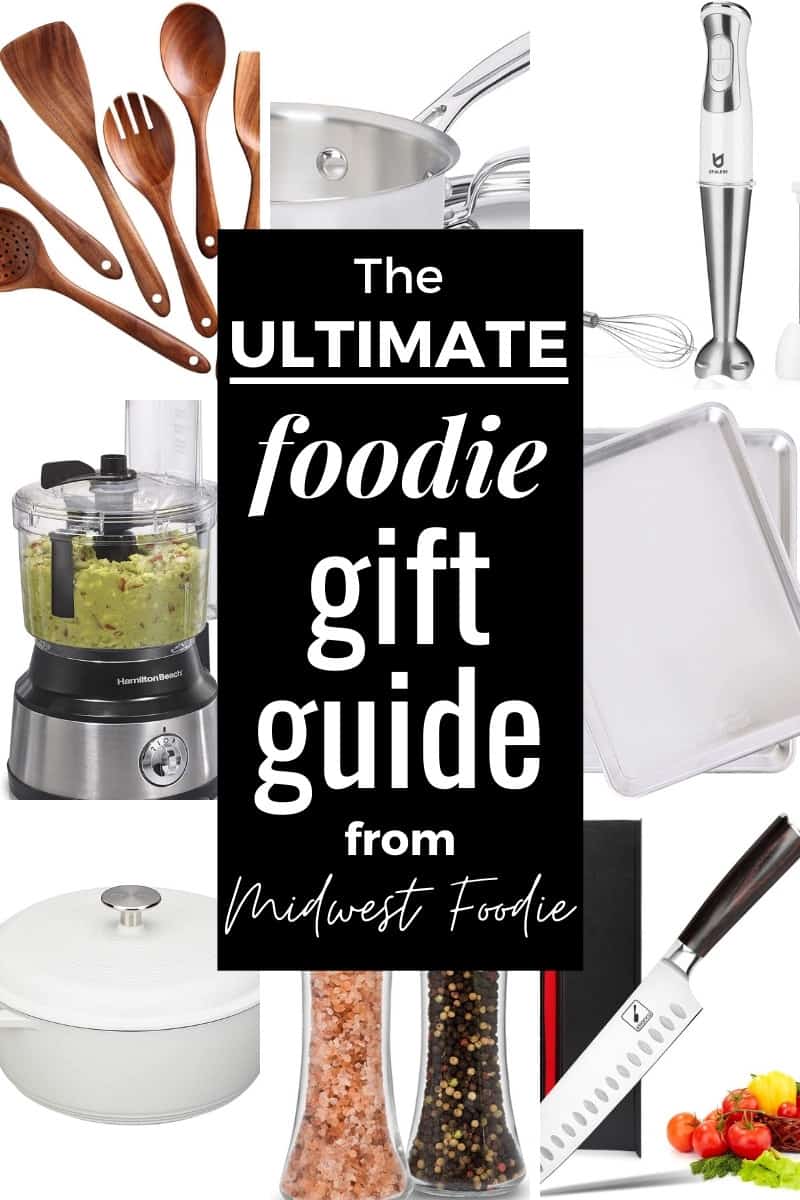 Below are the 12 essential items that every home cook needs in their kitchen! These are the tools that you'll need to throw together quick and easy dinner recipes like Creamy Vegan Gnocchi Soup, Easy Ravioli Lasagna, or 5 Minute Flatbread Pizza Dough. Whether your friend or family member is new to cooking or has been cooking for years, make sure they've got these necessary kitchen staples stocked in their cooking space!
This Dutch oven is ideal for the novice or experienced home cook in your life! It's the perfect heavy bottom pan for a hearty pot of chili or comforting braised beef short ribs. The best part is that it can go right from the stove to the oven! This is my number one recommendation for a gift for that foodie friend or family member!
This is probably the most used pan in my kitchen. The size and versatility make it ideal for one pot dinners that need to go from the stove top to the oven to the dinner table. It's also beautiful enough to serve your dinner in so you don't have to worry about washing any extra dishes!
A good lasagna pan is ideal for any lasagna recipe (obviously) but it also makes a great baking vessel for other large meals like chicken and rice, salmon and veggies or even a deep dish pizza. It's beautiful enough that it can go straight from the oven to your dinner table also!
The perfect tool to chop your veggies for a quick salsa or a hearty soup, or even combine the ingredients to make a flatbread pizza dough. You can pulse, process, or even shred cheese with it! That's why this food processor is one of my favorite kitchen gadgets ever!
This is my FAVORITE basic utensil set. These wooden utensils are sturdy enough for everyday use on the stove stirring soups, stews or gravies, but also beautiful enough that you can use them as serving utensils as well! In this set there's a spoon or spatula for pretty much any recipe you want to cook!
This is one of my favorite kitchen gadgets. It makes blending creamy soups a breeze! You just blend the soup right in the pot in minutes. It also comes with a milk frother and a whisk. And all attachments are dishwasher safe!
A sharp knife is any chef's best kitchen tool. This knife is the perfect size for pretty much any prep work that most recipes require. It's great for dicing onions, slicing garlic or mincing up ginger!
Bamboo cutting boards are my favorite for chopping veggies or putting together an epic charcuterie board! Whether you're slicing apples, serving cheese and crackers, or cutting up a juicy roast - this set of bamboo cutting boards has the perfect size board to fit your needs!
Whether it's making my oil and vinegar bread dip or just throwing together a quick creamy balsamic dressing for a salad, my oil and vinegar set is always front and center in my kitchen. This bottle set ensures that your oil and vinegar are always within reach and also beautifully displayed.
There is nothing better than the flavor of fresh cracked pepper and salt! Once you taste freshly ground pepper on your favorite pasta dish, you'll never be able to go back to the traditional pepper shaker again. This salt and pepper set ensures that you've got salt and pepper close at hand whenever you need to season a dish!
You can use these baking sheets for everything from chocolate chip cookies, to sheet pan veggies, to a salmon dinner. They are dishwasher safe and super easy to clean. They don't warp in the oven like other brands and will last for years!
A simple sauce pan is a staple in every home cook's kitchen! Whether you're heating up leftover soup, stirring together a delicious gravy or making a pot of quinoa - this stainless steel pan will quickly become a favorite! It's dishwasher safe and super easy to clean making it a must buy for any foodie!