Each quarter I share my income reports to give you a behind-the-scenes look at what it takes to run Midwest Foodie! It also gives me a chance to share with you what I'm working on and the new things I'm trying.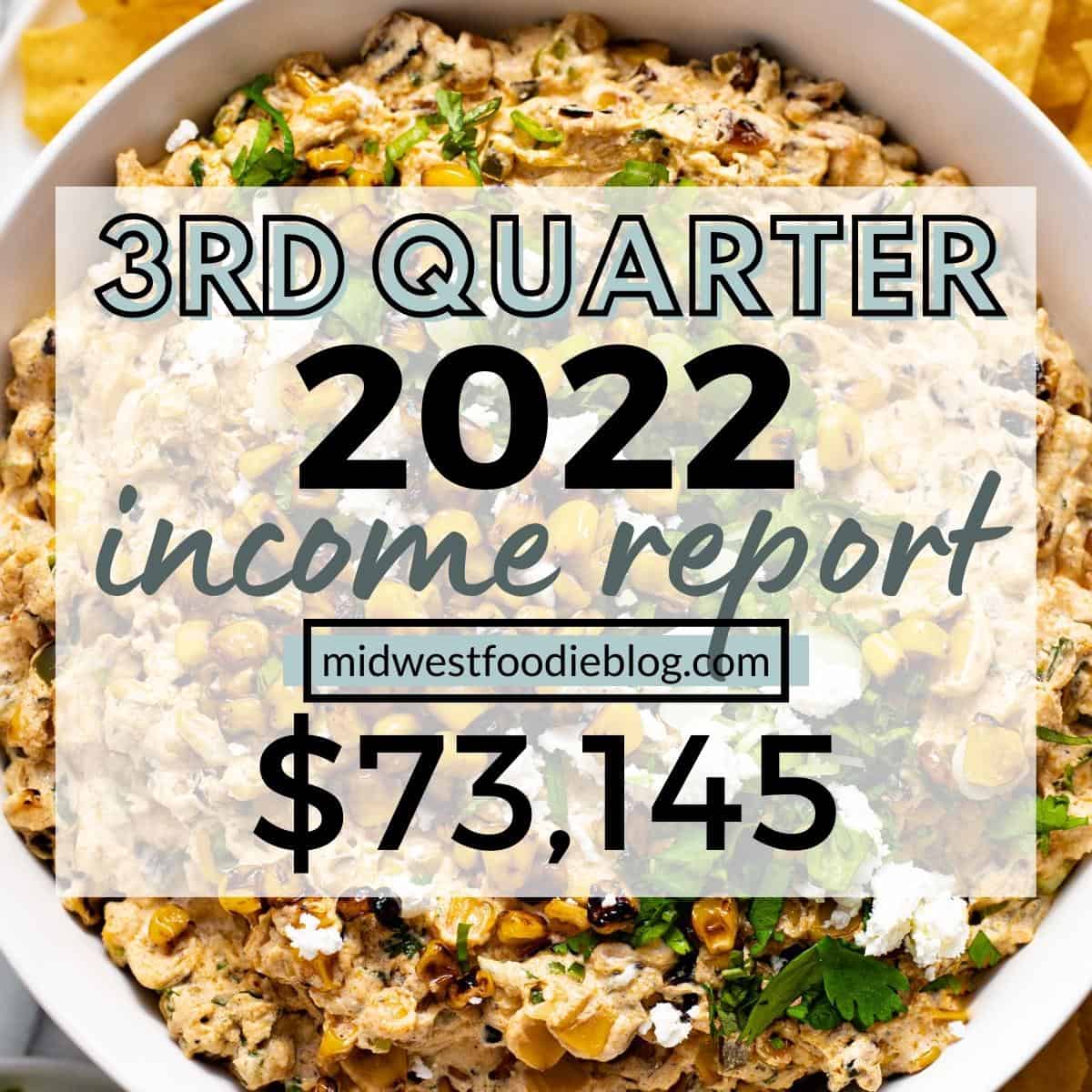 If you're new here, be sure to start at the beginning with my first income report to see how this blog got started 5 years ago!
Let's take a look at the stats for July, August, and September 2022! These traffic totals do not include web story traffic.
Traffic
July 2022
| | |
| --- | --- |
| Pageviews | 749,047 |
| Sessions | 611,459 |
| Users | 451,016 |
August 2022
| | |
| --- | --- |
| Pageviews | 718,332 |
| Sessions | 586,613 |
| Users | 439,263 |
September 2022
| | |
| --- | --- |
| Pageviews | 728,930 |
| Sessions | 597,067 |
| Users | 440,931 |
Traffic Sources
July 2022

August 2022

September 2022

3rd Quarter Income Total: $73,145
July 2022
August 2022
September 2022
| | |
| --- | --- |
| AdThrive | $22,255 |
| Amazon Associates | $378 |
| Pinterest E-Book + Vegan E-Book | $194 |
| Affiliate Income | $1122 |
| Sponsored Post | $900 |
| Recipe Usage | $700 |
| Total Income | $25,549 |
Monthly RPM/RPS
| | | | |
| --- | --- | --- | --- |
| | Jul | Aug | Sep |
| RPM | $28.64 | $28.48 | $30.53 |
| RPS | $35.09 | $34.87 | $37.27 |
Total Expenses $5,915
Monthly Recurring Expenses $2,787
Microsoft One Drive: $6
Akismet: $30
Nerdpress: $366
Peach Perfect Financials: $717
Lightroom: $32
SendOwl: $27
ConvertKit: $297
Gsuite: $36
Agathon: $240
Canva: $30
Tailwind: $30
KeySearch: $42
Gusto: $135
Groceries: $600
Ahrefs: $199
Other Expenses $3,128
Content Writer/Photographer: $2,832
Keywords Everywhere: $10
Yoast Premium Plugin: $79
Tasty Pins: $29
Tasty Recipes: $79
Props: $50
Rank IQ: $49
Donations $750
This quarter our donations went to:
Profit $66,480
Taxes
Please note that this "profit" does not take into account the taxes I will have to pay on it. It's easy to look at these numbers and think the profits from blogging are great (which they are!) but it's also important to remember that there are a lot of monthly expenses that go into blogging, and then taxes come along and take about 25%-30% of anything you have leftover!
Expenses Breakdown
Content Writer: My very best money spent, hands down, is on a content writer! My least favorite part of blogging is writing the actual post so I love being able to send her an outline and then just getting to proofread and add my final touches to the post before publishing. I wish I would have hired a content writer from the very beginning because it's definitely a pain point for me that is worth the ROI to pay someone else to do it.
Rank IQ: I just purchased Rank IQ. I've heard good things but I'm not quite sure that I'm ready to dive in fully to a new tool. In my tiny bit of dabbling so far I've found that most of the search terms they are recommending have very little search volume so it hasn't been super helpful to me. I will keep you posted next quarter if I end up using it more. I've just grown so accustom to using KeySearch that I might just stick with that for now.
What I've Been Up To
Content: I'm still publishing 2 posts per week and updating old posts here and there. I'm planning to hire another content writer to update old recipe posts for me and I'm quite excited about it. In the new year I'm planning to focus more on perfecting my older content and will likely begin publishing less new content. I feel like I've got some diamonds in the rough so to speak that I could really shine up and get a little more juice out of.
Work/Life Balance: The best part of this year has been finding a really comfortable work/life balance with the blog. I'm getting back into regular exercise, prioritizing more family time and down time, and feeling like I'm working to live not living to work.
Pinterest Updates
Nothing new here! I'm still plugging away with the strategy outlined in my e-book. I haven't made any new idea pins since last quarter. Traffic is still holding steady and will hopefully increase during Q4.
If you're looking for the tried and true strategy that has gotten me where I am today, be sure to check out my Pinterest e-book! More details below!
My Pinterest E-Book
This e-book will help you develop a quick, easy, and simple Pinterest strategy that will drive consistent traffic to your site in JUST 20 MINUTES A WEEK!
This e-book is ideal for those who prefer to work at their own pace. This is not a Pinterest course. It's not going to take you days or weeks to work through.
As always, thank you for reading! None of this would be possible without you 🙂 And don't forget to check out my previous income reports for more behind-the-scenes info!