Thank goodness for this sheet pan salmon!!!!! We just returned from two back-to-back vacations. The first one included a 14 hour round trip drive. The second one included an 8 hour round trip drive (probably closer to 10 hours total after we hit some bad traffic). When we got home, we had NO FOOD in our house. I planned the menu for 60 family members (and catered a handful of the meals) for our family reunion as part of our second vacay. So before we left our fridge was plum full of crock pots with pork carnitas and homemade queso. And loaded with Tupperwares of chipotle slaw and Pico de Gallo. We came home to some leftover green beans from my husband's, dad's, co-worker's garden. And a frozen pizza. So we ate the frozen pizza right away (obviously). We had cereal for breakfast and then I went through the salad bar at lunch. But by mid afternoon the next day I was again faced with the insurmountable task of making dinner.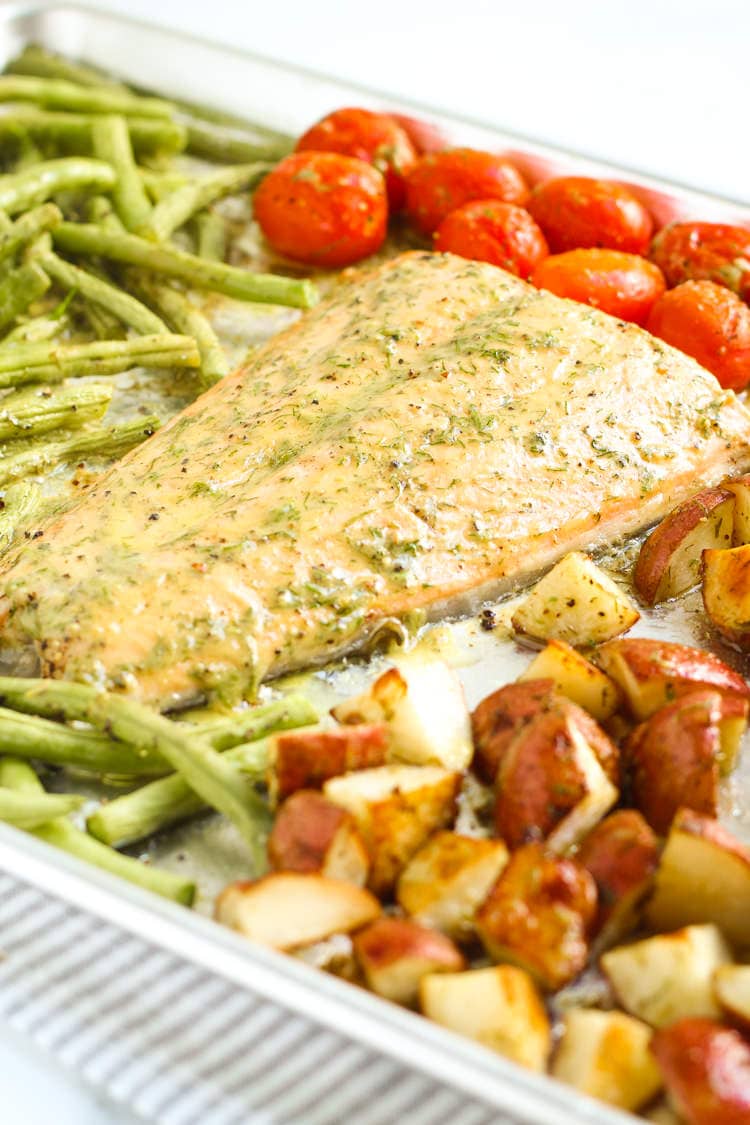 Do you ever feel that way when you get home from a vacation? Like you need a few days of staycation at home before you can return to work and real life? Like even the smallest task (making dinner) just seems to soak up every last sliver of energy you have left. Not to mention that before I even make the dinner, I have to plan the meal and go to the grocery store, shop, come home and then actually cook.  And if you've been hanging around this blog long enough, you know how much I despise the grocery store.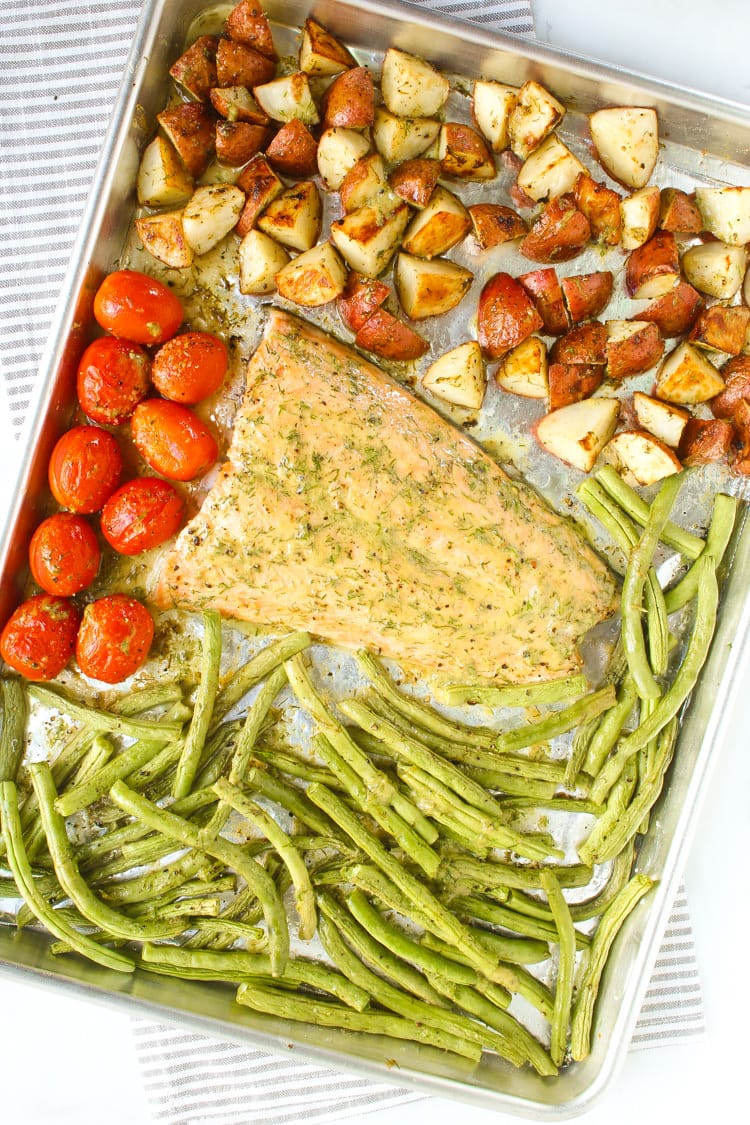 My complete and total lack of energy and motivation could be due to the fact that we vacationed with our toddler. Everyday life with a toddler is already exhausting, but vacation life in a lot of ways is even more daunting. We were in the sand and lake constantly on both vacations which means we were taking multiple showers a day just to keep the sand out of all the places that sand likes to get into. Our daughter's nap schedule also could not have gotten more off track than it did. I mean who wants to sleep when all your cousins are splashing in the lake and going on boat rides? Not our girl! Compounded by the fact that our very quiet and habitual routine of staying home with mom or dad most days was replaced by constantly being surround by 60 people who have never met you and can't wait to squeeze you and love you and tell you how sweet you are.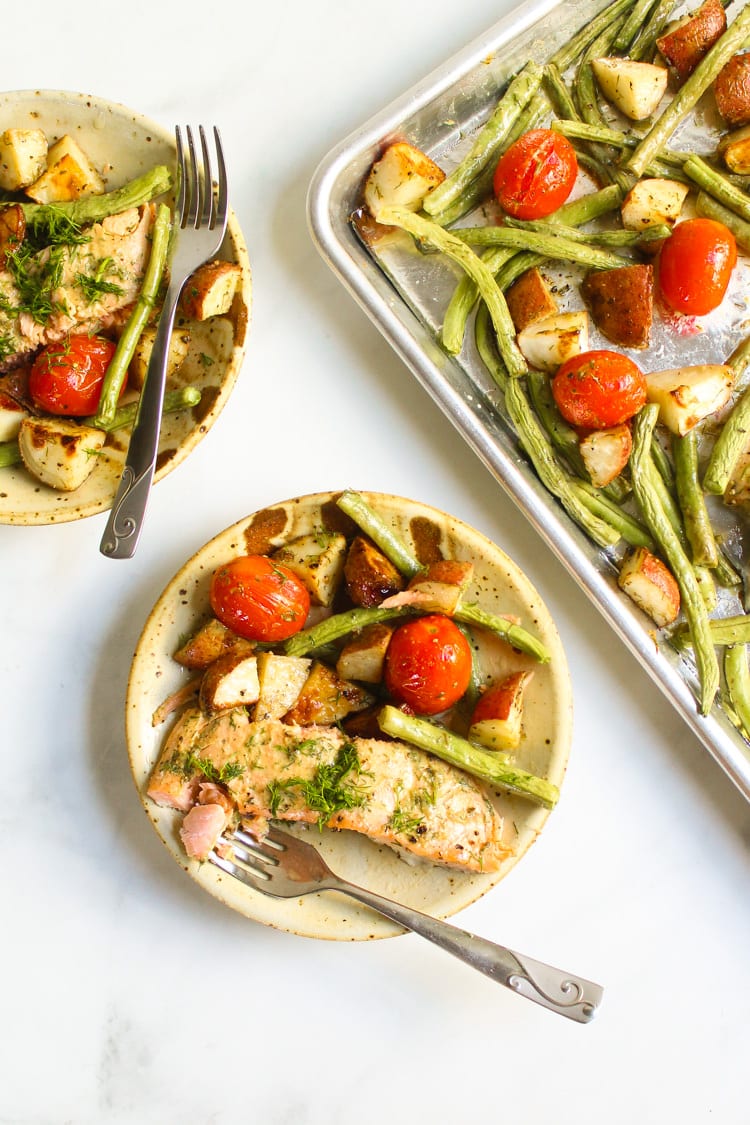 Geeze, get to the point, right? Well the point is, I was beyond exhausted and this sheet pan salmon saved my life this week. I zipped in and out of the grocery store, just grabbing salmon and veggies. Ran home, whipped up a honey, Dijon and dill dressing (in the food processor so it took literally 7 seconds), coated everything in a nice layer of it and tossed in the oven to cook while I put my feet up and watched HGTV. With a cold beer in my hand. This is by far the easiest meal I've prepared in weeks and the simplicity of it all made every bite more delicious than the last!
Print
Honey Dijon and Dill Sheet Pan Salmon and Veggies
---
Author:

Prep Time:

10

Cook Time:

35

Total Time:

45 minutes

Yield:

4 servings

Category:

Main Dish

Method:

Baking
Description
The easiest dinner you've ever made. A simple, sweet, tangy dressing transforms your traditional salmon and veggies into a masterpiece!
---
Ingredients
1 lb. salmon
1 lb. baby red potatoes, diced into bite size pieces
1 lb. fresh green beans, trimmed
1 cup cherry tomatoes
1/2 cup olive oil
3 tablespoons fresh chopped dill + more for garnish
2 tablespoons Dijon mustard
1 tablespoon honey
1 tablespoon apple cider vinegar
Kosher salt
fresh cracked pepper
---
Instructions
Preheat oven to 400 degrees and line a baking sheet with aluminum foil or parchment paper.
In a mason jar combine oil, dill, mustard, honey, vinegar, salt and pepper. Shake until emulsified.
Add potatoes to the pan in an even layer and drizzle with about a quarter of the dressing mixture. Bake potatoes for 15 minutes by themselves.
Add salmon, green beans and tomatoes to the pan, spreading the veggies out in an even layer. Drizzle salmon and veggies with remaining dressing.
Bake for 18-20 minutes or until salmon flakes easily with a fork and veggies are cooked through. Garnish with fresh chopped dill and enjoy!