Few things makes me happier than a big, hearty pot of homemade chili. This vegan chili – loaded with beans, veggies and lentils – is one of my favorite meal prep recipes during these chilly winter months.
The best part is that this chili only takes 30 minutes from start to finish and I usually have most of the ingredients in my pantry already – which makes it an easy meal to throw together during the week also!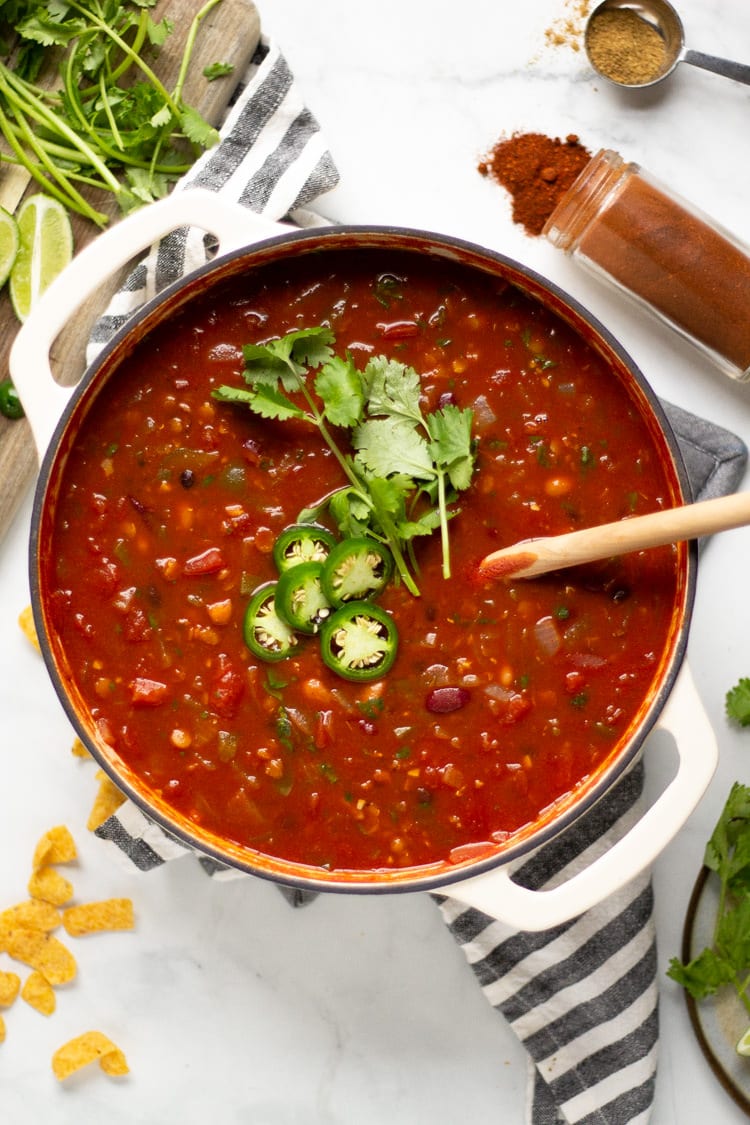 How do I make vegan lentil chili?
You'll start by sauteing onion, green pepper, jalapeno and garlic along with cumin, chili powder and thyme. Then you'll add a pinch of sugar and my favorite chili ingredient – chiles in adobo.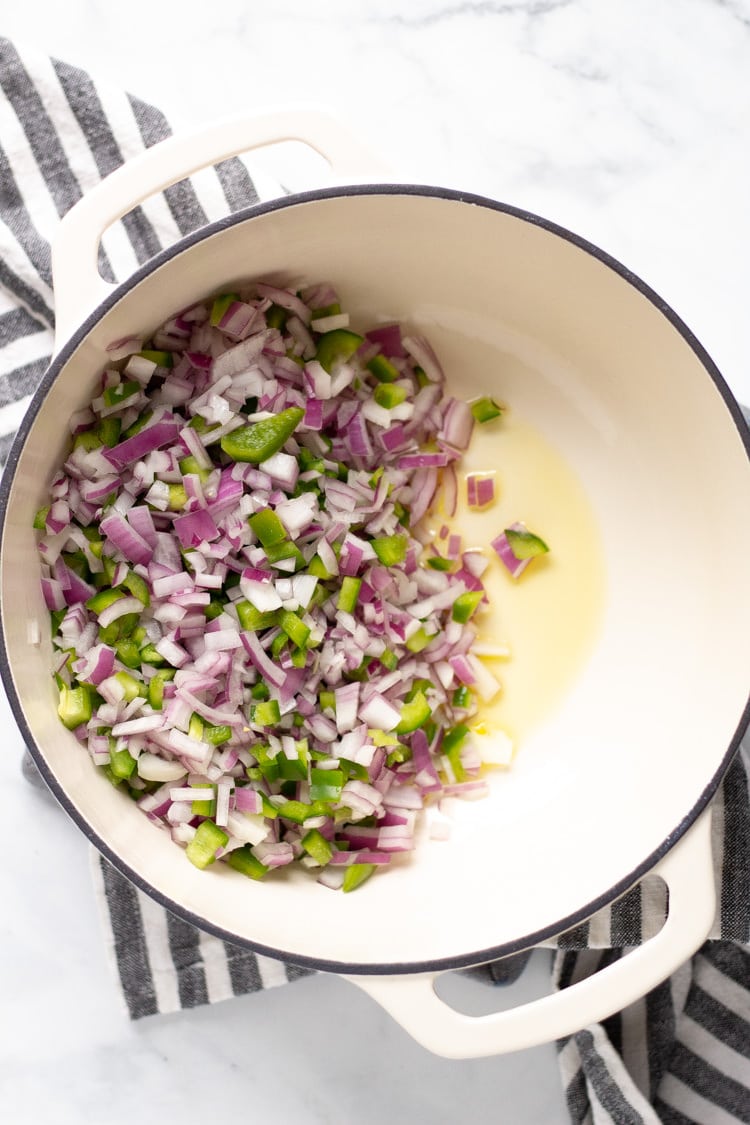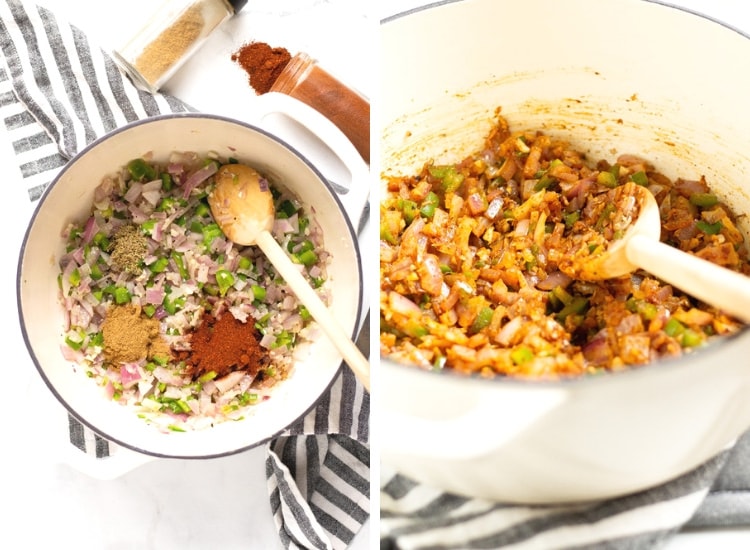 Wait… What are chiles in adobo? Where can I find chiles in adobo?
Chiles in adobo are also called chipotle peppers in adobo sauce. They are smoked and dried jalapenos in a tangy red sauce.
Check your local supermarket in the Mexican section. They usually come in a can or glass jar. I prefer the diced chiles in adobo, but you can also find them as whole peppers in adobo sauce.
I like the diced peppers because then I don't have to handle the peppers and chop them.
They'll give your chili the best smoky flavor with just the right amount of heat.
Back to the chili making though…
Then we'll add a variety of beans, diced tomatoes, tomato sauce, vegetable broth, cilantro and of course, lentils!
A quick 15 minute simmer is all this chili needs – then it's dinner time!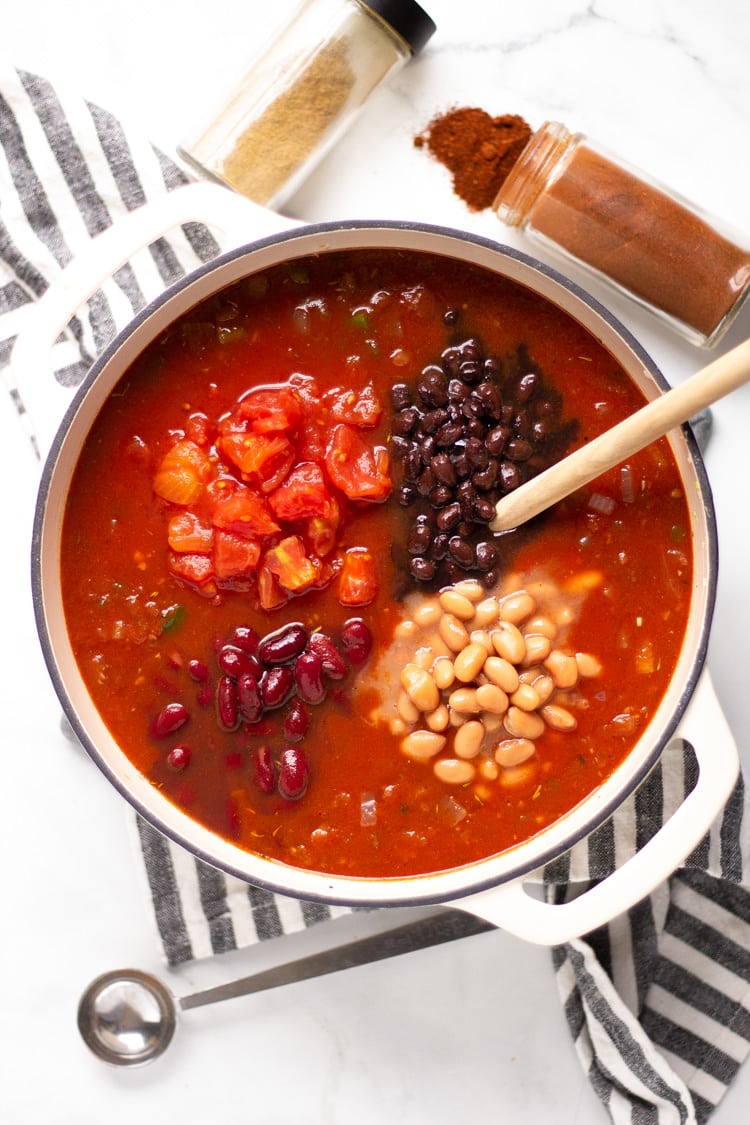 Can I make vegan chili ahead of time?
Yes! As with most soups, the flavors of this lentil chili just get better with time!
It will stay good in your fridge for up to 1 week, which makes it a great meal prep recipe when you want something healthy to nosh on throughout the week.
When you're ready to eat, just heat it in a large pot over medium heat until warm.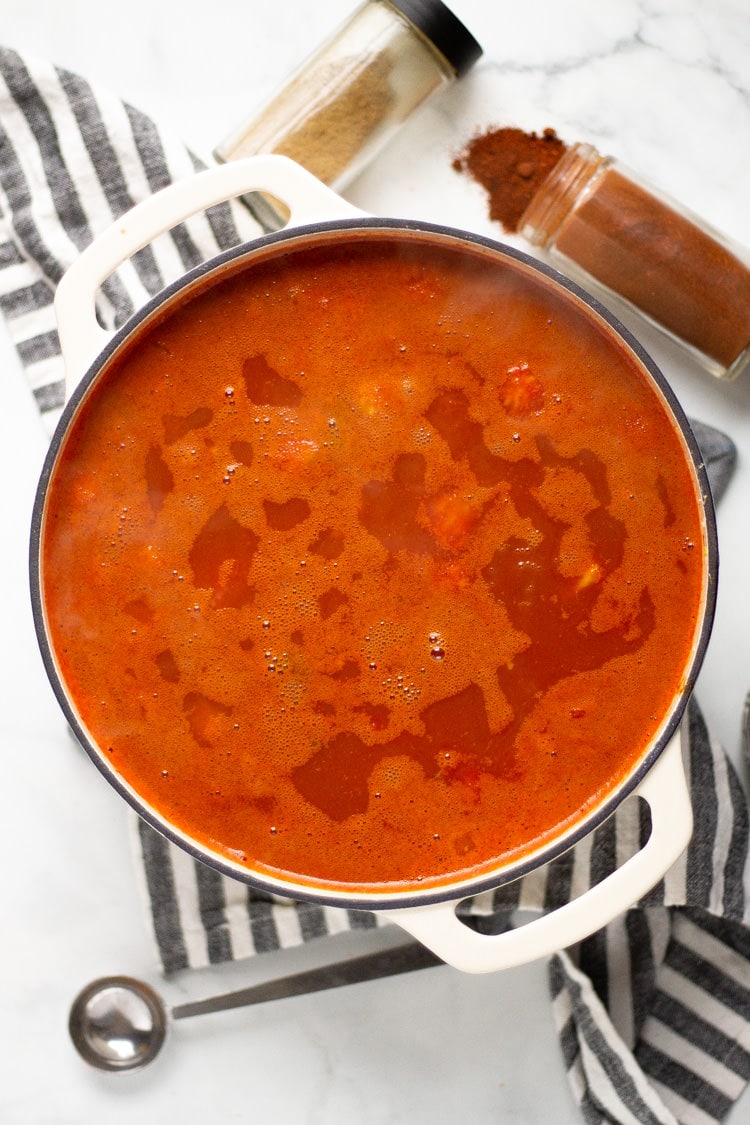 Can I freeze vegan chili?
Yes! Freeze in an airtight container for up to two months.
When you're ready to enjoy it again, thaw in the fridge overnight, then heat in a large pot over medium heat until warm.
I like to make a batch and then freeze half right away and save it for those lazy weekends when I don't feel like cooking.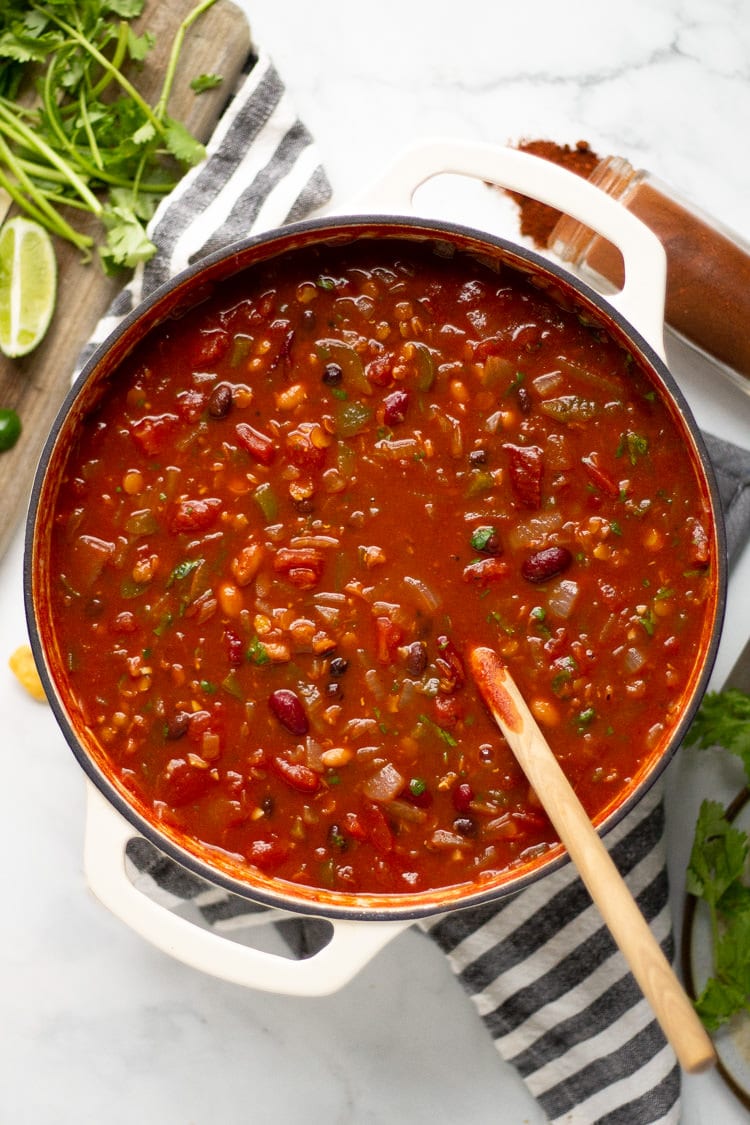 Can I add a vegan meat substitute to this chili?
You can go wild with this chili! If you're into seitan, tempeh or tofu, those would all be great additions to this soup!
I have been vegan and vegetarian a few different times in my life and while I've tried a several meat substitutes, I really don't enjoy them.
I prefer to load up my plant based meals with veggies and beans instead of meat substitutes. But, to each their own!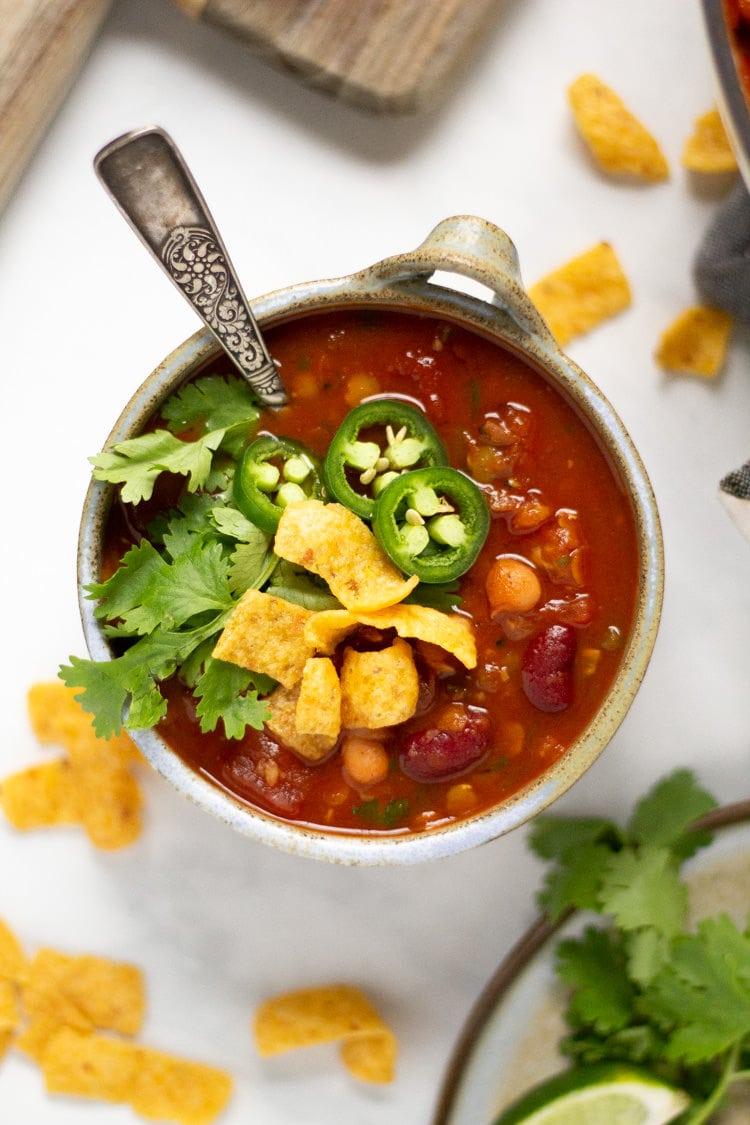 What are lentils?
Lentils are legumes.
Right…and what is a legume? A legume is a plant that has an edible seed or pod (like beans and peas).
You'll find lentils dried or canned and they come in a few different varieties including red/yellow, green, brown and black.
They're an excellent source of protein and fiber which makes them a filling (and very healthy) addition to any soup or salad.
For more info on lentils, check out this informative article.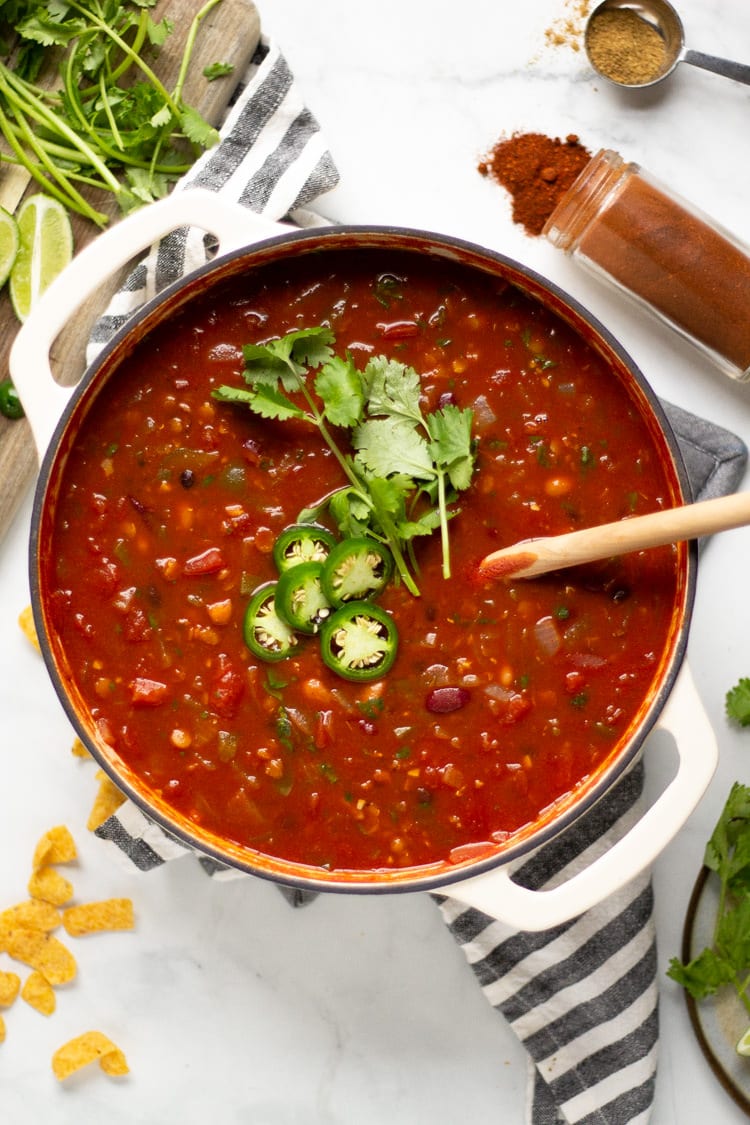 OTHER SIMPLE SOUPS YOU'LL LOVE:
DID YOU MAKE THIS RECIPE? LEAVE A REVIEW!
If you made this recipe I'd love to hear how it turned out! Feel free to leave a rating and comment below. I love hearing from you guys and respond to each and every comment that I receive! Don't forget to follow me on Instagram, Facebook and Pinterest for the all latest recipes and a sneak peek at the behind the scenes adventures on Midwest Foodie!
Print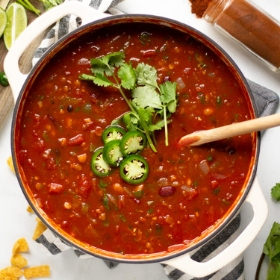 Vegan Chili
Author:

Prep Time:

15 minutes

Cook Time:

15 minutes

Total Time:

30 minutes

Yield:

8-10 servings

Category:

Main Dish

Method:

Stovetop

Cuisine:

Mexican/American
---
Description
This chili takes only 30 minutes from start to finish and you'll likely have all the ingredients in your pantry! Loaded with beans, veggies and lentils, it's the perfect healthy meal prep recipe!
---
Ingredients
1 tablespoon olive oil
1 red onion, diced
1 green pepper, diced
1 jalapeno, minced
5 cloves garlic, minced
1 tablespoon chili powder
1 tablespoon cumin
1 teaspoon dried thyme leaves
2 teaspoons diced chiles in adobo
1/2 teaspoon sugar
(2) 14.5 oz. cans vegetable broth
(2) 14.5 oz. cans tomato sauce
15 oz. can black beans, drained and rinsed
15 oz. can pinto beans, drained and rinsed
15 oz. can kidney beans, drained and rinsed
3/4 cup dried red lentils
1/4 cup chopped cilantro
Kosher salt
fresh cracked pepper
Garnish: 
fresh chopped cilantro
sliced jalapeno
sour cream (make sure it's vegan sour cream if you're keeping it vegan) 
Fritos
---
Instructions
Heat oil in a large pot over medium heat. Add onion and green pepper along with a large pinch of salt and pepper. Saute, stirring frequently for 3-4 minutes.
Add garlic, jalapeno, chili powder, cumin and thyme. Saute for another minute. 
Then add remaining ingredients to the pot. 
Cover and simmer over low heat for 15 minutes, stirring every 5 minutes. The chili is done when the lentils are tender yet firm. 
Season to taste with salt and pepper. Garnish with cilantro, jalapeno, sour cream and Fritos and enjoy!
Keywords: vegan chili, lentil chili, vegetarian chili