These puff pastry tarts are as elegant as they are delicious. Caramelized onions combine with tangy blue cheese and sweet fig jam to deliver a palate pleasing flavor your friends and family will love! Puff pastry makes this appetizer do-able within an hour and will impress everyone at the party!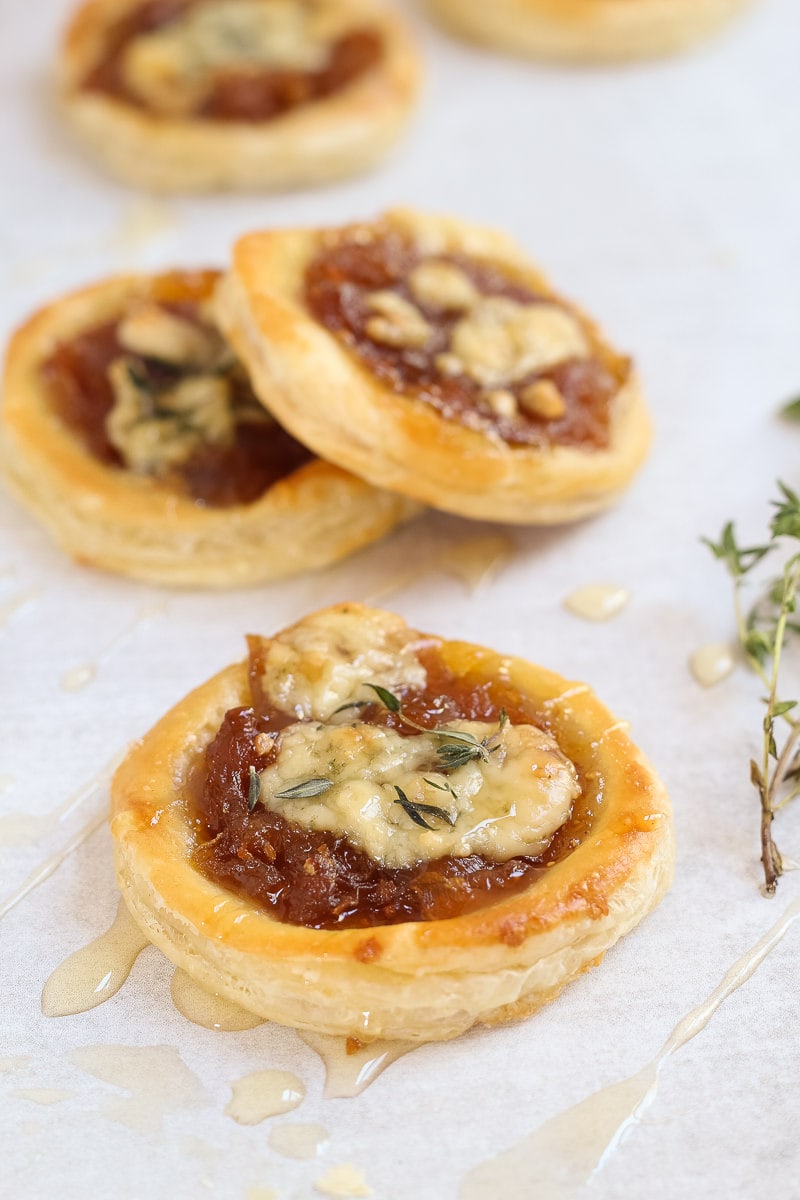 *This post may contain affiliate links. As an Amazon Associate I earn from qualifying purchases at no extra cost to you!
Do I have to use puff pastry?
Not necessarily. You could use pie crust or even crescent rolls. However, puff pastry
has the perfect buttery flakiness needed for this dish, so it's best to stick to the recipe here and use traditional puff pastry sheets. Thaw them in the fridge overnight so they are easy to unroll and cut.
Where can I find puff pastry?
You'll typically find puff pastry in the freezer section of your grocery store near the dessert items. Pepperidge Farm is my favorite reasonably priced brand that can be found at most grocery stores.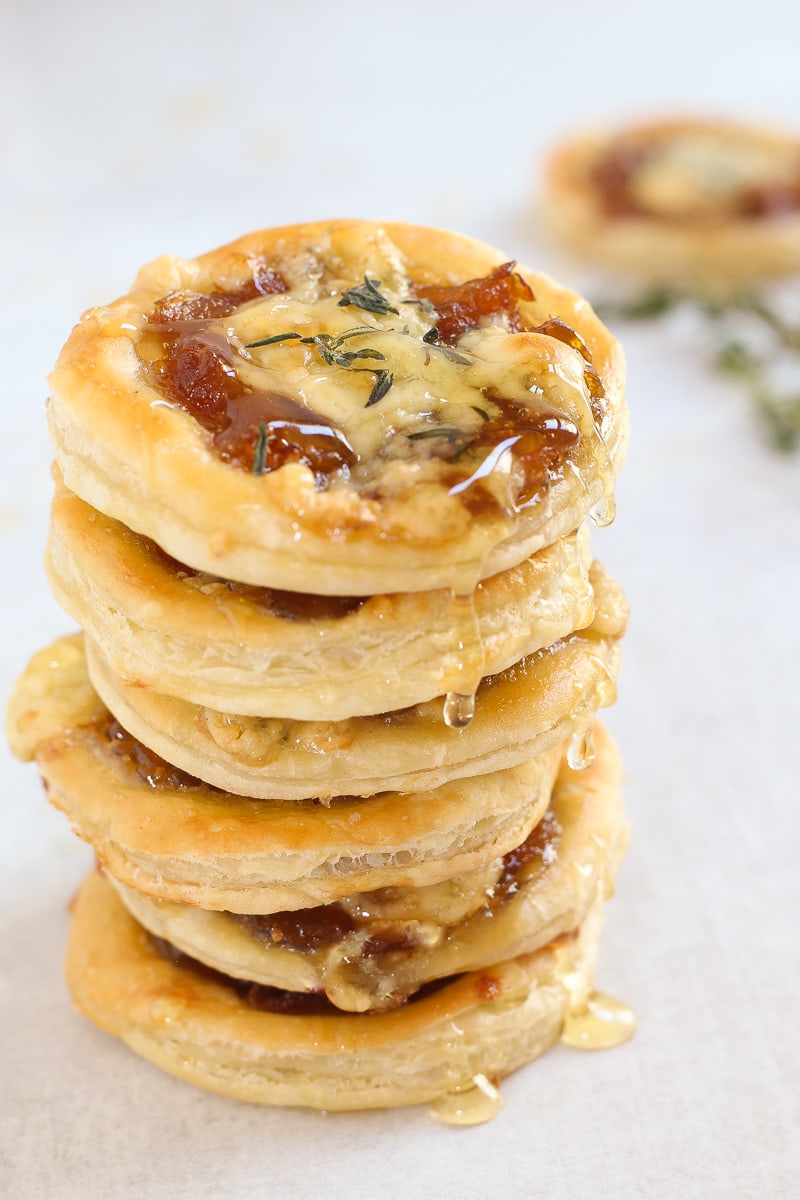 How do I make caramelized onions?
I'm not going to lie, it's a bit of process. You're going to thinly sliced 4 onions and saute them over medium heat in butter and oil. And yes, it takes 60 minutes to caramelize those babies, but they are worth every second! Grab a magazine (or who am I kidding, your phone) and a glass of wine and plop yourself on a stool in front of the stove.
Make sure you use a large pot so it can hold all of the sliced onions. It will look like a lot of onions at first, but DON'T WORRY! By the time you're done they'll have reduced significantly and be dark brown, caramely and delicious.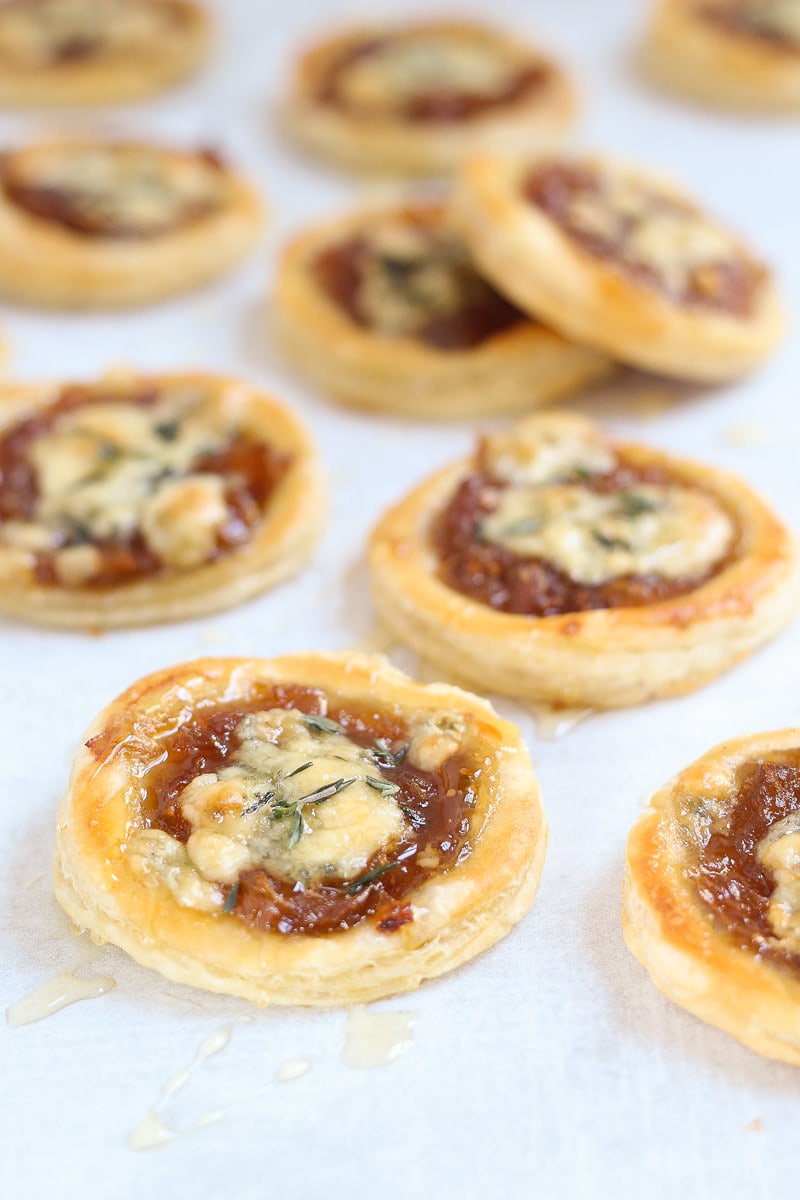 Do I have to use blue cheese?
You could use Gorgonzola
or Roquefort
instead as they both have a rich, tangy flavor similar to blue cheese
. But luckily, blue cheese is very popular and super easy to find so you shouldn't have to spend too much time hunting it down!
Do I have to use fig jam?
Again, not necessarily. But to achieve the same flavor profile, it is ideal to use fig jam
. Any sweet fruit preserve will work, however the flavors of fig work very well with blue cheese and honey
and lucky for you, most grocery stores carry fig jam or fig preserves!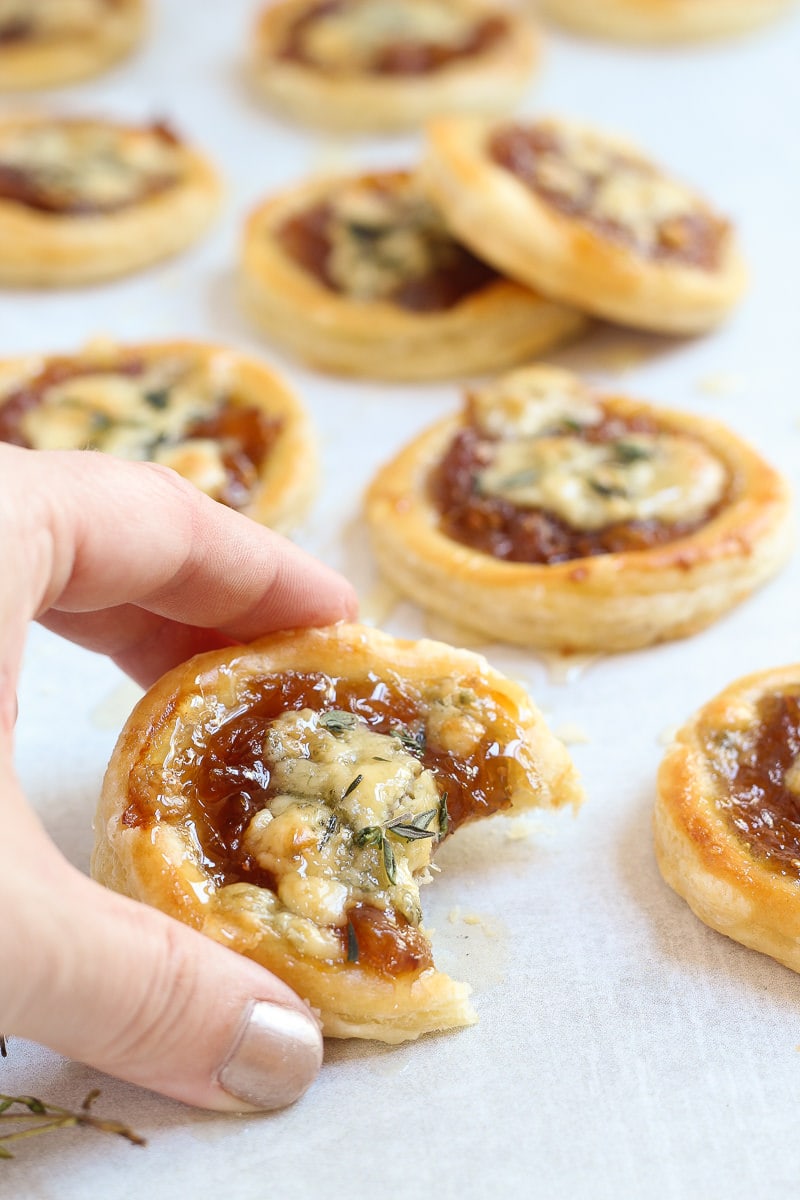 Can I make these puff pastry tarts ahead of time?
If you're into making things ahead of time, you could easily assemble the tarts, freeze them on a parchment
lined baking sheet
and then transfer them to an airtight container and freeze for up to a month. The day before baking, allow the tarts to thaw in the fridge overnight on a parchment lined baking sheet, then bake and drizzle with honey.
Alternately, you could assemble these tarts and then refrigerate them for up to 24 hours before baking. Puff pastry is pretty forgiving, but it needs to be kept cold in order to rise properly when baked. So you definitely don't want to let these babies sit out on your counter or get anywhere near room temp before you bake them.
What should I serve with these puff pastry tarts?
These tarts are the perfect addition to your holiday feast! This lip-smacking appetizer made an appearance last year at Thanksgiving and it was promptly devoured and enjoyed by all my friends and family!
I love to bring this appetizer to any holiday gathering because it is easy to transport and is just as delicious (if not best) served at room temperature. It's hand held too so it's perfect parties and it doesn't require silverware or even a plate really! But you could also serve this as a main course for a light dinner. It'd go great alongside a green salad or even a plate of pasta.
Print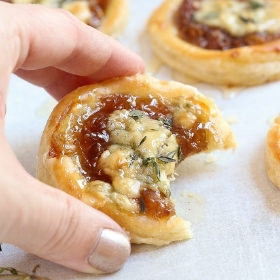 Caramelized Onion & Blue Cheese Puff Pastry Tarts
---
Author:

Prep Time:

30 mins

Cook Time:

18 mins

Total Time:

100 minutes

Yield:

30-32 mini tarts

Category:

Appetizer

Method:

Baking

Cuisine:

American
Description
These tarts are as elegant as they are delicious. Caramelized onions combine with tangy blue cheese and sweet fig jam to deliver a palete pleasing flavor your friends and family will love!
---
Ingredients
1 (17.3 oz.) package puff pastry, thawed in the fridge overnight
4 large yellow onions, halved, then thinly sliced
2 teaspoons butter
4 teaspoons olive oil
1 teaspoon granulated sugar
1 tablespoon dry white wine
Kosher salt
fresh cracked pepper
1 egg + 1 teaspoon water, beaten
3/4 cup fig jam
5 oz. blue cheese (crumbled)
1 tablespoon fresh thyme leaves
honey for drizzling
---
Instructions
Heat butter and oil in a large pot over medium heat. Add onions and and stir to coat in oil. You will cook the onions for 60 minutes total, stirring every 4-5 minutes or so.
After they've cooked for 10 minutes add a pinch of salt. After they've cooked for 40 minutes add a teaspoon of sugar. Be sure to keep stirring them every 4-5 minutes so they cook evenly.
After they've finished cooking for 60 minutes and are a gorgeous dark brown color, pour in the wine and deglaze the pan (scrape all the bits off the bottom), season with salt and pepper to taste, then set aside.
When the onions are nearing the end of the caramelizing process, preheat oven to 400 degrees. Unwrap the puff pastry and cut along the seams of each sheet, creating 6 rectangles total.
Lightly flour your work surface and use a rolling pin to roll each piece into a  3.5″ x 12″ rectangle. Use a 3″ cookie cutter to make four tarts out of each rectangle. Transfer tarts to (2) parchment lined baking sheets.
Combine puff pastry scraps into a ball, roll them out to the same thickness as your previous tarts and use the cookie cutter to make 10-12 more tarts.
Arrange tarts on the two baking sheets about an inch apart. You will have 30-32 tarts total.
Use a 2″ cookie cutter to score each tart in the center, creating a half inch wide crust. Brush the crust portion of the tart with the egg wash.
Heat fig jam in a small saucepan over medium heat just until it becomes loose and spreadable. Spread a teaspoon or so of fig jam in the center of each tart.
Top that with a teaspoon or so of caramelized onions. And then, you guessed it, top that with a teaspoon or so of blue cheese. Divide thyme evenly between the tarts, sprinkling a few leaves in the center of each tart.
Bake tarts for 15-18 minutes or until the crust starts to get dark golden brown
Remove tarts from the oven and drizzle with honey. Serve warm and enjoy!
Notes
These tarts are delicious at room temperature also!
Keywords: appetizer, party food, elegant, fancy, simple, recipe, easy, quick, vegetarian