If you don't feel confident in the kitchen, the charcuterie board might just become your new best friend! No cooking skills required whatsoever and even the least creative person can put together an artful masterpiece of meat and cheese. You can make them large enough to feed an army or small enough for a date night with your other half. Below I'll share my tips and tricks for making a delicious cheese board every single time!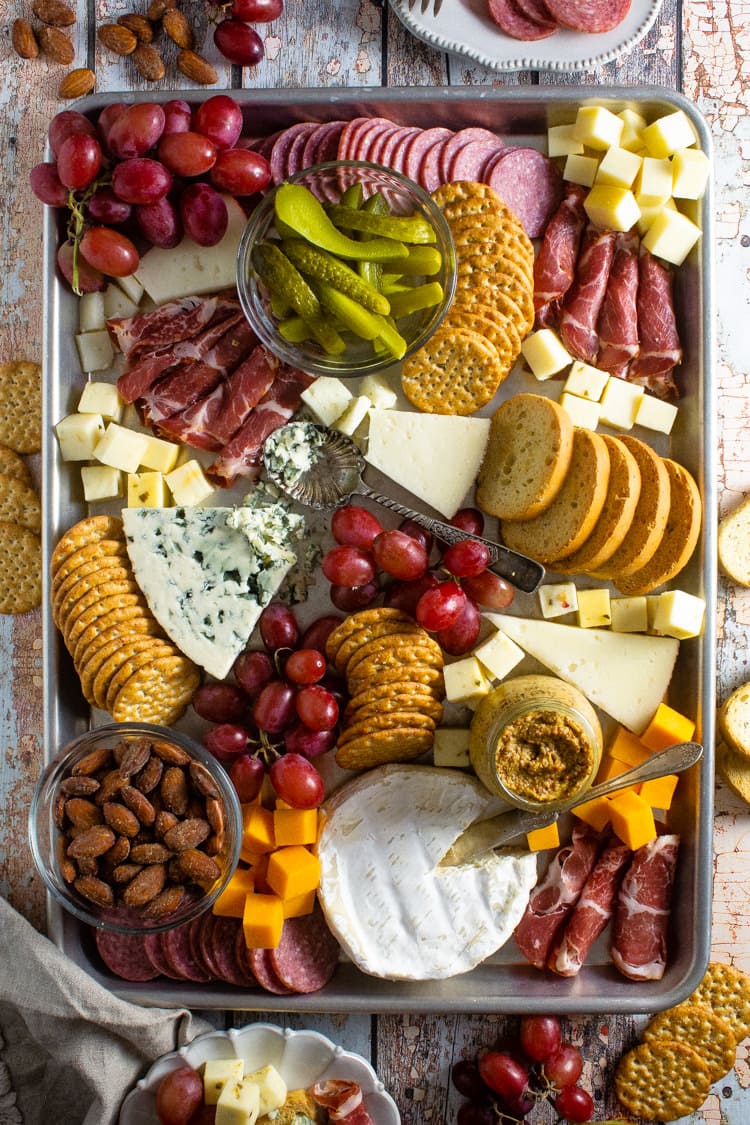 *This post may contain affiliate links. As an Amazon Associate I earn from qualifying purchases at no extra cost to you!
What is a cheese board (AKA a charcuterie board)?
It's typically comprised of a few kinds of cheeses, a few kinds of meats, a nice crusty sliced baguette and some crispy crackers along with a few other accompaniments–think: pickles, potato salad, roasted nuts, fresh or dried fruit, jams, spreads, etc.
And in my opinion when it comes to cheeseboards there is only one rule I follow–variety and randomness are paramount. I like to cut all the cheeses in different shapes and arrange my meats in different shapes also. I pile everything onto a sheet pan, some in neat rows, others in piles, some are fanned around dishes and others are rolled into little cones. I never plan where I'm going to put anything; I just let it happen organically.
Don't worry about making your cheese board look like some Food & Wine magazine shoot! Just make sure it looks delicious and your guests will be delighted!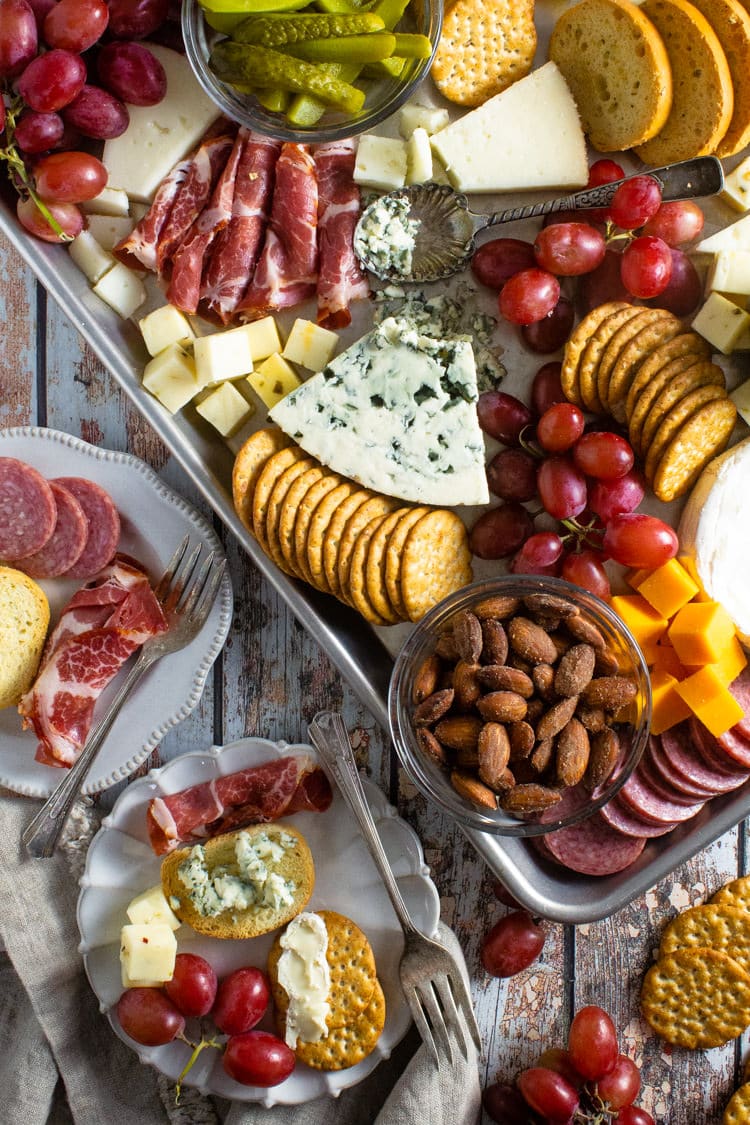 What kind of cheese should I use on a charcuterie board?
Try to include one creamy cheese (like brie), one firm cheese (like manchego), one crumbly or blue cheese (like goat cheese or Gorgonzola) and one aged cheese (like aged cheddar). Using this guideline is a good way to ensure that you've got a variety of cheeses with different textures and shapes.
But don't get hung up following these blueprints exactly. I usually think about the tastes of my guests and try to include things that I know they will like, and also things that they maybe haven't tried before.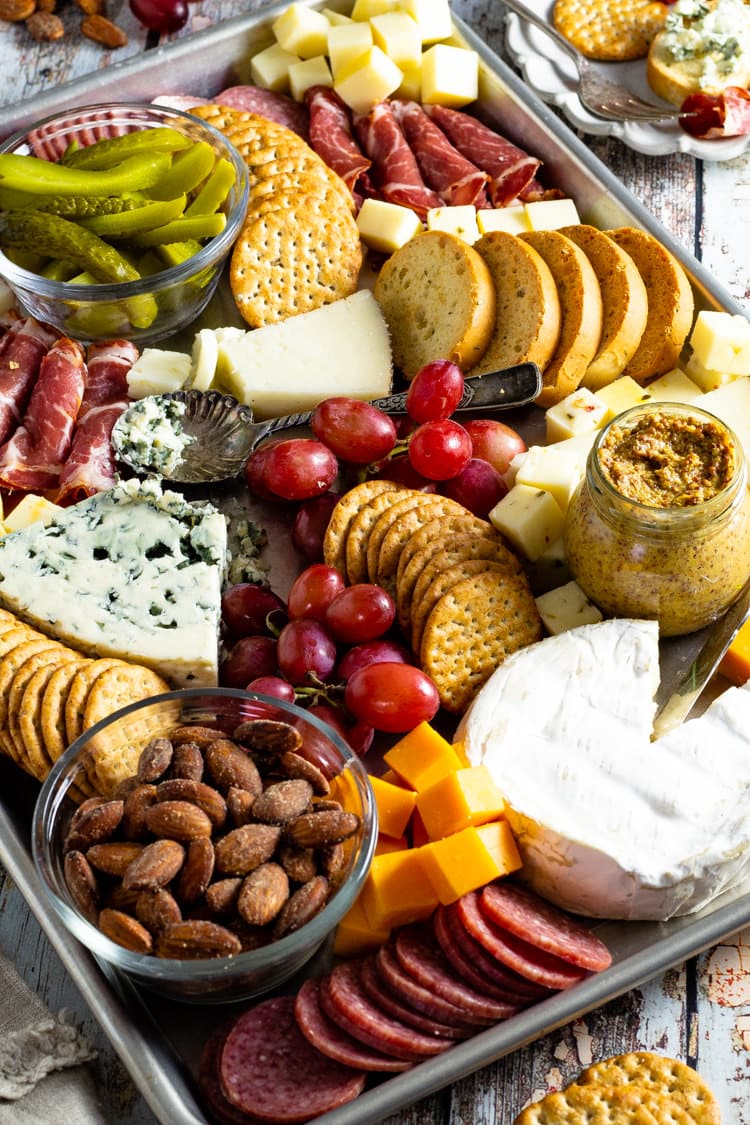 What kind of meat should I use on a cheese board?
Similar to the cheese guideline, you'll want to add variety to the charcuterie board by using a few different kinds of meats. Try to include smoked or cured meats. Sliced deli meat is a great option too!
I like to use sopressata or hard salami, proscuitto and sliced ham. This is a great time to try that unique sausage you've seen at the specialty grocery store or that mortadella you've been eyeing.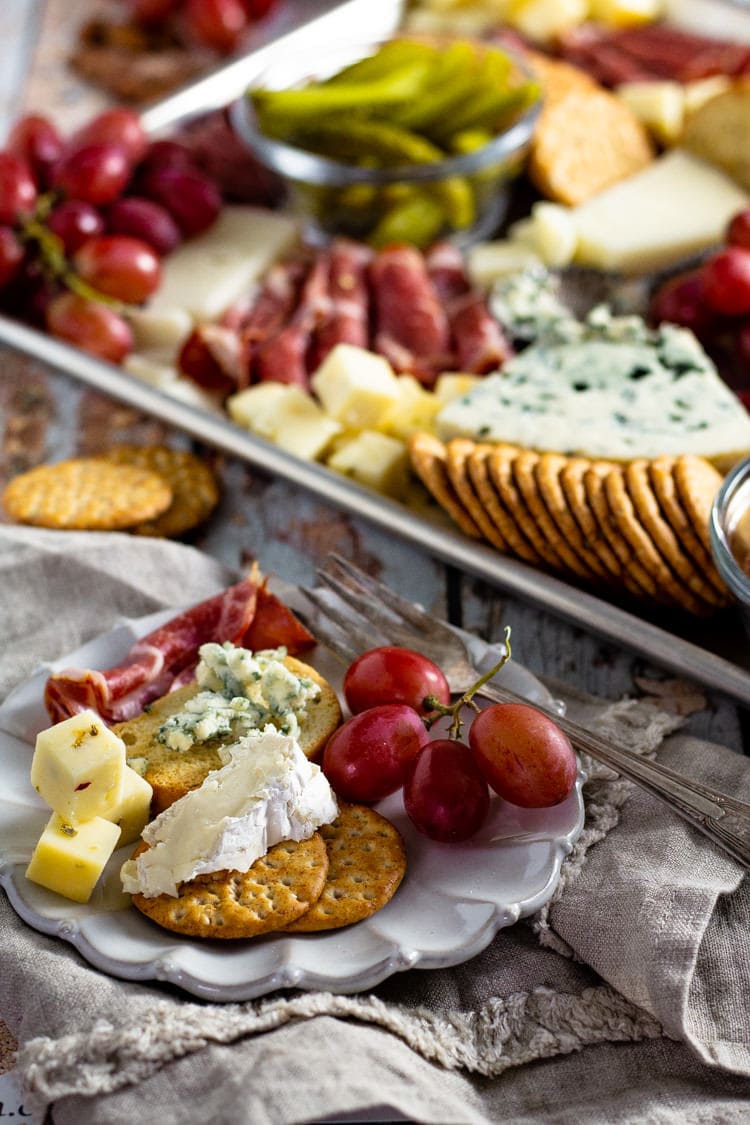 What kind of accompaniments should I use on cheese board?
Pretty much the best part about making a cheese board, is it's a great way to use up those odds and ends you have in your fridge or cupboard! You know, the ten green olives at the bottom of the jar, the last of the Dijon mustard, the handful of roasted pecans you didn't end up using in your favorite cookie recipe. The wider the variety, the more beautiful the cheese plate.
I always like to add some fresh fruit or sliced vegetables too since all the meat and cheese can really be quite heavy on the palate. Sliced apples or red pepper are a great way to lighten up a delicious cheese board!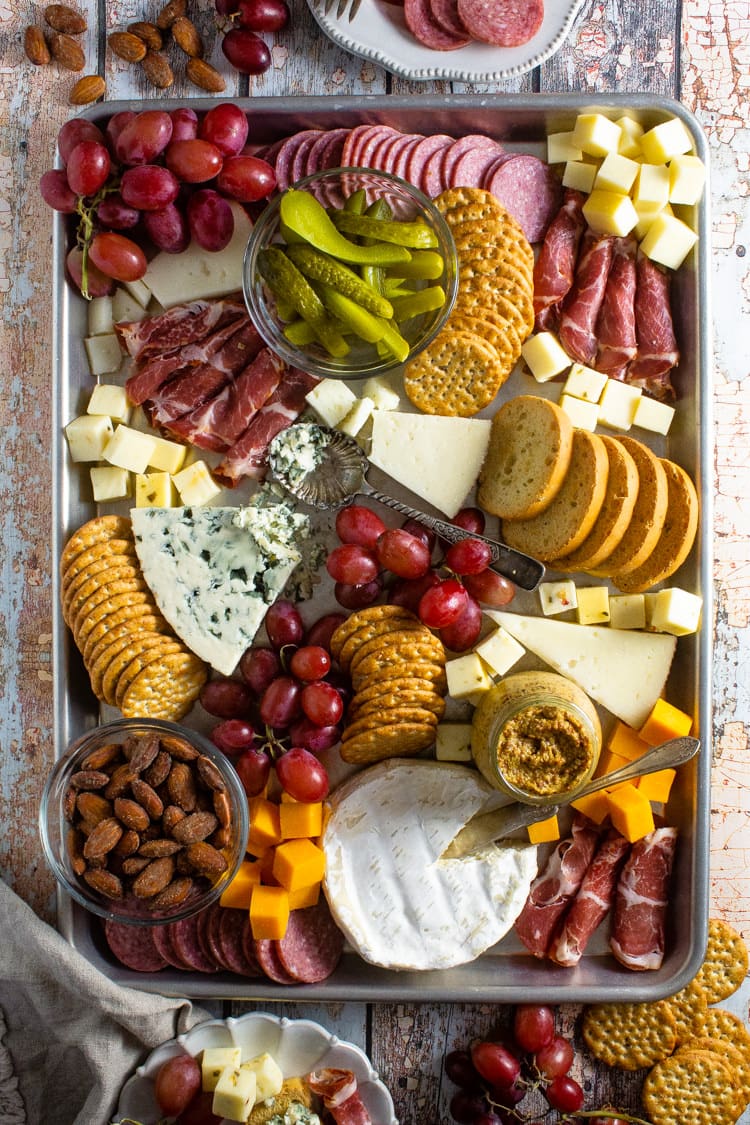 Helpful tools for this recipe:
Print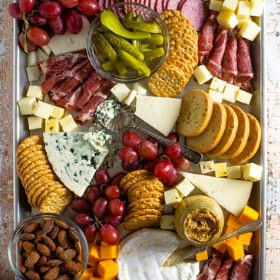 Charcuterie Board Making 101
---
Author:

Prep Time:

20 minutes

Cook Time:

0 minutes

Total Time:

20 minutes

Yield:

5-50 servings

Category:

Appetizer

Method:

Cold

Cuisine:

American
Description
The easiest appetizer you've ever made! Simple tips on how to pick the best meats and cheeses for your charcuterie board!
---
Ingredients
soft cheese
firm cheese
aged cheese
crumbly/blue cheese
salami
proscuitto
deli sliced ham
crackers
sliced French baguette
pickles
sliced apples
Dijon mustard
roasted pecans
pitted olives
literally whatever you want
---
Instructions
Find a large cutting board or serving platter. Place your accompaniments (pickles, fruit, nuts) in small serving dishes. Start by arranging those on your platter.
Slice cheese and meats into bite size pieces and arrange them randomly on your platter.
Add sliced bread and crackers to the platter.
Pour yourself and your guests a glass of wine and head for the patio to enjoy this delicious appetizer!
Notes
When selecting your meats and cheeses, plan on about 3-5 ounces of meat/cheese per person, depending on whether this is an appetizer or main course.
Keywords: easy, simple, recipe, cheese board, charcuterie, meat, cheese, vegetables, potato salad, appetizer, party