Each quarter I share my income reports to give you a behind-the-scenes look at what it takes to run Midwest Foodie as a full-time job that supports a family of three! It also gives me a chance to share with you what I'm working on and the new things I'm trying.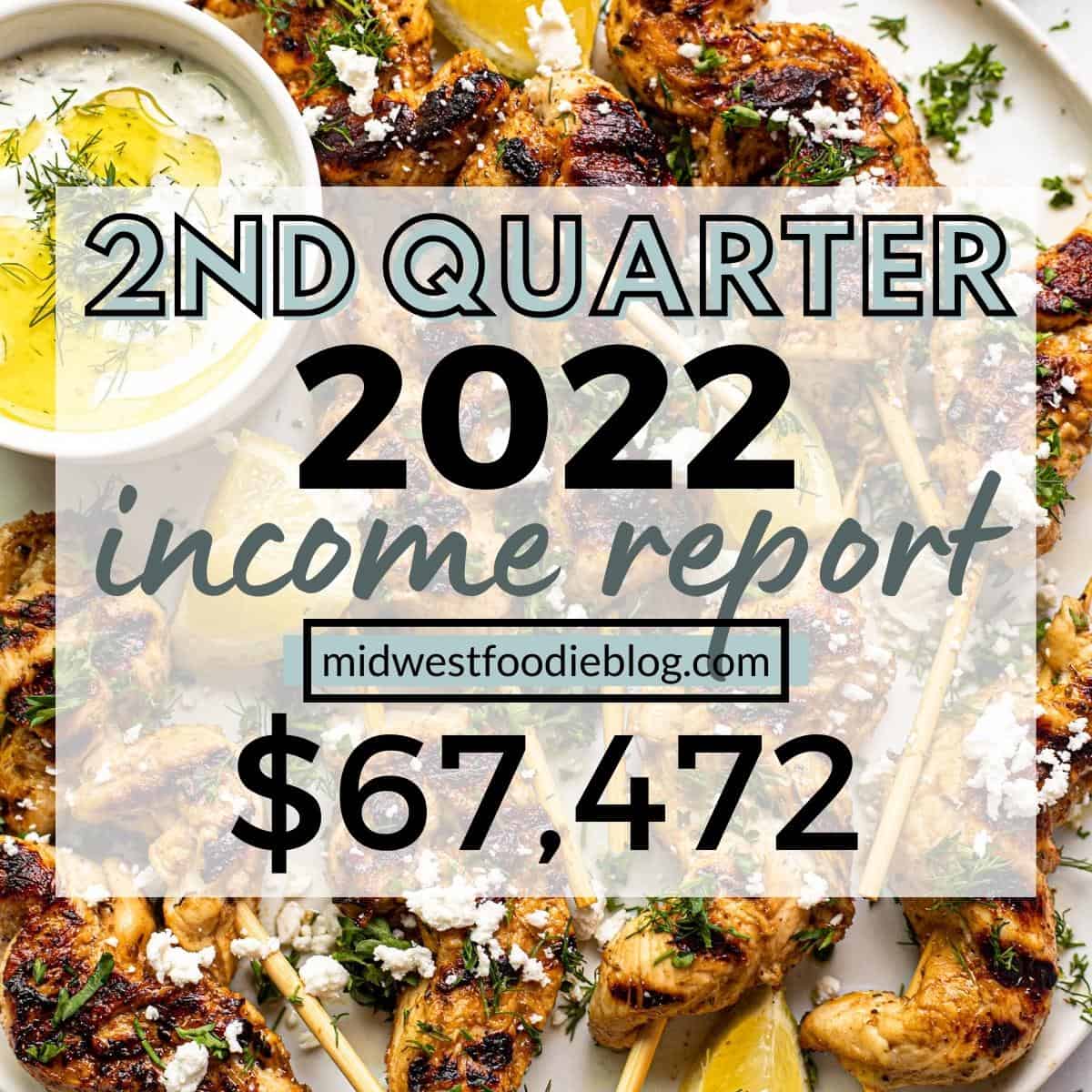 If you're new here, be sure to start at the beginning with my first income report to see how this blog got started 5 years ago!
Let's take a look at the stats for April, May, and June 2022! These traffic totals do not include web story traffic.
Traffic
April 2022
| | |
| --- | --- |
| Pageviews | 688,640 |
| Sessions | 552,283 |
| Users | 409,924 |
May 2022
| | |
| --- | --- |
| Pageviews | 660,719 |
| Sessions | 533,943 |
| Users | 398,923 |
June 2022
| | |
| --- | --- |
| Pageviews | 635,906 |
| Sessions | 519,576 |
| Users | 383,462 |
Traffic Sources
April 2022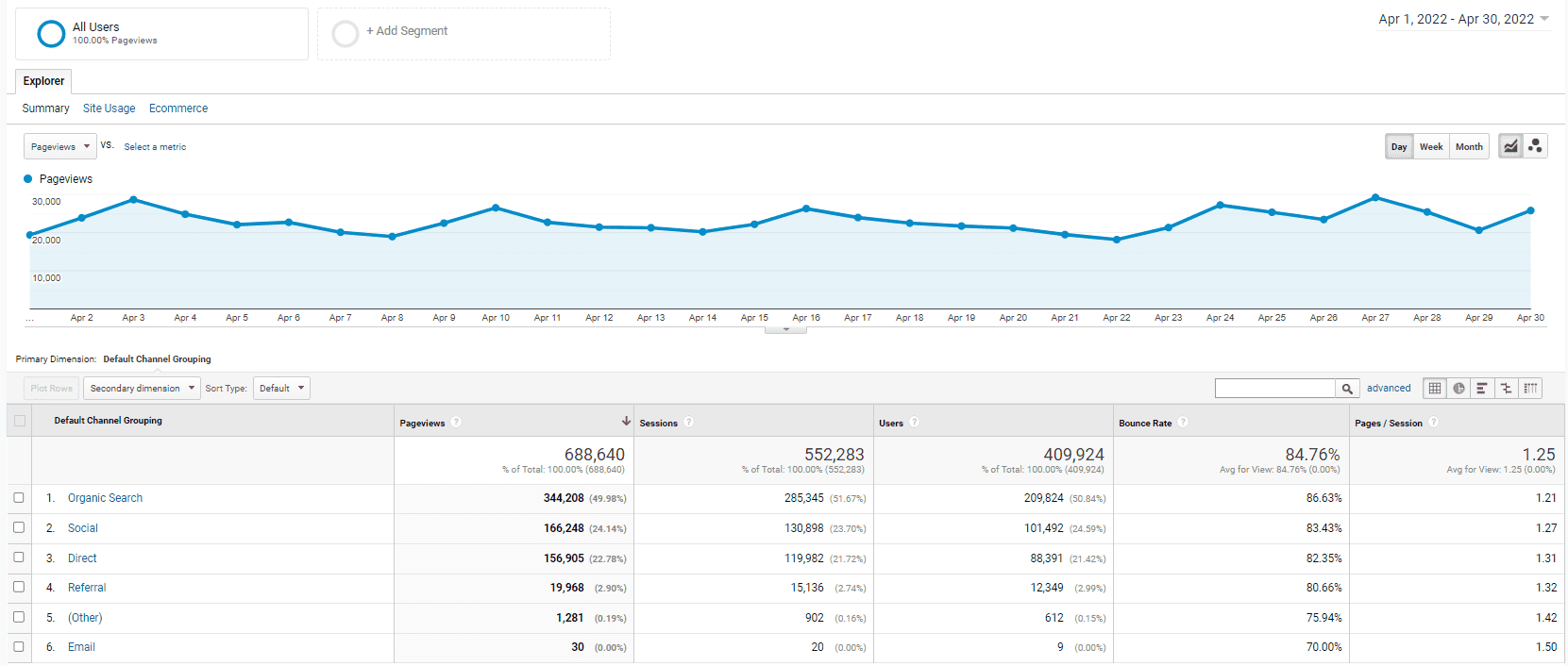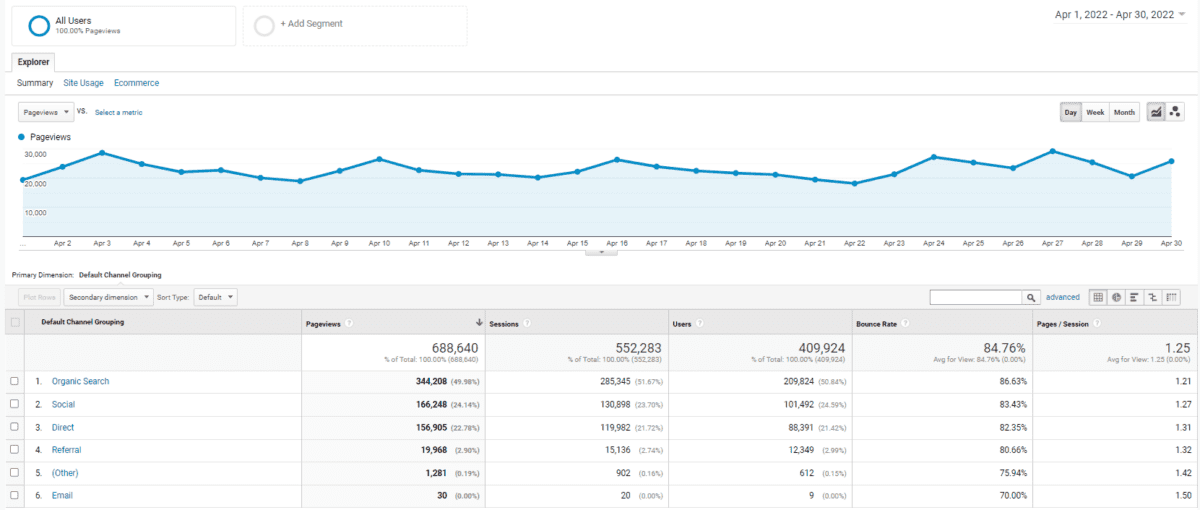 May 2022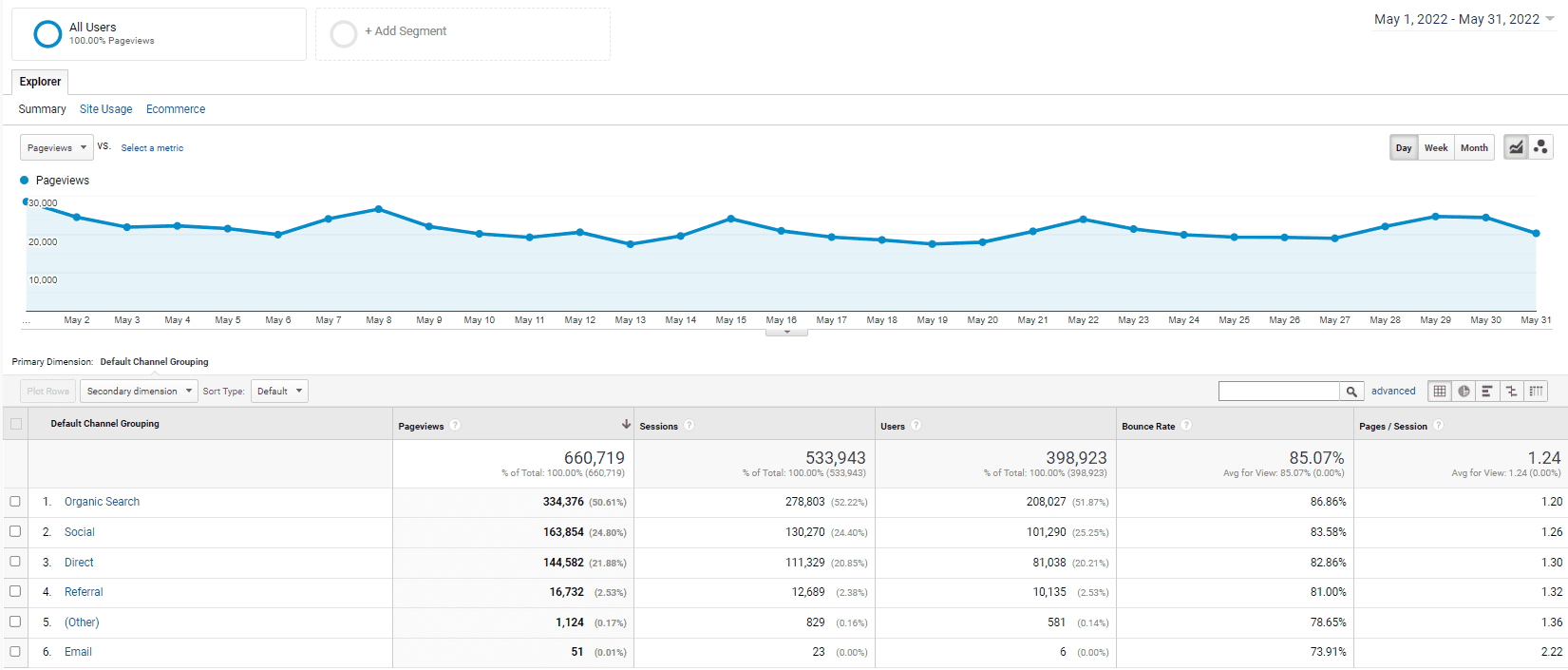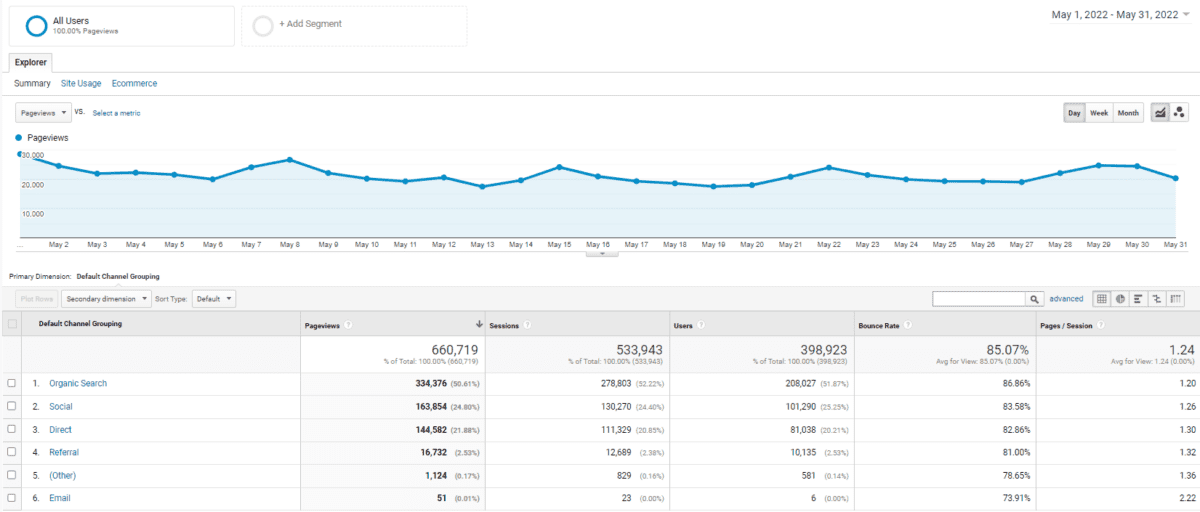 June 2022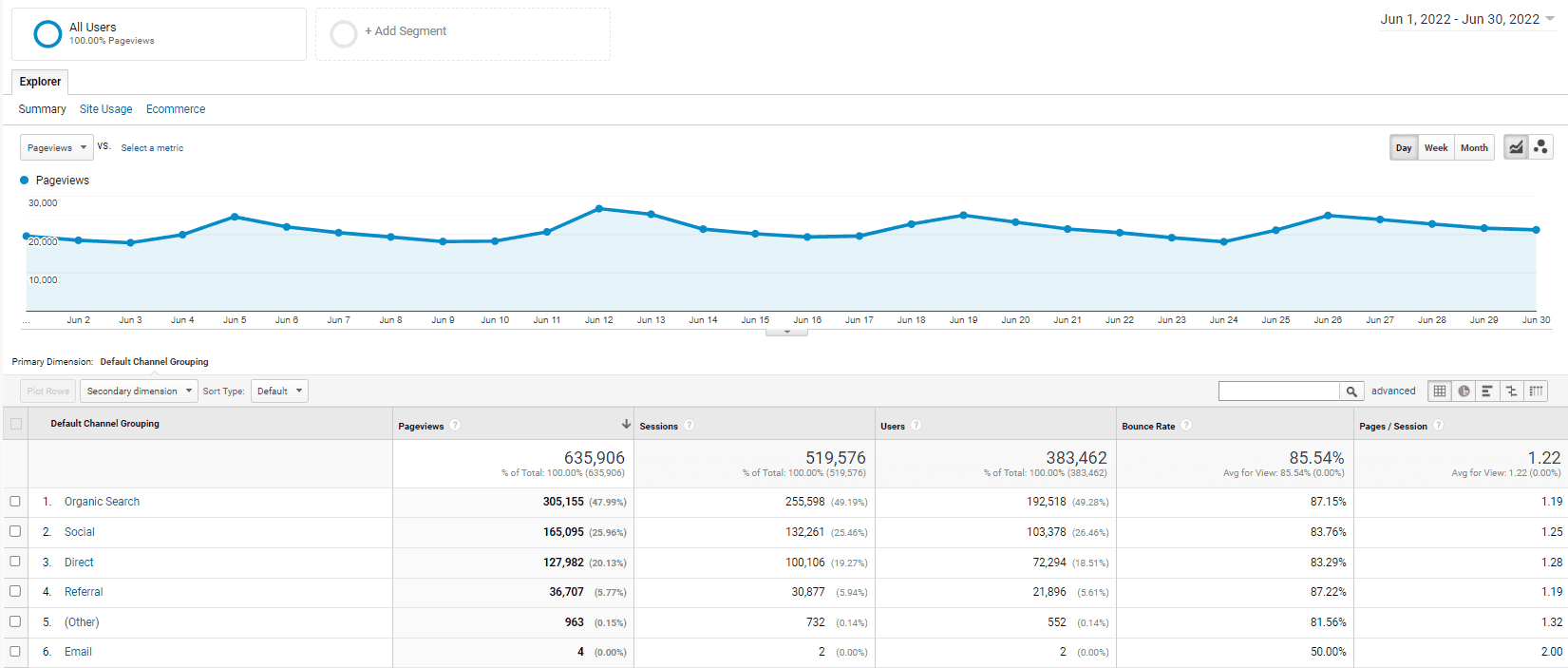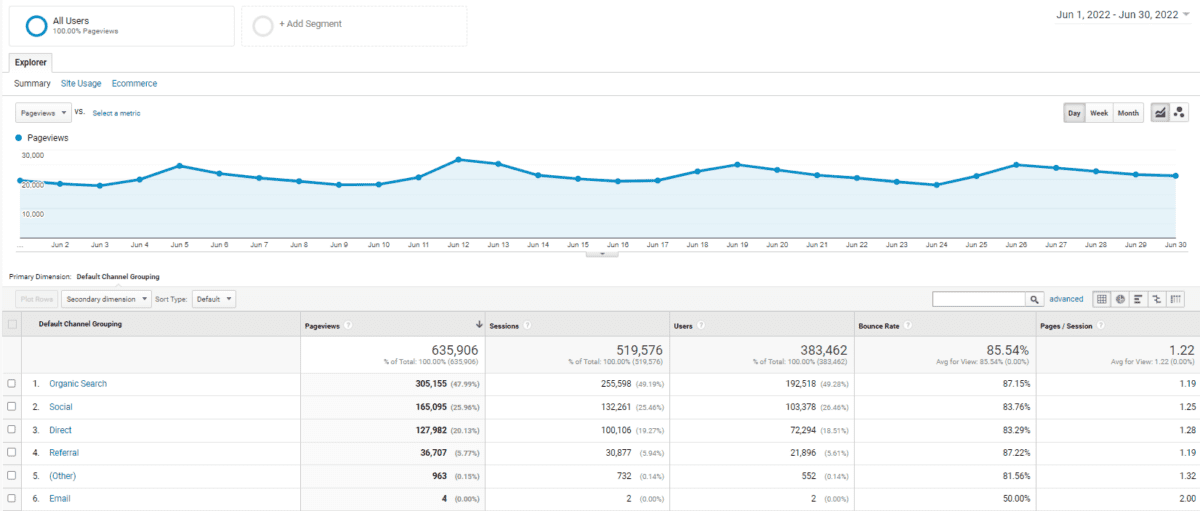 2nd Quarter Income Total: $67,472
April 2022
May 2022
June 2022
Monthly RPM/RPS
| | | | |
| --- | --- | --- | --- |
| | Apr | May | Jun |
| RPM | $26.14 | $28.95 | $ 30.77 |
| RPS | $32.59 | $35.82 | $37.66 |
Total Expenses $7,989
Monthly Recurring Expenses $3,006
Nerdpress: $366
Agathon: $260
ConvertKit: $297
Canva: $30
Gsuite: $36
Lightroom: $32
Tailwind: $30
Akismet: $30
KeySearch: $42
SendOwl: $27
Gusto: $135
Groceries: $600
Ahrefs: $398
Microsoft One Drive: $6
Peach Perfect Financials: $717
Other Expenses $4,983
Content Writer/Photographer: $4,850
Survey Monkey: $99
Grow Social Plugin: $34

Donations $1,000
April
Our April donation ($250) went to The Loveland Foundation. Here's a description of their mission from their site: "Loveland Foundation is committed to showing up for communities of color in unique and powerful ways, with a particular focus on Black women and girls. Our resources and initiatives are collaborative and they prioritize opportunity, access, validation, and healing. We are becoming the ones we've been waiting for."
May
Our May donation ($250) went to Black Girls Smile. Here's a description of their mission from their site: "Black Girls Smile was founded with a mission to provide young Black women with education, resources, and support to lead mentally healthy lives. BGS' mission is grounded in research, focus group findings, and personal experiences highlighting the under-served and underrepresented mental health needs of young Black women."
June
Our first June donation ($250) went to The Trevor Project in honor of Pride month. Here's a description of their mission from their site: "The Trevor Project is the leading and only accredited national organization providing crisis intervention and suicide prevention services to lesbian, gay, bisexual, transgender and questioning (LGBTQ) young people under the age of 25."
Our second June donation ($250) went to Planned Parenthood for obvious reasons. Here's a description of their mission from their site: "Planned Parenthood delivers vital reproductive health care, sex education, and information to millions of people worldwide."
Profit $58,483
Taxes
Please note that this "profit" does not take into account the taxes I will have to pay on it. It's easy to look at these numbers and think the profits from blogging are great (which they are!) but it's also important to remember that there are a lot of monthly expenses that go into blogging, and then taxes come along and take about 25%-30% of anything you have leftover!
Expenses Breakdown
Survey Monkey: I sent my readers a survey! For the first time ever in 5 years!! I've always been afraid to send one because it seemed like a lot of work on my end and I thought I would get like 10 responses from my readers. But I finally decided to go for it and I kept it super simple - I think it was like 8 questions or so. The questions were clear and concise; ie: "what do you come here for?" and "what do you want to see more of?" etc. And it was so fun to read through the 250+ responses!!! Some of them were what I expected but there was a lot that I was surprised by. I thought I could use Survey Monkey for free but then I couldn't get all the responses until I signed up for a plan. Long story short...don't be like me and wait 5 years to send your readers a survey - SEND THEM ONE NOW! And do a little more research so you can find one that's free because I'm sure there's one out there! However, Survey Monkey was easy to use and $100 once or twice a year to connect with your readers just might be worth the cost.
Photographer: I dabbled in working with a couple photographers this quarter so that I could get a bit ahead with my shoots through the summer. So far it's definitely been worth the investment just to free up some more of my time. If you're looking to hire someone for photography be sure to check out Amanda from Midwest Nice and Measured Food Photography and Claire from Eat with Clarity. Being able to take vacations this summer without having to worry about getting behind on shooting will be priceless!
Ahrefs: I'm still working my way through all the features of Ahrefs. I'm not totally convinced that it's worth the money but I'm also not into data at all so I likely am not using it to it's fullest potential. I think if you are into numbers and data and analyzing you'd really enjoy Ahrefs!
What I've Been Up To
Content: I'm still cranking out two posts a week as well as continually working my way through my list of old posts to update. I love to do a little bit of both at the same time to keep things interesting!
Instagram: Still not feeling it! I haven't been posting much because I'm just not into it right now. I know that I could grow this portion of my brand to increase and diversify income, but it just doesn't feel like now is the right time for me. Maybe some day I'll feel excited about IG again.
Work/Life Balance: Right now I'm in a phase where my work/life balance is leaning heavily towards life and TBH I'm loving it! I've gotten ahead in some areas and outsourced a few more things in order to allow me to have a very relaxing summer. In the last month especially, I've taken a big step back and having just been getting the essentials done so I can spend more time sleeping in late, eating lunch on outdoor patios, watching my daughter play at splashpads, and enjoying lots of ice cream. I'll get back into my routine when school is in session again, but for now I'm really enjoying soaking up these lazy summer days. And I'm so thankful this career affords me the opportunity to lean into a relaxing summer this year!
5 Year Anniversary: June 2022 marks the 5 year anniversary of Midwest Foodie! It's so much fun to look back at how far my blog has come over the years and I can't wait to see what the next 5 years bring!
Pinterest Updates
Not much new to report. I'm still plugging away with the strategy outlined in my e-book. I experimented with making 3 idea pins and they got some nice views but I'm still not convinced that they're worth the time. Maybe I'll test a few more out next quarter!
If you're looking for the tried and true strategy that has gotten me where I am today, be sure to check out my Pinterest e-book! More details below!
My Pinterest E-Book
This e-book will help you develop a quick, easy, and simple Pinterest strategy that will drive consistent traffic to your site in JUST 20 MINUTES A WEEK!
This e-book is ideal for those who prefer to work at their own pace. This is not a Pinterest course. It's not going to take you days or weeks to work through.
As always, thank you for reading! None of this would be possible without you 🙂 And don't forget to check out my previous income reports for more behind-the-scenes info!