This food blog income report gives you a behind the scenes look at what it takes to run Midwest Foodie Blog as a full-time job that supports a family of three!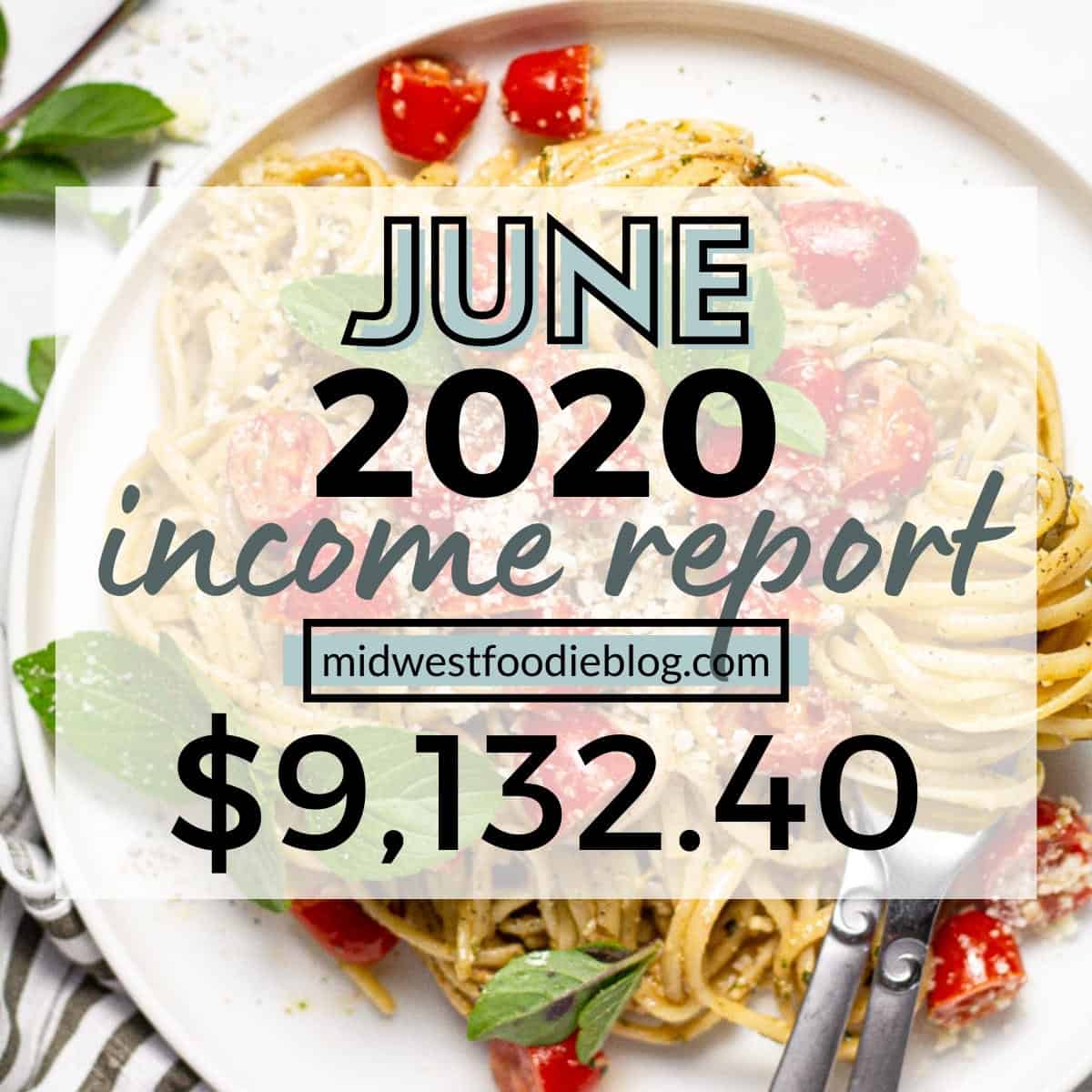 Let's take a look at the stats for June...
TRAFFIC:
Pageviews: 515,273
Sessions: 408,684
Users: 321,188
Traffic Sources:
Social: 66.68%
> Pinterest: 97.48%
> Facebook: 1.49%
> Buzzfeed: 0.84%
> Instagram: .16%
Organic: 24.45%
Direct: 7.67%
Referral: 1.15%
Other: .04%
Looking back on where I was at this time last year – in June of 2019, I had 49,460 page views with 39,267 sessions, and 31,799 users. It's exciting to see how much progress my blog has made since last year.
INCOME:
This was my first full month with AdThrive and to say that I am thrilled would be an understatement. I am doing literally the exact same thing I've been doing for years but making twice as much money and serving (slightly) fewer ads on my blog posts!
The one drawback that I often hear people mention as a reason that they don't switch to AdThrive is that you don't have as much control over your ad frequency and placement as you do via the Mediavine dashboard. However, I found that the freedom to make these adjustments to my ads with Mediavine encouraged me to fiddle with things way more than I really needed to. To the point where it was hard to even track whether the changes I made were helpful or not. So for me personally, I am loving that AdThrive takes care of everything and that I don't have access to adjust my ads manually.
If there is something that I need adjusted, all I have to do is send a quick email and they'll take care of it for me! I have been really impressed with their customer service so far. That was definitely one of my concerns with leaving Mediavine as Mediavine is very well known for their outstanding customer service. But so far, I am loving everything about AdThrive!
I am planning to write a full post about my switch and experiences with Mediavine and AdThrive in the future, but I want to get a few more months with AdThrive under my belt before I dive into that. Stay tuned!
TOTAL PROFIT: $9,132.40
DONATIONS:
This month we decided to donate $200 from our profits to Black Girls Code. Here is a quote from their site that shares a little bit about the important work that they're doing:
"Our Vision: To increase the number of women of color in the digital space by empowering girls of color ages 7 to 17 to become innovators in STEM fields, leaders in their communities, and builders of their own futures through exposure to computer science and technology. To provide African-American youth with the skills to occupy some of the 1.4 million computing job openings expected to be available in the U.S. by 2020, and to train 1 million girls by 2040."
Another cool thing that AdThrive did this month was match donations from its publishers up to $100,000. AdThrive matched publisher donations to any of the following organizations:
Let's just add this to the list of things I love about AdThrive! I also appreciated that they took a firm stance early on regarding the importance of the Black Lives Matter movement.
We will continue donating each month to an organization that benefits the Black community. I will keep you posted on where we donate next month and would love any suggestions you may have for us!
EXPENSES:
Groceries: $200
Nerdpress (site maintenance): $122
Agathon (hosting): $70
ConvertKit (email service): $49
Canva (graphics for Pinterest): $13
Gsuite (email provider): $12
Lightroom (photo editing): $11
Tailwind (Pinterest scheduler): $10
Akismet (site security): $5
KeySearch Subscription: $8.50
Refurbished Laptop: $250
TOTAL DONATIONS/EXPENSES: $950.50
PROFIT: $8,181.90
WHAT I'VE BEEN WORKING ON THIS MONTH:
Personal Stuff
Business Stuff
WHAT I'LL BE WORKING ON NEXT MONTH:
Personal Stuff
Business Stuff
Of course, I want to thank you again for your continued support. I really appreciate each and every one of you. This blog would be nothing without my readers!!
DON'T FORGET TO CHECK OUT MY PREVIOUS INCOME REPORTS!