I share my income reports to give you a behind the scenes look at what it takes to run Midwest Foodie as a full-time job that supports a family of three! It also gives me a chance to share with you what I'm working on and the new things I'm trying. If you're new here, be sure to start at the beginning with my first income report to see how this blog got started!
Let's take a look at the stats for January, February, and March of 2021!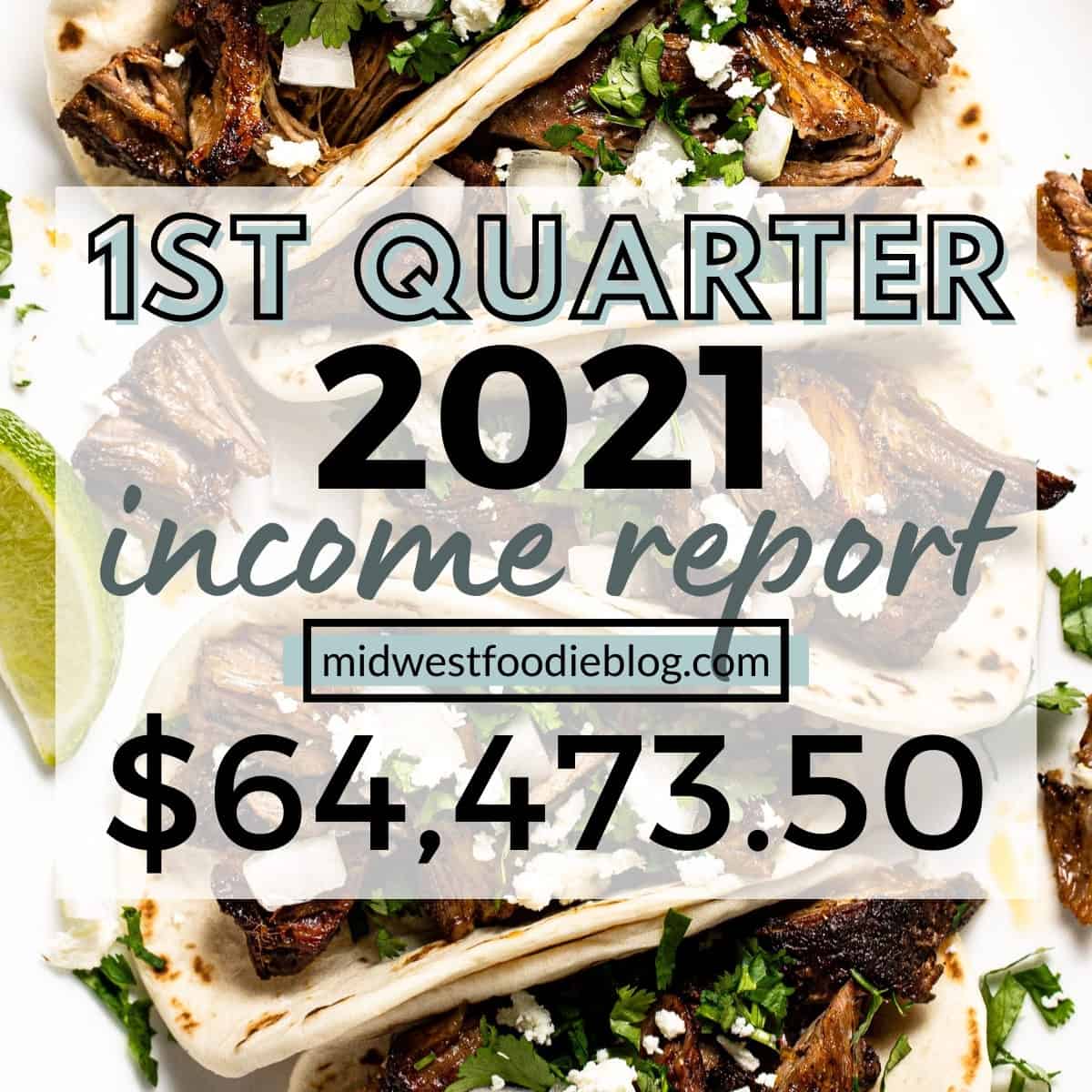 Traffic
January 2021
| | |
| --- | --- |
| Pageviews | 1,335,219 |
| Sessions | 1,055,129 |
| Users | 837,536 |
February 2021
| | |
| --- | --- |
| Pageviews | 1,064,415 |
| Sessions | 764,312 |
| Users | 594,255 |
March 2021
| | |
| --- | --- |
| Pageviews | 910,332 |
| Sessions | 651,869 |
| Users | 508,752 |
If you're with an ad agency and doing web stories, you've no doubt had to create a second view in your Google Analytics dashboard to filter out the web story URLs. I created my second view in GA around the middle of January, so my January stats are a bit inflated because of that. February and March totals however have the web stories filtered out.
Just for reference my pageview totals with web stories included were 1,761,413 for February and 1,451,757 for March.
Traffic Sources
Sources
January
February
March
Organic
47.93%
24.44%
24.94%
Social
36.35%
41.18%
40.20%
Pinterest
Facebook
BuzzFeed
IG Stories
96.02%
2.46%
0.81%
0.44%
96.59%
2.48%
0.23%
0.37%
96.12%
2.51%
0.24%
0.74%
Direct
13.47%
27.47%
29.45%
Referral
1.90%
0.66%
5.31%
Other
0.35%
0.26%
0.09%
Again, I didn't set up my second view in GA to filter out web stories until midway through January so my January stats are a bit odd because of that. I feel like these stats aren't super helpful anymore as I've heard that web story traffic now shows up as direct traffic also, but here it is!
Income $64,473.50
January 2021
| | |
| --- | --- |
| AdThrive | $13,717 |
| Amazon Associates | $431.45 |
| Pinterest E-Book | $1,187.41 |
| Total Income | $15,335.86 |
February 2021
| | |
| --- | --- |
| AdThrive | $23,200 |
| Amazon Associates | $405.95 |
| Pinterest E-Book | $815.69 |
| Total Income | $24,421.64 |
March 2021
| | |
| --- | --- |
| AdThrive | $23,432 |
| Amazon Associates | $372.81 |
| Pinterest E-Book | $371.19 |
| Total Income | $24,716.00 |
Monthly RPM/RPS
| | | | |
| --- | --- | --- | --- |
| | January | February | March |
| RPM | $12.69 | $21.80 | $25.74 |
| RPS | $16.22 | $30.35 | $35.95 |
Expenses
These are my expenses for the three months total. I broke them down into monthly recurring expenses and one-time expenses. The monthly recurring expenses are the total amount below, divided by 3 months.
Monthly Recurring Expenses
Nerdpress: $366
Agathon: $220
ConvertKit: $354.06
Canva: $30
Gsuite: $36
Lightroom: $33
Tailwind: $30
Akismet: $15
KeySearch: $51
IFBC Virtual Summit: $25
SendOwl: $27
Instagram VA: $412.56
Groceries: $600
One-Time Expenses
Post SEO Updates/Content Writing by VAs: $1,494.14
Blog Coaching: $3500
New Laptop: $500
Deposit for Audit with Casey Markee: $400
ShortPixel: $31.64
Becoming an LLC: $327.50
Feast Plugin: $149
Taxes: $415
Total Expenses $9,016.90
Donations $550
January - In the month of January we donated $150 to the NAACP Legal and Defense Fund.
February - In the month of February we donated $200 to the Houston Mutual Aid fund.
March - In the month of March we donated $200 to Grow a Young Black Farmer in Minnesota.
Profit $54,906
*Please note this "profit" does not take into account the taxes I will have to pay on it. It's easy to look at these numbers and think the profits from blogging are great (which they are!) but it's also important to remember that there are a lot of monthly expenses that go into blogging, and then taxes come along and take about 25%-30% of anything you have leftover!
Expenses Breakdown
I had more expenses than usual this quarter! I've been wanting a new laptop for months now but decided to finally pull the trigger on that in March. Let's dive into some other expenses this quarter...
Virtual Assistants
I hired a VA through 40A to manage my Instagram account (starting in the month of March). That same VA has also optimized some of my old posts for me which was SO. NICE.
I also had my content writer that I've been working with for the last several months update old posts for me.
AND I hired Nicole Barker, VA services to update and optimize old posts as well!
The theme of the first quarter this year was OPTIMIZE OLD CONTENT FOR SEO!
Updating Old Content
Updating old posts is something that I typically do once a year or so whenever the mood strikes. I should probably look at auditing my content quarterly or bi-annually instead but sometimes I just get so focused on pumping out new content that I forget to spruce up the good stuff that's already there!
For the last few months, I've been going through my posts that are ranking 4ish-10ish and updating them in hopes of bumping them up a bit. I only REPUBLISH an old post if I re-shoot the photos AND significantly change the body of the post as well. If I just make slight edits to the content, I just update but if I'm giving it a serious face life I always republish with the current date.
Becoming an LLC
After doing my taxes this year, my accountant advised that I become an LLC and then file my taxes as an s-corp next year. I am going to be very honest - I don't completely understand what this exactly means, but she said that it will save me money, so I'm all for it!
My accountant recommended a local law firm that took care of the LLC portion and then she is going to take care of the s-corp/payroll/things I don't understand part.
Her advice was that once you make over $100k/year it's worth it to look into becoming an LLC to save money. It's something I've been considering for a while and it was a lot easier and a lot cheaper than I thought it'd be!
Pinterest Updates
If you've purchased my Pinterest E-Book (called Pinterest Made Easy!) you know that my Pinterest strategy does not include video pins, story pins, or using the Pinterest scheduler. I also use Tailwind as a large part of my Pinterest strategy too. Well - after much talk in Pinterest FB groups about people having more success with the pins scheduled through the Pinterest scheduler instead of Tailwind, I decided it was time to give it a try.
Pinterest Scheduler vs. Tailwind
For the last 8-10 weeks I've been testing out the difference between scheduling through Pinterest and through Tailwind. I've tried scheduling holiday/seasonal pins through both and also scheduling similar but different pins for the same post. My preliminary data is showing that my pins scheduled through the Pinterest scheduler seem to get more impressions, but they have not gotten more outbound clicks. And my overall outbound clicks have actually started to decrease (not significantly but still a decrease) since I started doing this. Which could be a seasonal decrease and also could be related to more folks getting vaccinated and resuming some of their pre-pandemic facets of life.
I also found that most of my pins scheduled through Pinterest had an exorbitant amount of impressions within seconds of posting, which is possible, but I find it a bit hard to believe. Either way, while I do enjoy the boost in impressions and vanity metrics across the board, it's hard for me to justify the extra time spent using the Pinterest scheduler. I also don't like that you can only schedule pins through Pinterest 2 weeks out and I prefer how Tailwind tells me the best times of each day of the week to schedule my pins so there's no guesswork.
So for now, Tailwind still has my heart and at this time I won't be making any updates to my e-book to suggest using the Pinterest scheduler. However, I will still do some A/B testing using both for the next few months just to be sure!
Story Pins
If you follow me on Pinterest you may have noticed that a couple weeks ago I started publishing some story pins! This is another thing that there's been a lot of talk about in some FB groups and I finally gave it a try. I will say that Pinterest has made making story pins super easy which is a plus. But I can't say for sure whether they are driving more traffic at this point. They are again increasing my vanity metrics, but it's too soon to tell if it's actually driving traffic. I will definitely keep testing over the next couple of months and keep you posted! But I will say I'm not real excited about Pinterest scheduling or story pins right now.
Pinterest E-Book
This e-book will help you develop a quick, easy, and simple Pinterest strategy that will drive consistent traffic to your site in JUST 30 MINUTES A WEEK!
This e-book is ideal for those who prefer to work at their own pace. This is not a Pinterest course. It's not going to take you days or weeks to work through.
What Are Your Thoughts?
If you're still with me, thanks for sticking around to read all this! I'd love to hear your thoughts on the quarterly income report format vs. the monthly income reports I was doing before. For me, it was definitely much easier to do it this way so I hope it's still beneficial in this format!
Also, I hope that your first quarter went well!! I hope you're already vaccinated or planning on getting vaccinated. I hope you've been able to or will be able to spend time with your loved ones soon. This past year has been real weird and sad, and while many things will never go back to "normal", I am hopeful that there will be some pockets of normalcy in the months ahead!
Thanks for reading and don't forget to check out my previous income reports for all kinds of fun information!