Talk about a mouthful! Speaking of mouthfuls…get a mouthful a this chowda' ASAP. This corn chowder is the perfect kick-off to the sweater weather and colorful scenery that are just around the corner. As Fall closes in you'll be seeing lots of soup recipes here on Midwest Foodie. Over the years, Fall has slowly become my favorite season; usually because the summer is so dang hot that Fall is a welcomed relief! This year's summer wasn't even that oppressively hot though. We don't have central air; just good 'ol window air conditioners and I think we only turned them on a handful of times. Which was quite a different story from last summer! However last summer we had a newborn baby, so I think we just felt everything a little bit more because we were so sleep deprived. Boy am I glad those days are over. This momma needs at least 7 hours to function (although I prefer a sold 9 hours).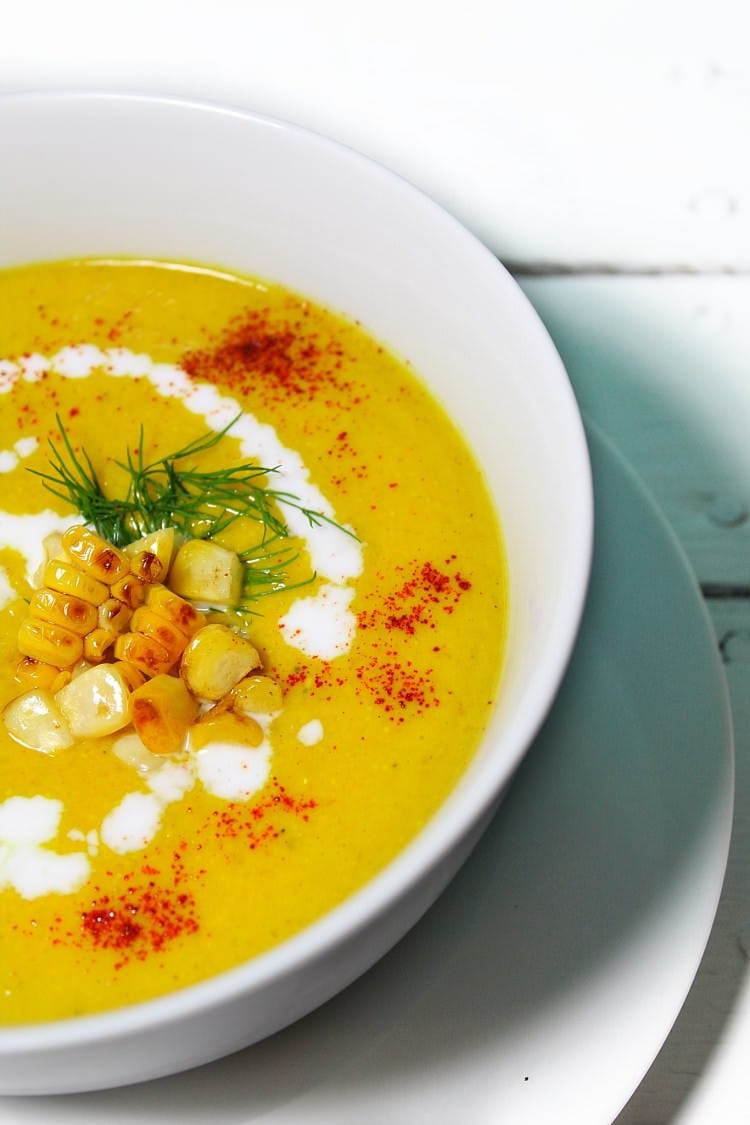 We practice co-sleeping in our house so I usually get about 8 hours of moderately interrupted sleep peppered with several little toddler kicks to my ribs and every once in a while a little hand reaching out to find me. But honestly, I wouldn't have it any other way! I heard somewhere, It's the best worst sleep you've ever had, and I couldn't agree more! We've co-slept since our baby girl was about 4 months, and she has slept through the night ever since! I love waking up to her cheerful "HI!" and hearing the little giggles she lets out in her sleep. I feel like it's such an important bonding experience for her and for us.
People often ask if we are worried she will never sleep in her own bed? Honestly, no. As she gets older she will want her autonomy. She will want to do everything herself and eventually I expect that will include sleeping in their own bed. I am in no hurry to kick her out of ours; as I said before I think it's a really special time for us and I am going to soak up every second of snuggles and kicks to the ribs I can before she grows up and starts rolling her eyes at me and telling me how lame I am! 🙂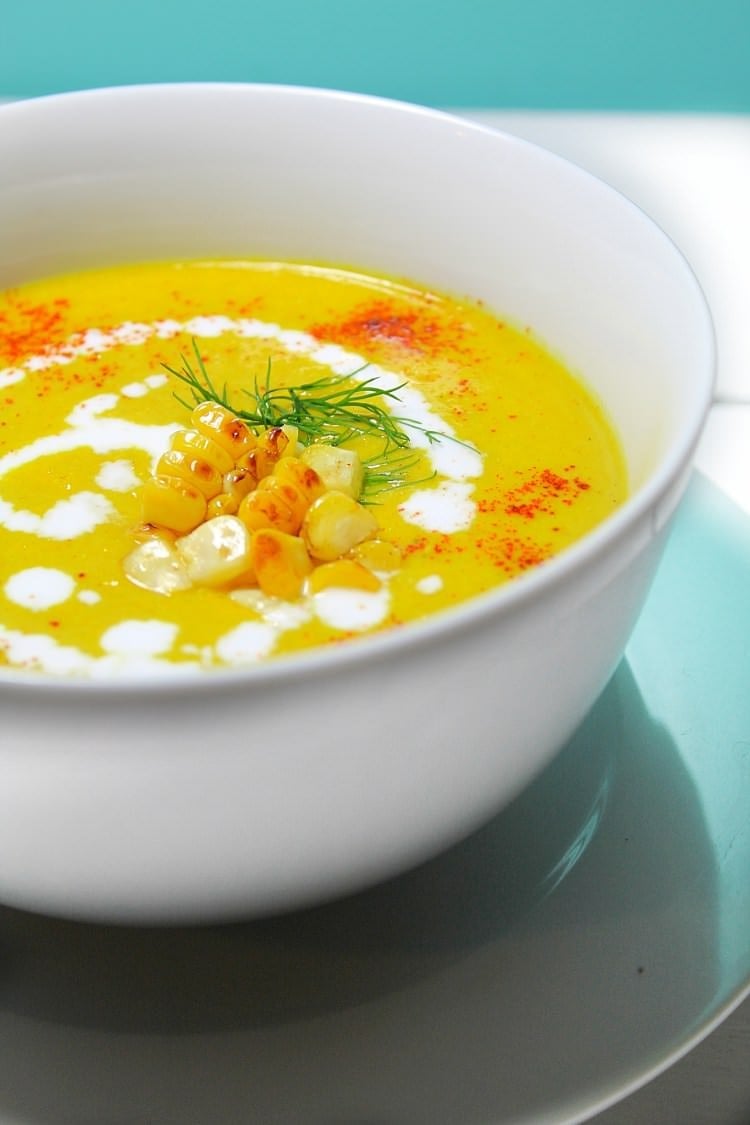 I've spoken with other parents who have co-slept and they tell me the kids always find their way to their own bed in time. I find that those who have the most apprehension about co-sleeping are those who have never done it! I'm not saying co-sleeping is for everyone. It's certainly something that should be researched (ie: safe co-sleeping habits, your sleeping habits, age of the child, etc.) and discussed thoroughly before the decision is made. But for us, it works. And if you have a fitful baby who's not sleeping through the night, it might be a good option for you to consider too! So as they say, let's eat soup!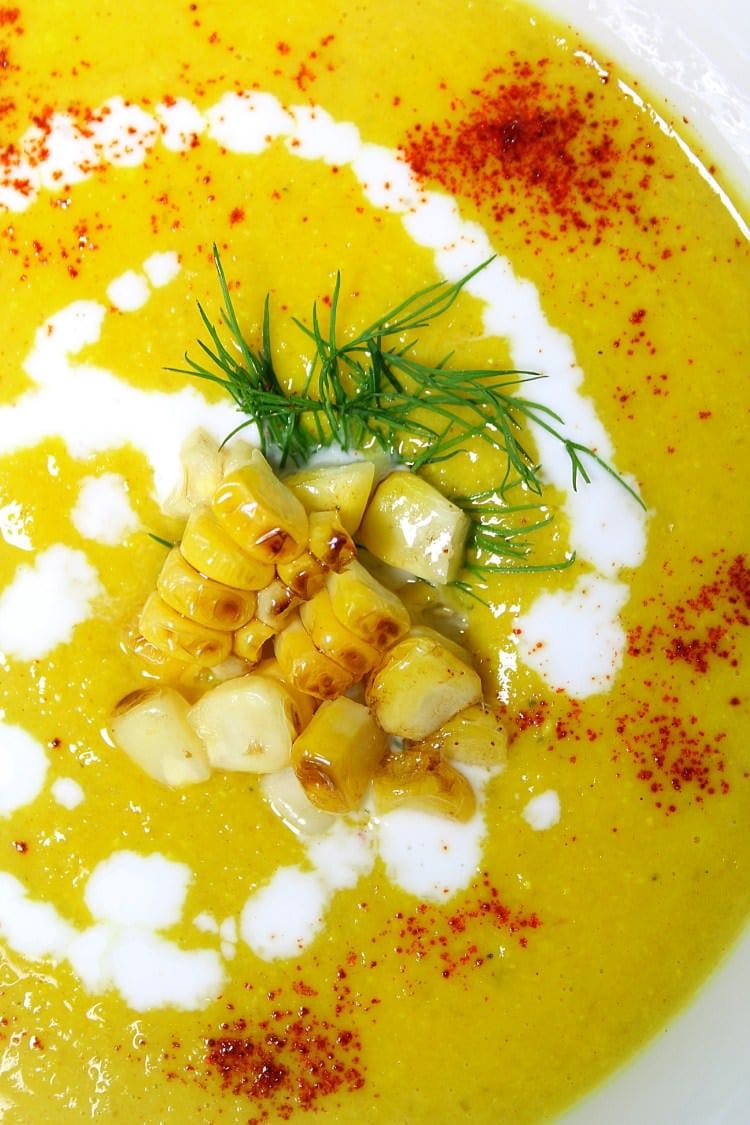 Print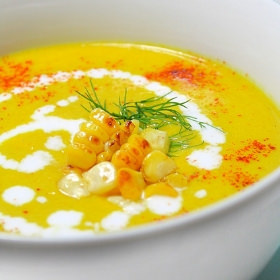 Vegan Creamy Curried Corn and Coconut Chowder
Author:

Midwest Foodie
Prep Time:

15 minutes

Cook Time:

30 minutes

Total Time:

45 minutes

Yield:

6

servings

1

x
Category:

Soup

Method:

Stovetop

Cuisine:

American
---
Scale
Ingredients
1 tablespoon

olive oil

7

–

8

ears of corn (about

8 cup

s)

1 teaspoon

Kosher salt

1/2 teaspoon

fresh cracked black pepper

1

large white onion, roughly chopped

4

cloves garlic, chopped

2 tablespoon

s curry powder

2 tablespoon

s cumin

1/2 teaspoon

chili powder

1/2 teaspoon

paprika
pinch cayenne pepper

1

(15 oz.) can cannellini beans

2 cup

s vegetable broth

1 tablespoon

white wine vinegar

1/2 cup

full fat coconut milk + more for garnish
---
Instructions
Start by shucking the corn. Carefully cut corn from the cob and discard cobs. Heat olive oil in a large pot over medium heat. Add corn, onion, salt and pepper. Sauté for about 8 minutes, stirring frequently. Add garlic and sauté for another minute. Then add curry powder, chili powder, paprika and cayenne and stir to coat veggies evenly. Cook for about 2 minutes still on medium heat.
Add cannellini beans, vegetable broth and white wine vinegar. Turn heat to medium high, cover and simmer for 20 minutes.
Remove from heat and allow to cool for a few minutes. Then transfer to a high speed blender and blend on high until mostly smooth, with just a bit of texture. Transfer back to the large pot and stir in coconut milk. Dish it up and garnish each bowl with a quick pour of coconut milk and fresh chopped herb of your choice.
---
Keywords: fall, comfort food, soup, easy, simple, recipe, vegan, vegetarian, family dinner, weeknight meals, meal prep