These homemade cinnamon rolls are perfect for the holidays, your next ladies brunch or a lazy weekend breakfast with the family! My no knead pizza dough makes them super simple to throw together and refrigerate until you're ready for breakfast. Bake for about 30 minutes in the oven and then top them with thick, rich, homemade cream cheese frosting!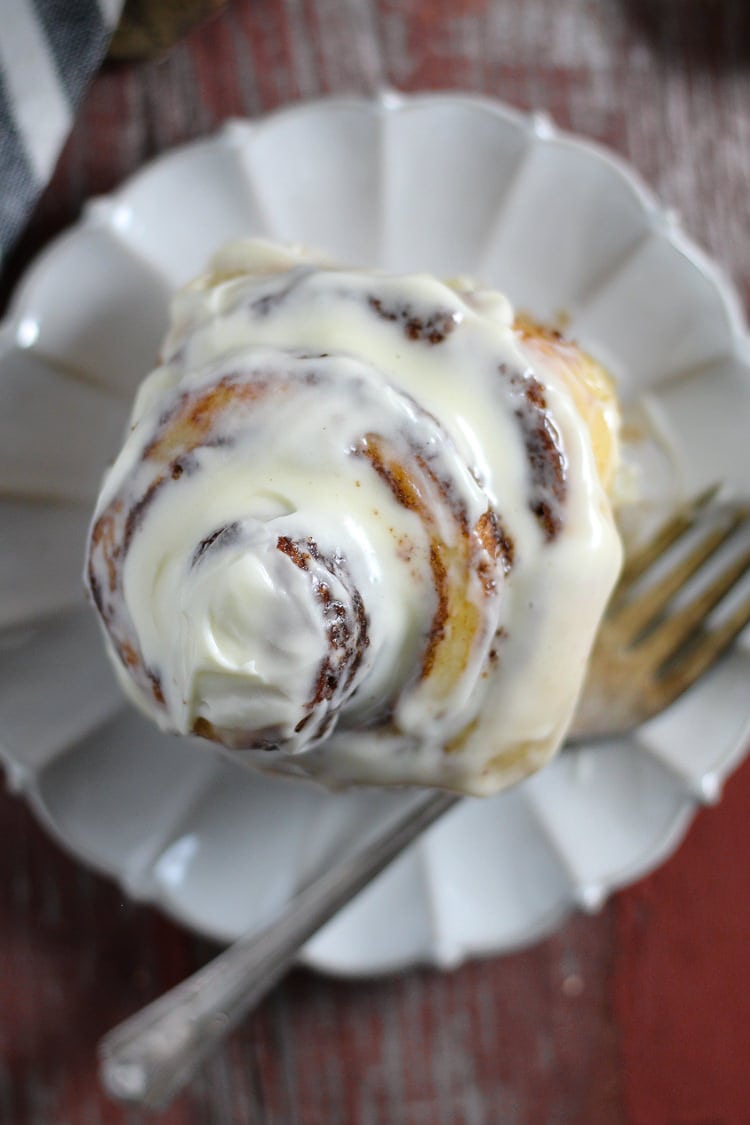 How do I make cinnamon rolls?
It's simple – you use my no knead pizza dough recipe! And it could not be easier. Stir together yeast, flour, oil, salt and water and let it rise overnight. The next morning give the dough a quick little knead (like 1-2 minutes, tops) and roll it out into a big rectangle. Spread a thick layer of softened butter across the dough and sprinkle on a bunch of brown sugar and cinnamon. Roll it tightly, slice evenly, give them about 30 minutes to rise one last time and then bake away. These cinnamon rolls are topped with a thick, tangy, cream cheese frosting that is sooooo finger lickin' good.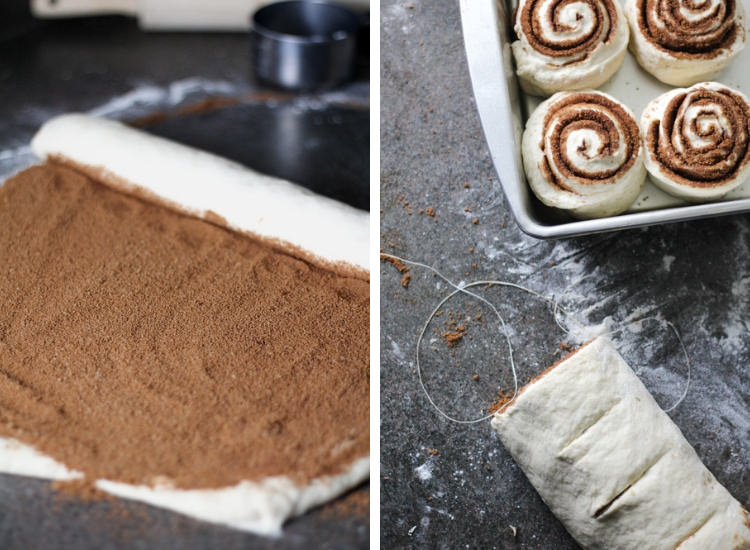 How do I cut cinnamon rolls?
The easiest way to cut cinnamon rolls is using floss. After rolling the dough into a log, score it into 3 even pieces, then score each of those into 3 even pieces, creating 9 score marks across the top of the log. This will make it easier to be sure you get evenly sized cinnamon rolls. Then shimmy the floss underneath the log, cross the ends of the floss over each other in a straight line and pull in opposite directions. This will give you a perfect, clean cut. Even the sharpest of knives will typically smash the dough and cause the filling to spill out everywhere. Unflavored floss is preferable, but I've used mint flavor and you can't taste it at all.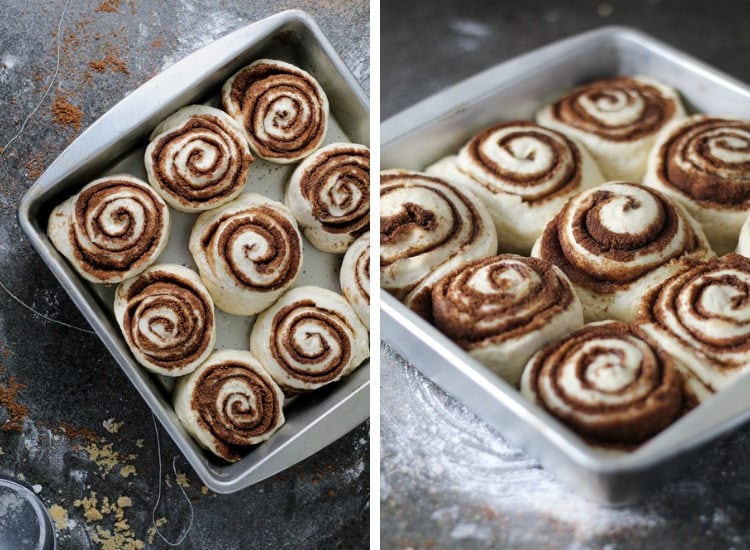 How do I make cream cheese frosting?
The frosting for these cinnamon rolls is made by mixing mainly cream cheese, a little bit of butter a whole lot of powdered sugar. A splash of vanilla and a couple tablespoons of cream loosen it up perfectly and give you a rich, velvety, decadent cream cheese frosting. The warmth from the cinnamon rolls will melt the frosting and make it perfectly oeey gooey. If you're into a lot of frosting, feel free to double the frosting portion of the recipe as well.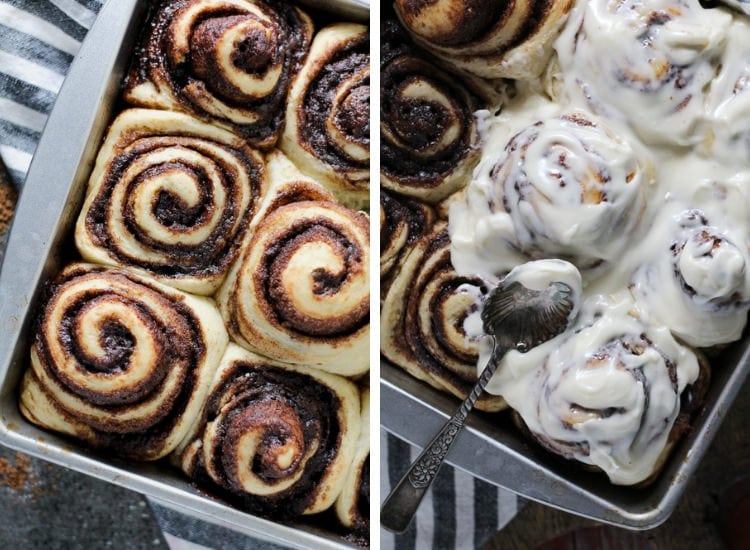 Can I make these cinnamon rolls ahead of time?
Oh yeah, you definitely can! You can follow the recipe and just before letting the cut cinnamon rolls do their final rise, cover with saran wrap and refrigerate for up to 5 days. Then, about an hour before you're ready to bake, take them out of the fridge and let them rise on the counter (for an hour). I like to prep these during the week and then bake them on Saturday or Sunday morning when we have time to relax and enjoy them!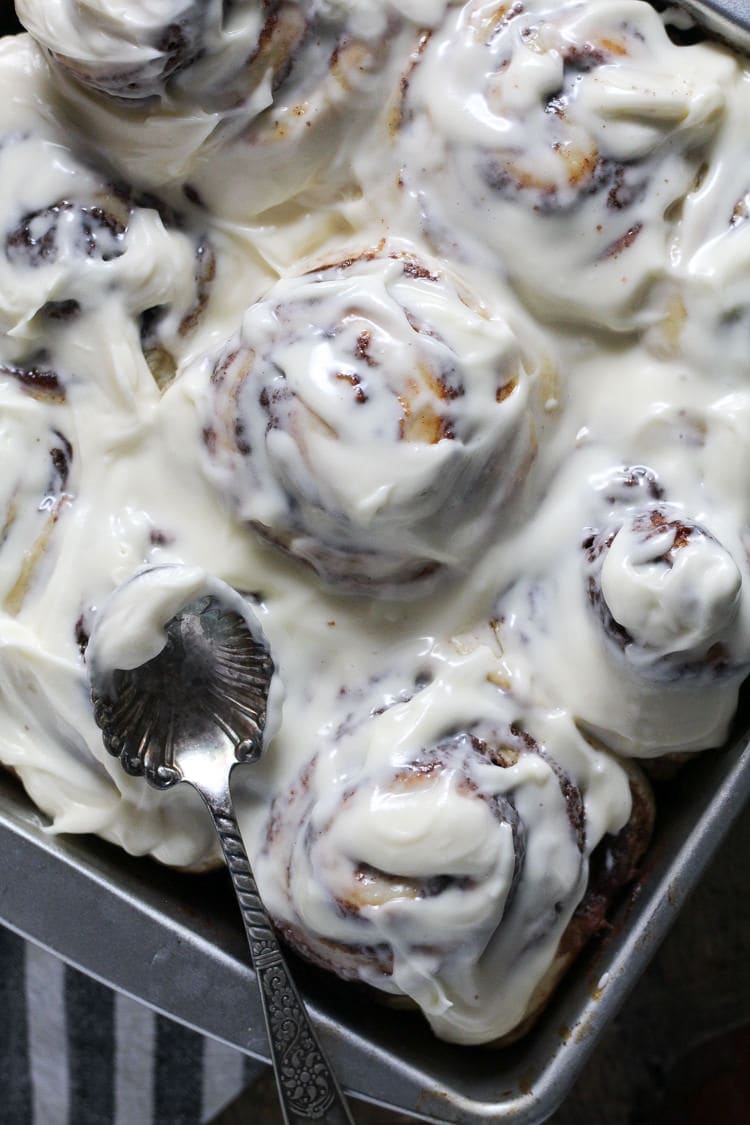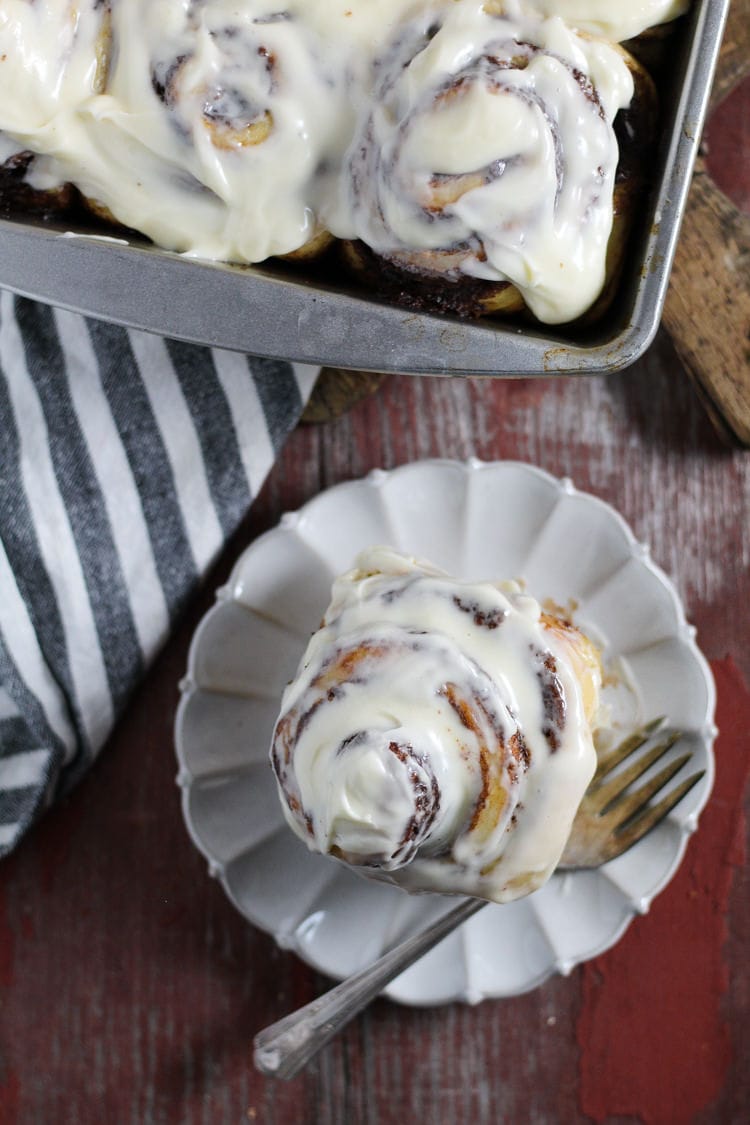 Do I need a mixer to make these cinnamon rolls?
For the dough, no, you don't need a mixer. For the cream cheese frosting, yes, you will need at least a hand held mixer. I haven't met a rich, creamy frosting that didn't require a mixer in fact! I lost a pin to my handy dandy stand mixer so I just use a cheapo hand mixer to make all my frosting now and it works great. With the butter and cream cheese at room temperature, this frosting comes together in just minutes!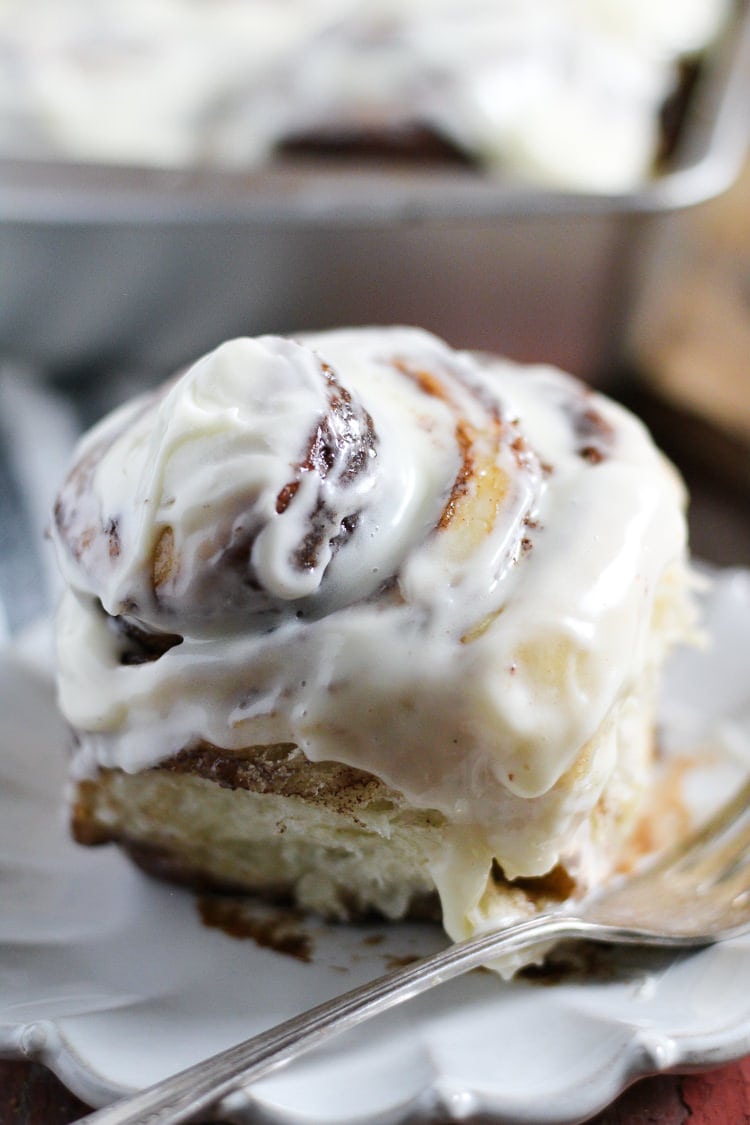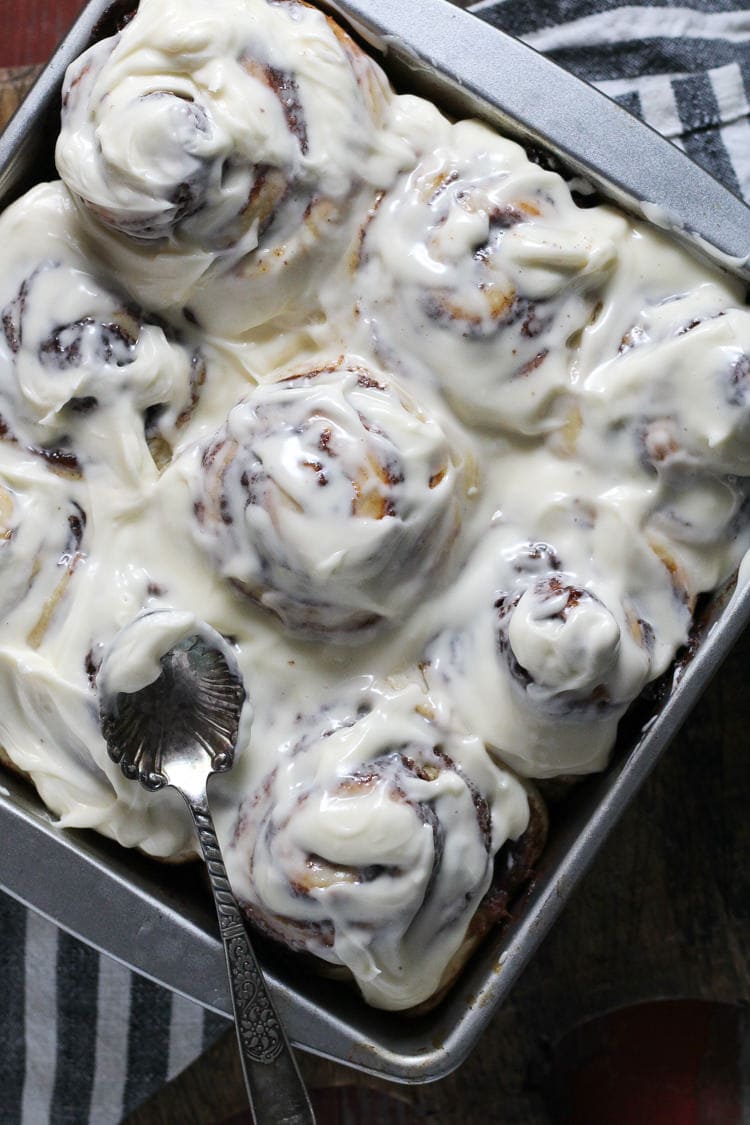 Print
Easy Cinnamon Rolls with Cream Cheese Frosting
---
Author:

Prep Time:

45 minutes (+24 hours for dough to rise)

Cook Time:

30 minutes

Total Time:

1 hour 15 minutes

Yield:

9 large cinnamon rolls

Category:

Brunch

Method:

Oven

Cuisine:

American
Description
These homemade cinnamon rolls are perfect for the holidays, your next ladies brunch or a lazy weekend breakfast with the family!
---
Ingredients
For the cinnamon rolls:
one recipe of my favorite no knead pizza dough (or 2 lbs. store bought dough)
6 tablespoons softened butter
1 cup brown sugar
3 tablespoons cinnamon
pinch of Kosher salt
For the frosting:
4 oz. cream cheese, softened
2 tablespoon butter, softened
1 cup powdered sugar
1/2 teaspoon vanilla
1-2 tablespoons heavy cream
pinch of Kosher salt
---
Instructions
Transfer pizza dough to a lightly floured work surface and knead for about 1-2 minutes or until it becomes smooth.
Dust with flour and use a rolling pin to roll the dough into a large rectangle about 14 inches wide x 19 inches long. Spread 6 tablespoons butter across the dough in an even layer all the way out to the edges.
In a small bowl combine brown sugar, cinnamon and salt. Sprinkle mixture across the butter in an even layer.
Roll dough tightly forming a log from the short end of the rectangle (so the 14 inch side is going to be the side you start rolling. You'll end up with a log about 15 inches long.
Use a sharp knife to score the dough every 5 inches, creating 3 sections. Then score each section in thirds again, giving you 9 score lines which you can use to guide your slicing.
Use a length of floss to cut each roll, shimmying the floss under the log, lining the floss up with the score lines, then pulling the floss in opposite directions to slice.
Transfer cinnamon rolls to a lightly greased 9×9 baking dish.
Cover with a clean kitchen towel and allow to rise for 30 minutes.
Preheat oven to 350 degrees. Bake cinnamon rolls uncovered for 30-35 minutes. Ovens vary, so be sure to check the cinnamon rolls after 20 minutes or so and go from there.
While the rolls are baking, use a mixer to whip cream cheese and butter together in a large bowl. Add powdered sugar, vanilla, a tablespoon of cream and a pinch of salt and whip until a thick, creamy frosting forms. Add more cream as necessary to loosen up the frosting.
When the cinnamon rolls are baked through, spread the frosting over them in an even layer and enjoy!
Notes
If you like a lot of cream cheese frosting (like me!) then double the frosting recipe!
Leftover cinnamon rolls can be stored on the counter in an airtight container for up to 5 days (but they will NOT last that long).
Keywords: brunch, weekend, breakfast, dessert, brown sugar, easy, simple, no knead, homemade, scratch, recipe