These veggie enchiladas are loaded with protein, fiber and fresh flavors! Your family won't even miss the meat, I promise.
Resolution: a firm decision to do or not to do something. Have you started making your New Year's resolutions yet? Or at least started thinking about them? I don't usually make resolutions anyway, but this year I decided I am going to set my intentions for the year. They are your typical resolution-ish type intentions but there is nothing firm or concrete about them. They are more like goals. Long term goals that I have a year to work towards. That sounds way better than resolutions, right?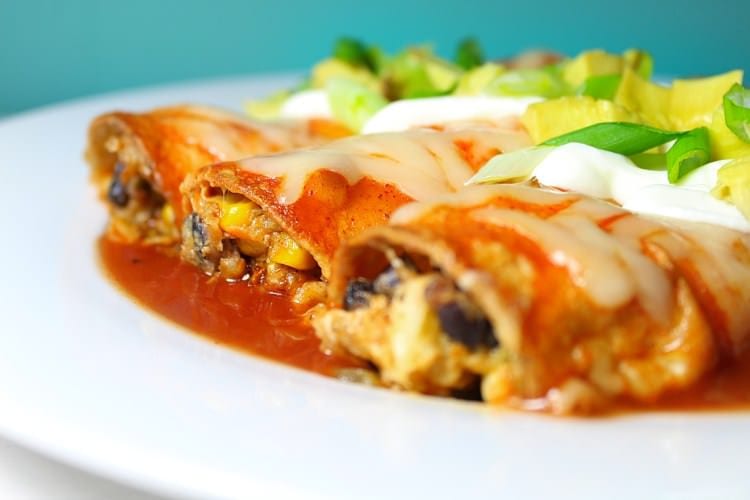 What are my intentions for 2018 you might ask? Well, let me share a few with you! Probably the most common resolution people make is to cut back on drinking. Well that's number one on my list! I have been trying (with very little success) to lose weight (for the last…10 years maybe?) and I think that my daily glass (or two on the weekend!) of vino could definitely be hindering my journey. But seriously, this time of year a glass of malbec is my favorite way to unwind after a long day… So my new night cap? Tea! I am trying all kinds of new decaf teas to cozy up with this season.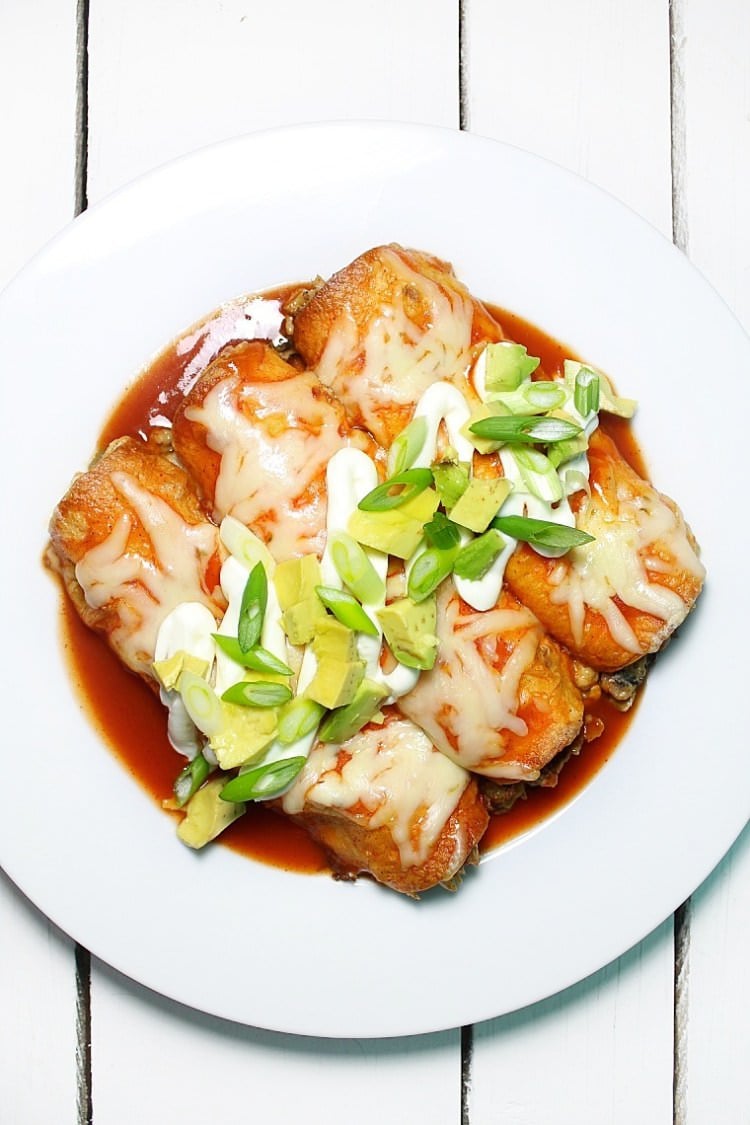 Next on my list is spending more time being present at home. It's so easy to get sucked into our hand held devices and I am guilty of spending too much time with my face in front of my phone instead of in front of the people I love. So this year, I am trying oh so hard to put that phone down and limit the time I spend looking at everyone else's delish food. Which is kind of ironic if you think about it, because I'm posting my food photos hoping that everyone else will spend their time looking at them…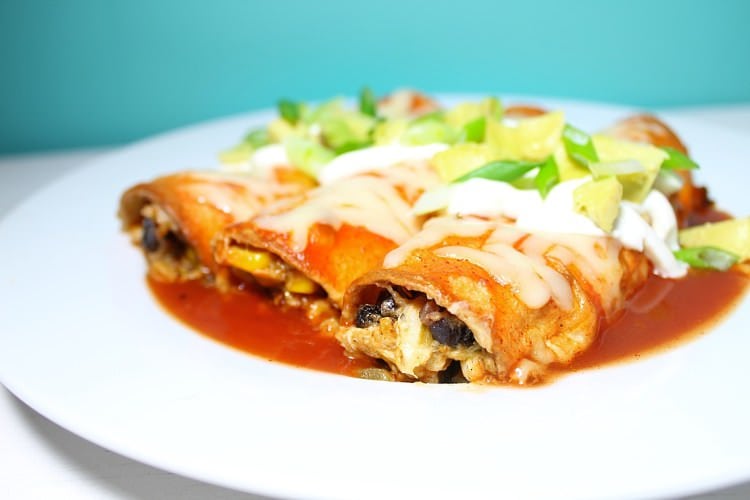 Another big intention of mine this year is to take more time for self-care. I spend a large majority of my time thinking about everyone else in my life and I don't often take time for myself to unwind, relax, re-group or just chill. This intention actually goes hand in hand with another intention…to wake up earlier! Mornings will be "me time" from now on. No more hitting the snooze button; I will be setting my alarm 1 hour earlier and plan to use this extra time to make breakfast, enjoy a cup of coffee, blog, do yoga; whatever my heart desires!
Lastly, I also intend to continue meal prepping like crazy this year and filling my house with delicious food. Like this recipe. Wishing you and yours a very happy holiday season!
Print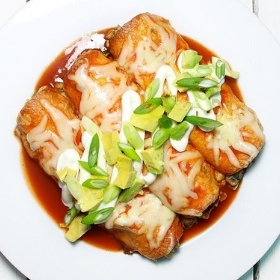 My Favorite Veggie Enchiladas
Author:

Prep Time:

10 minutes

Cook Time:

30 minutes

Total Time:

40 minutes

Yield:

12 enchiladas

Category:

Main Dish

Method:

Oven

Cuisine:

Mexican/American
---
Description
These veggie enchiladas are loaded with protein, fiber and fresh flavors! Your family won't even miss the meat, I promise.
---
Ingredients
1 tablespoon + 1/4 cup olive oil (divided)
1/2 red onion (diced)
1 green pepper (diced)
3  cloves garlic (minced)
1 tablespoon cumin
2 teaspoons chili powder
1 15 oz. can black beans
1 15 oz. can corn
1 small can diced green chiles
1 teaspoon diced chiles in adobo
4 oz. cream cheese (cut into cubes)
4 cups shredded cheddar cheese (divided)
1/2 cup sliced green onion + more for garnish
12 fajita size tortillas
1 15 oz. can of your favorite enchilada sauce
sour cream for garnish
avocado for garnish
Kosher salt
fresh cracked black pepper
---
Instructions
Preheat your oven to 400 degrees. Heat a tablespoon of olive oil in a large sauté pan over medium heat. Add onion, pepper and a pinch of salt and pepper and sauté for about 4 minutes. Then add garlic and sauté for another minute. Then add cumin, chili powder, beans, corn, green chiles, chiles in adobo and another pinch of salt and pepper. Stir to combine until everything is well coated in seasoning. Then add cream cheese and stir until melted. Remove pan from heat and stir in 2 cups of cheddar and 1/2 cup of sliced green onion.
Line a rimmed baking sheet with parchment paper. Time to fill and roll the enchiladas! Each enchilada will get about 1/2 a cup of filling. It's easiest to spread the filling in an even layer on one half of the tortilla. Then with the filling side closest to you, roll the tortilla away from yourself until the enchilada is rolled into a tight cylinder. Place seam side down on the lined baking sheet.
Use a brush to coat the outside of each enchilada using the remaining olive oil. You may not use the entire 1/4 cup of olive oil. Bake at 400 degrees for 20 minutes.
Remove from oven and use a spoon (or brush if you prefer) to coat the outside of each enchilada with enchilada sauce. Reserve the rest of the sauce for serving. Divide the rest of the cheddar cheese evenly between the enchiladas and bake for another 5-8 minutes or until the cheese is warm and melty.
Heat remaining enchilada sauce over medium heat until warm.
Then remove enchiladas from the oven and garnish with sour cream, avocado and sliced green onion. Serve with warm enchilada sauce and enjoy!
Keywords: easy, quick, simple, healthy, Mexican, meal prep, family, dinner