This hearty, comforting soup combines the best of both worlds – marrying the timeless flavors of sausage and potato soup with the classic Wisconsin beer cheese soup. Simple, whole ingredients mean you can feel good about serving this meal to your family, because you know exactly what's in it!
How do I make sausage and potato beer cheese soup?
You'll start by browning turkey sausage and then sauteing the classic combination of my favorite aromatic veggies – onion, carrots, celery and garlic. You'll add dried spices along with a scoop of flour to thicken things up a bit.
Then you'll add chicken broth and beer along with the diced potatoes and simmer everything until the potatoes are fork tender. Stir in heavy cream and shredded cheddar cheese and dinner is done!
This recipe contains simple, real ingredients and is really easy to throw together on a busy weeknight!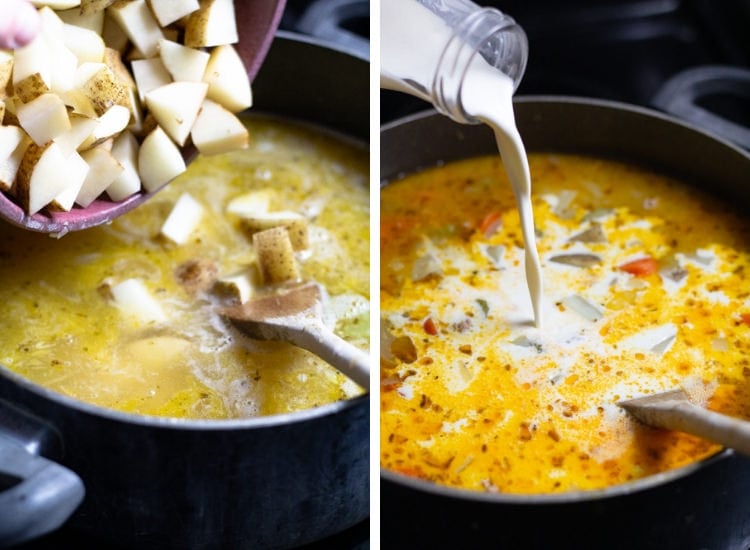 Can I make sausage potato soup ahead of time?
Yes! As with most good things in life, this soup just gets better with time. I made this soup for our Thanksgiving dinner with our in-laws this year and it was a huge hit. I made the soup as directed below, let it cool for about an hour, then popped it right into the fridge.
About an hour before our celebration I transferred my soup to a crock pot and turned it to warm for 1 hour. Just before serving I cranked it up to high to make sure it was fully heated through and then it was chow time!
Alternately, you could reheat this soup on the stove over medium low heat, stirring frequently for about 15-20 minutes or until heated through. Be sure to season to taste with salt and pepper after reheating!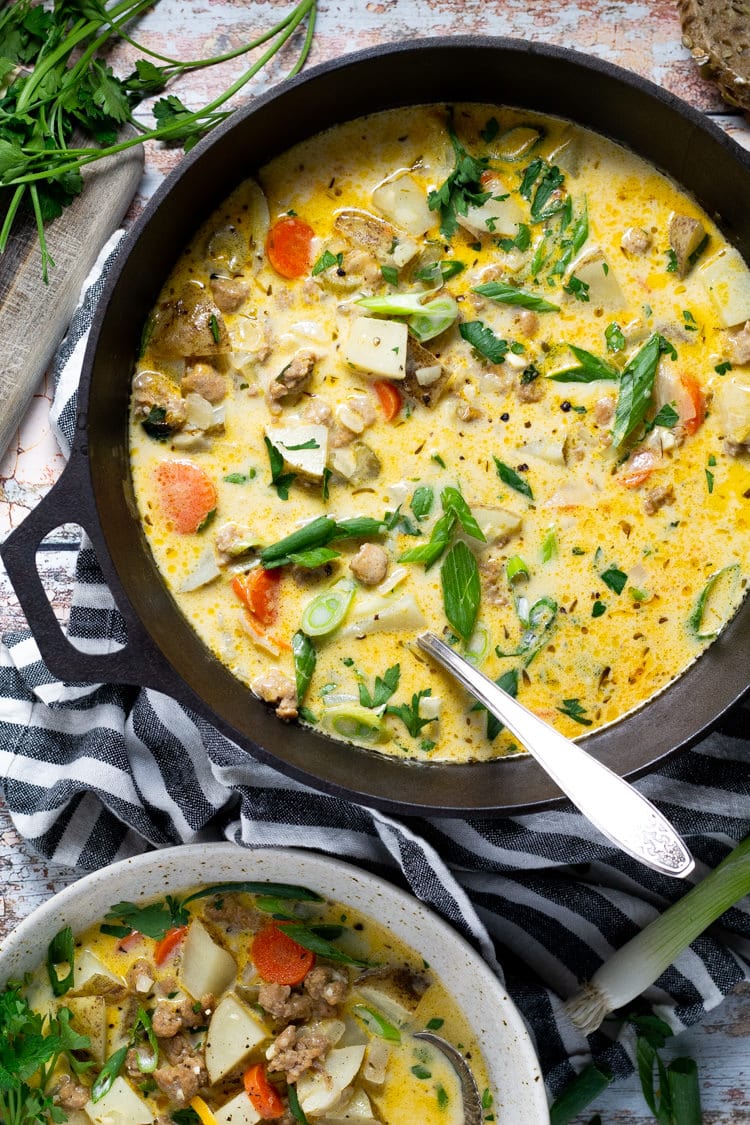 Can I use pork sausage instead of turkey sausage?
Of course! I am pretty much obsessed with turkey sausage so I like to use it every chance I get. It seems to be a little less heavy than a traditional pork sausage, but pork sausage or even a savory chicken sausage would give you great flavor in this soup too!
Do I have to use spicy sausage?
Not necessarily. I love the heat of spicy turkey sausage but mild or Italian flavored would work great too. Just be sure you don't use a breakfast sausage. It will not give you the same flavor!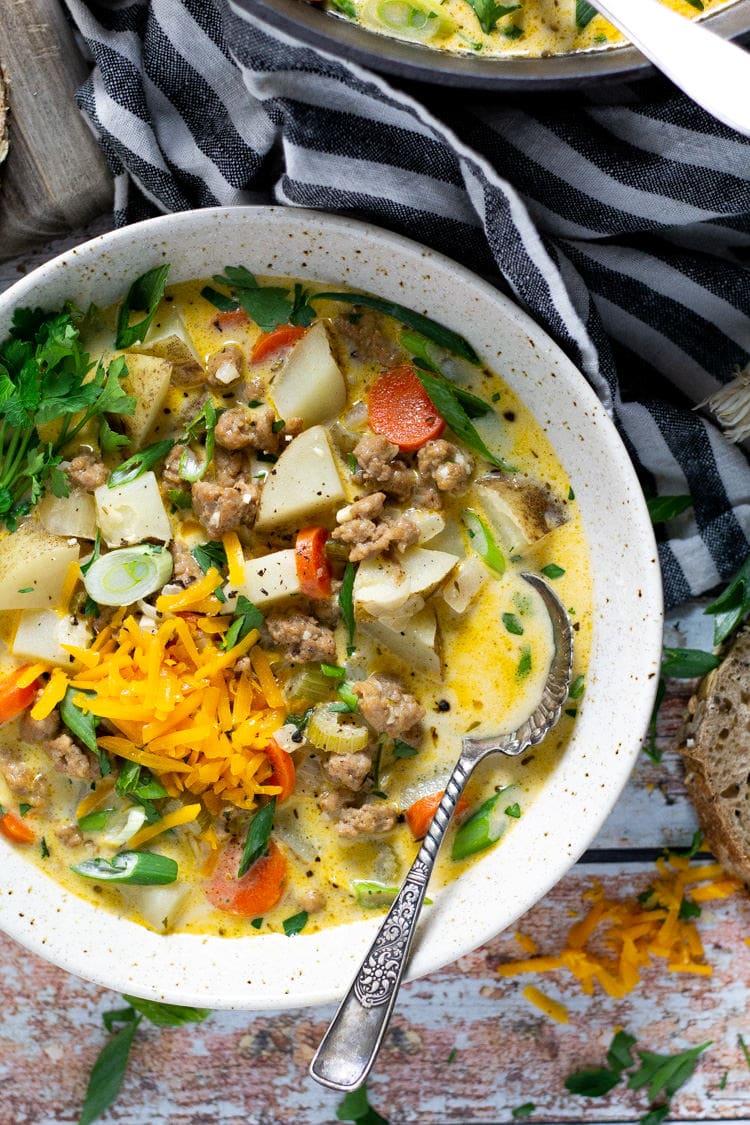 What kind of cheese should I use to make beer cheese soup?
I like to use sharp cheddar for this recipe. On this day I was using up a myriad of different cheese that we had in the fridge but I usually prefer straight sharp cheddar as it gives just the right amount of cheesy flavor.
Sharp cheddar on it's own can have a very strong flavor, but when mixed with all the elements of this soup it becomes very mellow and melts nicely into the soup.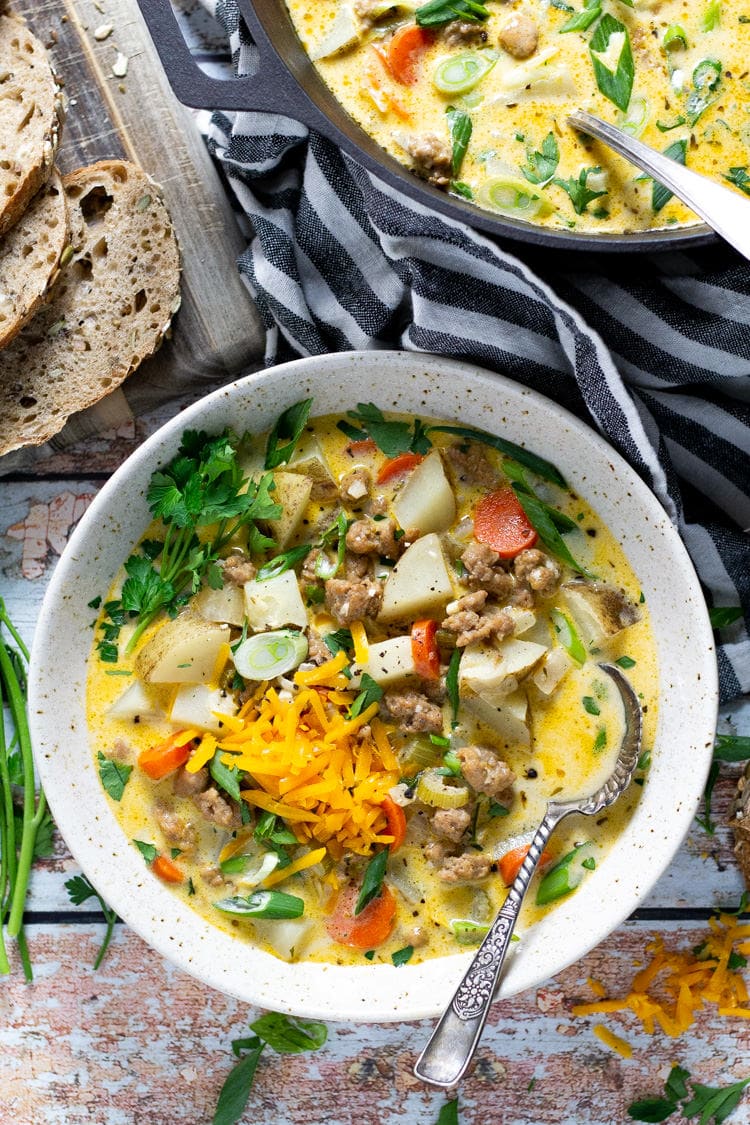 How much alcohol is in beer cheese soup?
You'll use 12 oz. of your favorite beer. Whatever you choose, please don't use Bud Light or Coors or the like. This soup needs something substantial with flavor that is going to last through the cooking process.
We always have a few different IPAs in our fridge, so most of my recipes containing beer use an IPA. I would recommend something light (in color) as dark beers will not work well in this recipe.
Can my kids eat beer cheese soup?
Yes! By the time this soup gets to the dinner table all that's left is the flavor from the beer – the alcohol is long gone as it's cooked off during the simmering process.
What if I don't like beer?
Then you haven't had the right beer! Check out this post about how to find the right beer for you! This is a good opportunity for you to try a local made beer or something you maybe haven't had before. Be adventurous, be daring – try new beer!
You might find that you actually love beer when you taste the right one!
Print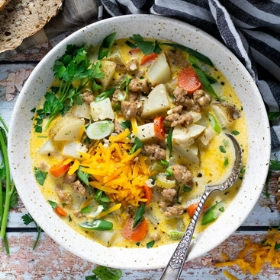 Sausage and Potato Beer Cheese Soup
---
Author:

Prep Time:

20 minutes

Cook Time:

35 minutes

Total Time:

55 minutes

Yield:

12 servings

Category:

Main Dish – Soup

Method:

Cooking

Cuisine:

American
Description
This hearty soup combines the well known flavors of sausage and potato soup with the very classic Wisconsin beer cheese soup.
---
Ingredients
12 oz. spicy turkey sausage
6 tablespoons butter
1 yellow onion, diced
1 cup chopped carrots
1 cup chopped celery
4 cloves garlic, minced
2 teaspoons dried oregano
1 teaspoon dried thyme
5 tablespoons flour
5.5 cups low sodium chicken broth
12 oz. can of your favorite beer
3 medium russet potatoes, chopped in 1/2″ pieces
1 cup heavy cream
3 cups shredded sharp cheddar cheese
Kosher salt
fresh cracked pepper
Optional garnish: fresh chopped parsley and a sprinkle of cheese
---
Instructions
Heat a large pot over medium heat. Add turkey sausage and brown, crumbling with a spatula until cooked through. Drain grease form sausage and set aside.
Heat butter in same large pot ( no need to wipe it out) over medium high heat. Add onion, carrots, celery and a large pinch of salt and pepper. Cook, stirring frequently for 12 minutes.
Turn heat to medium and add garlic, oregano and thyme and cook for another minute. Then add flour and stir to coat veggies. Cook for two more minutes, stirring frequently.
Stir in chicken broth, beer and diced potatoes along with another pinch of salt and pepper.
Cover, turn heat up to medium high and bring to a simmer.
Once it begins to simmer, turn heat to low and simmer 10-12 minutes or until potatoes are fork tender.
Remove pot from heat and stir in heavy cream and shredded cheese.
Stir until cheese has melted, garnish with fresh chopped parsley and enjoy!
Keywords: easy, simple, quick, family, dinner, weeknight, meal, recipe, carrots, celery, garlic, chicken broth, cheddar