These short ribs are SO tender and juicy! They fall right off the bone and are packed with aromatic flavors of fresh veggies, dried herbs and dark beer.
They're the perfect, make ahead, family dinner for those chilly Wisconsin nights!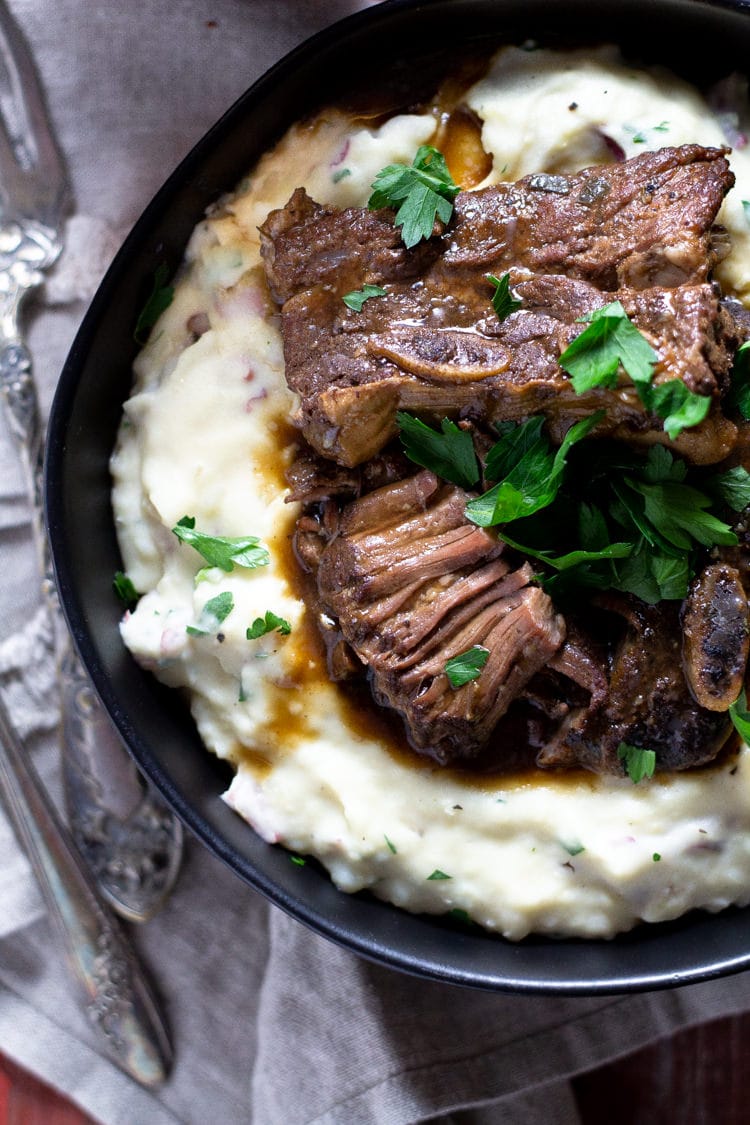 *This post may contain affiliate links. As an Amazon Associate I earn from qualifying purchases at no extra cost to you!
Can I use a different cut of meat instead of short ribs?
Yes! Sometimes I can't find short ribs and I'll substitute a beef chuck roast instead. In fact, I have a bourbon braised beef recipe where I used a chuck roast (cut into short rib size pieces) and it is definitely one of the fan favorites here at Midwest Foodie!
This is a good recipe to use a less expensive cut of meat as braising it in the slow cooker
will make the meat super tender and juicy.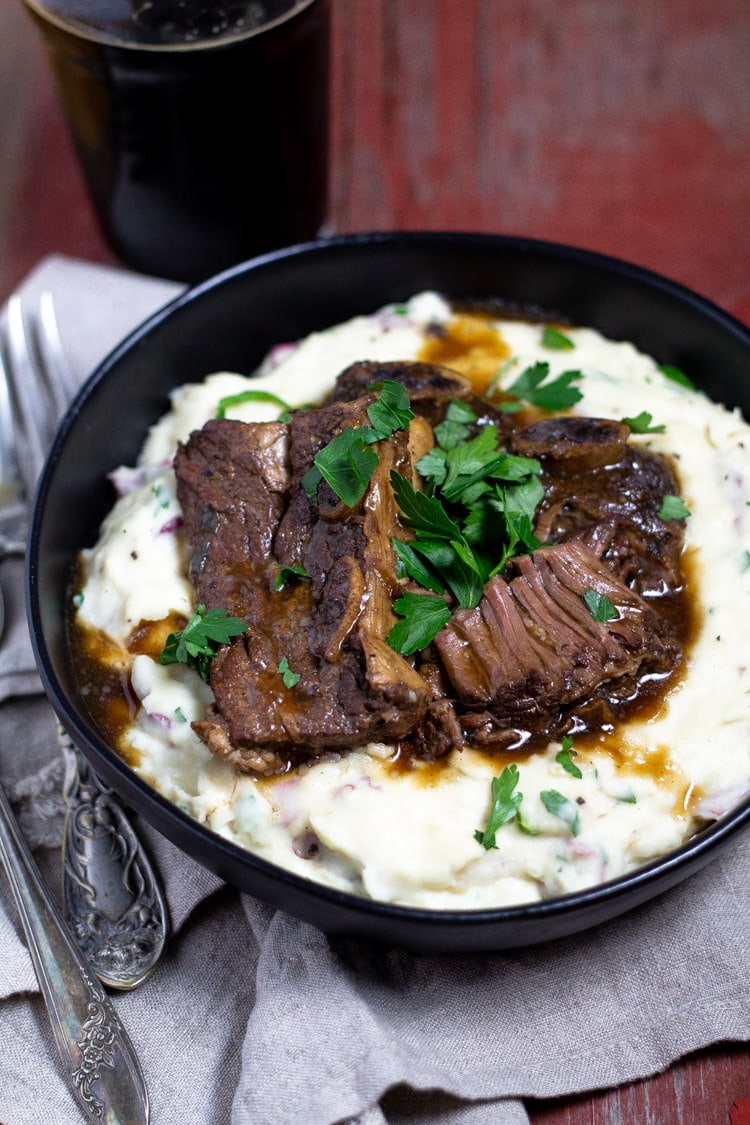 Can I make braised short ribs ahead of time?
Another yes! These braised short ribs actually just seem to get better with time. As with most slow cooker recipes, the active prep time for this recipe is really minimal, so these ribs can do their business while you're at work or running errands. Then you walk in the door to a home cooked meal that's ready to eat.
However, if for some reason you find yourself wanting to prepare these a day or two ahead of time, that's no problem either! I would follow the recipe below, allow the ribs and braising liquid to cool for about an hour after they've finished cooking and toss them in the fridge.
When you're ready to eat, transfer ribs and braising liquid to a large pot on the stove, cover and heat over low or medium low heat until they are heated through.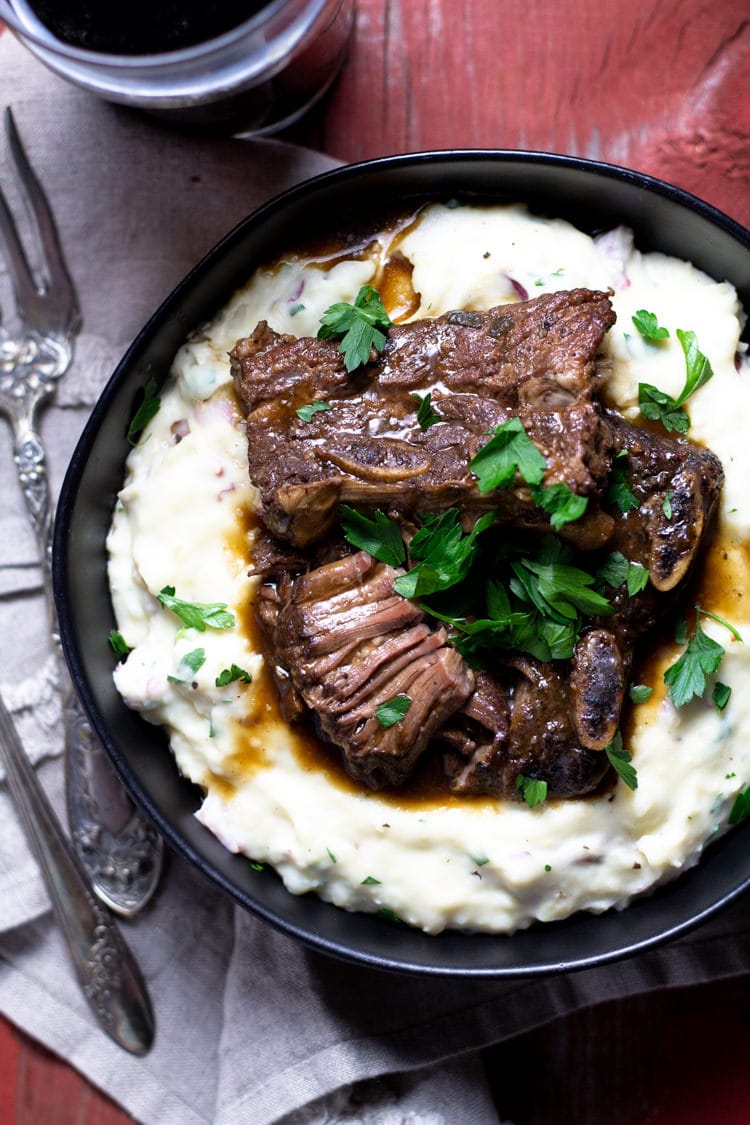 What kind of beer should I use?
I suggest a dark beer. A porter is my personal favorite for this recipe but a stout or even a lager or ale would work great. Try to find a full bodied beer as it will give you more flavor in the dish.
Whatever you choose, please don't use Bud Light or Coors or the like. This is a good opportunity for you to try a local made beer or something you maybe haven't had before. Be adventurous, be daring – try new beer!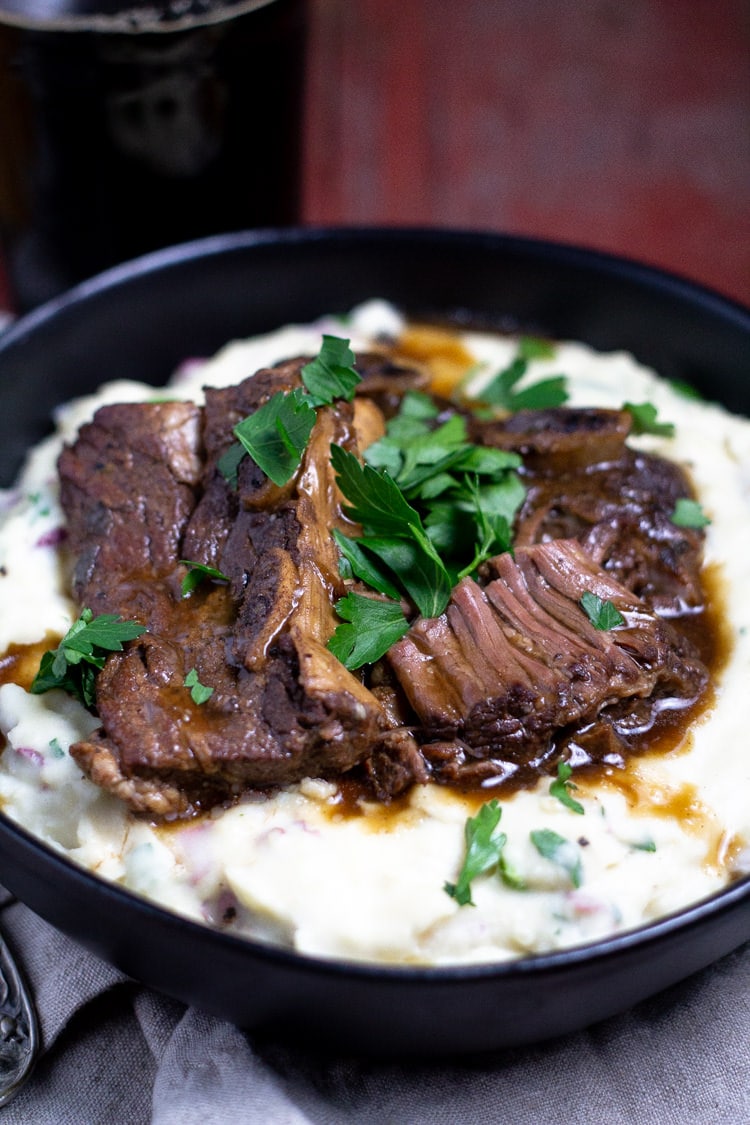 What if I don't like beer?
My motto is: If you don't like beer, you haven't had the right beer (and let's be honest, most people's experience with beer is Bud Light or Coors…). And as long as we're going there: If you don't like IPAs you haven't tried the right IPA (try Gunpowder IPA from The Brewing Projekt and tell me you don't like IPAs?!?!?!).
Microbreweries are everywhere now and they typically offer a very wide variety of beers. So head down to your local brewery, tell the bartender what you think you'd enjoy (light vs. dark, fruity vs. hoppy, sour vs. sweet) and let them help you choose some beers to try. Most places will offer a flight so you can sample without commitment.
Personally, I'm more of a wine girl myself, but I LOOOOOOVVEEE sour beers. Like, really love. And I never would have known if I hadn't tried!
What should I serve with my short ribs?
Well, clearly my serving suggestion is my garlic mashed potatoes (which are also delicious when made with baby reds as I've done here in this meal). But the tender beef also goes great with mac and cheese, polenta, or even grits!
You might wonder why I didn't serve the beef alongside the aromatic veggies they cooked in the crock pot with?
Each time I've made this I found that the veggies really gave all of their delicious flavor to the beef and the flavor and texture that was left just wasn't enjoyable for me. Plus the tender, fall apart beef really pairs well with something rich and creamy!!
Print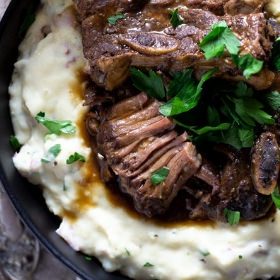 Slow Cooker Beer Braised Beef Short Ribs
---
Author:

Prep Time:

15 minutes

Cook Time:

8 hours

Total Time:

8 hours 15 minutes

Yield:

8 servings

Category:

Main Dish

Method:

Slow Cooker

Cuisine:

American
Description
These short ribs are tender, juicy and fall right off the bone! They're the perfect easy weeknight meal for your busy family.
---
Ingredients
3 lbs. bone in short ribs
2 tablespoons olive oil
1 onion, diced
5 cloves garlic, smashed
32 oz. beef broth
1 (12 oz.) dark porter beer
2 cups chopped celery
2 cups chopped carrots
3 bay leaves
1/4 cup fresh chopped parsley + more for garnish
1 tablespoon dried thyme
1 tablespoon dried sage
Kosher salt
Fresh cracked pepper
4 tablespoons corn starch
---
Instructions
Heat olive oil in a large saute pan over medium-high heat. Sear short ribs for about 1 minute on each side creating a dark golden brown crust. Transfer to the Crock-Pot insert.
Add onion, garlic, beef broth, beer, celery, carrots, bay leaves, parsley, thyme, sage and a moderate amount of salt and pepper.
Cover and cook on low for 8 hours or until the beef falls off the bone and shreds easily.
Strain braising liquid and add all but two cups back to the Crock-Pot.
Transfer two cups of the braising liquid to a small saucepan over medium-high heat. Combine cornstarch with 2 tablespoons cold water, add that to the braising liquid and stir to combine. Simmer braising liquid over medium to medium-low heat for about 20 minutes or until it thickens and reduces by about half. This is a great time to make those mashed potatoes, grits, or mac and cheese.
Transfer beef to a serving dish and pour gravy on top. Garnish with fresh chopped parsley and enjoy!