This post may contain affiliate links. Please read my disclosure policy.
This vegan curry soup is loaded with classic curry spices, baby gold potatoes and green lentils. It has all the feels of comfort food so your family will never guess it's completely loaded with healthy ingredients!
Or maybe, if they're like my family, they will know it's filled with healthy ingredients…but they'll eat it anyway because it tastes so dang good!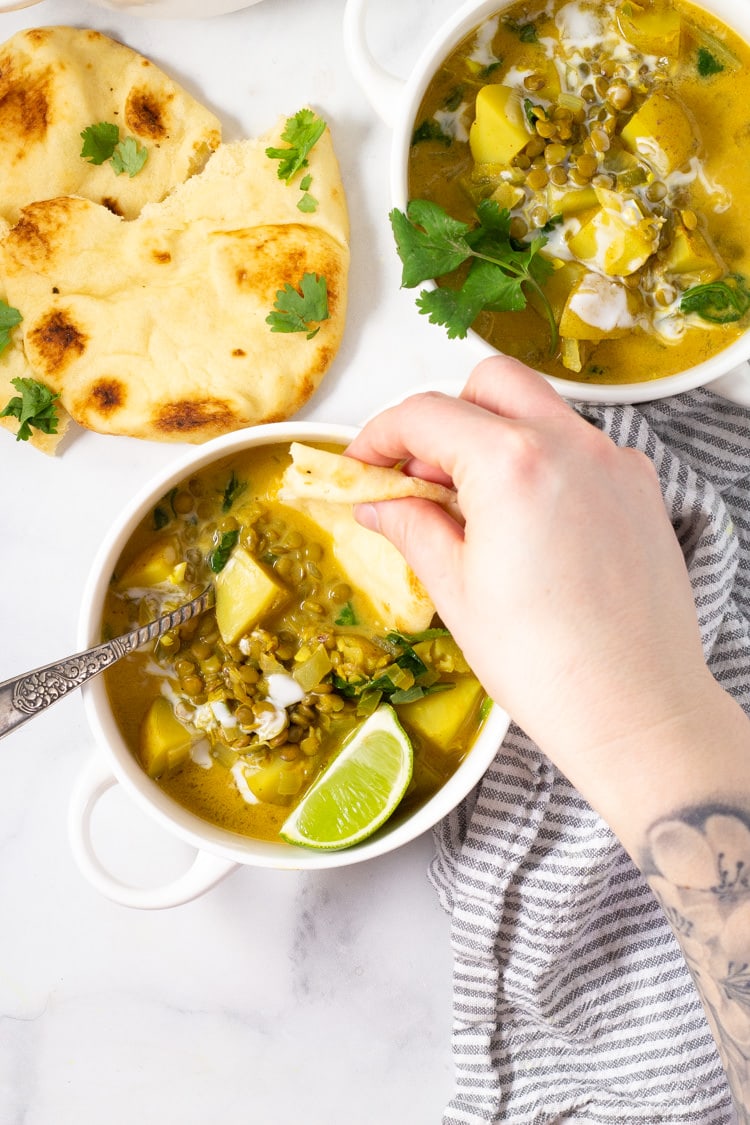 How to make curried lentil soup:
You'll give the soup a flavorful base by sauteing onion, garlic and jalapeno with curry powder, cumin and curry paste. Then you'll add vegetable broth and coconut milk along with green lentils and simmer for about 10 minutes.
Then add the potatoes and simmer everything together for about 15 minutes or until the lentils and potatoes are tender but not mushy.
Then stir in a couple handfuls of fresh spinach and garnish with fresh chopped cilantro!
Not only is this meal delicious and super good for you, it's quick enough to throw together on a busy Tuesday night when you've got just 30 minutes to feed your family something healthy!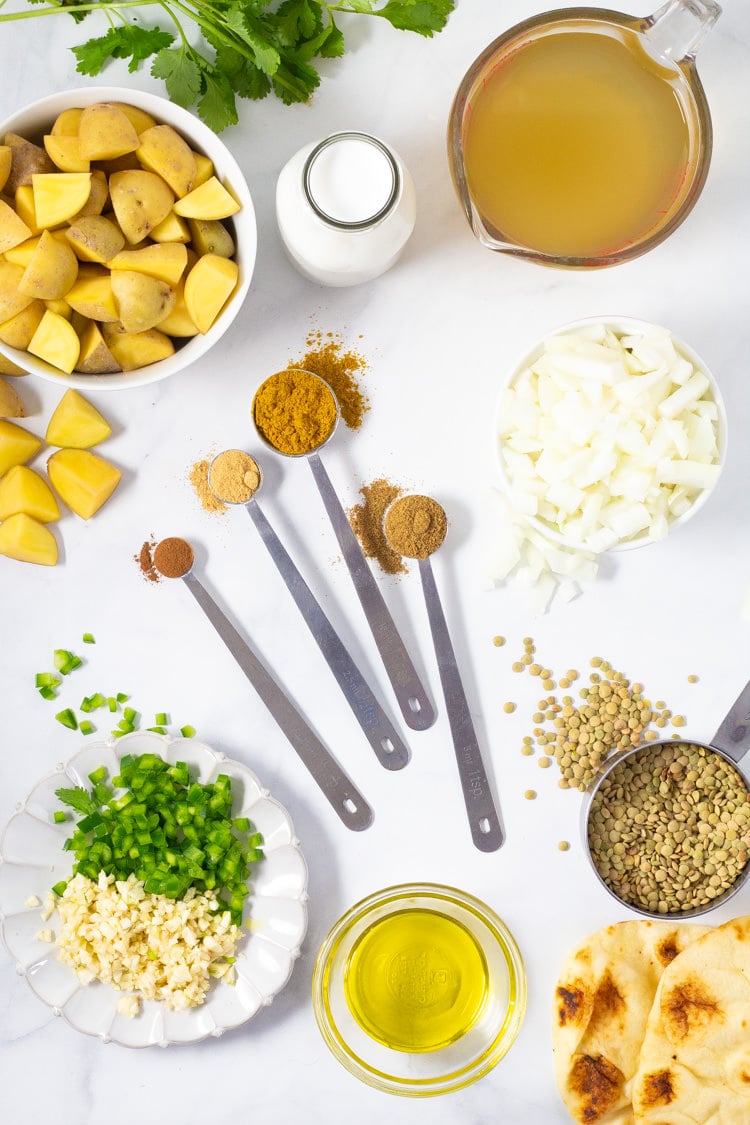 What are lentils?
Lentils are part of the legume family. A legume is a plant with an edible seed (think beans or peas).
Lentils come dried or canned (although I've never actually seen them canned before…but it's America, so I'm sure they exist). They come in a few different varieties including red/yellow, green, brown and black.
Lentils are an excellent source of protein and fiber which makes them a filling (and very healthy) addition to any meal. This informative article has some more great info about lentils if you want to dig a little deeper!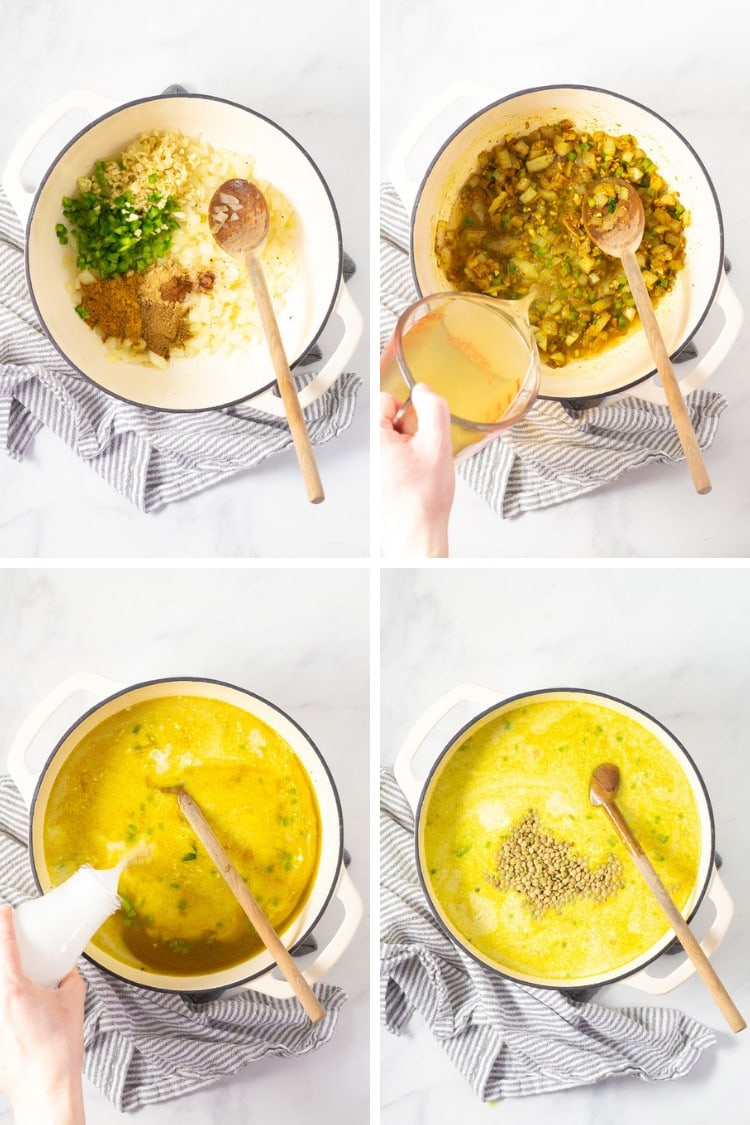 What makes this curry lentil soup vegan?
This curried lentil and potato soup is made without any animal products. The creaminess comes from the coconut milk and the cooking liquid we use in this recipe is vegetable broth.
While I don't follow a vegan diet, I do try to incorporate as many vegetables into my meals as possible so you'll find a lot of vegan and vegetarian recipes here on Midwest Foodie.
Does vegan food taste good?
I realize that the labeling something vegan can turn a lot of people off because they assume that it will be super healthy and therefore not taste good. But I'm here to tell you that's just not true!
In fact, I often find that the opposite is true, as vegan dishes don't have the same animal products to fall back on for their flavor (ie: meat and dairy). So they have to incorporate a lot of flavor in other ways (ie: herbs and spices) which can make vegan food even more enjoyable because of the wide range of ingredients.
For example:
A good steak doesn't need a lot of added seasonings if the quality of the meat is good. The fat from the meat will provide a lot of flavor to that steak with minimal effort on your part. Salt and pepper are enough to make it taste great.
However, a boiled potato by itself isn't going to leave your taste buds singing with joy from the delicious flavor… To make the potato shine, you'll want to add salt, fat, acid and heat.
In this soup we add salt and spices (salt), coconut milk (fat), lime juice (acid) and curry paste (heat).
Salt, Fat, Acid, Heat
Now I'm not going to pretend like I came up with the concept of salt, fat, acid, heat – I got it from this amaaaazzzzing documentary (called Salt, Fat, Acid, Heat – who'da thunk, right?) which you should go watch right now.
I was honestly on the edge of my seat during this whole documentary. The way they honor and elevate food is remarkable and even if you're not a foodie, I highly recommend this show as it gives you a great base of cooking knowledge.
So in culmination, yes – vegan food tastes great! As with any other food, you just need to find the flavors and textures that your palate enjoys.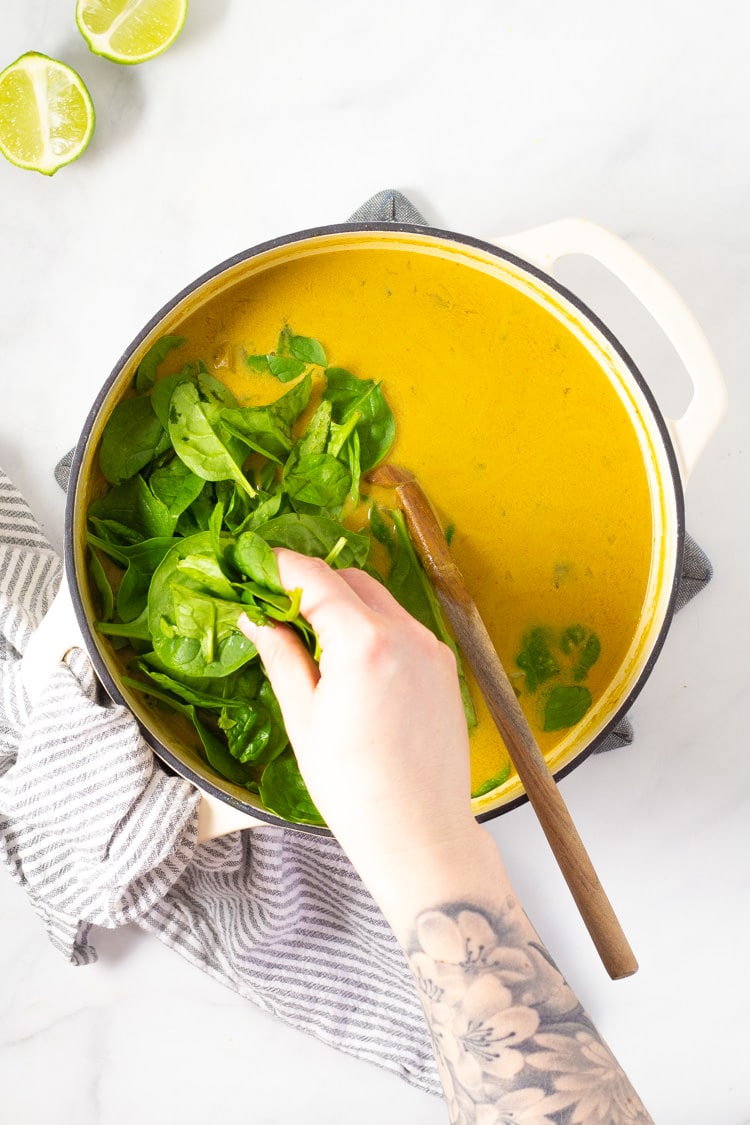 Is coconut milk healthy?
Well that depends on what your definition of healthy is…
If you're definition of healthy includes eating foods found in nature that are as close to their original form as possible, then YES, coconut milk is healthy. Coconut milk is the liquid that comes from flesh of a coconut. It is a similar to the consistency of heavy cream (perhaps just a bit thinner) and white in color with a very slight coconut smell and taste.
However, if your definition of healthy is eating based on calorie count and fat grams, then you might consider coconut milk unhealthy. Because coconut milk comes from the flesh of coconuts, it is high in calories and saturated fat. The difference however, is that those calories and fat come from a minimally processed product that's found in nature, not something artificial.
So if you're eating coconut milk in moderation and enjoying it mostly in dishes that are loaded with veggies, you shouldn't have to worry about the calories or fat of coconut milk. After all, it isn't fat that makes you fat, right?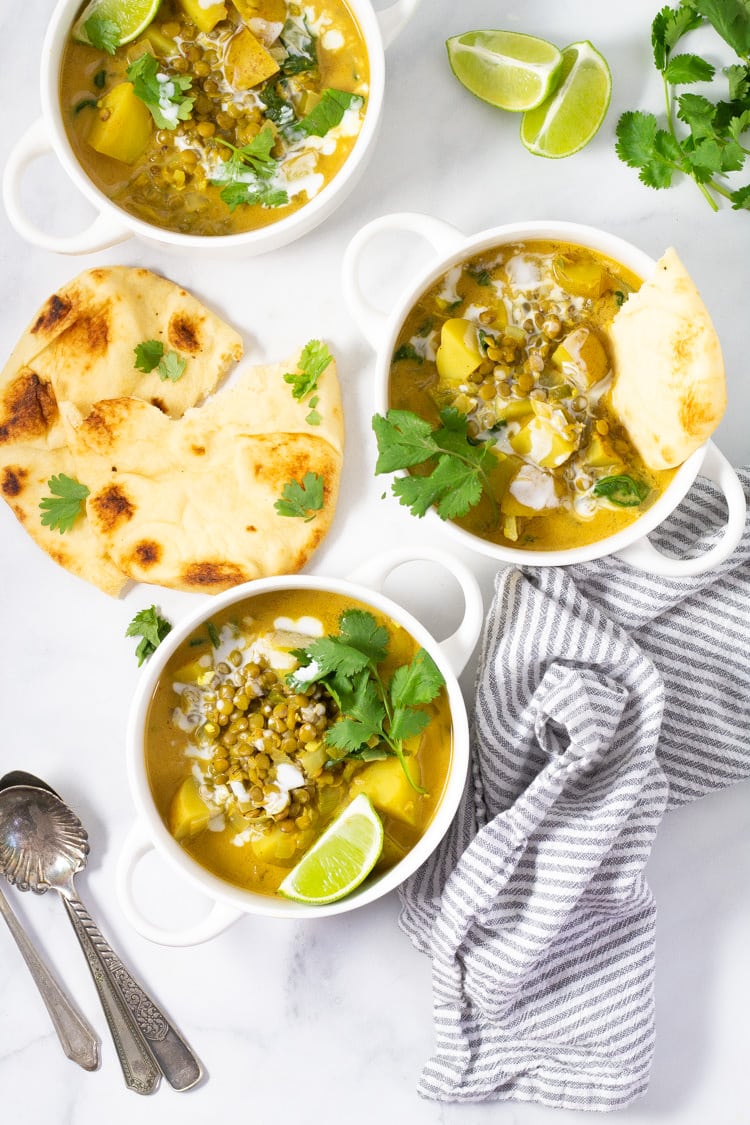 Can I use a different kind potato other than baby gold potatoes?
Yes! But remember, all potatoes are not created equal! Baby gold potatoes, or baby red potatoes, work well in this recipe because of their size and their thin skin. They cook quickly (and even quicker once you cut them into bite size pieces) and hold up well when boiled.
Russet potatoes are likely the kind that most have on hand and while they will work in this soup, remember that you may need to add more liquid as their starch will give the soup a creamier texture. And be sure to cut them into uniform, bite sized pieces so that they cook evenly as well.
The good thing about this soup is that green lentils are pretty forgiving. Unlike red lentils, which basically turn to mush the second they're overcooked, green lentils taste great with a little toothsome bite or cooked all the way through. So whatever potatoes you end up using, the lentils should hold up and still turn out great!
Can I make this potato curry ahead of time?
Yes, yes, yes and yes. And please do! I usually prep three meals for the week and one of them is almost always some kind of soup.
Soups are the perfect healthy meal prep food and really great for folks who are too busy during the week to spend time in the kitchen making dinner.
When reheating this soup, place it in a covered pot over medium heat and cook for 5 minutes or until heated through. For a complete meal, I like to serve this lentil soup with garlic naan and a green salad.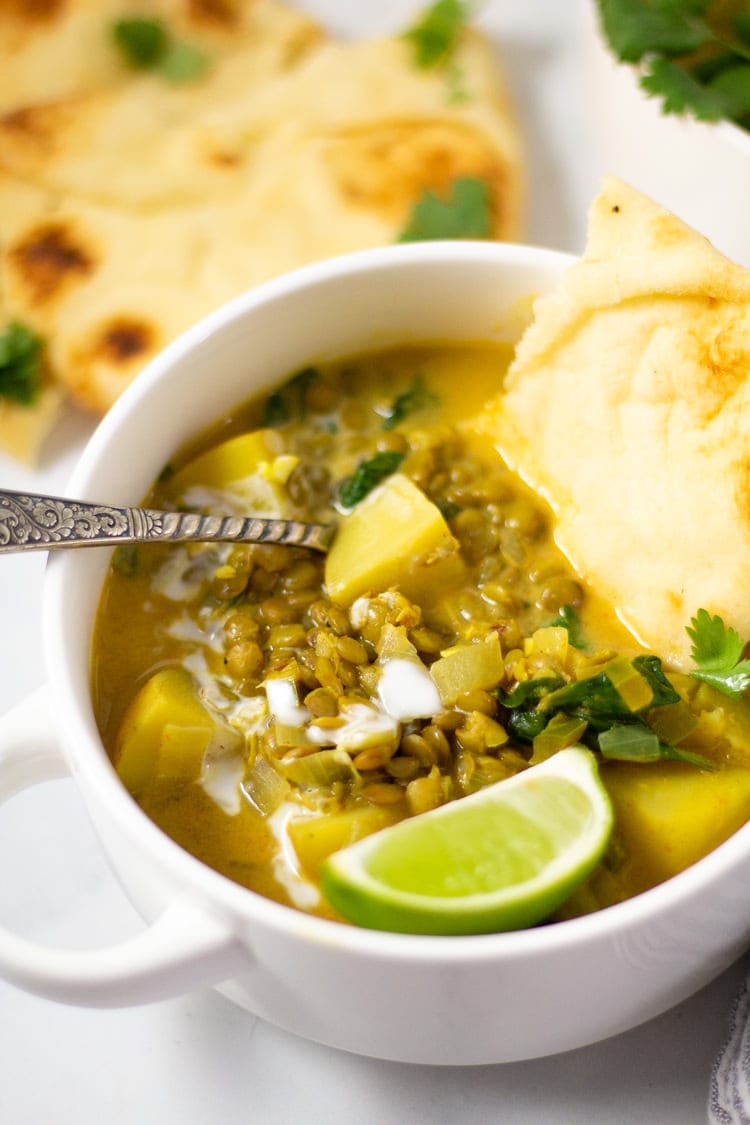 Can I make this lentil potato curry soup in the slow cooker?
Sure! I know instant pots are all the rage right now, but I don't have one (I know, SHOCKING) and I still use my slow cookers all the time.
There's something so wonderful about coming home after a long day to the smells of a delicious dinner wafting out from the kitchen, inviting you to grab a spoon and have a taste.
If you want to cook this in the slow cooker, you can actually omit the oil in this recipe. Omit the sauteing of the veggies and just toss it all in the slow cooker. Give it a stir and cook on high for 3-4 hours or low for 6-7 hours. When the potatoes are fork tender, the lentil soup is done!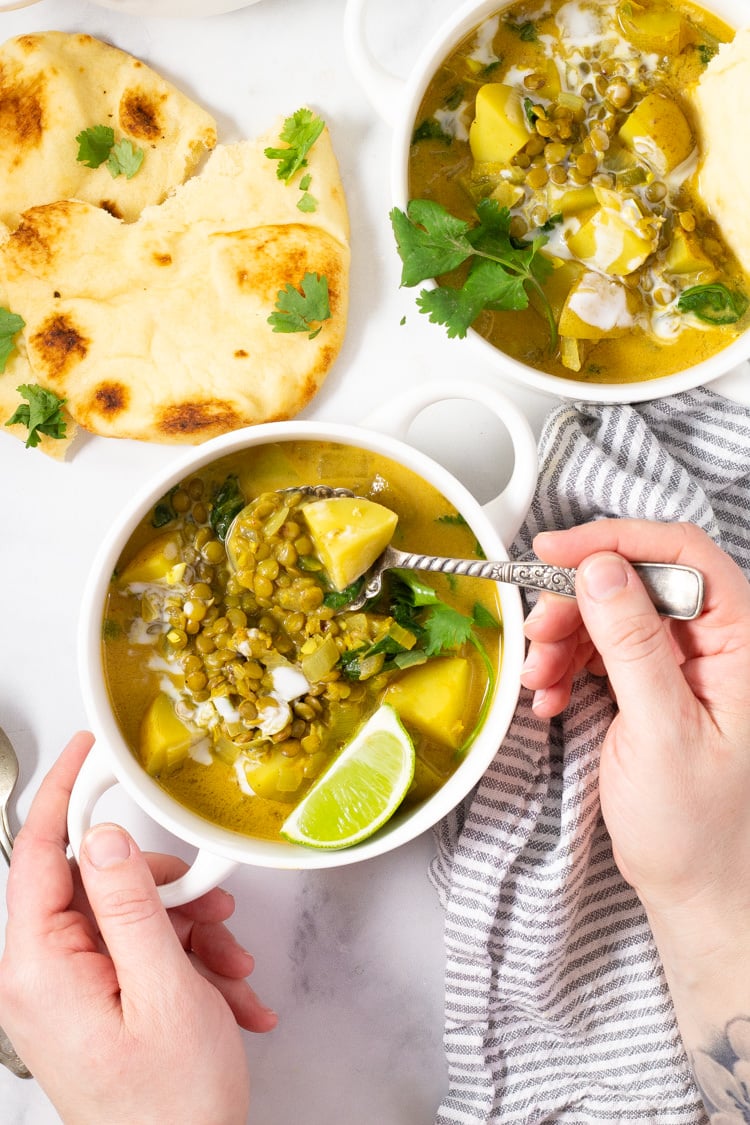 Other simple soups you'll love:
Print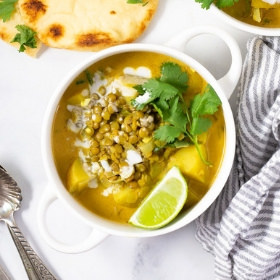 Vegan Curry Lentil Soup
---
Author:

Kylie Lato

Prep Time:

10 minutes

Cook Time:

30 minutes

Total Time:

40 minutes

Yield:

8

servings

1

x
Description
This vegan curry soup is loaded with classic curry spices, baby gold potatoes and green lentils. It has all the feels of comfort food so your family will never guess it's completely loaded with healthy ingredients!
---
Scale
Ingredients
1 tablespoon

olive oil

1

yellow onion, diced

6

cloves garlic, minced

1

jalapeno, ribs and seeds removed, minced

1 tablespoon

curry powder

1 teaspoon

cumin

1/2 teaspoon

ground ginger

1/4 teaspoon

ground cinnamon

1

–

2

teaspoons red curry paste (if you like it spicy)

5 cup

s vegetable broth

1

can full fat coconut milk

3/4 cup

green lentils, uncooked

1

lb. baby gold potatoes, diced into bite size pieces

3

–

4

cups fresh baby spinach
juice of

1

lime
Kosher salt
fresh cracked pepper
fresh chopped cilantro for garnish
---
Instructions
Heat olive oil in a dutch oven over medium heat. Add onions along with a pinch of salt and pepper. Saute for 3-4 minutes, stirring frequently. 
Add garlic and jalapeno and cook for 1 minute, stirring frequently. 
Add curry powder, cumin, ginger, cinnamon and red curry paste (if using). Cook for another minute, stirring frequently. 
Stir in broth, coconut milk and lentils.  
Turn up heat and bring to a simmer. 
Simmer over medium to medium low heat for 10 minutes, stirring every 5 minutes or so. Then add potatoes and simmer for another 12-15 minutes.
You'll know the soup is done when the potatoes are fork tender. 
Stir in fresh spinach and lime juice, garnish with fresh cilantro and enjoy!
---
Notes
For a toothier bite to your lentils, add them along with the potatoes and simmer them together for 15 minutes, rather than cooking them for the additional 10 minutes. 
Category:

Main Dish

Method:

Stove Top

Cuisine:

Indian
Keywords: lentil soup, curry soup, potato soup, vegan lentil soup, vegan curry soup