15 minutes is all that stands between you and this ooey gooey wheel of baked brie loaded with pumpkin seeds, walnuts, pomegranate seeds and a drizzle of honey! This party appetizer could not be easier to assemble, simpler to bake or more delicious. Share baked brie with your friends and family this holiday season!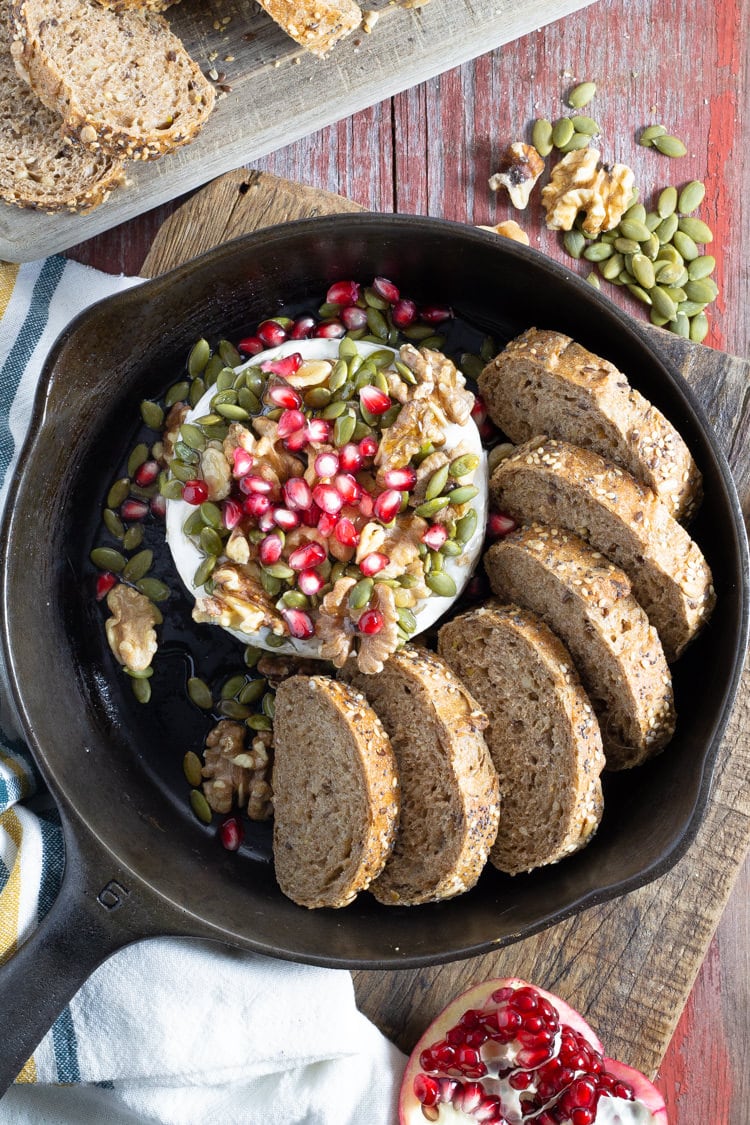 Do I have to use brie cheese?
Not specifically. Camembert, which has a slightly more earthy flavor, is also a great cheese to use for this recipe. You could really use any kind of double or triple crème cheese that comes in an edible rind, but brie and camembert are going to be the most commonly found varieties.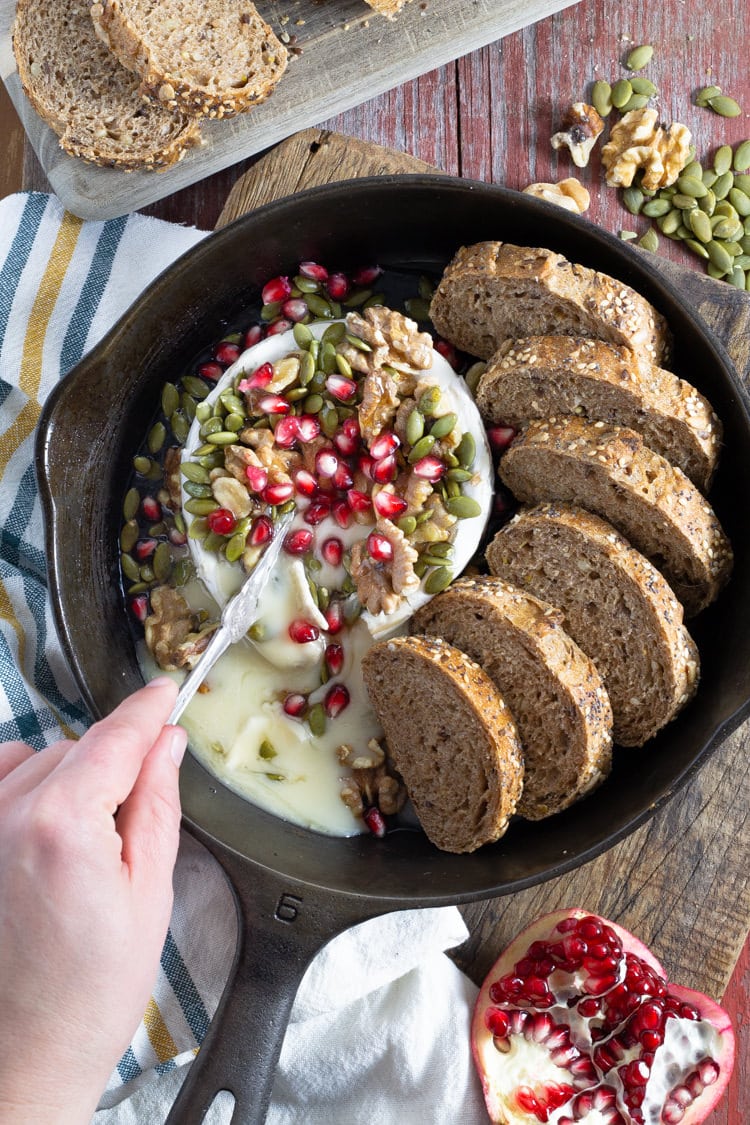 Can I eat the rind?
Yes! And you should! I'm a total rind hog!! Whenever I eat brie I try to get the largest section of rind possible with each bite. Sometimes I wish there was a way for there to be more rind on each wheel. It's so freakin' good!
What should I serve with baked brie?
I like to serve it with a loaf of crusty French or multi grain bread. Crackers are always a favorite as well. You want something sturdy enough that it will stand up to the creaminess of the cheese. But something with a mild flavor so it doesn't overpower the delicate flavor of the brie. This holiday baked brie would be a great addition to any charcuterie board as well!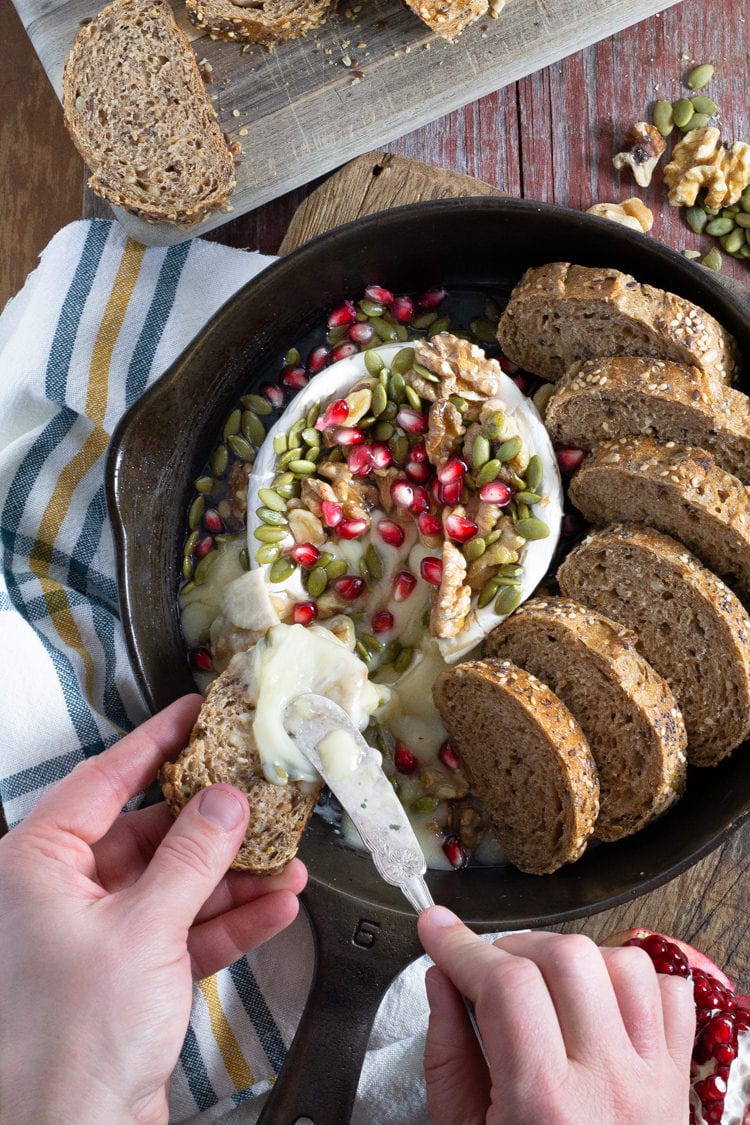 How do I make baked brie?
You literally put it in a baking dish, and bake it! 350 degrees is the perfect temperature to slowly melt the cheese and heat up whatever else you've topped it with. In this recipe I added the pumpkin seeds and walnuts before baking so that they got brown and toasty on top of the brie. If the nuts and seeds seem to be browning too quickly, just cover the brie with a sheet of aluminum foil. After the brie has baked and is all warm and gooey on the inside, top with a handful of pomegranate seeds and a drizzle of honey and enjoy!
Is it supposed to be runny and ooey gooey inside?
Yep! Just look at that luscious, rich meltiness! If you're mouth isn't watering by now, you're crazy! You'll know the brie is baked (and gooey inside) when you press down on the top of it with a spoon. Be gentle though; you want to serve the wheel intact so your guests don't miss out on that sexy cheese explosion when you pierce the rind.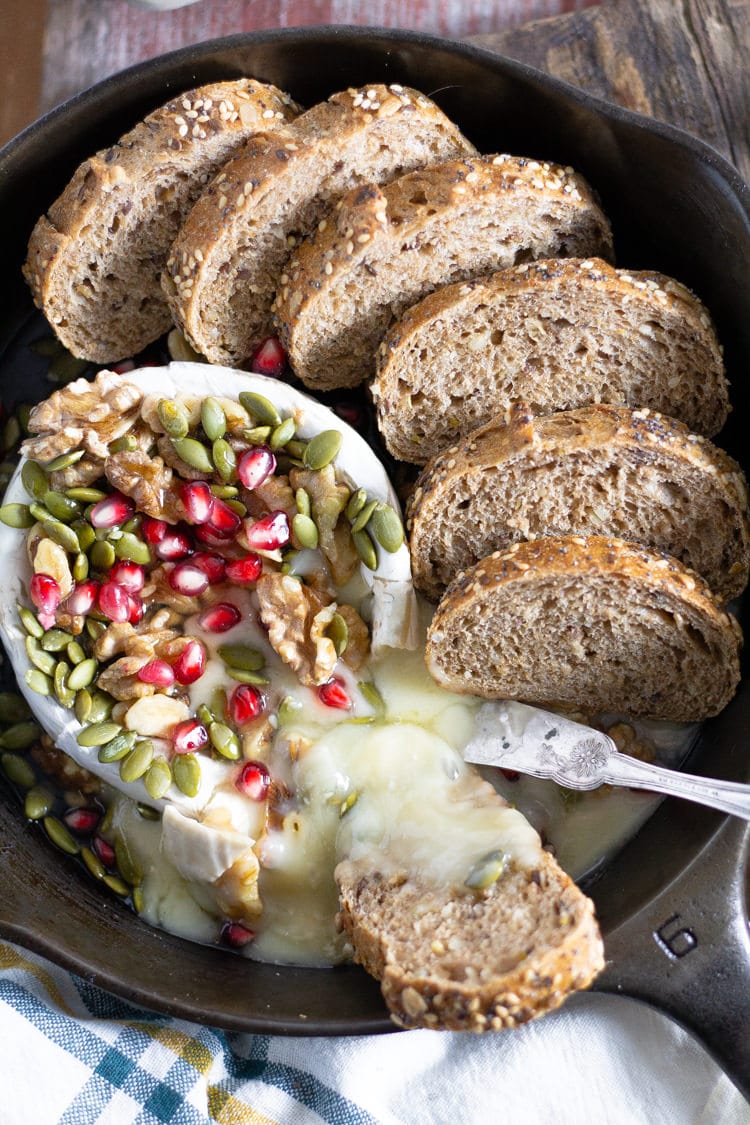 Do I have to bake it in cast iron?
No, you can use any oven safe baking dish that you like. I just have this obsession with cast iron and I love the way it looks when used as a serving dish. This little 6 inch cast iron pan is my absolute favorite. It's the perfect size for dinner for two (+ a toddler) or for party appetizers like this one. If you haven't delved into the world of cast iron, I would highly recommend that you do so! I found this one at a consignment shop in the area so it's already been well loved and well seasoned! I think it only cost me $15 too, so don't feel like you have to spend a fortune or buy them brand new!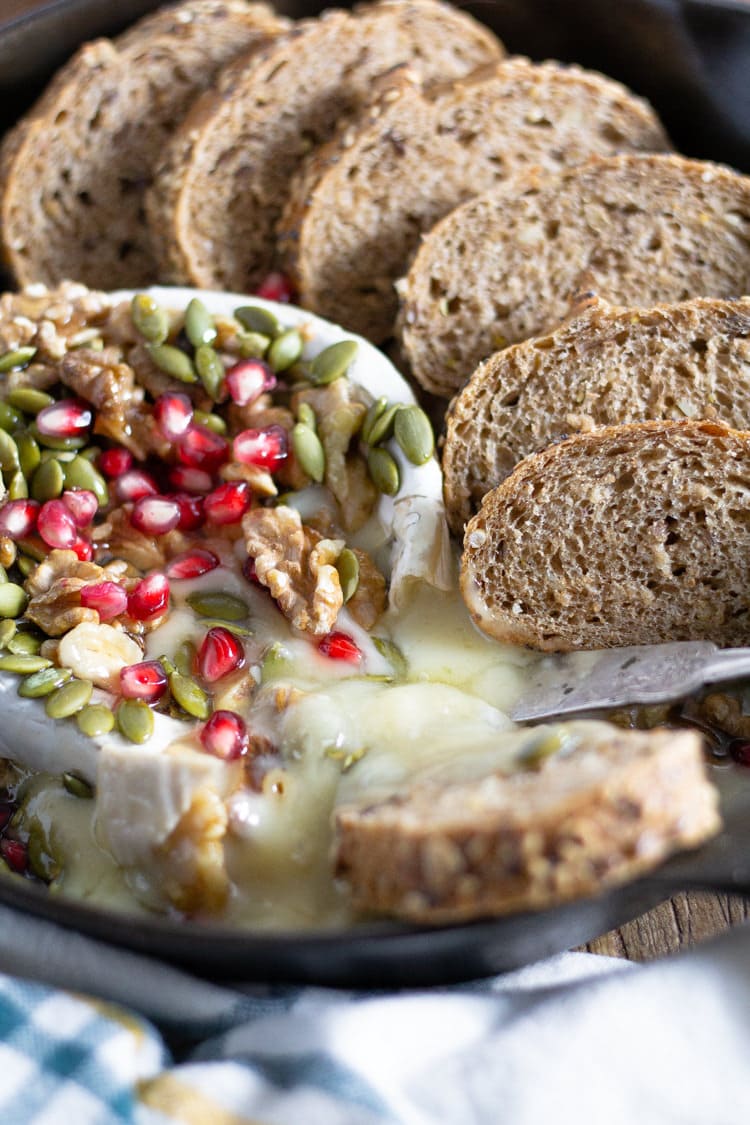 What else can I top brie with?
Everything. Anything. All the things! My favorite summer appetizer recipe is my baked brie with rosé raspberries. I also love to layer on a thick fig jam and sprinkle with pecans. It's great with a simple dried cranberry and pistachio combo too. The possibilities are endless!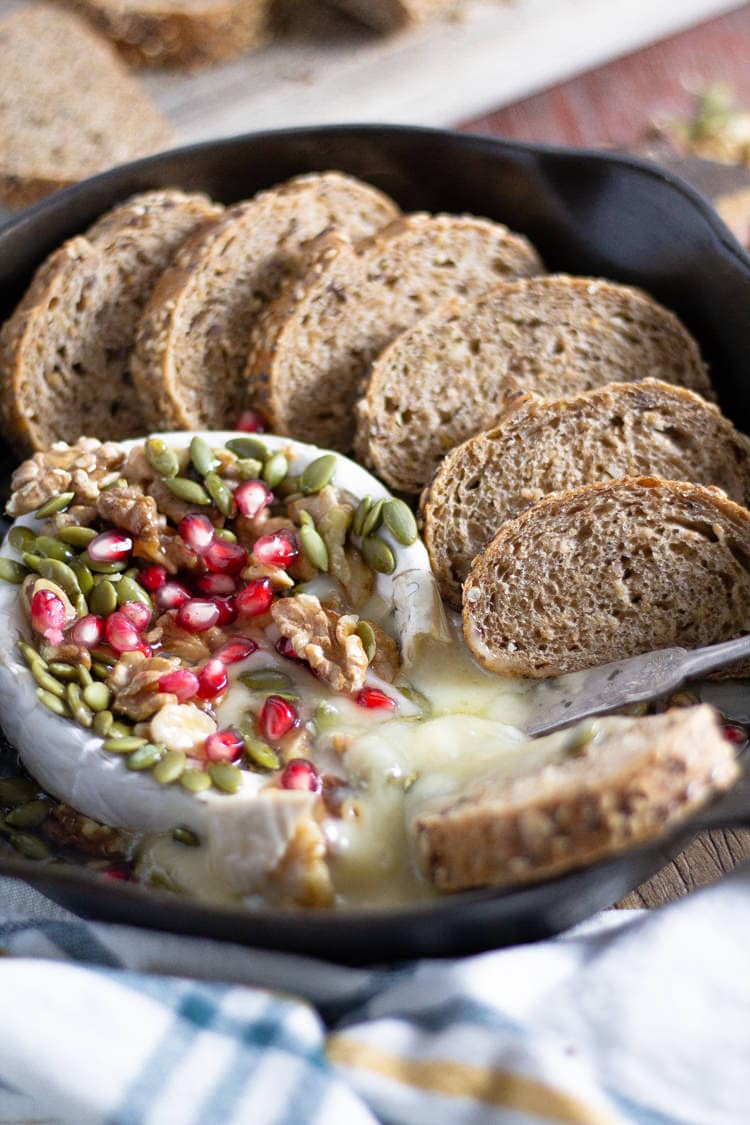 Print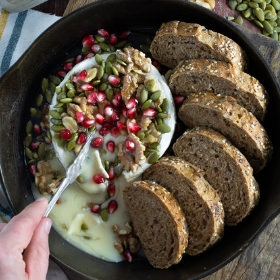 Easy Holiday Baked Brie
---
Author:

Prep Time:

5 minutes

Cook Time:

10 minutes

Total Time:

15 minutes

Yield:

8 servings

Category:

Appetizer

Method:

Baking

Cuisine:

American
Description
This party appetizer could not be easier to assemble, simpler to bake or more delicious. Share a wheel of brie with your family this holiday season!
---
Ingredients
1 teaspoon olive oil
8 oz. wheel of brie cheese
1/4 cup walnuts
2 tablespoons pumpkin seeds
1/4 cup pomegranate seeds
2-3 tablespoons honey
sliced French baguette for serving
---
Instructions
Preheat oven to 350 degrees. Grease baking dish with teaspoon of olive oil.
Place wheel of brie into the center of the baking dish and top with walnuts and pumpkin seeds.
Bake for 10-12 minutes or until gooey and melty inside. Use a spoon to gently press on the top of the rind to feel if it is melted inside.
 Remove from oven and top with pomegranate seeds and drizzle with honey.
Serve with sliced crusty French baguette.
Notes
If the nuts and seeds seem to be browning too quickly in the oven, just place sheet of aluminum foil over the cheese and continue baking.
Keywords: appetizer, party, family, easy, simple, quick, recipe, pomegranate, pumpkin seeds, walnuts, honey, baguette