Happy New Year!! I can't wait to share with you what the final month of the fourth quarter has brought for Midwest Foodie! Below I'll share with you my monthly traffic, monthly expenses and monthly profit.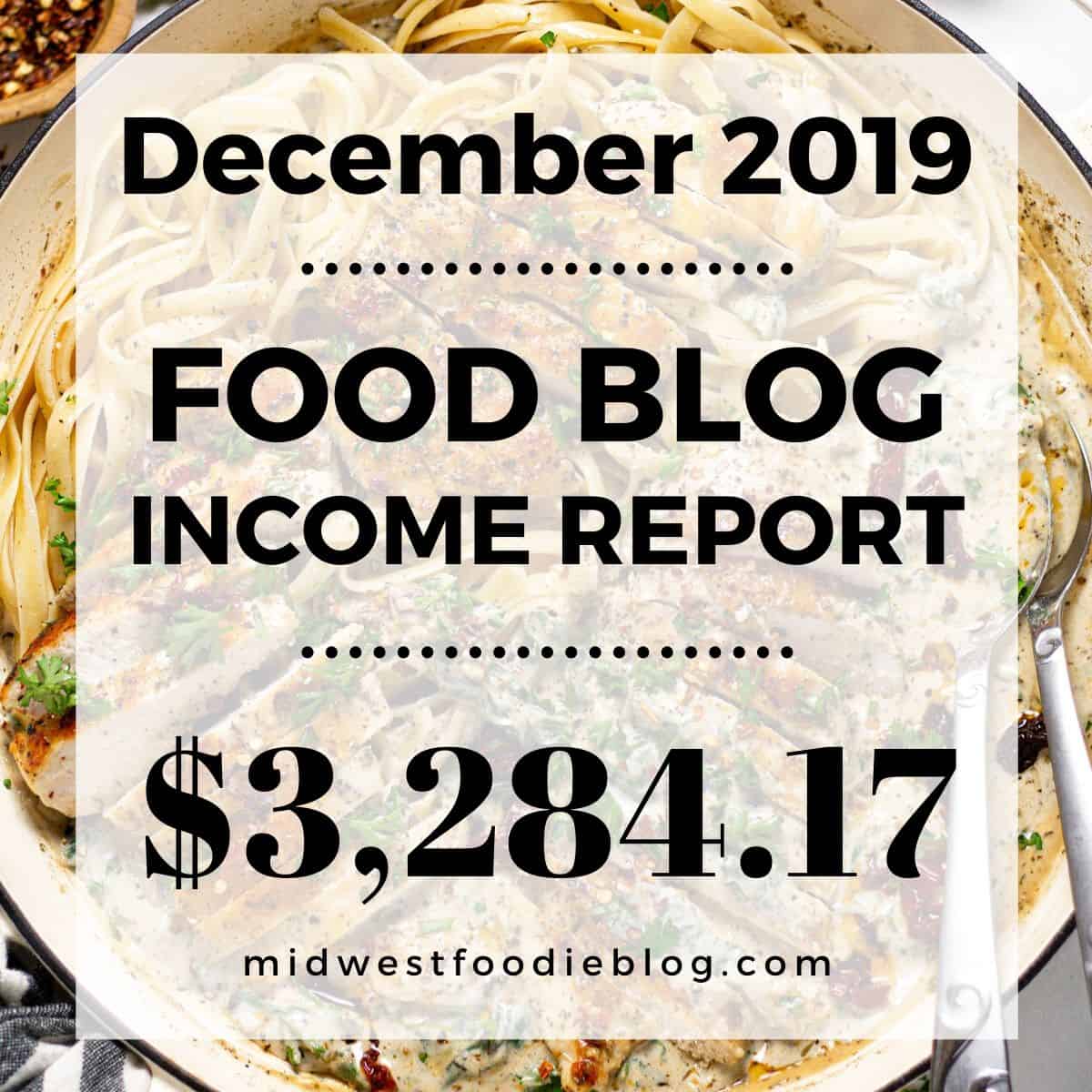 If you didn't catch my first income report - you definitely want to check it out before diving in here. It gives you a lot of background on my blogging journey and a really in depth look at my income over the last year since joining Mediavine in January of 2019!
TRAFFIC:
In December of 2019 my blog saw it's highest amount of traffic!! WOOHOOOOOOO!
Pageviews: 159,827
Sessions: 129,159
Users: 99,325
Traffic Sources:
Social: 54.04%
> Pinterest: 97.30%
> Facebook: 1.90%
> Instagram: .74%
Organic: 35.84%
Direct: 7.48%
Referral: 2.54%
Other: .10%
It feels awesome to be over 150,000 page views this month as there was a time (not too long ago) where it seemed like I would never get there!
It's also fun to look back at where I was last year at this time and see how far I've come! For reference in December of 2018 I had 31,325 page views with 19,994 sessions and 15,484 users. Here's to progress and not perfection!
INCOME:
As I mentioned in my first income report, Mediavine is my main source of income from the blog at the moment. I started with Amazon Associates in August of 2019 and have been making a bit of money with that also, but there is definitely room for improvement! Let's take a look at December's stats…
Mediavine: $3215.90 with an average RPM of $24.90
Amazon Associates: $68.27
TOTAL PROFIT: $3,284.17
EXPENSES:
Groceries: $150
Nerdpress (site maintenance): $122
Agathon (hosting): $70
ConvertKit (email service): $29
Canva (graphics for Pinterest): $13
Gsuite (email provider): $12
Lightroom (photo editing): $11
Tailwind (Pinterest scheduler): $10
Akismet (site security): $5
KeySearch Subscription: $8.50
Photo Backdrops: $35
Photo Props: $31
TOTAL EXPENSES: $496.50
PROFIT: $2,787.67
GROSS PROFIT DECEMBER 2019:
The above total does not take into account taxes, which I am anticipating to be 20-30% of the total. So my actual take home money for the month will likely end up being around $2,000.00 or so. Which if I'm being honest is freaking AWESOME for me!!
New Things in the New Year:
Some of you may know that first quarter traditionally brings a steep downslope of traffic for food bloggers. Since my blog is still pretty new I didn't see the typical decline in January of 2019 as I was still growing. I'm crossing my fingers that this growth will continue in January of 2020, but also trying to maintain realistic expectations.
It's only two days into the first quarter of 2020 and my RPM has already dropped by more than half!!! Next year I'll have to figure out some strategies to drive more traffic during first quarter to make up for these abysmal RPMs.
I'm not planning to attend any food blogger conferences this year. I attended the Tastemaker conference last year but honestly didn't feel like it motivated me or furthered my blogging career as much as I was hoping it would have. I know that others really enjoy food blogging conferences, but as an introvert who doesn't really LOVE to get out of my comfort zone, I don't think I got as much out of it as others did. It was fun to connect with a few bloggers that I've met through Instagram but that was about all the "networking" that I did. Also, the brands that were there (to pitch for sponsored posts) were either local to Oregon (Midwest Foodie can't very well write a recipe showcasing Oregon hazelnuts...) or they weren't a fit with my brand. And I'm learning that it's okay. What works for others isn't always going to work for me! I'm glad that I added a couple extra days to my trip and got to check out the city of Portland though!
I've really been feeling drawn to share the things I've learned on my blogging journey and am planning to create an e-book this year with my tips for starting and monetizing a food blog! If you have any questions, I'd love for you to leave a comment below and I'll be sure to answer and add to the e-book!
Old things in the New Year:
I'll still be publishing the same delicious content with a focus on easy dinners and quick appetizers. These seem to be the most popular types of recipes that my readers are enjoying so I will keep those coming! I'd love it if you'd like to leave a comment below and let me know what kind of recipes you'll be looking for in 2020!!
I'll also be plugging away at SEO and improving my organic traffic. My percentage of organic traffic was the highest it's ever been in December 2019 so I think that's a good sign that all this hard work is paying off! I've spent a lot of this past year updating and optimizing old posts so in 2020 I'll be focusing more on sharing new content. I'm really digging into my Google Analytics and Search Console to see what recipes you're loving. And I'm planning to give you more of the content that you're coming to Midwest Foodie for!
Just for fun, let's recap my entire first year monetizing my blog!
January 2019 – 14,128 sessions | average RPM $6.61

Income: $93.36
Expenses: $578.00
Total: – $484.64

February 2019 – 17,697 sessions | average RPM $10.71

Income: $190.05
Expenses: $793.00
Total: – $602.95

March 2019 – 23,894 sessions | average RPM $12.31

Income: $294.22
Expenses: $210.74
Total: + $83.48

April 2019 – 30,796 sessions | average RPM $11.48

Income: $353.52
Expenses: $130.99
Total: + $222.53

May 2019 – 39,267 sessions | average RPM $12.19

Income: $478.83
Expenses: $121.00
Total: + $357.83

June 2019 – 40,314 sessions | average RPM $14.08

Income: $567.80
Expenses: $1,268.99
Total: – $701.19

July 2019 – 47,067 sessions | average RPM $11.83

Income: $556.68
Expenses: $281.99
Total: + $274.69

August 2019 – 54,866 sessions | average RPM $13.85

Income: $759.72
Expenses: $1,317.36
Total: – $557.64

September 2019 – 64,338 sessions | average RPM $14.81

Income: $915.37
Expenses: $422.53
Total: + $492.84

October 2019 – 82,049 sessions | average RPM $15.81

Income: $1,324.75
Expenses: $572.00
Total: + $752.75

November 2019 – 110,005 sessions | average RPM $21.41

Income: $3,285.16
Expenses: $480.50
Total: + $2,804.66

December 2019 – 129,159 sessions | average RPM $24.90

Income: $3,284.17
Expenses: $496.50
Total: + $2,787.67
DON'T FORGET TO CHECK OUT MY PREVIOUS INCOME REPORTS!Don't forget to check out my October & November income reports also!
See you next month when I share my income report for January!! Happy New Year!!