This creamy vegetable soup can be made in just over 30 minutes and everything cooks together all in one pot for a quick and easy weeknight dinner that your family will love! Switch up the veggies to suit your taste or use it as a "clean out the fridge" meal to get rid of leftovers and odds and ends!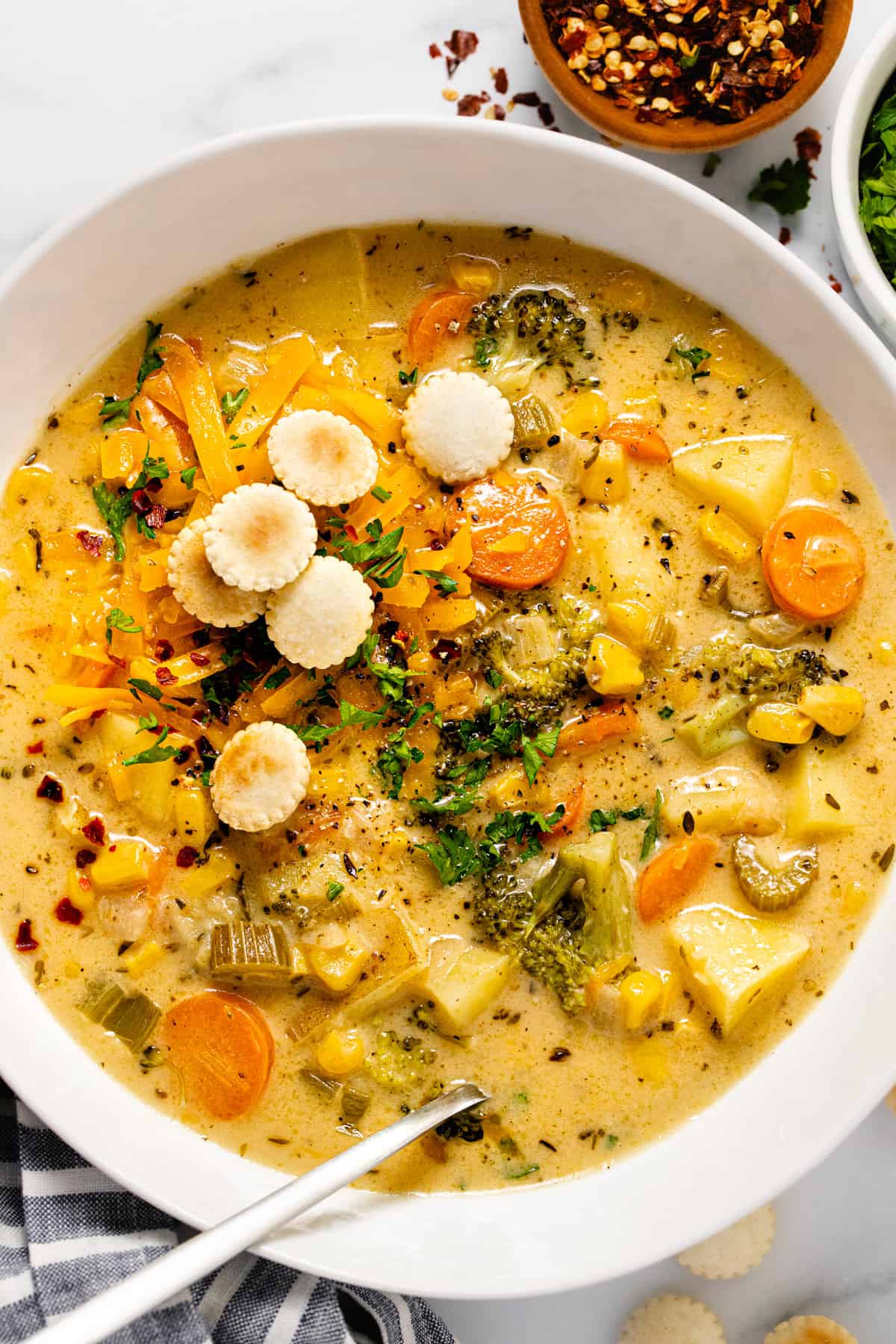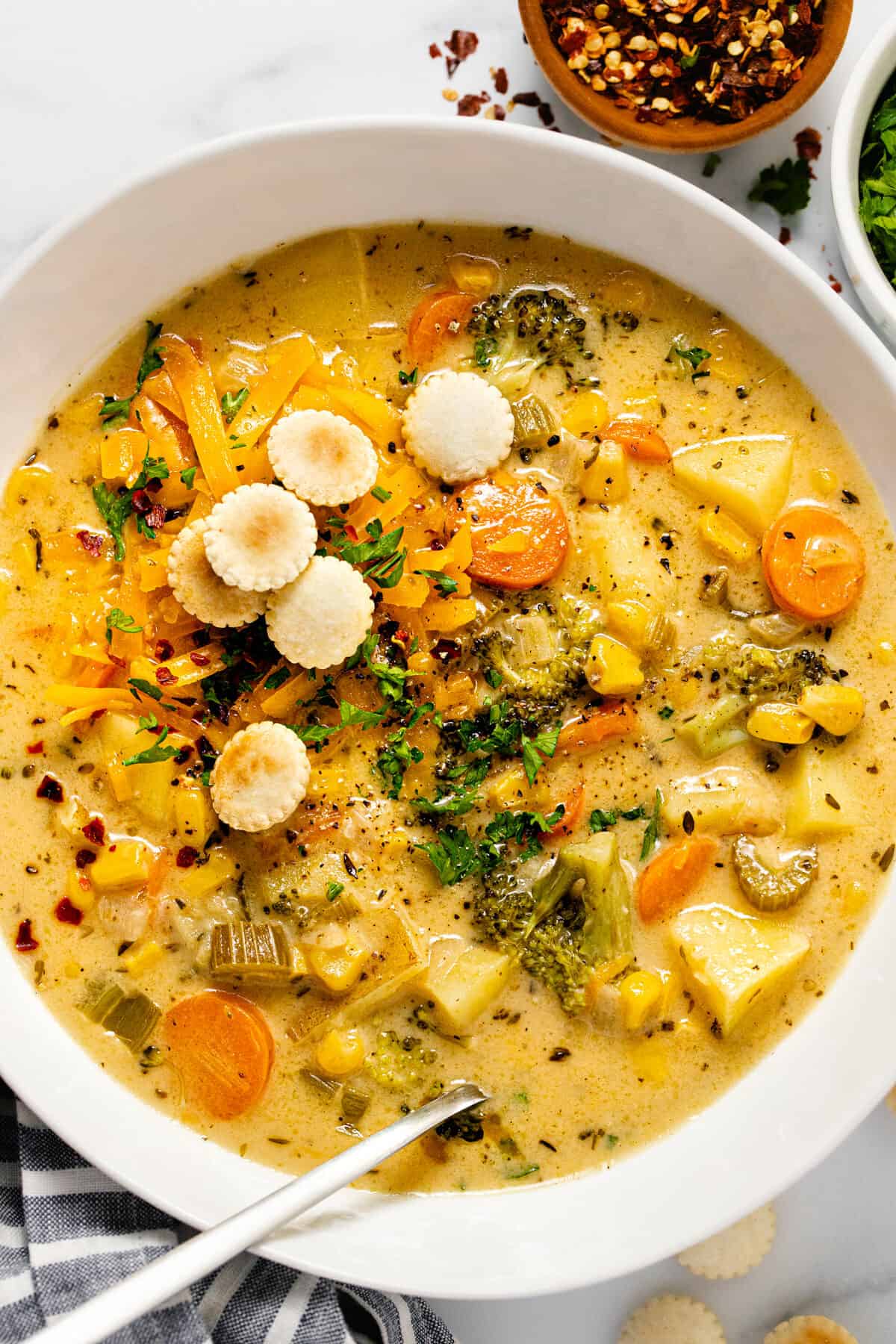 You Will Love This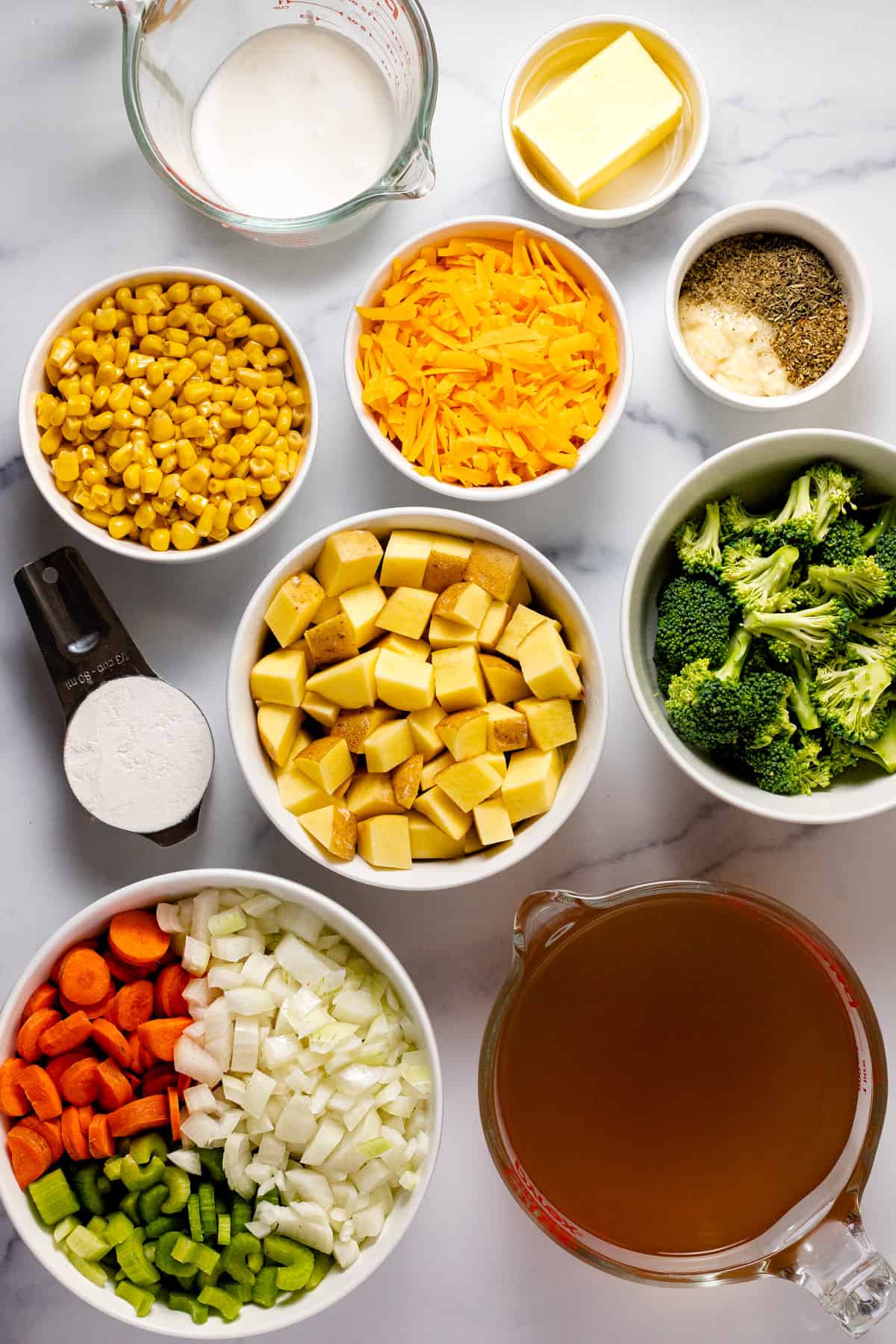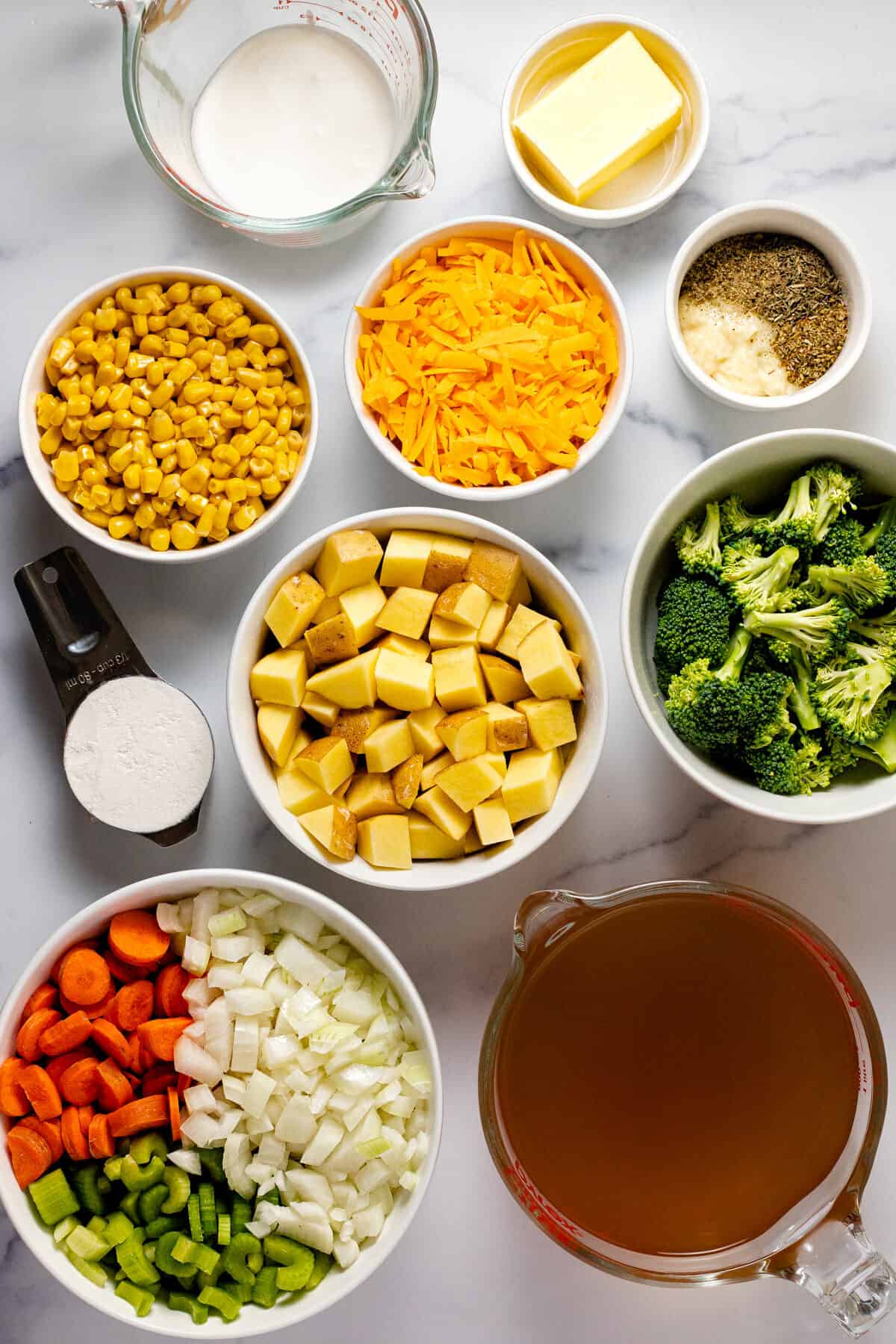 Ingredients and Substitutions
Butter - Butter is going to give you the best flavor and texture for this creamy soup. I like to use unsalted butter so that I can control the sodium level myself.
Onion, Carrot, Celery - This aromatic trio of veggies adds such a delicious base of flavor to this creamy veggie soup. If you want to save time, check and see if your grocery store offers a pre-chopped mirepoix mix!
Garlic - I like to use fresh garlic, but if you've only got garlic powder, try adding a teaspoon or so in place of the fresh.
Herbs - Dried oregano, dried thyme, dried sage are my dried herbs of choice but you can use Italian seasoning in their place as well.
Flour - Stick with all-purpose in this soup recipe for the best creamy texture.
Vegetable Broth - If you aren't worried about this recipe being vegetarian, you can use chicken broth in place of the veggie broth.
Broccoli - Fresh or frozen broccoli florets work well in this recipe.
Corn - Canned, frozen, or fresh from the cob will work for the corn in this creamy veggie soup.
Potatoes - I prefer yellow potatoes for this soup. I love how quickly they cook and their creamy texture pairs really well with the other veggies. I don't peel my yellow potatoes because the skin is quite thin anyway, but you can if you like.
Heavy Cream - If you don't have any heavy cream on hand, you can sub whole milk or half and half but the soup will be a bit thinner and less creamy. Heavy cream is going to give this veggie soup the most creamy texture.
Sharp Cheddar Cheese - Sharp cheddar cheese has a pretty strong flavor on its own, but in this soup it tastes delicious when combined with all the other ingredients. You could substitute your favorite melty cheese though - smoked Gouda is another one of my favorites!
Instructions
Sauté onion, carrots, celery. Then add garlic, oregano, and thyme and cook.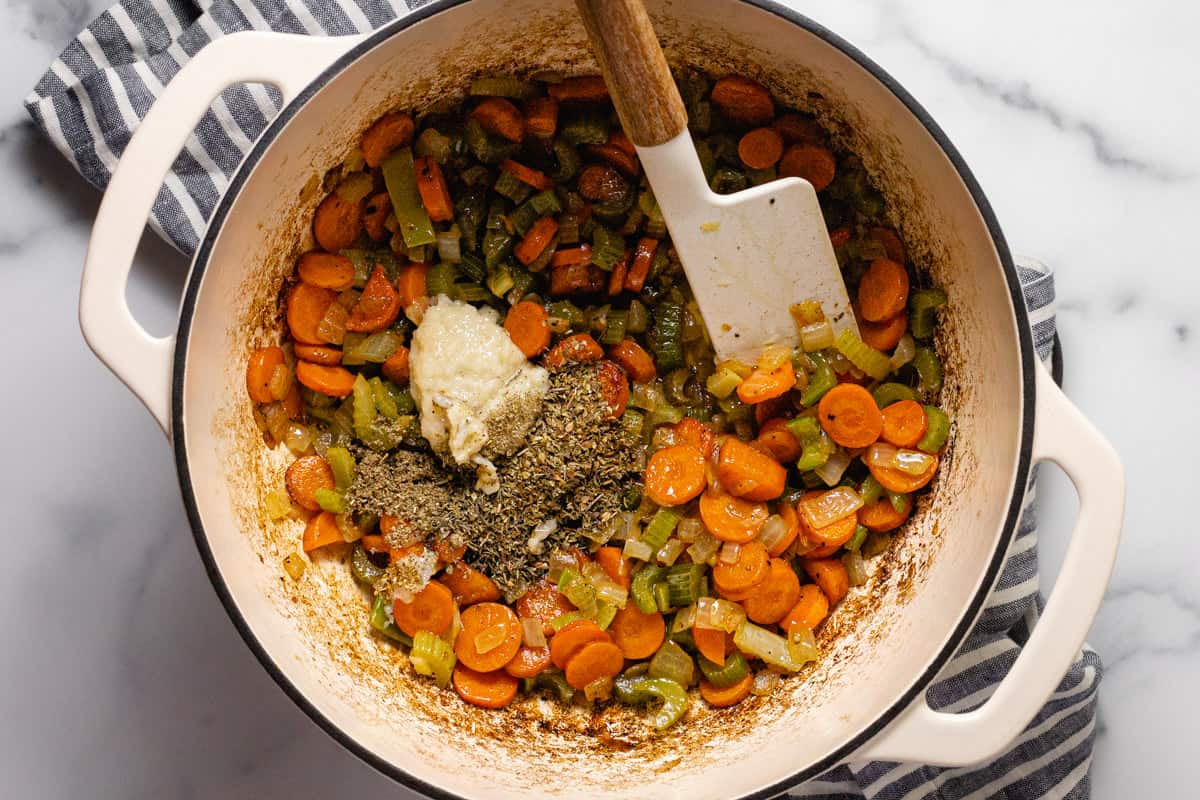 Stir in flour and cook.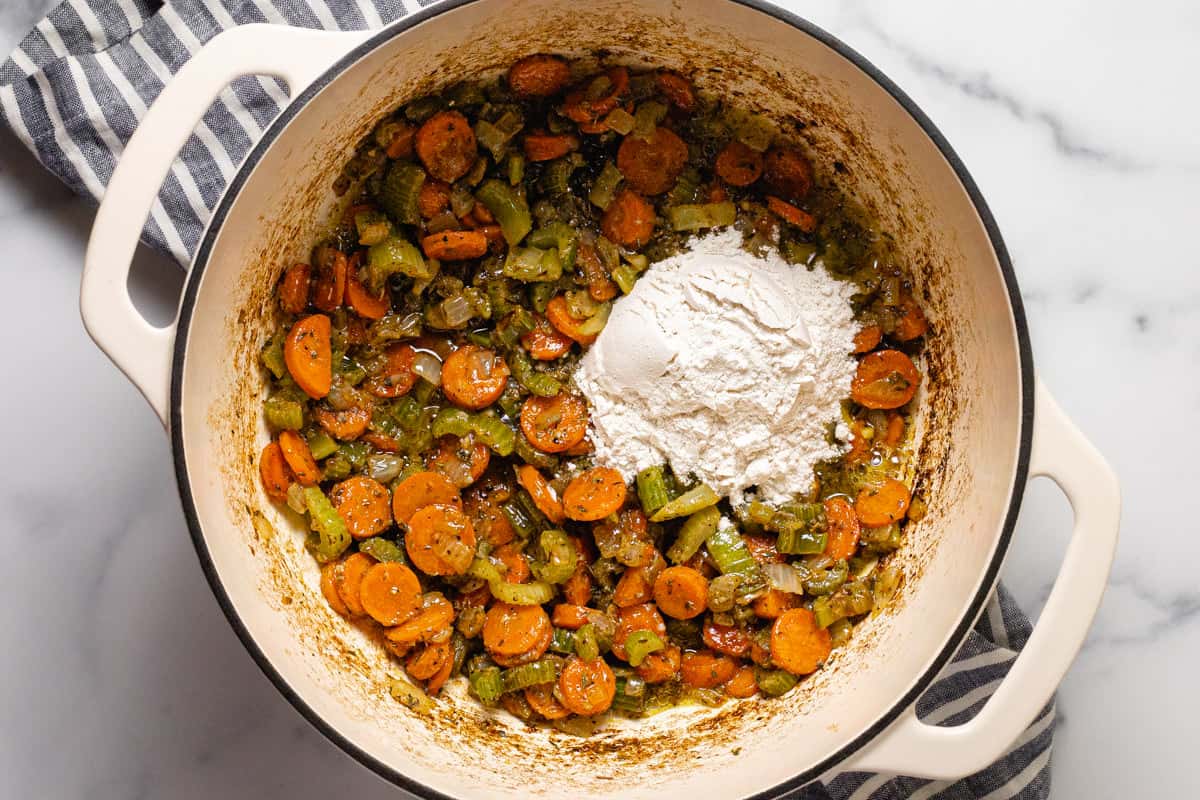 Add a hearty pour of veggie broth to deglaze the pot, scraping the yummy bits off the bottom.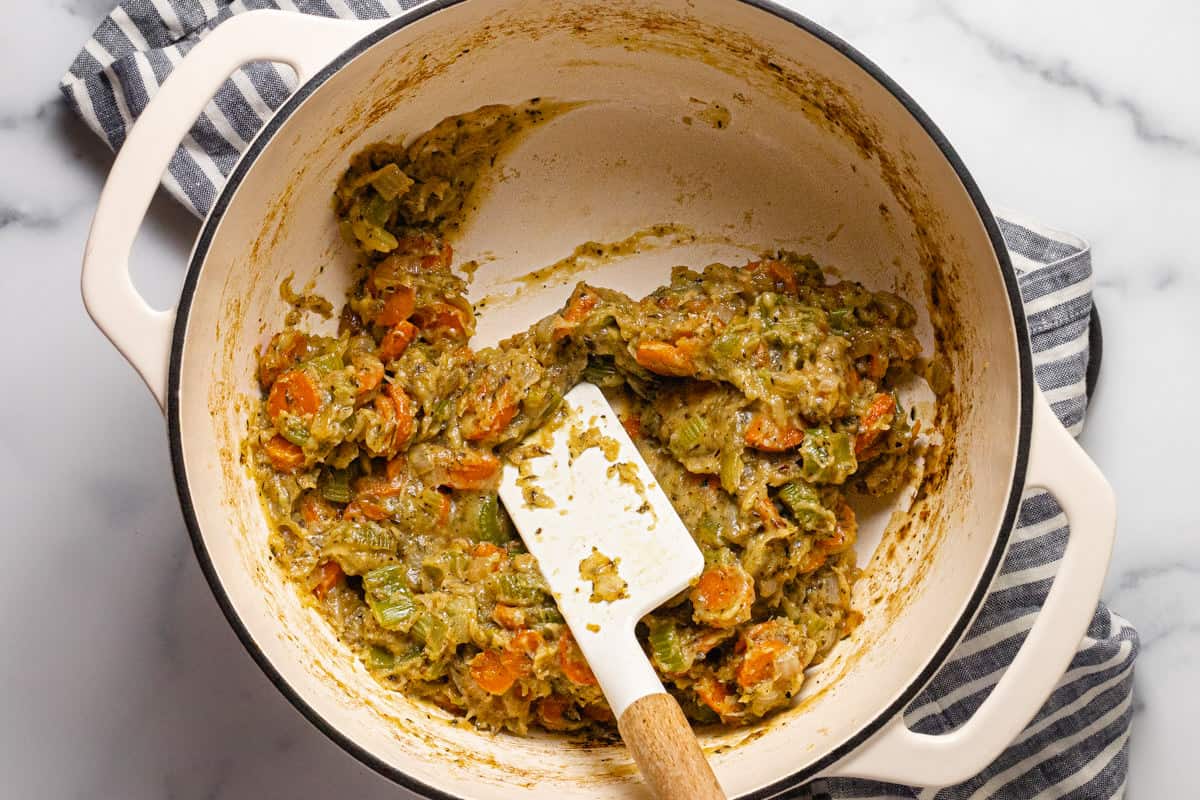 Stir in diced potatoes, corn, broccoli, and remaining veggie broth, along with a couple pinches of salt and pepper. Simmer 10-12 minutes or until potatoes are fork-tender.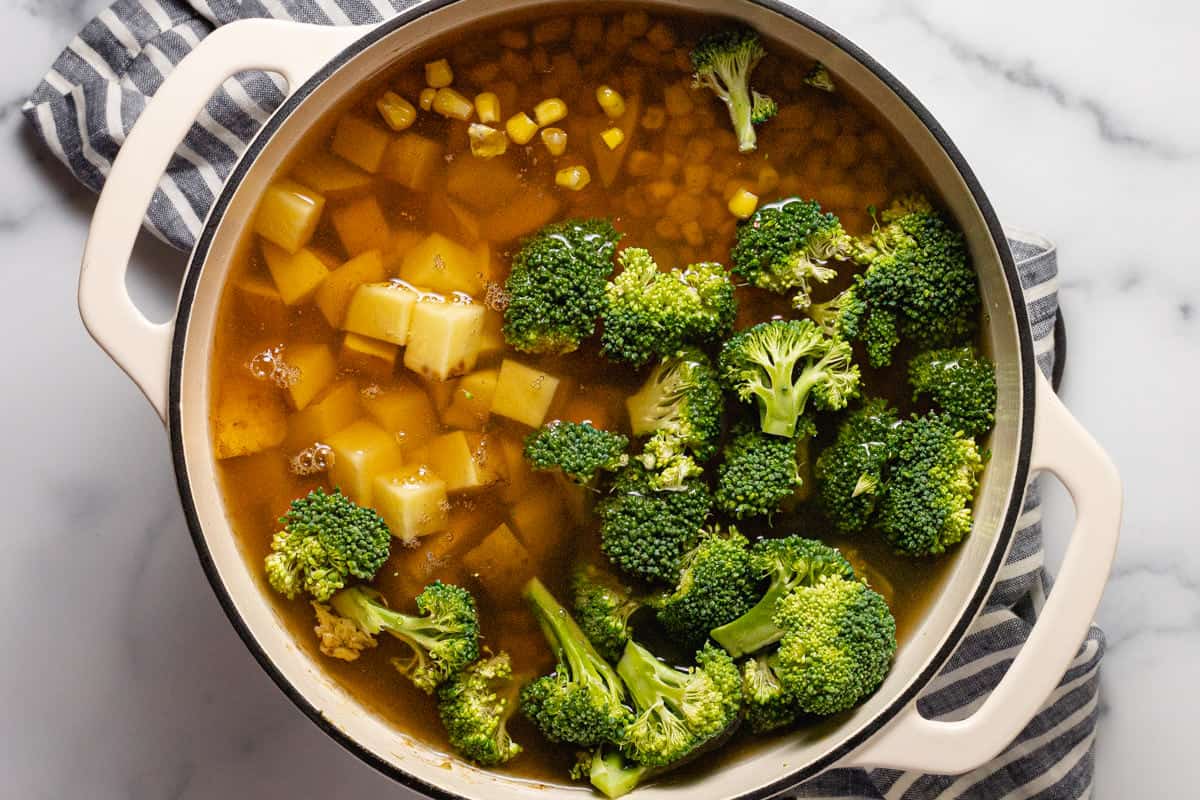 Remove soup from heat. Stir in heavy cream, shredded cheese, and vinegar.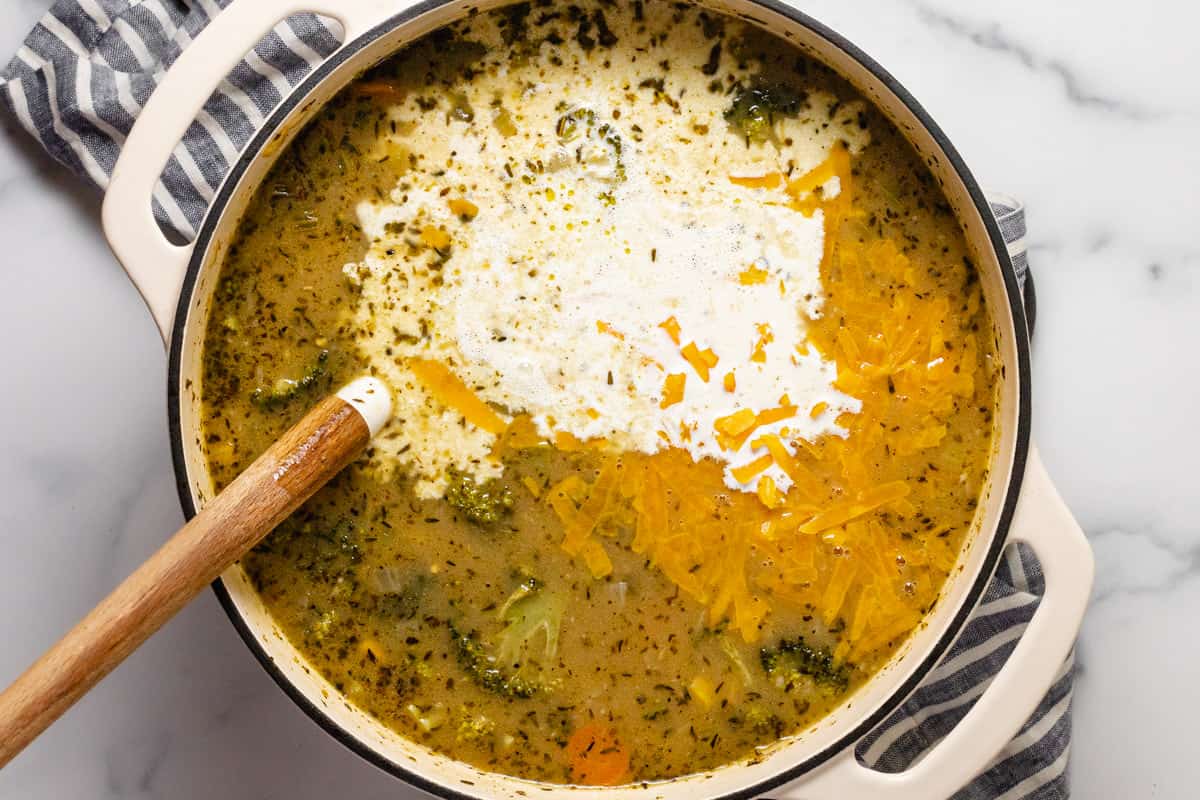 Stir until cheese is melted, and garnish with parsley, cheddar cheese, and crackers.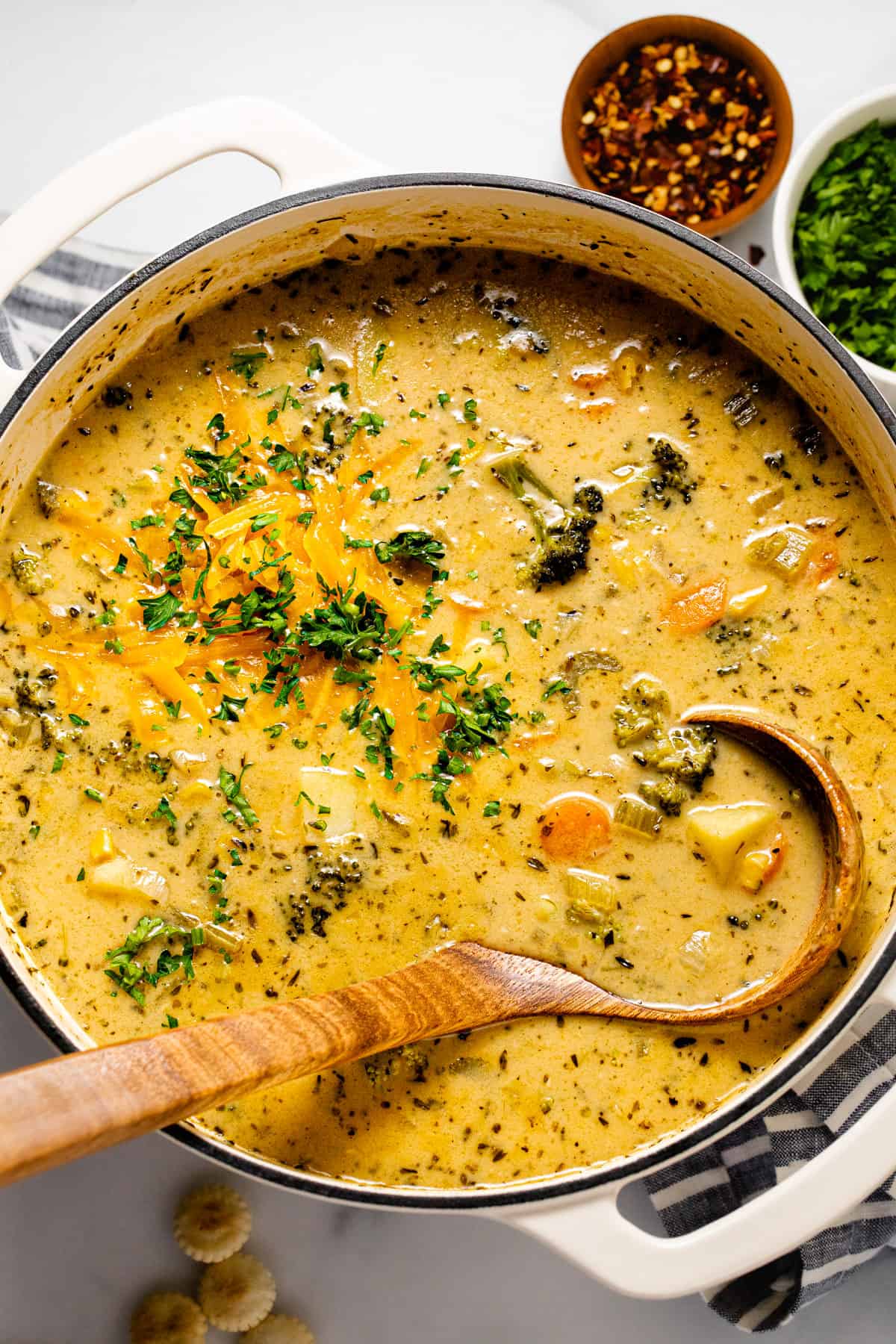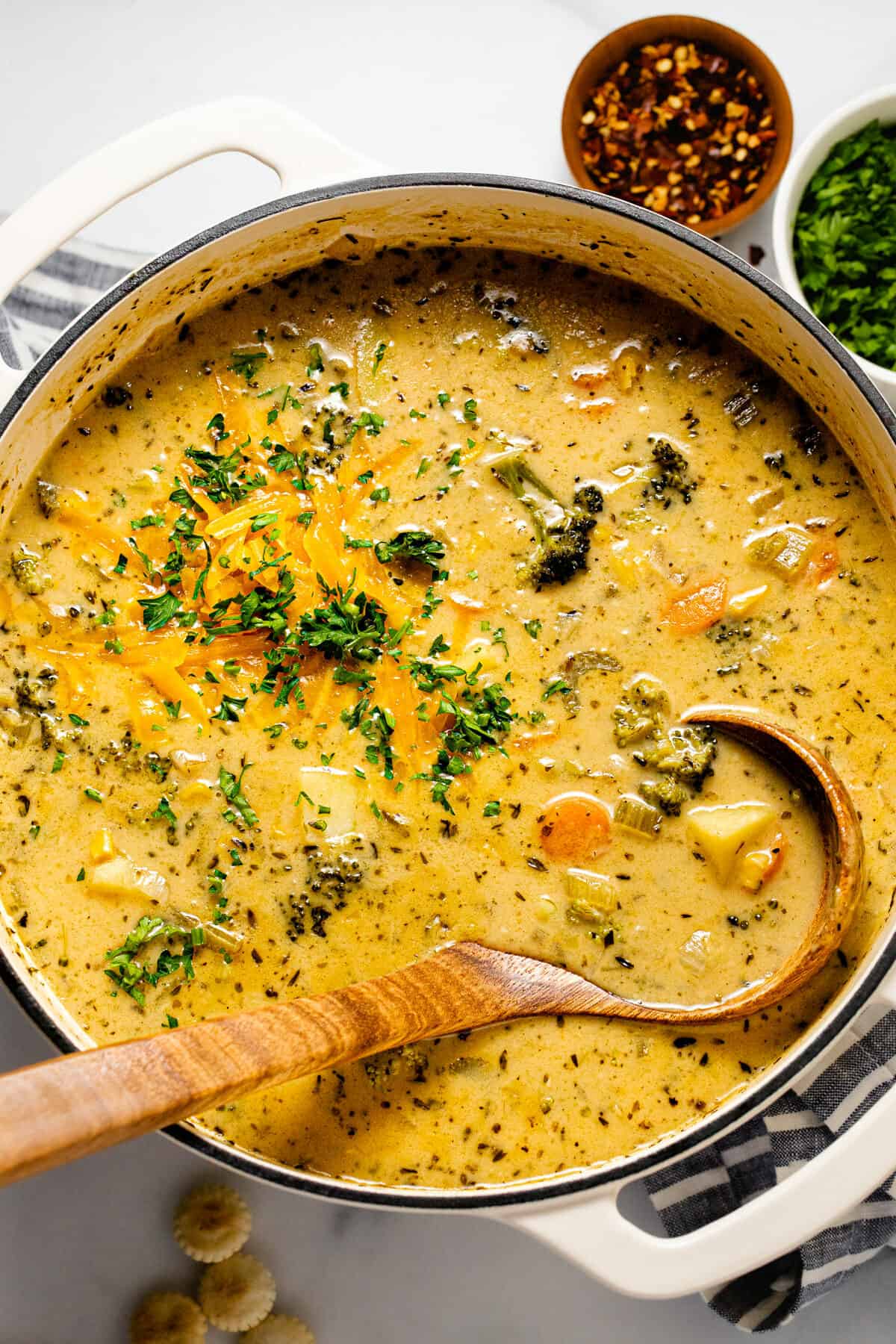 Tips
Use whatever veggies you like for this recipe! I love to make a big batch of this soup when I need to clean out the fridge. As long as you keep the ratio of veggies the same, the soup will turn out delicious every single time!
If you want an extra creamy soup, before you add the heavy cream and cheese, you can use an immersion blender or high speed blender to blend half or even all of the soup. Then follow recipe instructions and stir in the heavy cream and cheddar cheese.
Make Ahead Instructions, Storage, Freezing, and Reheating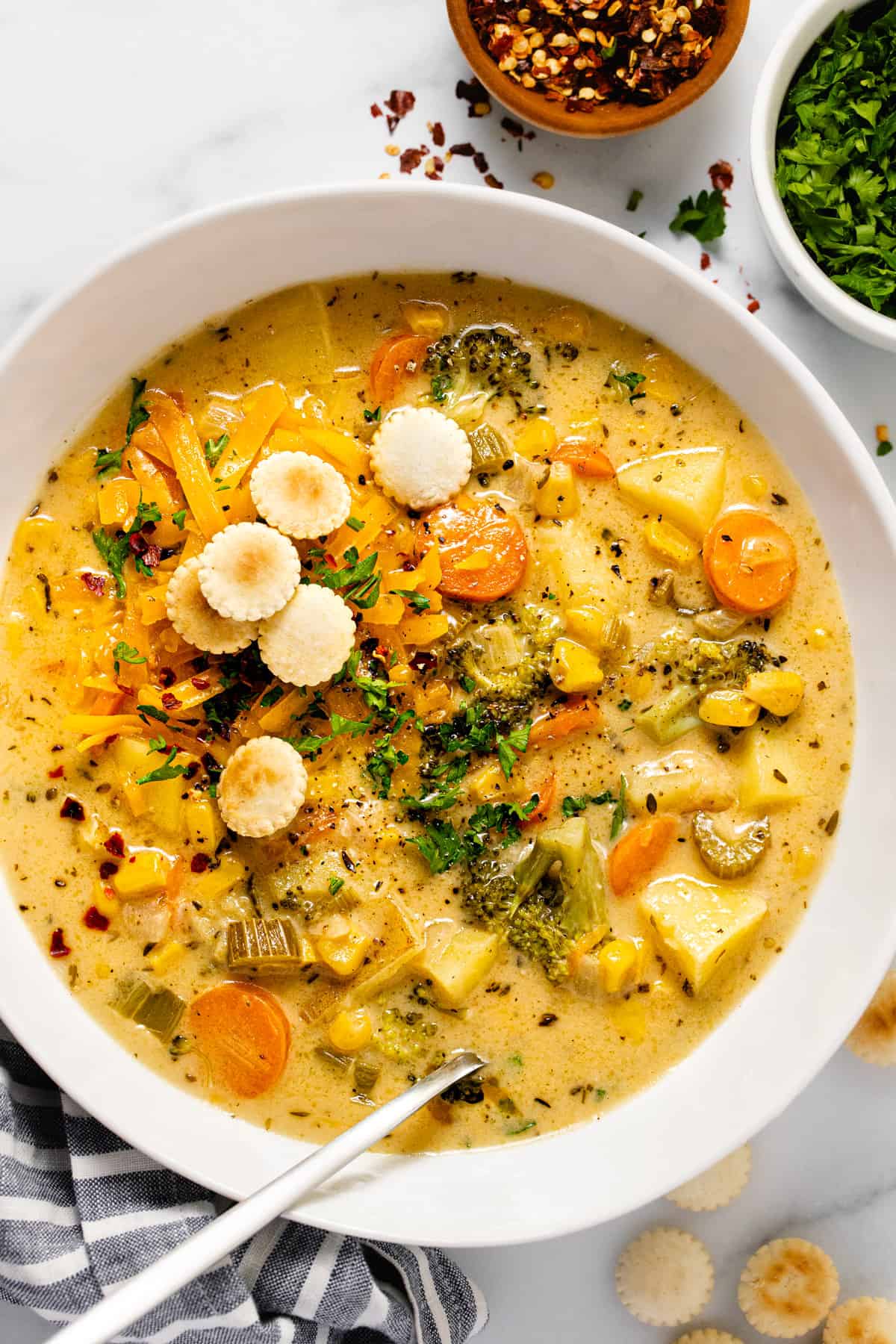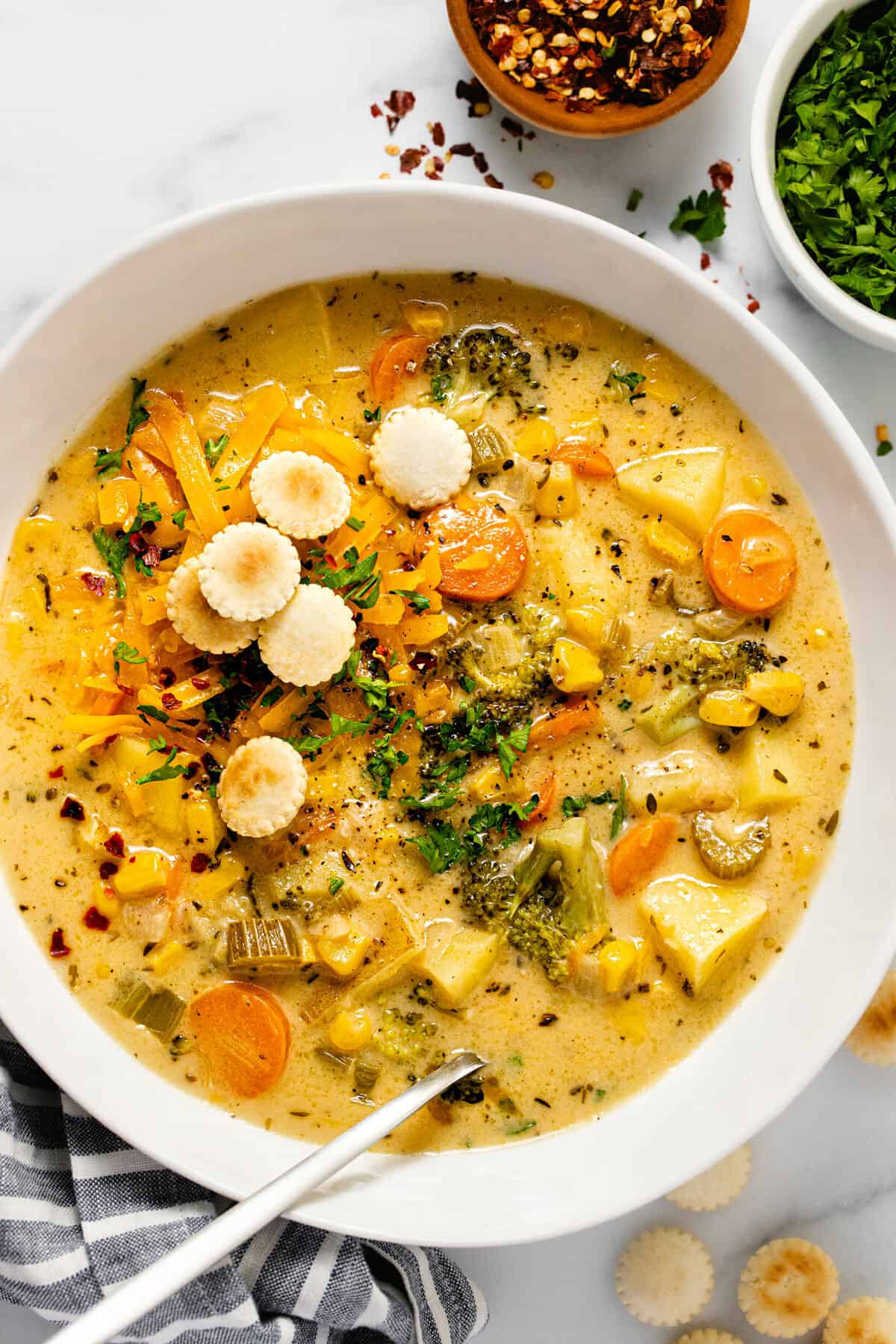 FAQ
How do you make vegetable soup taste richer?
The rich flavor of this veggie soup stems from a simple roux that helps to thicken the soup as it cooks. Then flavors are layered with sauteed veggies and dried herbs. Then heavy cream and sharp cheddar come in at the end as the key ingredients to makes this vegetable soup so rich and creamy.
How do you make vegetable soup thick?
This creamy vegetable soup relies on a simple roux that's made by sautéing the veggies in butter and then mixing in flour. As the soup simmers, the roux thickens the soup. Then melty sharp cheddar and heavy cream give this veggie soup the perfect creamy texture.
How do you fix bland vegetable soup?
You'll never have to worry about bland veggie soup with this recipe! The dried herbs combine with mirepoix to create delicious layers of flavor - combine that with a variety of vegetables, sharp cheddar cheese, and heavy cream and you can say goodbye to bland soups for good!
Family Favorite Soups
Questions? Leave a comment below!
Liked the recipe? Leave a comment below!
Made this dish? Leave a comment and star rating below!
Print
One Pot Creamy Vegetable Soup