These pork carnitas will make your life so much easier! How, you might ask? Well let me tell you about how much I hate mornings… Try as I might, I am not a morning person. I never have been. I'm definitely not a night owl either. I'm more of a "needs 9 hours of sleep to function properly or I'll be super grumpy" kind of person. When I was younger my parents used to call me Margaret whenever I was tired and grumpy. Or hungry and grumpy. Looking back on it now, I realize it was their polite way of telling me to quit being a grouch. I shared this fond memory with my husband years ago and he has carried on the tradition of calling me Margaret since he takes the brunt of her grumpiness. Lucky him…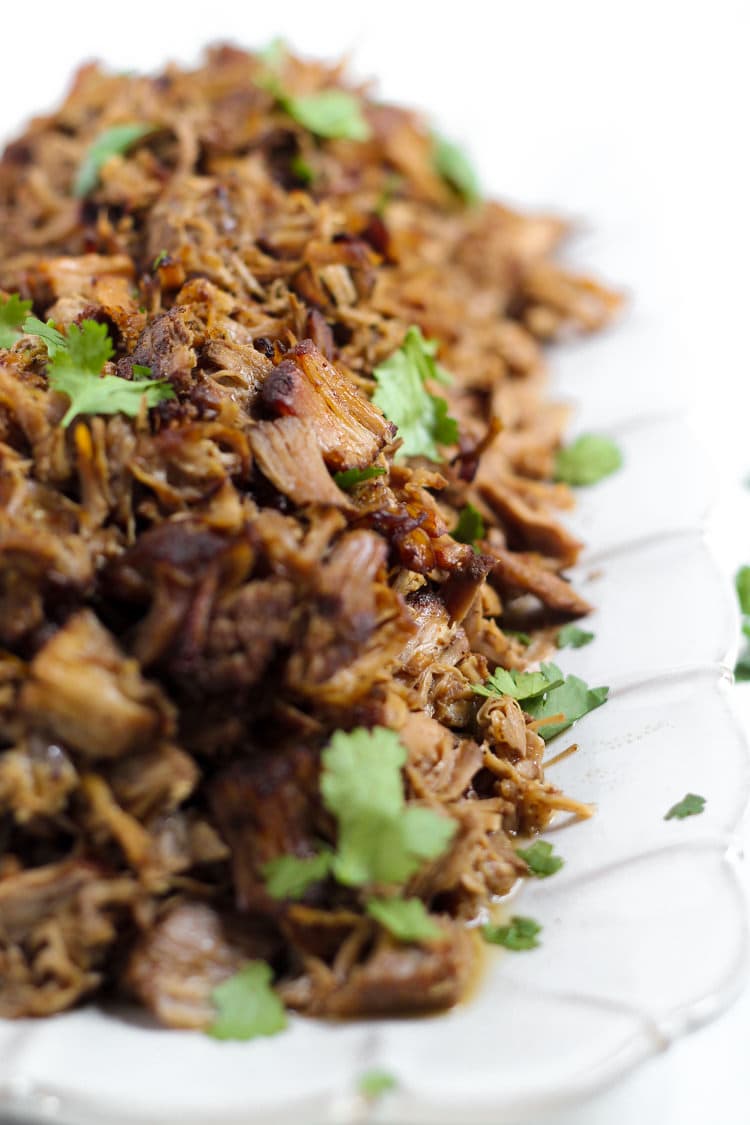 And so, Margaret has kind of become my alter ego. I try not to let her out, but sometimes it just happens. It's usually when I'm woken up any time between 10pm and 8am. Or whenever I go more than 3 hours without eating. But seriously other than that, I'm pretty easy going, I swear. Every once in a while I forget about Margaret and I get this crazy idea that I'm going to start being a morning person. Not just a morning person, but a morning person who works out. In the morning. Before I go to work. In the morning. Even as I type the words, I realize how crazy it sounds.
But without fail, every few months I try for a week to wake up at 6am and get my sweat on. And without fail, when my alarm goes off at 6am, I shut it off, reset it for 730am and go back to bed. Then at some point I feel frustrated and Margaret probably makes an appearance. And nobody is happy and I'm still not a morning person. So just like last week, when I came to terms with not being a gardener, now I am coming to terms with the fact that I'm never going to be a morning person.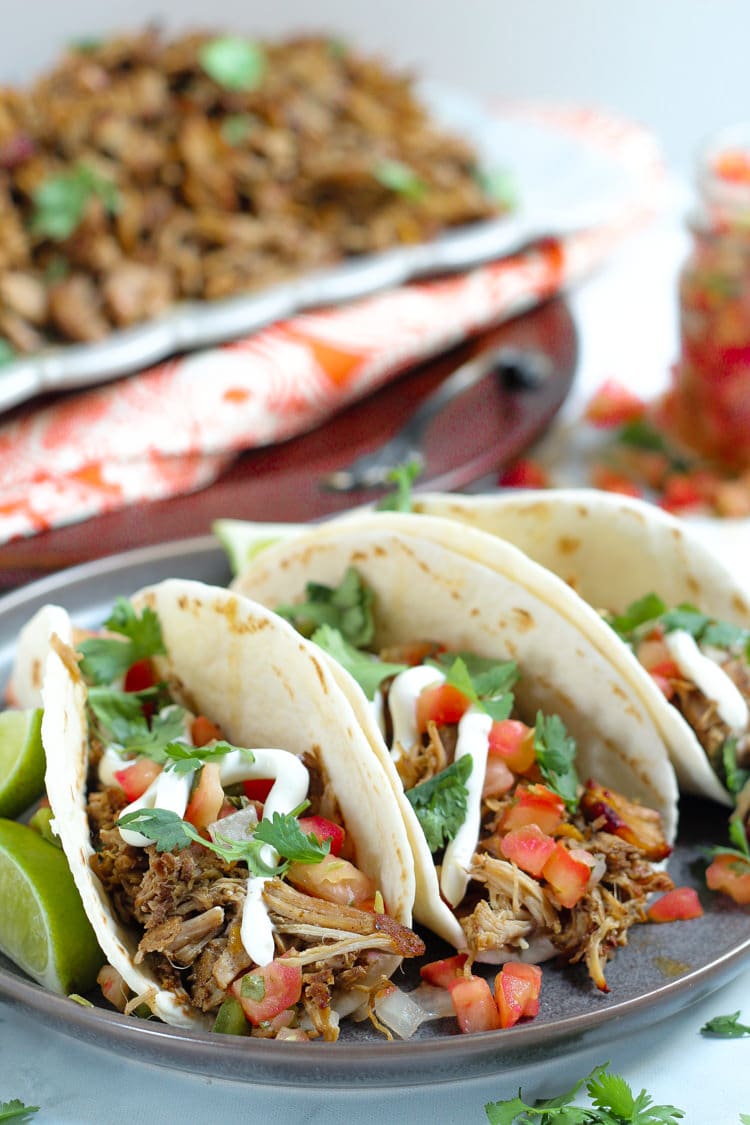 To minimize the appearance of Margaret and let myself sleep in as much as possible, I have been getting really into meal prep on Sundays. My goal each Sunday is to create two meals that we can eat throughout the week that are healthy and satisfying at the same time. This week, it was these mouthwateringly delicious pork carnitas and my Kale Caesar Pasta Salad. I find that my mornings run so much smoother when I can just grab my lunch from the fridge and go. And I'm less tempted to eat crap when I get home from work if I have dinner made already.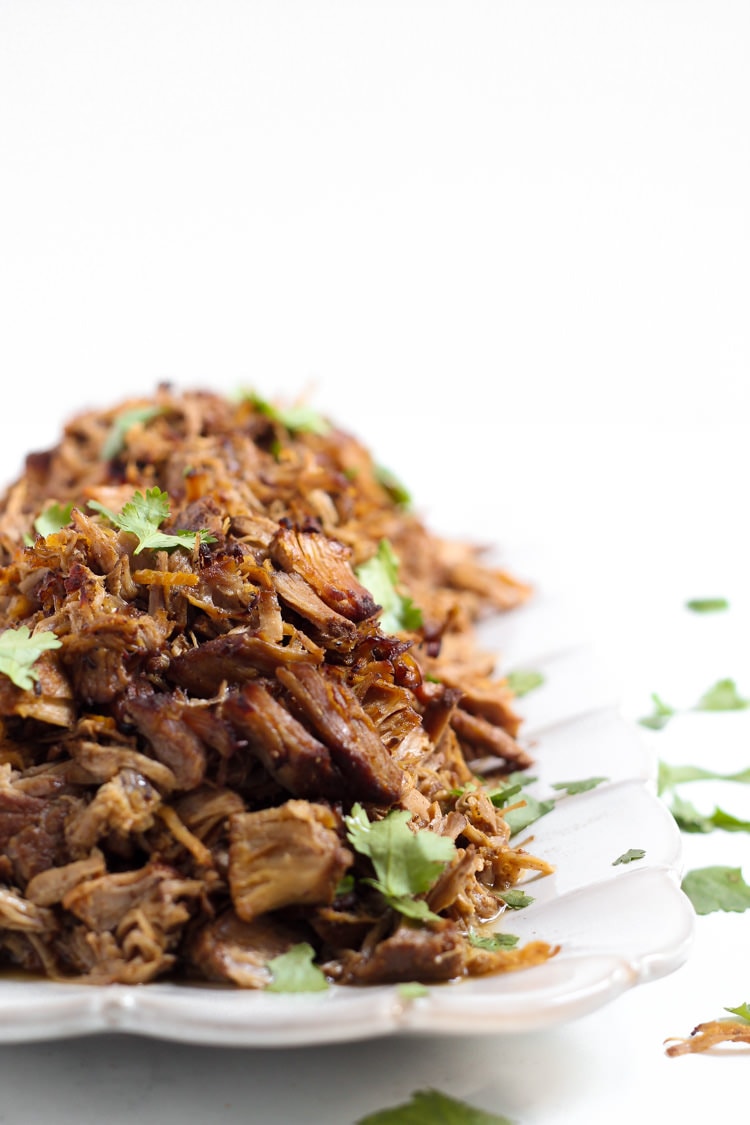 This recipe makes a ton of carnitas because no matter what I always find myself wishing there were more. These would be great to make and then freeze too if you're just cooking for one or if you don't like to eat the same thing multiple times in a row. However, once you taste these carnitas, chances are pretty good you'll want to just eat them until they're gone. They are juicy and tender, but also crisp and loaded with flavor. Best of all, they are SUPER easy to make. 20 minutes of prep and the crock pot does the rest. Just another reason to love slow cookers more than I already do!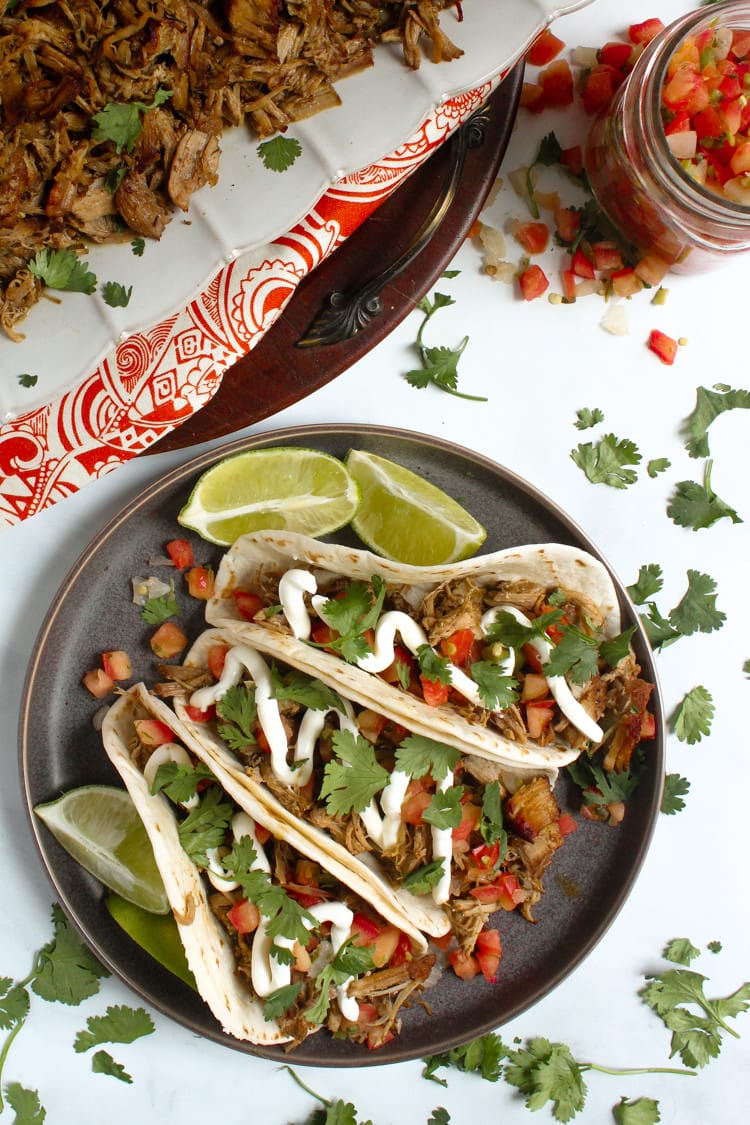 Print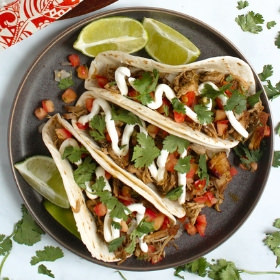 Slow Cooker Beer Braised Pork Carnitas
Author:

Prep Time:

20 minutes

Cook Time:

4 hours

Total Time:

4 hours 20 minutes

Yield:

10 tacos

Category:

Main Dish

Method:

Slow Cooker

Cuisine:

Mexican
---
Description
These beer braised pork carnitas are simple, hearty and delicious. Serve them with flour tortillas, Pico de Gallo and fresh cilantro.
---
Ingredients
2 tablespoons + more if needed
4 lb. (bone in) pork shoulder/butt roast/steaks
2 tablespoons cumin
2 tablespoons dried oregano
1 tablespoon chili powder
2 teaspoons smoked paprika
pinch of cayenne pepper
Kosher salt
fresh cracked black pepper
1 white onion (chopped)
5 cloves garlic (minced)
Zest, juice and rinds of 1 orange
12 oz. bottle of your favorite beer
about 32 oz. chicken stock
Serve with:
flour tortillas
fresh cilantro
---
Instructions
Heat 2 tablespoons olive oil in a large pot over medium high heat. In a small bowl combine cumin, oregano, chili powder, paprika, cayenne and a couple large pinches of salt and pepper.
Rub spice mixture all over the surface of the pork roast. Place roast into the pot and cook each side for about 1-2 minutes or until the entire outside of the roast is seared nice and dark golden brown. Transfer to the insert or a large slow cooker.
Without wiping out the pot, add onion and turn heat down to medium. Cook for about 4 minutes, stirring often.
Add garlic and cook for an additional minute, stirring often. Transfer onion and garlic to the slow cooker. If the pot is getting to dry and the onion or garlic are sticking, add a bit more olive oil.
Add orange zest, juice and rinds and bottle of beer. Then add enough chicken stock to completely cover the meat. Cover and cook on high for 4 hours or low for 8 hours. You'll know the pork is done when it falls off the bone and shreds easily with two forks.
Shred pork and discard bones, oranges and onions. Discard all but 1/4 cup of the juices. See note below if you are serving the carnitas at a later date. Transfer pork to a large sheet pan, spreading it in an even layer.
Drizzle shredded pork with a quarter cup of the juices. Broil on high for 3-5 minutes. The goal here is to have tender, juicy shredded pork with dark golden brown crispy bits on the ends.
And seriously, don't skip that last step. It makes the dish.
Serve with flour tortillas, cilantro and my Easy Pico de Gallo!
---
Notes
This freezes really well so if you're planning to serve at a later date, reserve ALL the juices. Then let cool for an hour and transfer pork and juices to a gallon Ziploc baggy. Seal and freeze for up to 2 months. When ready to cook, allow pork to thaw in the fridge overnight, then heat on high in a crock pot on high until heated through. You can serve the pork warmed in the crock pot, or follow the broil method above to get those crispy burnt ends.
Keywords: tacos, family dinner, weeknight meals, crock pot, slow cooker, simple, easy, recipe, pork, carnitas, meal prep