Isn't it funny the random things that you remember? Those little 10 minute (or 10 second) snip-its of life that stay with us forever. They are likely meaningless to everyone else around us, but for some reason these little memories hang on, and sometimes I think they just get stronger as time progresses. This olive oil and balsamic bread dip reminds me of a moment that is still clear as day to me. I probably remember it so vividly because we were on a mini vacation out of state, adopting my beautiful baby sisters. Who are not babies anymore and are probably the most loyal readers of my blog (along with my mom and dad of course). I say we because even though my parents technically adopted them, I was 19 when they were born so I can't help but have this sister/aunt/guardian kinda thing going on. So let me make you back 11 years… We were visiting a family friend on our adoption vacay and showing off the new adorable, chubby little bundles of joy. And having lasagna for dinner at their house.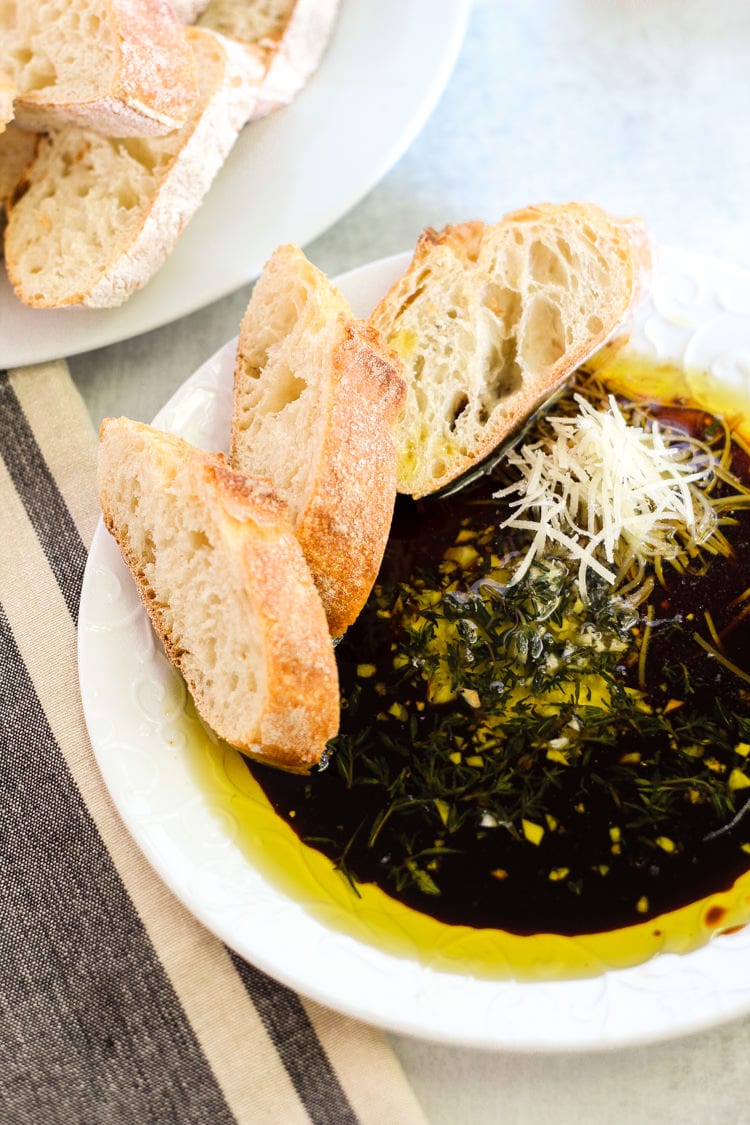 As is sometimes the case, I was getting a little hangry and my alter ego Margaret (who I've mentioned before) was starting to shine through. The Stouffer's lasagna was taking way to long to bake in my hungry and humble opinion. And then, my mom's friend took out a plate. I anxiously watched and waited, trying to figure out what was happening and if I was going to be able to eat it. She poured olive oil onto the plate, then added a splash of some sort of black liquid (I don't think I'd ever actually seen balsamic vinegar at this point in my life, so I had no idea what it was). She sliced up some bread and started to dip…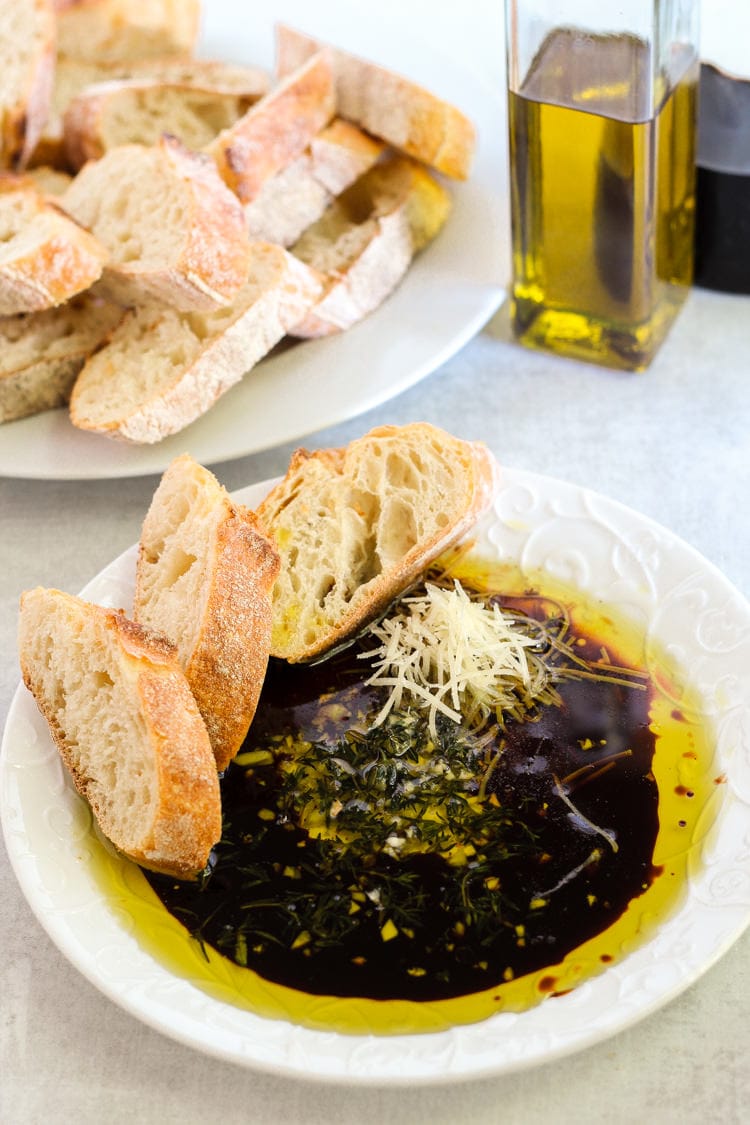 I quickly followed suit in an effort to keep Margaret at bay. I still remember the first moment I tasted it! The subtle olive oil, the tangy balsamic, all being transported to my mouth via my favorite flavor vehicle–BREAD! I secretly rejoiced and life has never been the same since. Mostly because our family grew by 2 that day (obviously). But also because I was introduced to a new, simple combination of delicious flavors. My taste buds will never forget that first taste of the best bread dip on earth. So, now I invite you to have a moment. With your olive oil balsamic dip and a slice of crusty baguette. A glass of wine would be really nice with this too, so grab one of those as well. And enjoy!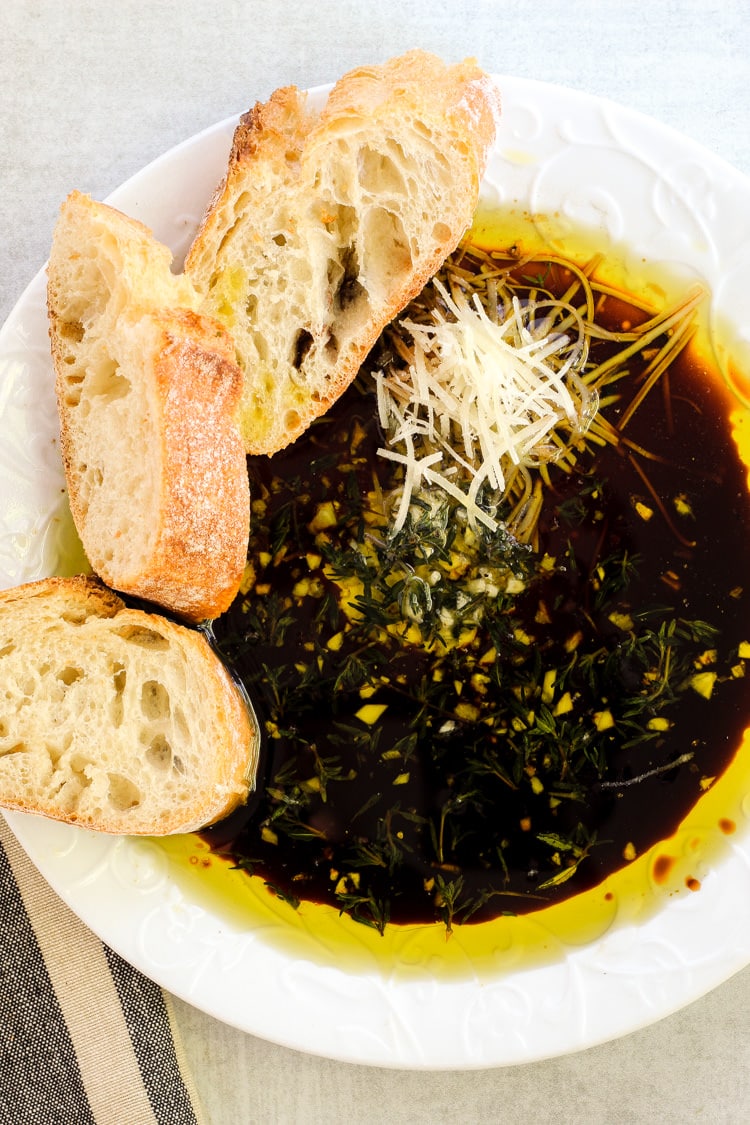 Print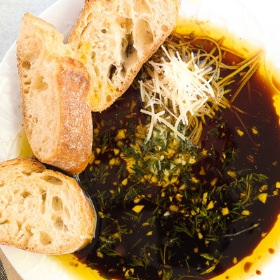 Olive Oil & Balsamic Vinegar Bread Dip
---
Author:

Prep Time:

5 minutes

Cook Time:

12 minutes

Total Time:

17 minutes

Yield:

4-6 servings

Category:

Appetizer

Method:

No Cook

Cuisine:

American
Description
Olive oil and balsamic vinegar combine with herbs and garlic for the easiest and most delicious appetizer you've ever had! Best enjoyed with crusty French bread and a big glass of red wine!
---
Ingredients
1/2 cup olive oil
3 cloves garlic, minced
1 teaspoon dried oregano
1 teaspoon dried thyme
Kosher salt
fresh cracked pepper
5 tablespoons balsamic vinegar
1/4 cup shredded Parmesan cheese
sliced French baguette for serving
---
Instructions
In a small saucepan combine olive oil and garlic over medium low heat. Heat for 12 minutes, stirring occasionally. Remove from heat, stir in oregano, thyme and a moderate pinch of salt and pepper.
Pour oil mixture into a wide shallow serving dish. Pour in balsamic vinegar and sprinkle with shredded Parmesan. Serve with sliced French baguette for dipping and enjoy!
Keywords: appetizer, simple, easy, recipe, fancy, bread, dip, oil, vinegar