Everyone in our house is sick. We have all come down with the dreaded cold. We've managed to stave off sickness for nearly a year and half so far; would you believe this is the first our daughter's ever been sick?! It's so sad to watch her try to sleep at night while whimpering with frustration because her nose is so stuffy that she can't suck on her nook and breathe at the same time. The other night she propped herself up on her elbow in the middle of the night and fell asleep half sitting up so she was able to breathe through her nose and suck on her nook. It was the most pitiful and adorable thing I've ever seen. Of course I scooped her up and snuggled her, sitting up and rocking, until she fell back into a deep sleep and we nestled back into our usual bedtime snuggles.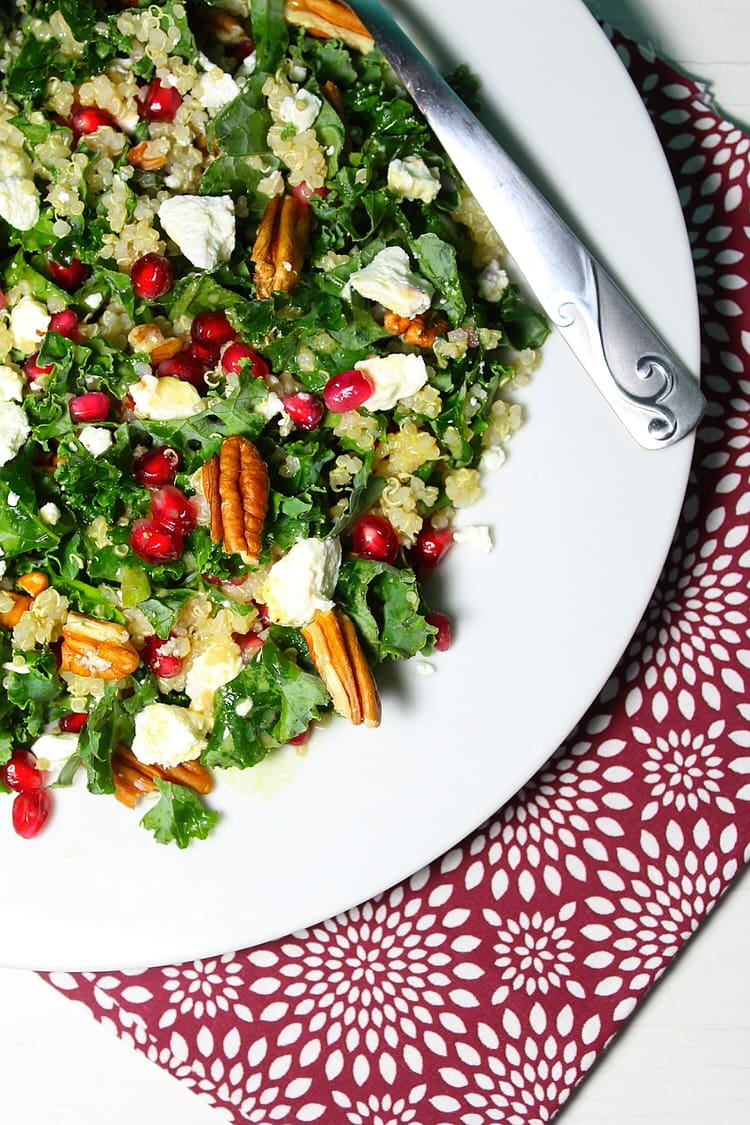 Speaking of bedtime snuggles…every night we go to bed with our toddler snuggled in between us (in our king size bed). And 90% of mornings I look over to see my husband sleeping on the tiniest sliver of mattress, teetering off the edge, with our daughter snuggled up so tight against him that he must be doing all he can to hang on and not fall off the bed. Usually her head is sharing his pillow and nuzzled into his neck. I bet I've taken 50 pictures of them like this. It makes me smile every morning. The other 10% of the time I wake up with her nuzzled up against me. But my husband sleeps like a rock and rarely moves so I think she naturally gravitates towards his stability at night. Also, he becomes a giant radiator the second he hits the sheets so I think she likes to soak up his warmth also. I flop around like a fish every couple hours, getting up to use the bathroom at least once a night. He's a much more stable, reliable sleeper.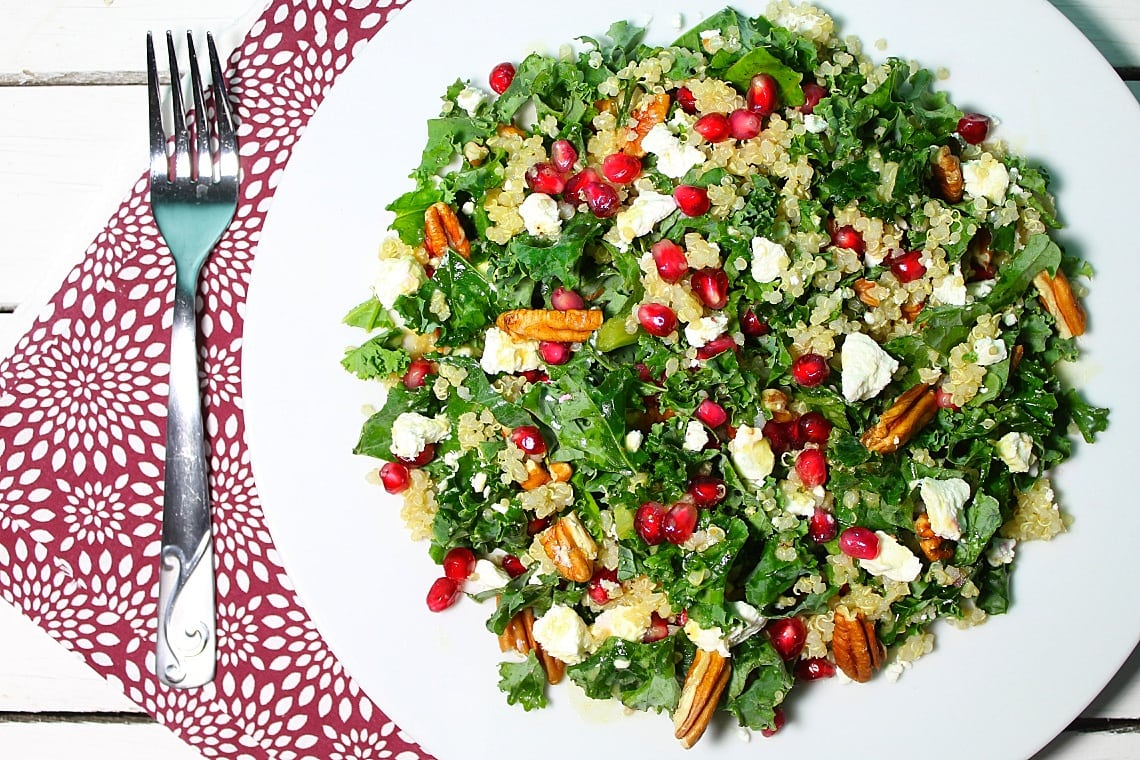 I do wonder when our bed count will be back down to just two. Quite honestly if we have another child in the next couple years it might go up to four for a while! But someday we'll have an empty bed and think on the days when we'd wake up to our little girl's giant smile and soft gentle, "HI" each morning. She wakes up in the best mood (most days) and it's just contagious. She greets you with a smile like she's missed you so much and she's so excited for the day ahead. I haven't woken up "on the wrong side of the bed" for months and I can say it's thanks to her. She reminds me to greet each day with a  smile and a hello. And I am so thankful for that.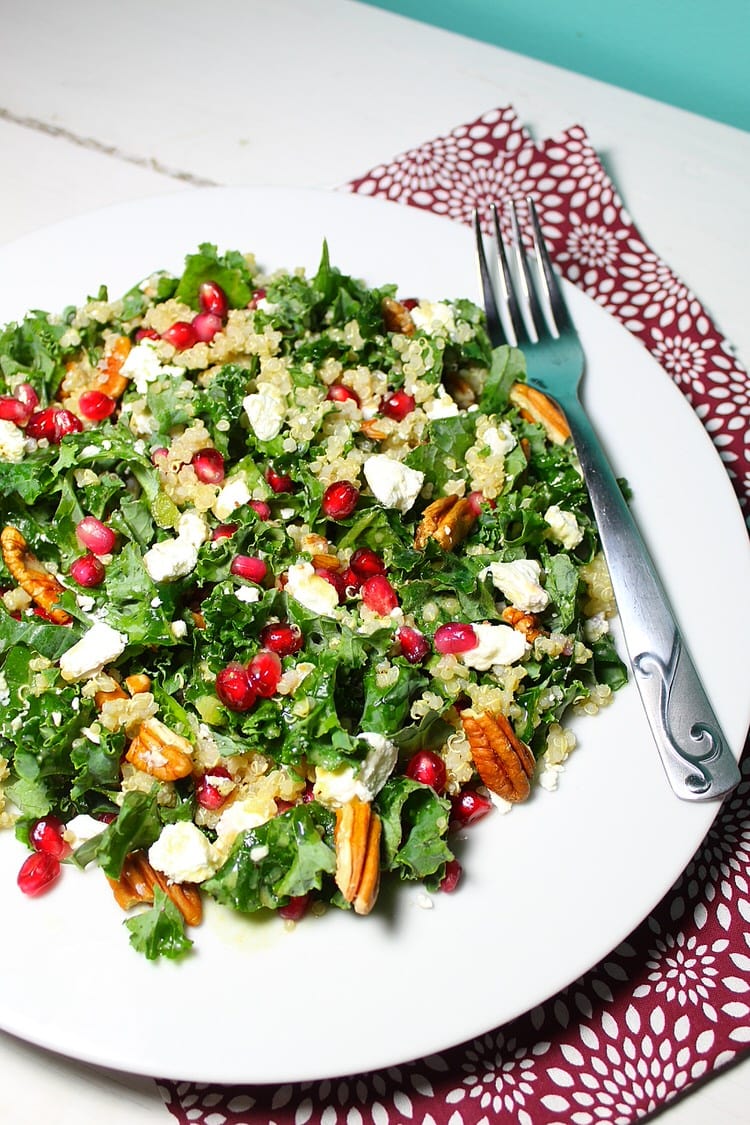 I am also thankful for salad. Snuggles and salad. Great segue, I know. This has been one of my favorite meal prep recipes as of late. I am actually considering bringing this to Thanksgiving as dish to pass this year because it just screams FALL to me and because my soon-to-be sister in law loves salad. And most of the time all we have is ham, potatoes, bread and other heavily caloric things. So this year, salad!
Print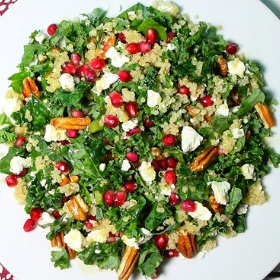 Kale, Goat Cheese, Pecan and Pomegranate Salad
Author:

Prep Time:

15 minutes

Cook Time:

0 minutes

Total Time:

15 minutes

Yield:

4 servings

Category:

Main Dish

Method:

No Cook

Cuisine:

American
---
Description
This kale salad is loaded with goat cheese, toasted pecans and fresh pomegranate seeds. The perfect meal prep for your busy work week!
---
Ingredients
Salad:
8-10 cups chopped kale
4 oz. goat cheese
1 cup toasted pecans (roughly chopped)
seeds from 1 pomegranate
2 cups cooked quinoa
Dressing:
3/4  cup olive oil
1/4 cup white balsamic vinegar
2 tablespoons Dijon mustard
1/2 teaspoon garlic powder
1/2 teaspoon dried thyme
kosher salt
fresh cracked pepper
---
Instructions
Combine olive oil, vinegar, mustard, garlic powder, thyme and a large pinch of salt and pepper to make the dressing. Emulsify either by whisking vigorously or shaking the dressing in a mason jar until well combined. Toss dressing with kale and let sit for 15 minutes. Then divide dressed kale evenly between 4 plates. Divide goat cheese, pecans, pomegranate seeds and quinoa evenly between the plates and serve!
---
Notes
I find that the longer the dressing sits on this salad the better it tastes. I like to dress my salad in the morning before work and then by the time lunch comes around my kale is beautifully wilted and bright green.
Keywords: healthy, simple, easy, meal prep, recipe, lunch, family dinner